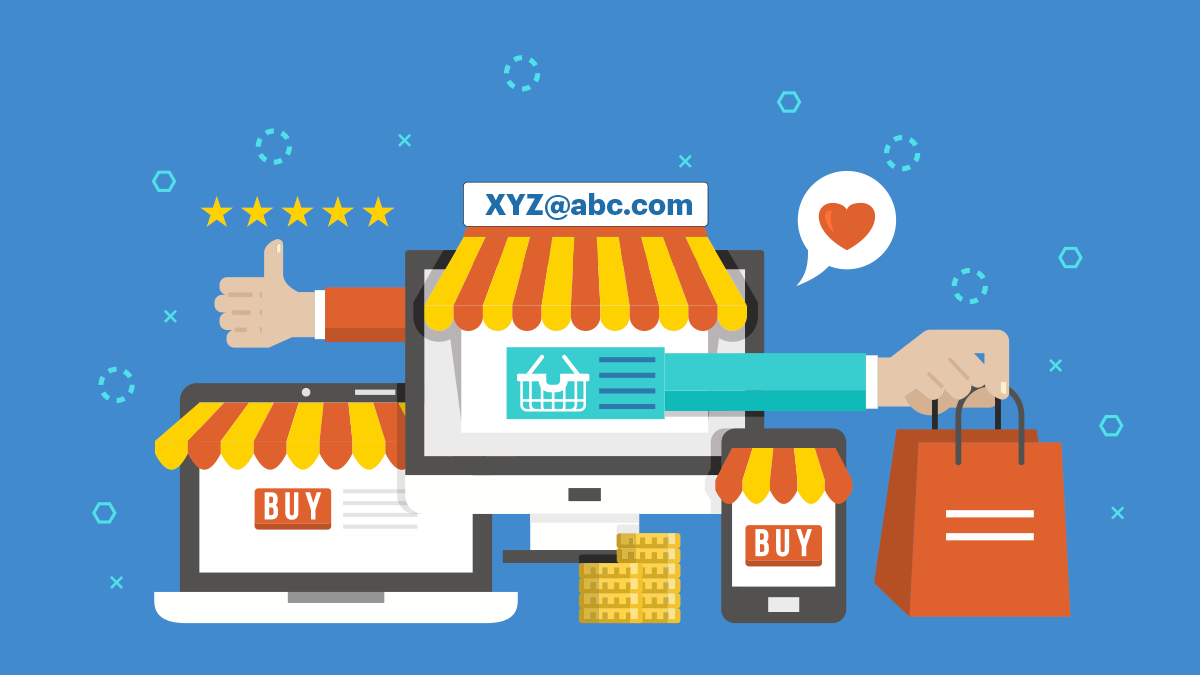 Your website and email are fairly obvious touchpoints for a person to engage with your business. So it makes sense that both your domain name and email address need to look professional and reinforce your brand. Yet, for some reason, millions of businesses are still using a Gmail or Yahoo address for their company's email. As a small business owner, you want to make sure that you make a professional first impression and improve your chances of connecting with customers.
While the process of getting a custom domain name for your website is pretty straightforward, there's more to consider when it comes to your email address.

The most common way to get a yourname@yourbusiness.com is to use the email service offered by the company you registered your domain with or purchased shared hosting space from. But, if you go that route, forget about things like a calendar and read receipts, and be prepared for intermittent outages and a deluge of spam.
For a better email experience, most of these companies also resell Office 365 or G Suite. But paying for an entire product suite just to get quality email seems a little ridiculous.

Have no fear, SwiftEmail is here to help. Try out SwiftEmail today and see how easy it is to enjoy a superior business email experience. Or, read on to learn how to set up a custom email address using the service offered by a registrar or hosting provider.
Setting Up Email Using Your Email Domain Name
1. Start by accessing your account. Of course, this varies depending on the email service you're using.
2. Choose a naming format for your email address. The most important thing is to be clean and consistent. You want only names and initials, no numbers or dashes.
firstinitial.middleinitial.lastname@yourdomainname.com
firstname.lastname@yourdomainname.com
customerservice@yourdomainname.com
3. Enter the details for your new email in the account form. Your email will be created instantly and you'll be able to access by logging into your web hosting account.
The Bad News First
The good news is that you now have an email address that uses your domain name and looks more professional than yourbusiness@gmail.com. The bad news:
If your website is hacked, the hacker can access emails where you may have sensitive company and client information stored.
If your email is hacked and used to send spam, both your website and your email will be suspended. Where will your customers go if they are unable to reach you?
When your website goes down or is suspended, your business and your clients will have to do without email until the website is restored.
There's a good chance you'll need a different solution for hosting as your company grows. If you ever change hosting companies, you'll need to archive all of your email across your accounts and migrate it.
Email takes up space and leaves less room for your website and blog. This could leave insufficient bandwidth to support your business' needs.
The email your hosting company provides, as mentioned, offers a poor UX. In all likelihood, you will find the interface, as well as the functionality, not just inadequate, but frustrating.
Once migrated, you'll need to reestablish the connections across all of your devices. (And, yes, that is as complex as it sounds.)
The Good News
There is a better way. To maximize the reach of your business' domain name while enjoying a superior email service, check out SwiftEmail. With SwiftEmail, you can:
Access your email on any device
Enjoy advanced search functionality
Know when your messages are read
Keep email threads together so you can see the complete story in one place
Unsend messages when you've made a mistake