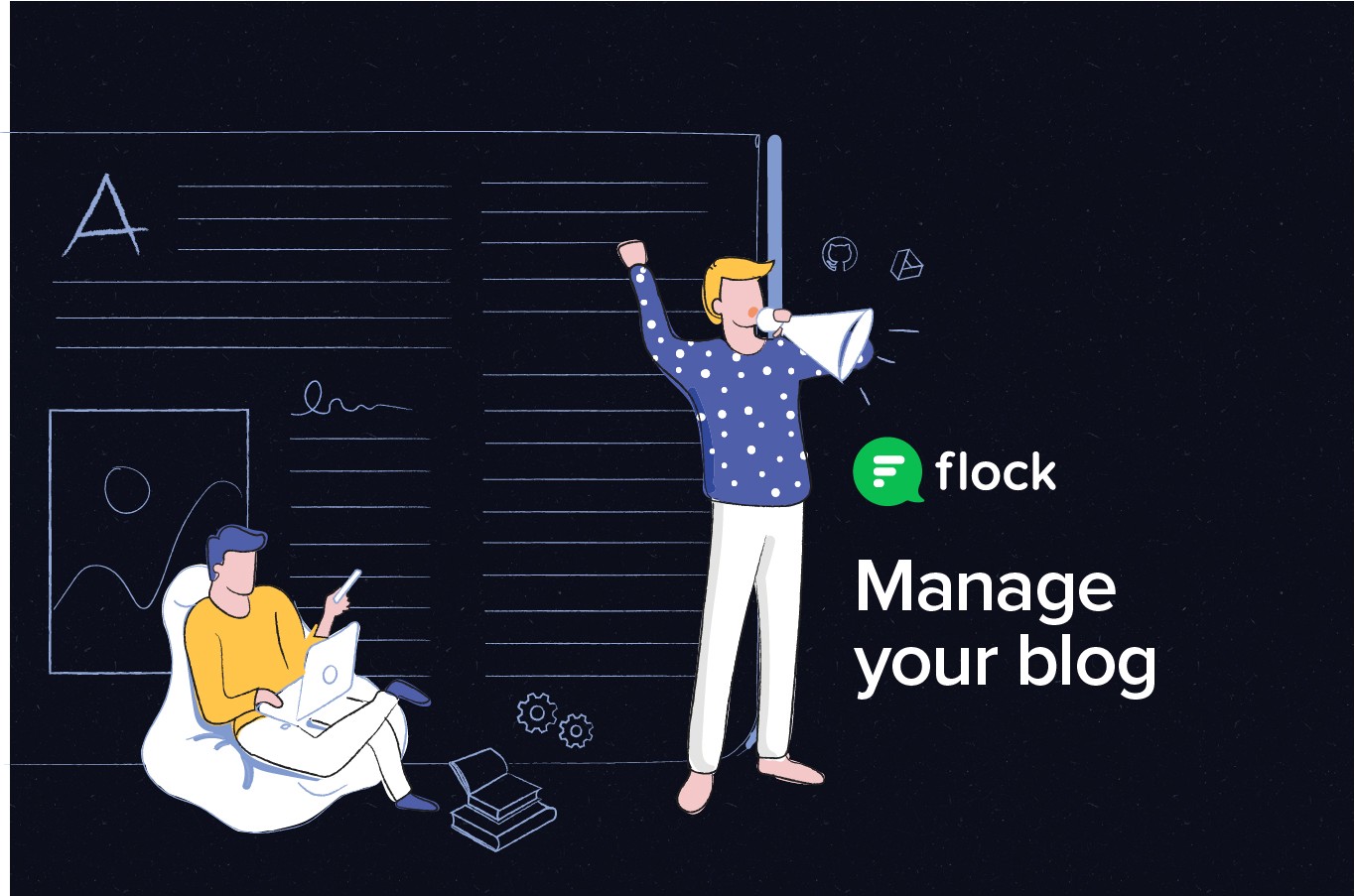 Business blogs are a great medium to build a brand, conduct marketing initiatives, and get the word out for your company. Not to mention that it's almost necessary for your company to maintain a well populated blog. Your readership is on the internet and is waiting to stumble upon an article — that is not just well researched, but the one that also directly piques their interest.
According to the stats, B2B companies who regularly blog receive 67% more leads every month than those who do not. And as many as 57% of marketers believe they have gained customers simply through blogging.
From the point of view of acquiring customers, the benefits of blogging can be understood with a simple flow chart:
More readership → more traffic to website
More traffic → more leads
More leads → Better conversion rate
Better conversion rate → Boosted revenue
Ground Zero
With little, but careful investment, you too could boost your company's revenue by setting up a business blog and regularly publishing great articles. The first step is of course to decide a blogging platform that best suits your requirements. While most companies host their company domain blogs on Wordpress, Wix or Medium, you can take an exhaustive look at other possible options here. When you're locking the theme for your blog, keep in mind that it should be readable on formats — desktop, phone and tablet.
Since the internet is full of readers and bloggers alike, you may need to find the right niche, and the right readership for your brand's content. Who is that one ideal person that you'd like to write for? Always write for that person (or group of people) after careful examination of your target person with persona mapping exercises.
Once you're past that, team up with Flock to help you build and manage your blog in line with your company's content marketing strategy. From brainstorming to actual content creation, and then amplification, everything can be managed from right within your virtual workspace — Flock!
How, really? Read on to know.
Collaborate better with channels
You can share ideas around your marketing strategy, blogs, and themes with the team and get everyone to pitch in by creating a channel on Flock. Easily create and collaborate on blog calendars and content topics with the Google Drive Calendar on Flock. Share multiple images, videos and more with your team via Flock's native file sharing or from your Google Drive, Dropbox and Box accounts.
You can even pin important files or reference URLs shared in the channel up under Files. This is where you also find all the content shared in a channel.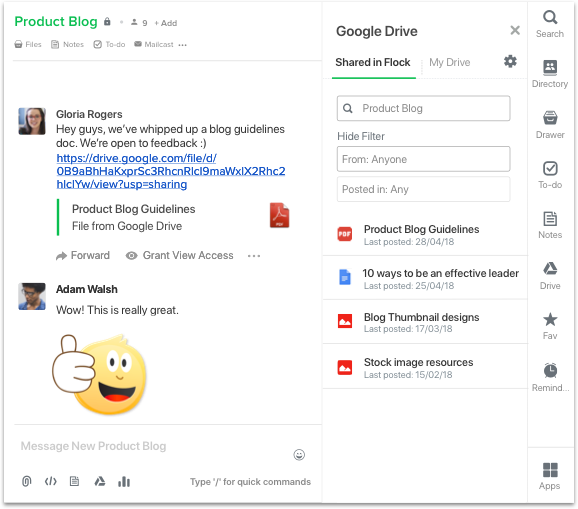 Brainstorm with your entire team
Working with freelancers and remote employees in your teams? Make sure they don't feel left out. Hop onto seamless video conferences and connect instantly for regular catch-ups on your blog content and strategy. And if internet bandwidth is coming in the way, connect easily via audio conferences, with Flock.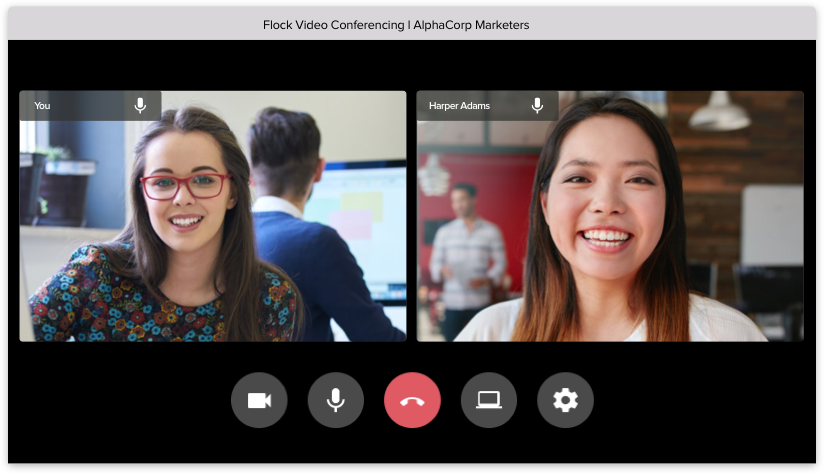 Welcome guests bloggers onboard
Guest bloggers could be influencers in their field, freelancers, or CXOs of other brands. When you get them to blog on your platform, you're effectively using their social outreach to benefit yours. Here's a list of major brands that have benefited from guest bloggers.
And if you intend to engage with guest bloggers on long-term projects, you can manage them better by adding them as guests on Flock. Guests can access only the contacts and channels that you specify.
Manage small and big projects like a pro
Teamwork and time are of utmost importance when it comes to publishing articles. With Flock's productivity tools, you can manage everything in one place.
For instance, with Flock's nifty Reminders, you'll never forget to push out a blog-post.

Need to get your best writer on the job? Create a task with Flock's Shared to-dos and assign it to anyone in your team. Trust the bot to send out timely notifications to you and your team members, reminding them to complete due tasks.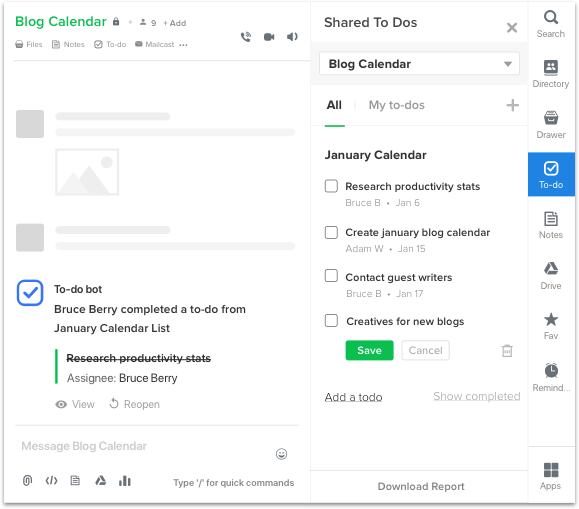 Get more done with all your tools in one place
Since a staggering 43% readers only skim blog posts, you must try every effort to make your blog stand out from the lot. Use headers, videos, and a bunch of other visual tools to make the most important pieces of your article stand out.
Oh and btw, most design teams work with project management tools like Trello and Asana, owing to their clean and intuitive UI. We're sure your creative team does too. The advantage of using Flock? You can integrate all your most used apps with Flock and receive bot notifications for any activity on your cards and boards, within the app. So, now you can manage all of that without the hassle of switching tabs.

We also know that JIRA works best for some teams, so Flock's got that covered too.
Align your blog strategy with your social media strategy
If you're a company starting up in today's day and age, we're assuming you're already present on most popular social media channels. Social media scouting helps a brand be informed of the latest industry trends and its competitors' performance. And this is where Flock's social listening tools help you stay on top of your social media game.
By integrating Twitter and Flock, you can follow specific hashtags, competition, and influencers and get notifications right in Flock every time they post, retweet or like something. You can even integrate your Facebook Pages with Flock and get real-time updates on new posts, messages, and page statistics. Your insights from social media listening can help your content team whip up blog posts on what's trending. Or even help you with the buzzwords that can improve SEO for your blog posts.
Amplify your blog outreach with social media
Here's a simple fact about blogging: Blogging and social media go hand-in-hand. Bloggers/company blogs need to have a social media presence.
Here's another simple fact: In 2017, 66% of marketers reported using blogs in their social media content.
Social media posts and ads are essential in driving traffic to your website. Sharing content from your blog via your social channels is a great way to reach your readership within minutes of your publishing time.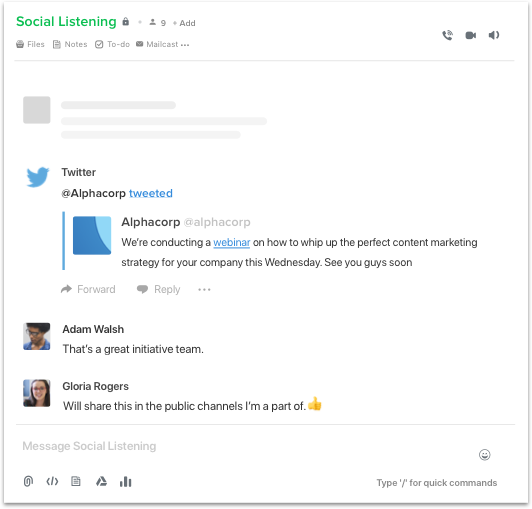 The more your content is shared, the more chances of it being discovered by someone who's probably looking to read something along those lines. The pool of people who can share your articles also includes your brand's internal team. With Twitter and Facebook pages plugged in right within Flock, you can direct all your recent posts to a channel in Flock, with all your teammates in it. They can stay up to date with their company's social media activities and will be encouraged to share content too.
Measure your views, readership, and reach
Hosting your blog on your company domain? Get notifications about average session duration, bounce rates, and unique page views by integrating Google Analytics with Flock. Know what's working with just one glance and understand the diversity of visitors on your blog. You can use this data to actually determine a target persona and execute a smarter blog strategy.
---
How are you driving revenue for your business with the golden medium of blogging? Let us know in the comments below.