Is information overload concentrated amongst the executive ranks? Our newest research implies it is.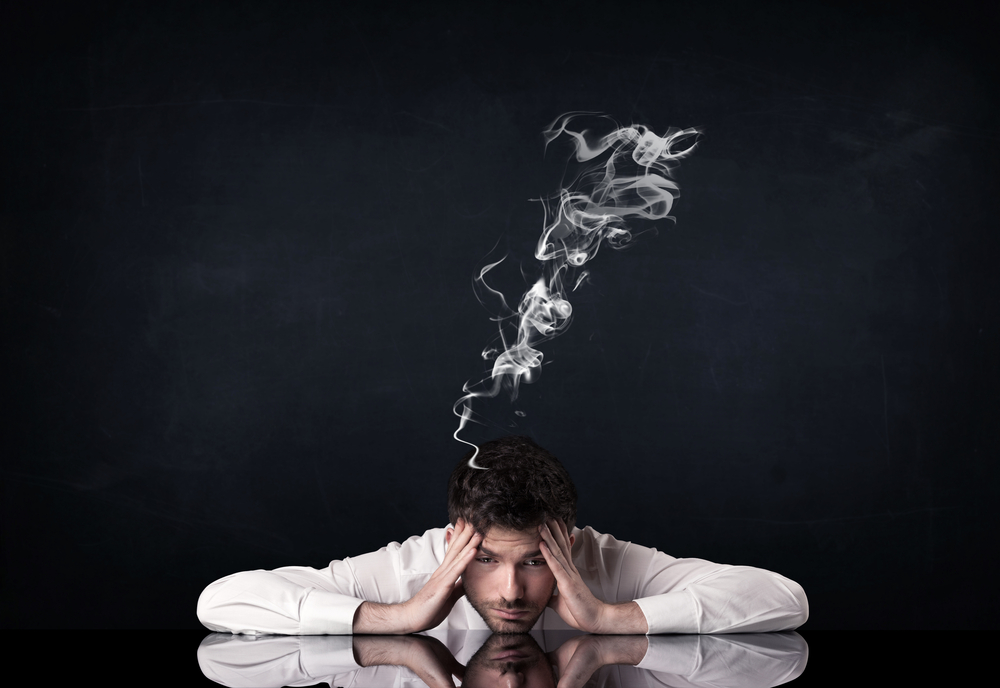 More and more we're seeing messages like this posted online:
Messaging can feel overwhelming!!

During the day I need to

- Reply to work emails
- Reply to personal emails
- Reply to work slacks
- Reply to Twitter DMs
- Reply to LinkedIn messages
- Reply to WhatsApp messages
- Reply to Facebook messages
- Reply to Instagram messages

😭

— Kieran Flanagan 🤘 (@searchbrat) October 2, 2019
There are hashtags and articles devoted to the concept of communication overload. Today's workers are often inundated with messages coming in from multiple channels. Work messages appear on phones next to ones from family members. Notifications carry through on multiple devices and across mobile apps into email (ahem, Facebook).
At Flock, we wanted to investigate the concept of information overload further, and see how people across organizations are coping. We partnered with Compt to survey 807 working professionals in the United States to understand how many messages they send and receive daily, how they prefer to communicate, and how they feel about the state of workplace communication.
Executives feel the pain of communication overload the most
Messaging software like Flock and Slack are great levelers in the workplace. Employees can reach across silos to collaborate with different teams and engage with senior staff on a 1:1 or group conversation. Collaboration improves, more diverse opinions are shared, and organizations get more efficient. Win-win right? So why the influx of #communicationoverload complaints?
It's clear that messaging and video calling software makes it easier to access people. And who are the people that everyone in the company want to influence? Leadership.
Collaborate better with your team—here's our guide on collaboration software!
Our study found that VPs and other senior leaders receive more emails and messages than anyone else. In fact, compared to individual contributors (non-managers), C-level leaders receive 3x more messages and 2x more emails.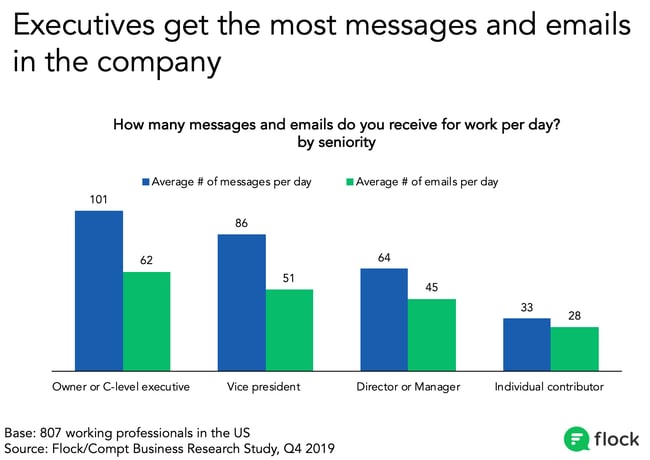 Senior leaders are experiencing notification fatigue.
And since executives have the biggest audiences in their network—when they complain, people pay attention!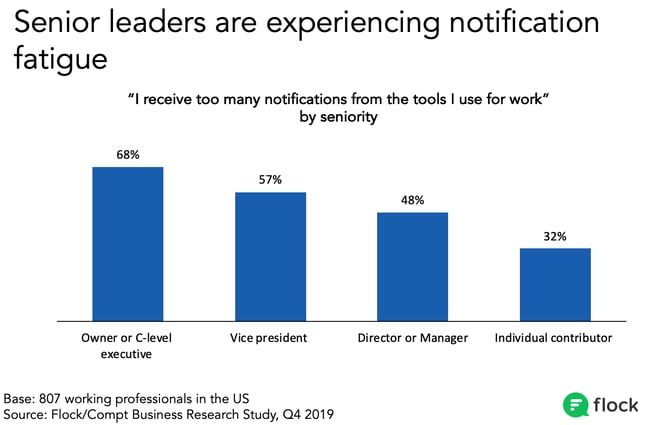 Notification overload can have detrimental effects to efficient decision-making and collaboration—57% of our survey respondents admitted they didn't respond to all the messages they received each day. When we break that question down by role it turns out that 61% of C-level executives don't respond to all their notifications either. That means teams aren't getting answers to questions or issues have to be further escalated before leadership realizes it's a problem.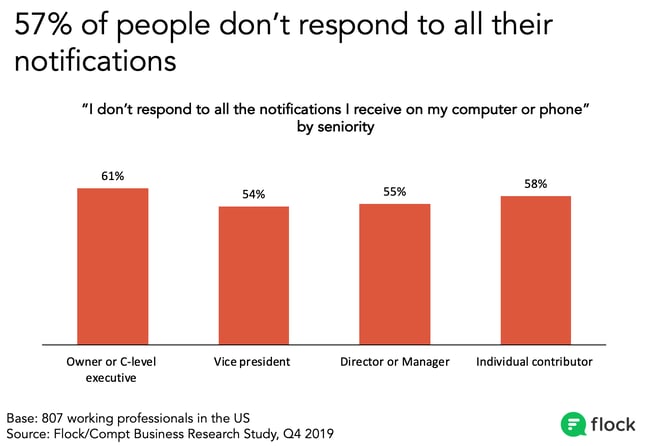 Managers and VPs are more likely to feel like they need to be 'always on'
There are psychological and physical ramifications of feeling overloaded. When work requests and questions pile up, people tend to work longer to get the queue down. And as longer hours become normal, there is a real risk of burnout. According to our survey, 69% of respondents felt pressure to be always on. When broken down by seniority, over 80% of C-level and VP-level respondents admitted to feeling that pressure.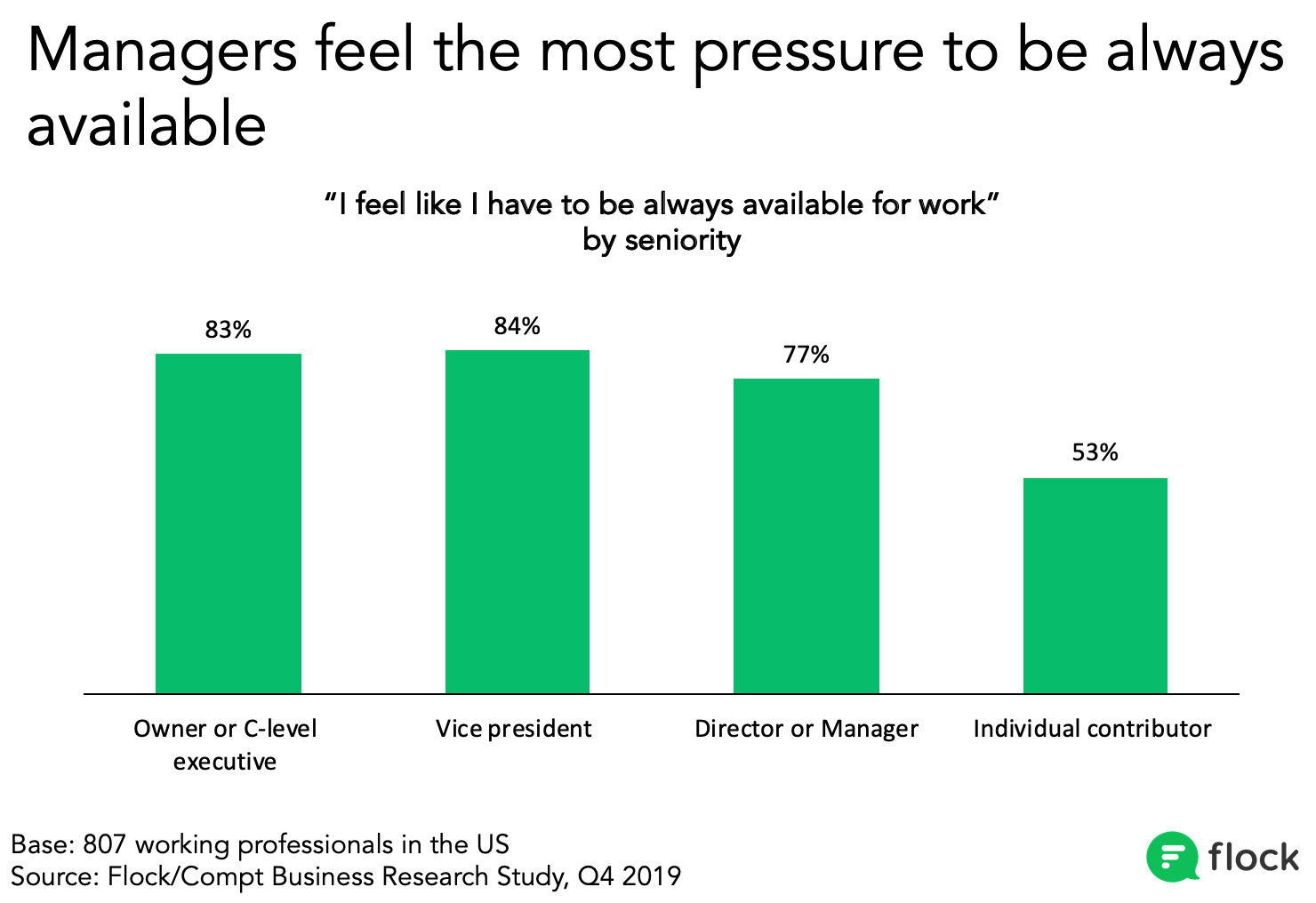 How do we solve communication overload?
Take a step back and aim for the consideration you'd like as an employee when it comes to messaging, especially during off hours. Senior leaders are privileged in many ways, but they are still people. I remember having lunch with a C-level leader a few months back. He always starts our conversation by asking how I am and how I'm feeling. Near the end of our lunch, I parroted those same questions back to him. Then I asked if anyone ever asked how he was feeling. His answer? "Uhhhhh, no."
There are no easy answers for creating balance, but the first step is adopting a set of ground rules on how to communicate in your workplace.
At Flock, we have a general rule that quick questions are posed via messenger, but bigger issues that require more thinking time are sent via email. We give timelines so that people know when we need a response by and follow up on critical questions after a set amount of time.
We also ask people to set up DND so that we're able to see if someone is unreachable via Flock. These are small steps to take with the technology you have in place to help create balance for all employees on your team.