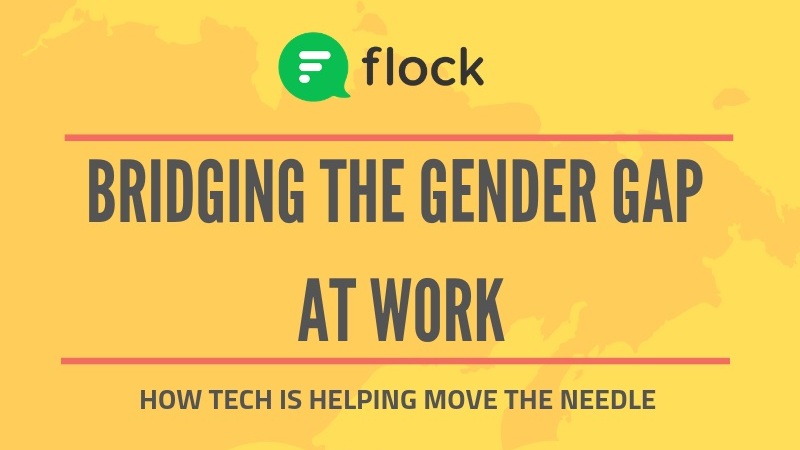 In March 2019, we conducted a new study to answer the question - how do we communicate at work in 2019? And is technology playing a constructive role in enabling better communication?


We decided to take a look at how far we've come in making our workplaces more diverse, inclusive, and equal. We were also curious to see how modern workplace communication tools and platforms are helping people of all genders and personality types feel more engaged, valued, and recognized by their employers.

We reached out to hundreds of working men and women on social media to get their perspective, and the data overwhelmingly supports our initial hypothesis:
Team members with access to a platform at work for sharing ideas and celebrating wins are 2.5x more likely to feel valued and recognized for their work!
We have made a lot of progress
Undoubtedly, businesses have gotten better at building more diverse, inclusive teams where every voice is heard and taken seriously - regardless of the person's gender or personality type. We found that 82% of women in the workforce feel that they are taken seriously when they speak up in business meetings, at par with 83% of men who feel the same. Given that the gender diversity in workplaces is still strongly skewed in favor of men, we've made fantastic progress on this front.
No story of human progress is complete without a mention of technology, and as workplace communication and collaboration tools become increasingly commonplace, a strong positive correlation with diversity and inclusion emerges. Our data suggests that 67% of introverts in the workplace (all genders) show a preference for using team chat to communicate, while only 45% of extroverts prefer it. Further, women who identify as introverts and use team chat are 18% more likely to feel recognized for their work compared to those who don't use it.
Increased adoption of workplace communication tools correlates positively with increased opportunities and recognition for a number of groups of people.
We also discovered that being able to contribute to cross-functional projects has an incredibly strong positive correlation with a feeling of recognition at work. 81% of all professionals (and 83% of women) that discover and work on cross-functional projects outside their core area of expertise feel that their work is recognized and appreciated.
Here's an infographic with key insights: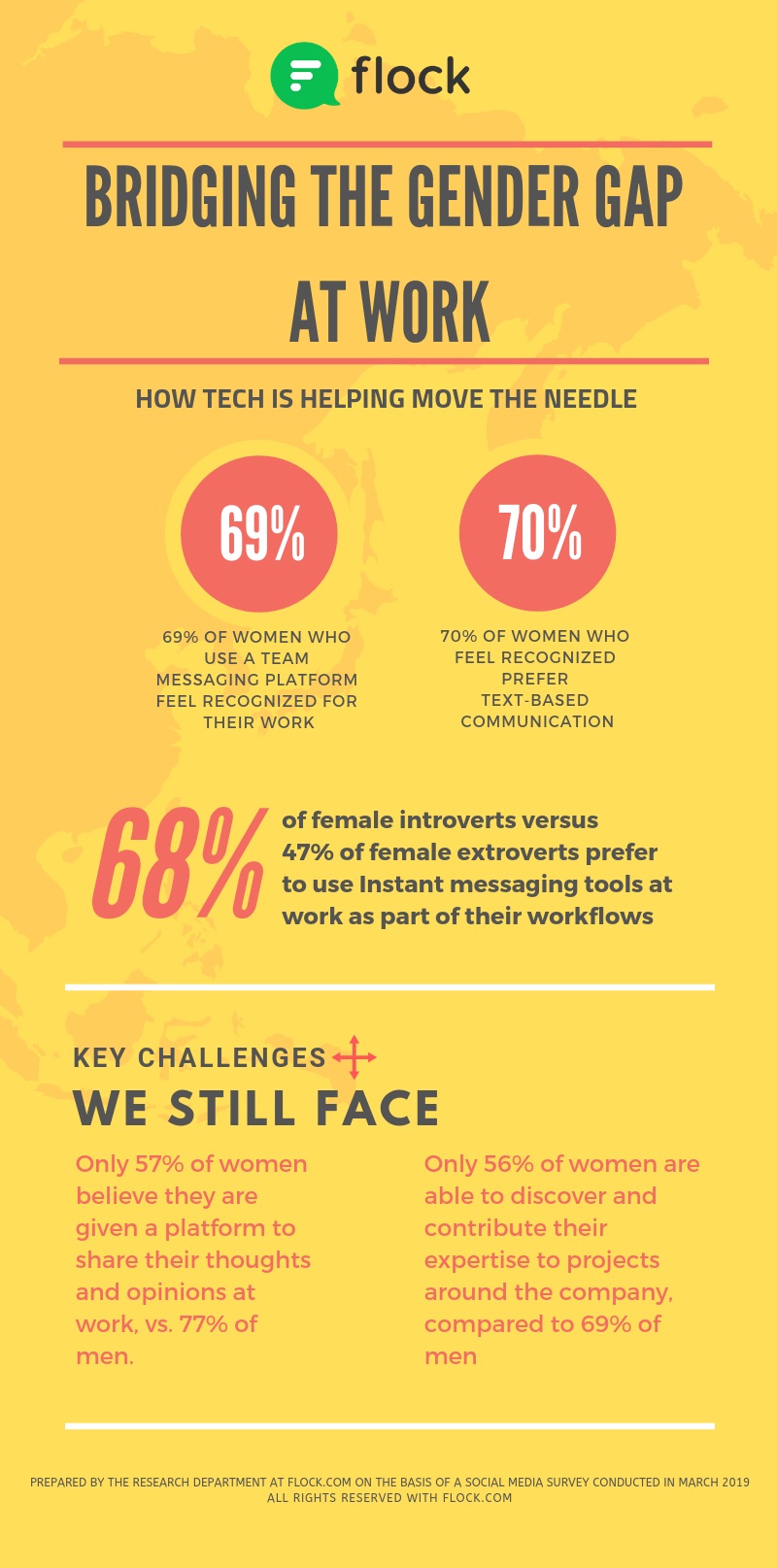 But we have a long way to go
We spend a third of our lives at work - most of our waking hours - and the workplace needs to be a safe space for each one of us. While today's workplaces are much more diverse, inclusive, and equal than they used to, it is important to remember that we have a long way to go before we can close the gender gap.
Only 57% of women we talked to have access to a platform to share ideas and celebrate wins with their team, compared to 77% of men.
Just 56% of women are empowered to discover and work on cross-functional projects, compared to 69% of men.
1 in 3 women feel that they are not recognized for their contribution to business goals
These data points illustrate the extent of the challenge before us, and at Flock, we intend to work to be part of the solution. Whether it is by doing everything we can to make our workplace inclusive and equal, or creating technology that can help bridge these divides for workplaces everywhere, we feel it's a goal worth pursuing every day.
While new technologies and the right tools certainly help, the goal of making workplaces safe spaces for all genders will ultimately be achieved by organizations that actively pursue it.