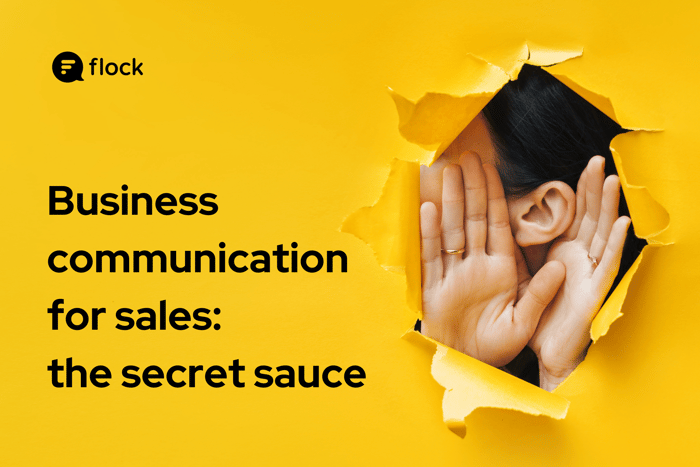 Sales in its true form is communication—and it's always more than just closing a deal.
To be the top product or service in their respective industries, sales teams have to break through the crowd and reel in their prospects. And ultimately, a sales person's success is determined by their ability to communicate with prospects clearly and concisely.
But here's the conundrum. There's a ton of material out there—blogs, case studies, courses—on improving business and team communication, and everyone—including your competitors—has been trying to trawl through it, learn new things, and identify the secret sauce for ages.
What then, will set your sales team apart from the competition?
To help you find the answer, we dug in deep across our favorite blogs, favorite people in office, and good ol' watercooler talk, and found this gem hidden just across the bay in our office:
"The secret sauce to closing any sales deal is ultimately good storytelling. It's knowing your customers and making them the hero of their own story."
—Ben Pointing, Sales Head at Flock.
At this point you're probably thinking, "Nice quote, but how can I make this happen?"
Well, here are all the ingredients of this secret sauce to help you get your story right.
Listen with intent, and across platforms
Of all the skills you need for effective communication, listening tops the list. And believe it or not, according to Hubspot, a whopping 69% of buyers wished that their sales reps would listen to them! The good news is that among the multiple challenges a sales rep has to face on the road to lead conversion, this one is fairly simple to overcome.
You can start listening to prospects even before you meet them. Google them, check their LinkedIn profiles, go through the questions they post on Quora and Reddit, or the social media accounts they follow. We can guarantee that all this research will help you understand your prospects/protagonists better, from their heroes to their villains—all of which should make for a better, more colorful story.
Dos: Listen to your prospects before, during, and after meetings. Do your research.

Don'ts: Avoid being presumptuous when listening to your buyer's needs and agenda. The best way to listen is to start with an open mind.
Be curious, ask questions
Asking questions in a meeting makes your prospect feel that you're invested and interested in more than just selling your product. So, don't just give out information, request for some too. It's advisable to put aside 50% of your meeting time just to ask questions, so you can weave a great story, instead of a dry sales pitch.
Wondering what questions to ask? Begin with listing down your buyer's pain points, tied to what your product can offer to resolve it. Find a hook to increase your chances of getting instant replies.
Dos: Beginning your conversation with small talk can be a great way to gather information in a more offhand way. In some countries, it's considered good manners to kickstart the meeting with 5-7 minutes of small talk before you begin making your pitch. However, in some other countries, buyers and sellers prefer getting straight down to business. For professionals making sales deals across the world, being culturally sensitive is an essential skill.

Don'ts: Avoid throwing your prospect off with too many questions. Think smart, act fast. And if needed, improvise questions based on what you hear from your client.
Mirror your client's tone and body language
Adapting to the tone and temperament of the buyer—also known as linguistic mirroring—can help you build an environment of trust and belonging. Linguistic mirroring helps accelerate any job that requires persuasion skills, as it helps you create powerful connections with others. This in turn helps your buyers reach decisions faster.
Dos: Learn the difference between mirroring and mimicking. Mirroring requires subtlety.

Don'ts: If your client is laid back and relaxed, don't be pushy. The same goes for any other situation. Avoid a clash of opinions or tone when dealing with any client. It ticks people off and can hamper your sales deal.
Get down to the specifics
A good salesperson is always confident while conveying his or her product's value to prospects. You need to reassure your clients that they are right about investing in your product. Do this by talking specifics, showing expected ROI and overall impact on their business. Look up and share statistics, facts and figures, and every piece of information clients need to move on from the consideration phase of the sales journey.
Dos: Use newer and fresher ways to close sales deals, and convey your vision effectively. Videos about product features are the most popular according to the article The Changing Face of B2B Marketing by Think with Google, followed by how-tos and professional reviews.

Don'ts: The only thing worse than an unequipped salesperson is one who misrepresents information. It's highly unsettling for a buyer to deal with a salesperson who doesn't have his or her facts and data right. It's unprofessional and the buyer may never be interested in dealing with your company again.
Promptness is primary!
A quick reply can make or break the deal itself, especially during sales prospecting. Here's an interesting excerpt from research conducted by Harvard Business Review that indicates that many firms are too slow to follow-up with their leads:
Although 37% responded to their lead within an hour, and 16% responded within one to 24 hours, 24% took more than 24 hours—and 23% of the companies never responded at all. The average response time, among companies that responded within 30 days, was 42 hours.
As a result, firms that tried to contact potential customers within an hour of receiving a query were nearly seven times as likely to qualify the lead as those that tried to contact the customer even an hour later—and more than 60 times as likely as companies that waited 24 hours or longer.
So, if you've waited long enough to respond to a prospect, chances are you've already missed out on an opportunity for a meaningful conversation—the essence of business communication.
Dos: Since most of your communication with a prospect is probably over email, make sure you make an impression quickly and ask questions. Even in the early stages of a deal, emails that contain one to three questions are 50% likelier to get replies than emails without any questions. Oh, and it always helps to maintain one email thread per project.

Don'ts: Don't wait more than a day to follow-up. The more you let clients mull over a purchase, the higher the chances of them deciding against it. Although we'd love to hear what you think of this tip.
Invest in the buyer's journey
Empathy is the difference between closing deals and building relationships. And if you are selling SaaS, building long-term relationships with your customers is key to renewals! When a buyer understands that you are interested in making a difference for them, they're more likely to stay on as a long-term client. Besides, if you're hoping for a client to promote your service in the long run, you need to build that relationship right from the first meeting. Stats suggest that after a positive experience, 83% of customers would be happy to provide a referral.
Great sales people integrate themselves completely into the buyer's process. Ideally, you want to reach the stage where your sales person is so ingrained in the process that they are almost driving the buyer journey from the inside
Dos: Instead of waiting for your client to move to the next stage of the sales journey, take the lead by suggesting future calls and meetings.

Don'ts: Don't be passive. Most of your meetings might end in your prospect requesting some time to brood over your product. Use this time to reach out via email and share useful information that can nudge them along the sales journey. Don't wait for an email reply if the matter at hand is urgent. Just pick up the phone and offer solutions faster. Persuasion and persistence is the key.
Ultimately, business communication is an ongoing process
Your conversations with clients don't end with a phone call or a meeting. To follow-up effectively, you need to keep yourself up to date on the latest news and trends in your client's industry.
Communication and the mediums we use to communicate are evolving as well. Different mediums of business communication like videos, infographics, ebooks, and getting started guides may appeal to different subsets of your client base. But ultimately, your overall communication narrative with clients, individually and collectively, will leave a lasting impression of your firm's position and value.
Above all, remember that your buyer is always more interested in your story than your product. Keep your narrative concise and full of information they don't already know.
And always, always remember to tell a story rather than make a vanilla sales pitch. Do let us know how it goes. Oh, and you may want to take a look at how Flock can help you with your sales processes.
Happy pitching!