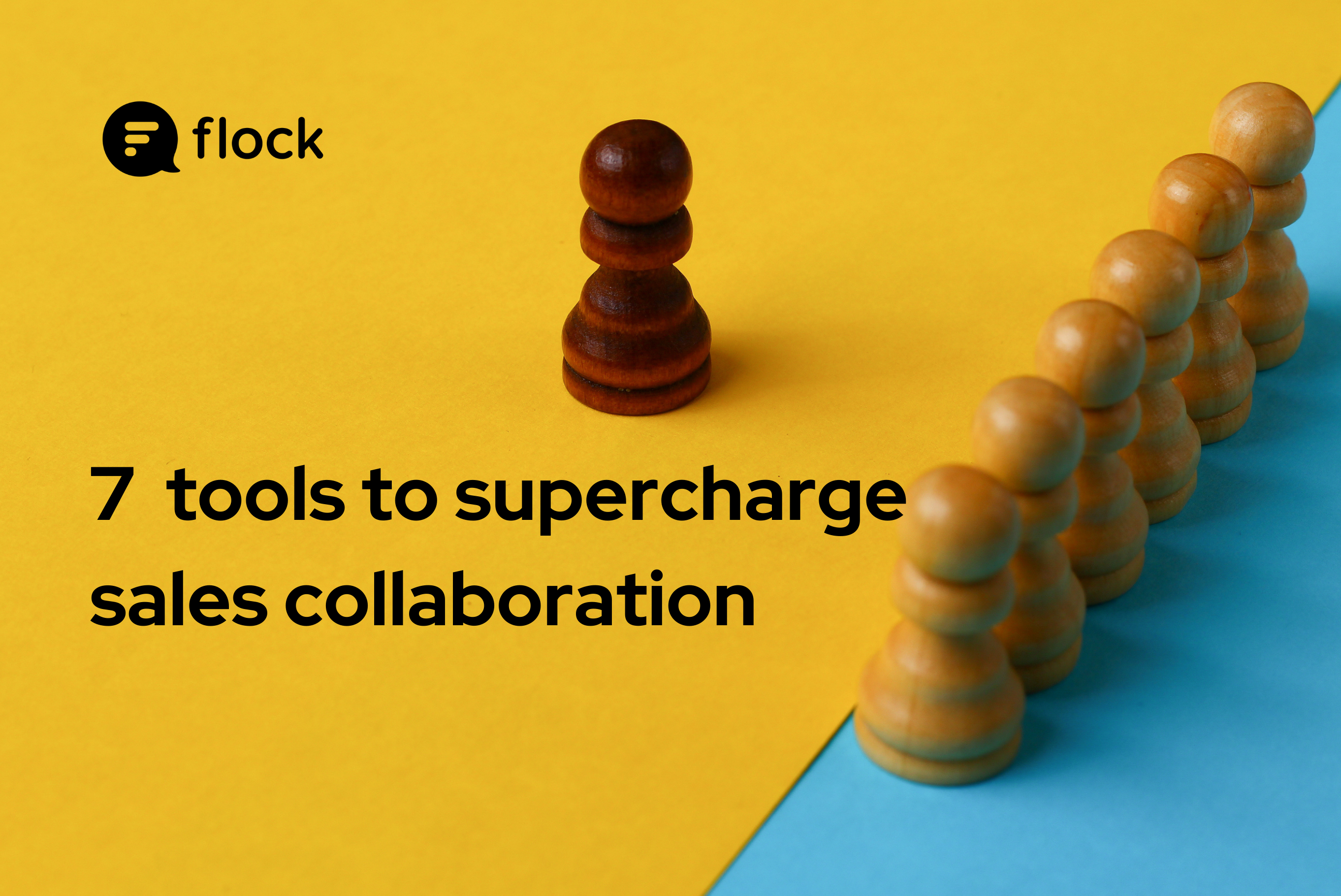 As a leader, you already know that lack of sales collaboration is bad for business. Your sales rockstars are great closers on their own, but they can be even better when they work together—chasing down leads more efficiently, increasing conversions from meetings, and closing more deals. In other words, sales collaboration is key to driving sales productivity.
Fostering a culture of collaboration within ultra-competitive sales teams is easier said than done, but a critical first step is implementing the right technologies—tools for real-time and async communication, customer relationship management, project and task management, and more. Get started with this curated list of 7 tools to supercharge sales collaboration in your business.
Flock
Not to brag, but Flock rapidly transforms how your teams, sales and all, work together everyday. Our users say so. 60% say Flock makes it easy to communicate with coworkers, make informed decisions, and work together more effectively while organizations adopting Flock report a 33% jump in collaboration.
With public and private channels for focused group discussions and video conferencing for meetings, Flock helps your salespeople effortlessly connect, discuss ideas, share insights, and collaborate in real-time as well as asynchronously. Built-in productivity tools such as Shared To-dos, Notes, Reminders, Polls, and integrations for popular business tools such as Google Calendar, Zoom, and Trello further help your sales team simplify workflows and get things done more efficiently.
Customize Flock to your business's unique requirements from the Admin Panel with exhaustive team permissions—who can invite new members and guests, who can share files, who can create channels and so on—and security controls such as changing how people discover and join your team, single sign on, custom profile fields and smart channels.
Zoom
Zoom has rapidly become the go-to platform for video conferencing and online meetings, for good reason. It's easy to use, video quality is crisp, there's screen sharing, and you can even record meetings. Zoom integrates with Google Calendar, so your salespeople can easily schedule video meetings with prospects. Whether it's for internal conversations or meetings with prospects, Zoom is an indispensable tool in every salesperson's arsenal.
We tend to use Flock video conferencing for most internal communication, but since Zoom integrates right into Flock, it continues to be an essential part of our sales collaboration toolkit—many of our prospects are already familiar with it.
HubSpot
HubSpot combines the best lead generation and marketing automation tools in the market with a top-notch CRM that drastically improves sales and marketing collaboration in any organization. Flock is no exception.
We use HubSpot for all our marketing campaigns and initiatives, with prospects added into the CRM as they move through the acquisition funnel and leads automatically assigned to our sales reps based on preset parameters. Another plus is the ability to create dashboards for various activities—our sales Flockstars each have their own dashboard to track assigned leads and open deals while our marketing team has a bunch of them to track traffic, marketing conversions, meetings booked, deals closed, etc.
Trello
Best known for its Kanban-style boards and cards, Trello is a cross-platform visual collaboration tool to help your sales teams manage, track, and work together on projects and tasks.
Encourage your salespeople to create new Trello cards for leads with contact info and meetings notes, and move them from "pipeline" to "pilot" to "won" as it happens. Get them to attach relevant materials to each card (lead) like requirements, objections, contracts, and SLAs to turn your sales team's Trello board into a real-time dashboard of your entire sales process. You can even prioritize specific deals simply by moving those cards higher on the list.
Calendly
Calendly is an automated scheduling tool that saves time both for your salespeople and prospects. Salespeople simply set their availability preferences and share a unique Calendly link, so prospects can choose an open meeting slot that works for them too. Best of all, it syncs to popular calendar services such as Google Calendar and Microsoft Outlook, so no more lost invites and missed appointments.
Alternatively, full-featured sales CRMs like HubSpot offer a built-in meeting scheduler that works the same way. We use this for our sales meetings. Click here to book a meeting. :)
Zendesk Guide
Zendesk Guide is a knowledge management tool that can be customized to your organization's needs—be it to serve as an internal knowledge base or a customer-facing self-serve support tool. Besides improving your customer support and onboarding efforts, Guide's built-in translation tools also make your knowledge base more accessible than ever before, a big plus if your business is expanding into new markets.
At Flock, we depend on Zendesk Guide's easy to use tools to maintain up-to-date product documentation for all stakeholders—our customers, support agents, and employees. Guide's full-featured ticketing system also makes it easier to deliver superlative real-time assistance to users and improve customer satisfaction levels. An unexpected bonus: our sales Flockstars find this knowledge base incredibly helpful when they are talking to prospects, handling objections, or providing detailed how-tos during onboarding.
LinkedIn Sales Navigator
Ultimately, sales is about building strong relationships—perhaps never more so than when you are a B2B SaaS business like we are. This is where LinkedIn Sales Navigator comes in with a fantastic suite of tools for prospecting, list building, and lead generation to help your business leverage social selling, amplifying both sales collaboration and productivity. As a valuable addition, you can use a LinkedIn Email Finder extension to find emails of the list you built through sales navigator
Our marketing Flockstars use LinkedIn Sales Navigator every day to find filtered prospects and generate high intent leads while the sales team depends on it for outreach and sales intelligence that helps develop stronger relationships with prospects.