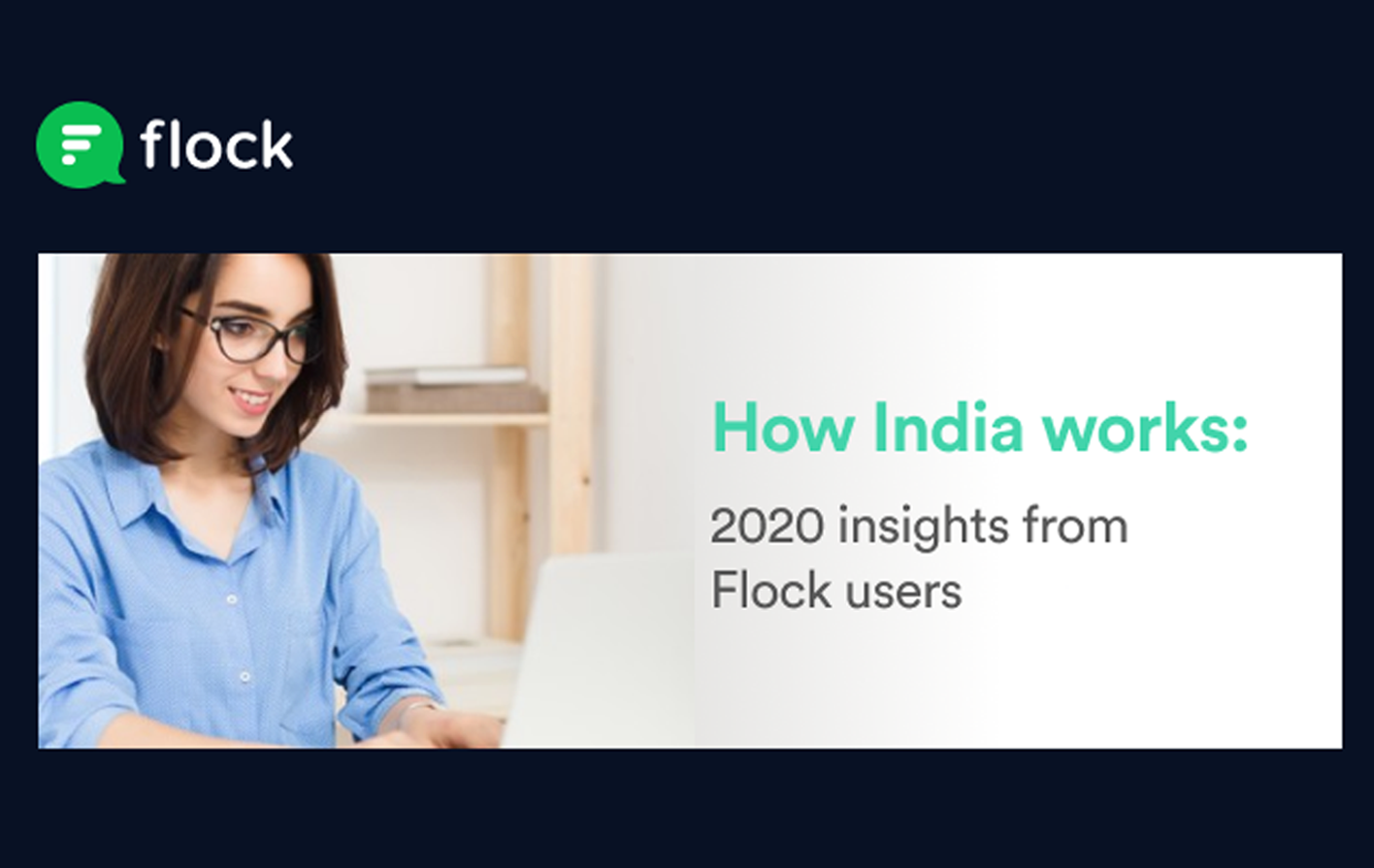 How does the world work? We may have thought we knew what 2020 had to bring to the business world, but when the Coronavirus pandemic altered our state of the workplace, everything changed with it.
We knew the basics: businesses would need reliable messaging, video conferencing, and file sharing. As weeks turned into months, business needs grew and adapted, and we're only just now starting to see the future of remote work shape itself.
As the longest year ever finally wraps, we're taking a look at how Flock users in India—decision-makers, senior executives, individual contributors, and more—from businesses of all sizes have changed their behavior on our app since March 2020. The results give a very clear picture of what work looks like in this work-from-home age.
Work habits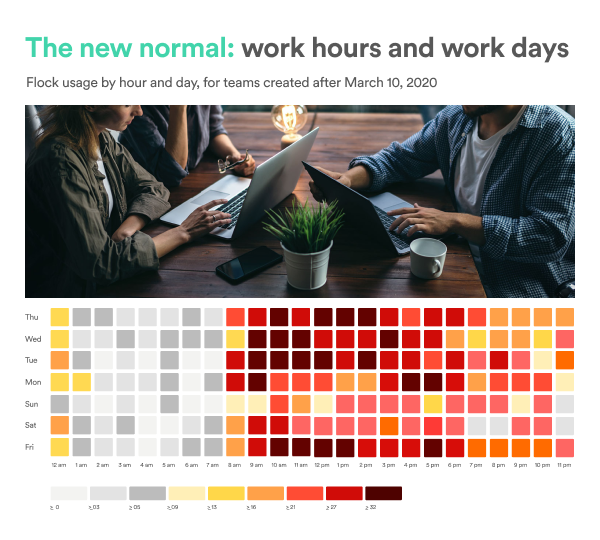 Working hours via Flock usage data
For the most part, our working hours have remained the same. Flock users in India on average start their day at 8:00 am and end their day at 6:00 pm. Activity dips between 12:00 pm and 3 pm, during typical lunchtime hours. Users tend to be online longer on Thursdays, presumably to chase their remaining work at the end of the week :) And while most Flock users are offline on Sundays, we see a lot of activity on Saturday afternoons. To those users: don't forget how important work-life balance is during these times.
Teams are starting to meet more often as we replace face-to-face meetings and conference rooms with Flock and Zoom calls. The average amount of calendar invites in Flock sent per user per day increased by 22% after March 2020. Teams are growing too—the number of members in a channel grew by 33%.
Communication
We built Flock as a hub for an organization's communication. So it came as no surprise to us that communication skyrocketed in the shift to remote work.
Chatter is high! Since March 2020, we've seen a 13% increase in 1:1 messages sent between individual users. Messaging increased across the board, with small businesses in India sending 152% more messages than before. Overall, the number of messages sent increased by 80%.
And teams are working together a lot more, too. Thousands of channels have been created to help groups communicate and get the job done: public channels have increased by 76% since March. We're seeing collaboration and communication happen out in the open more, too—the number of private channels created decreased by 28% in India.
It seems even messaging can become more streamlined in the work-from-home era. When we launched our voice notes feature at the beginning of March, we saw a small early adoption. Since Covid hit, the number of voice notes posted increased by a whopping 379%. Who knew we enjoyed talking so much?
Using Flock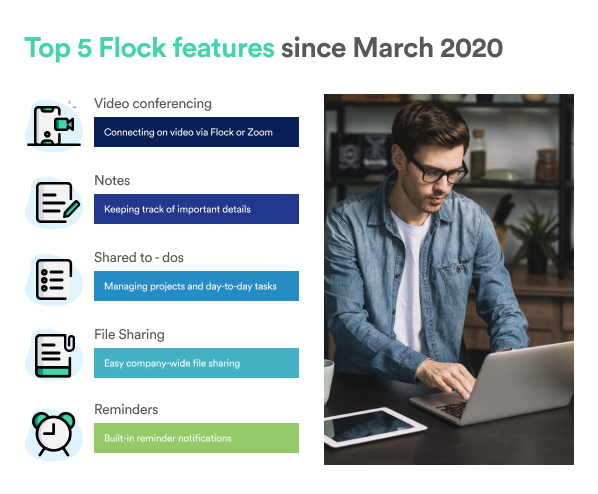 Top-used features via Flock usage data
Here are Flock's top-used features of 2020:
It's not all talk. Businesses on Flock are using the tool not just to chat with each other, but to do meaningful work and achieve their goals. From project management to people management, Flock users took the reins on their own productivity this year. We saw increased adoption of our business-focused features, particularly within small businesses.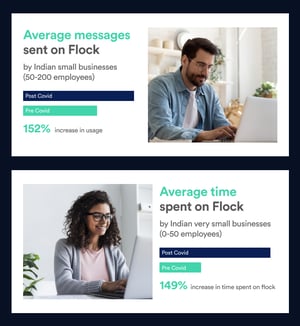 Teams are using Flock to collaborate in the work from home era—we saw small businesses in India increase their amount of files shared by 55%, as they say goodbye to printers and desk memos and hello to instant file sharing. In fact, the average files shared per user per month increased by 20%.
Flock's shared to-dos tool, which allows users to assign a task to an individual and set a due date and reminders, saw its usage increase by 37%. This means employees and managers are being more proactive in getting their tasks done, and sharing their status with others. These users may even have multiple integrations like Asana or Jira installed to manage those tasks.
Takeaways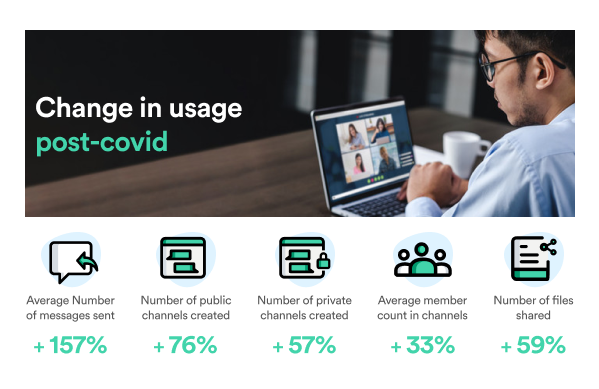 So what does it all mean?
It's no surprise that people are working online more than ever now. But it's the steps they're taking to ensure their work is intentional and done well that makes a marked difference in the remote workplace. The output of your employees' work can be determined by intelligent choices in the way your team manages tasks or sets up meetings.
Despite the biases against remote work, businesses and workers alike continue to prove that working from home is an effective alternative. Business owners can quell the uncertainty of remote work with tools that enable that work. Businesses continue to communicate and collaborate in new, innovative ways that are transforming the workplace each day. And people all around the world are finding a new style of work that works for them.