Remote teams around the world are using Flock's video conferencing tool to help boost productivity and performance.
With Flock's built-in video conferencing tool, remote work has never been easier. Video conferencing software lets you keep in touch with your team and your customers while you work from home—and Flock gives you the power to do that from just about anywhere. All you need to do is click on the video conferencing icon in any Flock Channel to get started.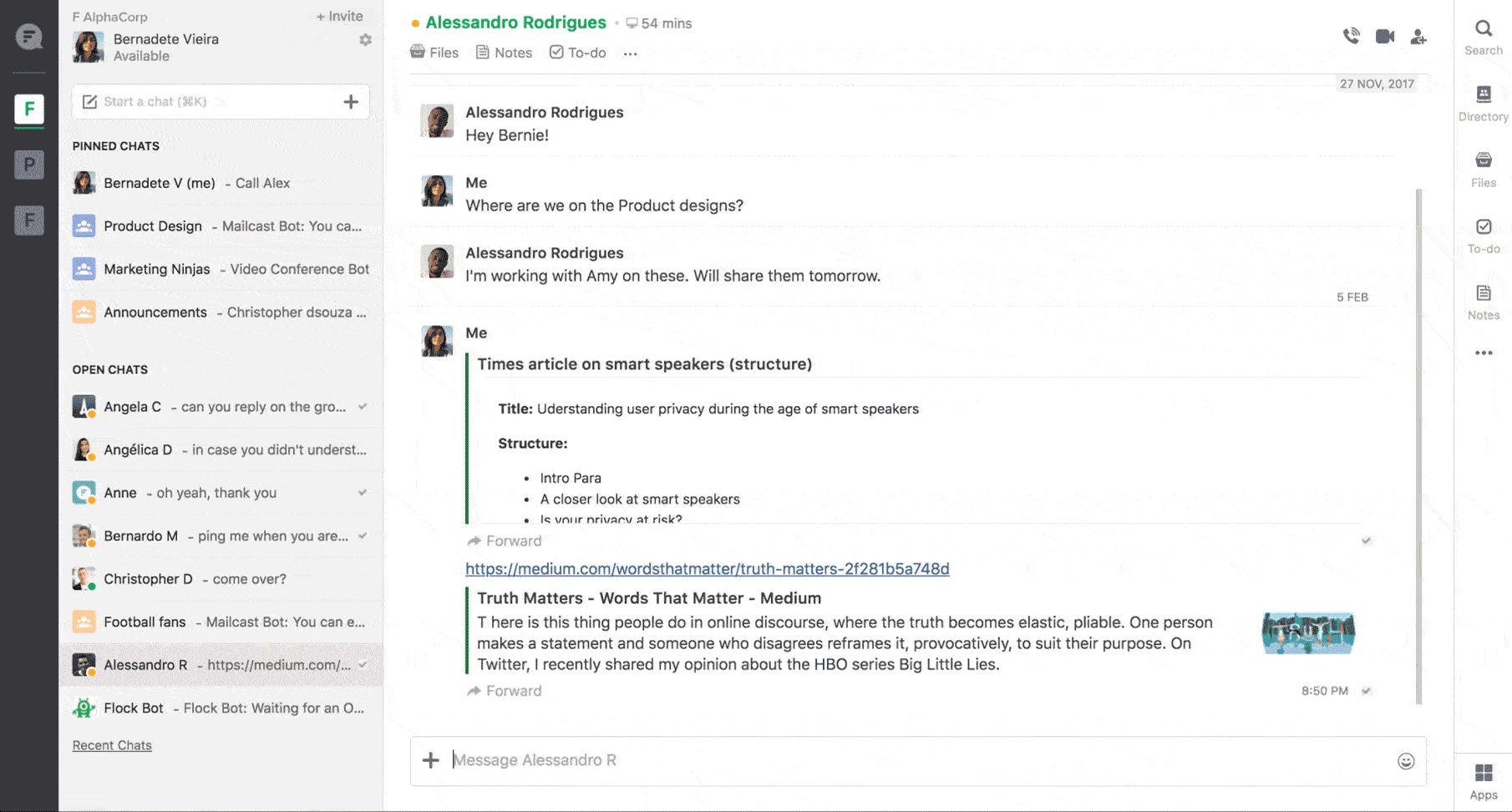 Use video conferencing with Flock's Channel messaging
It can get lonely when you work from home. Video calls in Flock make it easy to connect with your remote team to discuss important agenda items, make quick decisions, or hold creative brainstorming sessions that get new ideas percolating. When you combine Flock's Channel messaging features (business chat, file sharing, and note-taking) with its video conferencing and screen-sharing capabilities, working from home is like you never left the office.

Start a video conference with all team members in a Channel
No more adding team members to a video conference one by one. Flock Pro lets you host a virtual team meeting with up to 20 team members from a single Channel for as long as you want. There's no time limit! Alternatively, you can host 1:1 video calls directly with individual team members for up to 20 minutes on our free plan.
Pro Tip: Choose to accept or decline video calls with one click. See below.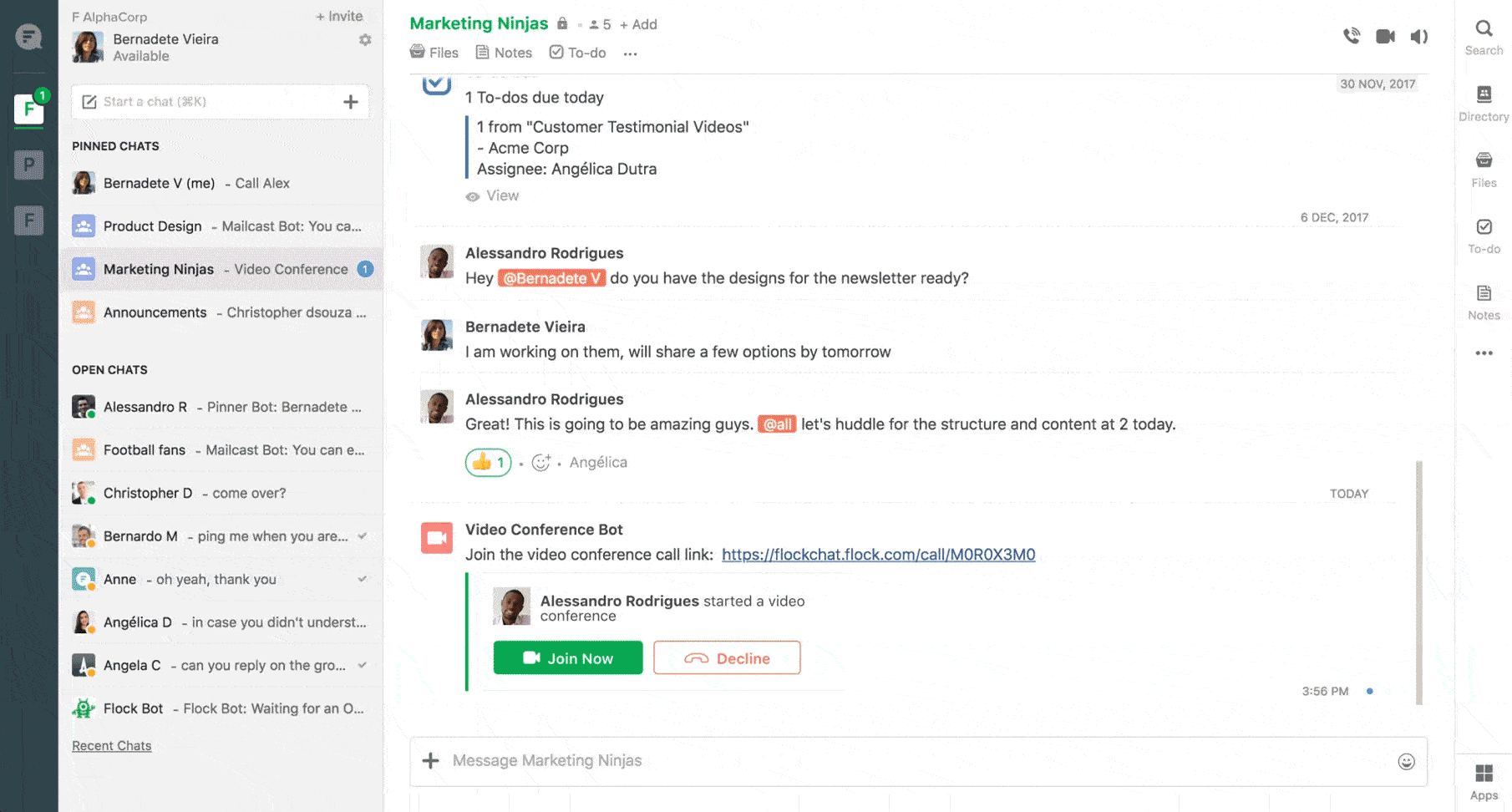 Screen share while you video conference!
When you need the rest of your team's attention to discuss a weekly status report or crunch the sales numbers, Flock video conferencing lets you share your screen so everyone can get on the same page in real-time. As a Flock Pro user, all you have to do is click a button, select the screen you wish to share, and everyone on the video call can get Flocking, too.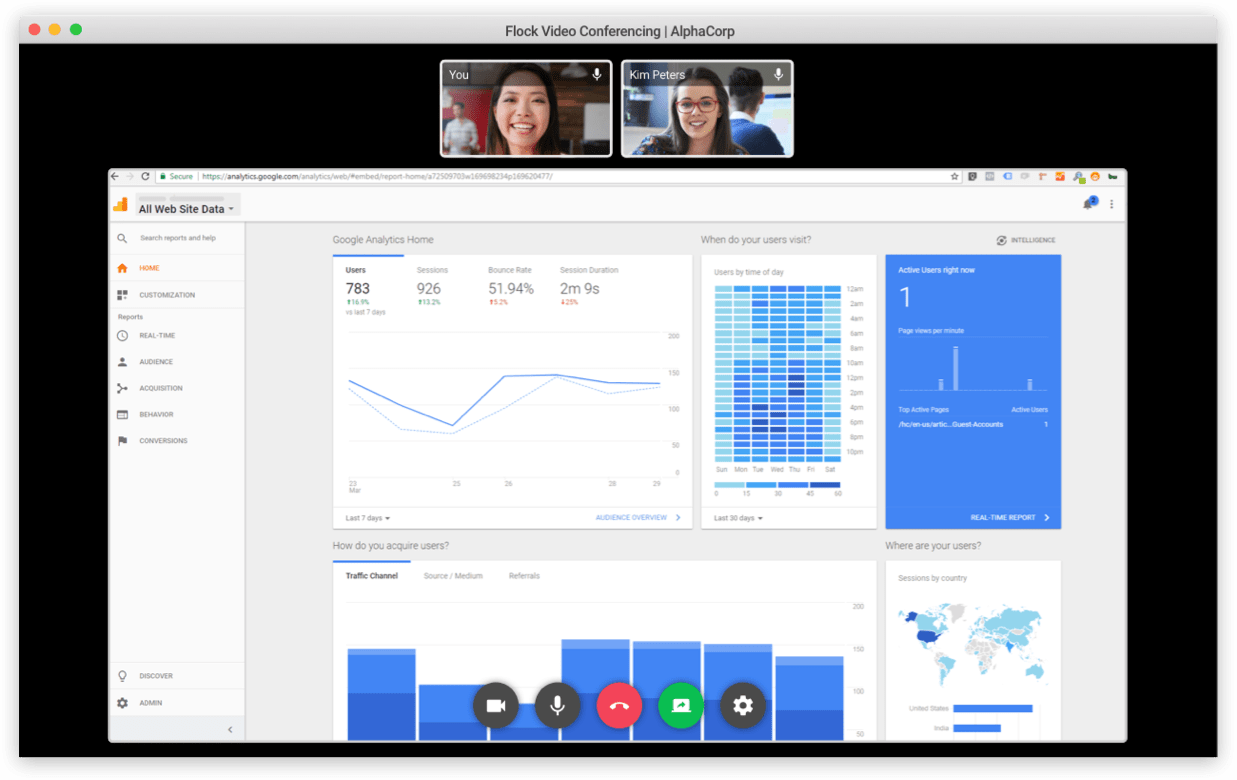 Meet over Zoom
Flock's integration capabilities let you set up Zoom calls without having to leave the app. Once you've linked your Zoom account with Flock, you can invite members to your meeting, start a call with a channel, and get into your Zoom meeting with a click of a button.
More flexibility with Flock's productivity tools
Because Flock has its own native video conferencing tool built-in alongside a full suite of productivity tools, you never have to worry about miscommunication, context switching, or downtime. We make sure Flock runs seamlessly and integrates with all of your favorite business apps and tools, like Google Drive, Asana, Trello, and Zapier—just to name a few.



Everything gets organized into Flock Channels, keeping all your conversations, notifications, reminders, and documents right in front of you. Your remote business will have a hard time surviving on video conferencing alone, that's why Flock is the perfect all-in-one productivity tool to keep your virtual team connected and your business on track while you work from home.

But wait, there's more!
Video conferencing works seamlessly across Android and iOS devices

You can mute your mic to avoid distractions and disturbances (crying toddlers, anyone?)

If you drop out of a call, you can rejoin immediately with one click

Flock remembers your camera and mic settings, so no more annoying pop up screens!