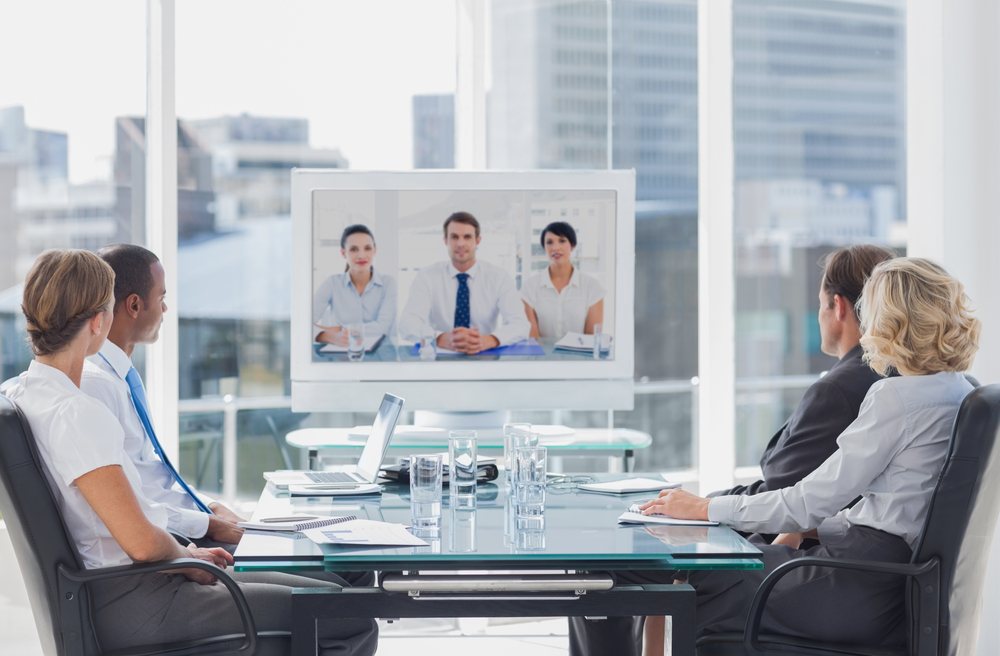 Do you use video conferencing at your business? Are you looking for a new option or looking for where to start?
Corporate meeting software comes in a variety of styles, packages, and pricing. While many virtual meeting hubs tout their excellence, few live up to the promise of quality video conferencing.
Here are some of the best video conferencing software options for your business, whether it's a team of three or an enterprise of 100,000.
| | | |
| --- | --- | --- |
| Tool | Price | Maximum Participants |
| Zoom | $14.99 to $19.99 | 1,000 |
| Flock | $4.50+ | 20 |
| Microsoft Teams | Free to $20 | 10,000 |
| Join.me | $10 to $30 | 10 |
| GoToMeeting | $14 to $39 | 250 |
| Bluejeans | $12 to $16 | 150 |
| Hangouts | $6 to $25 | 100 |
| RingCentral | $19.99 to $49.99 | 500 |

Zoom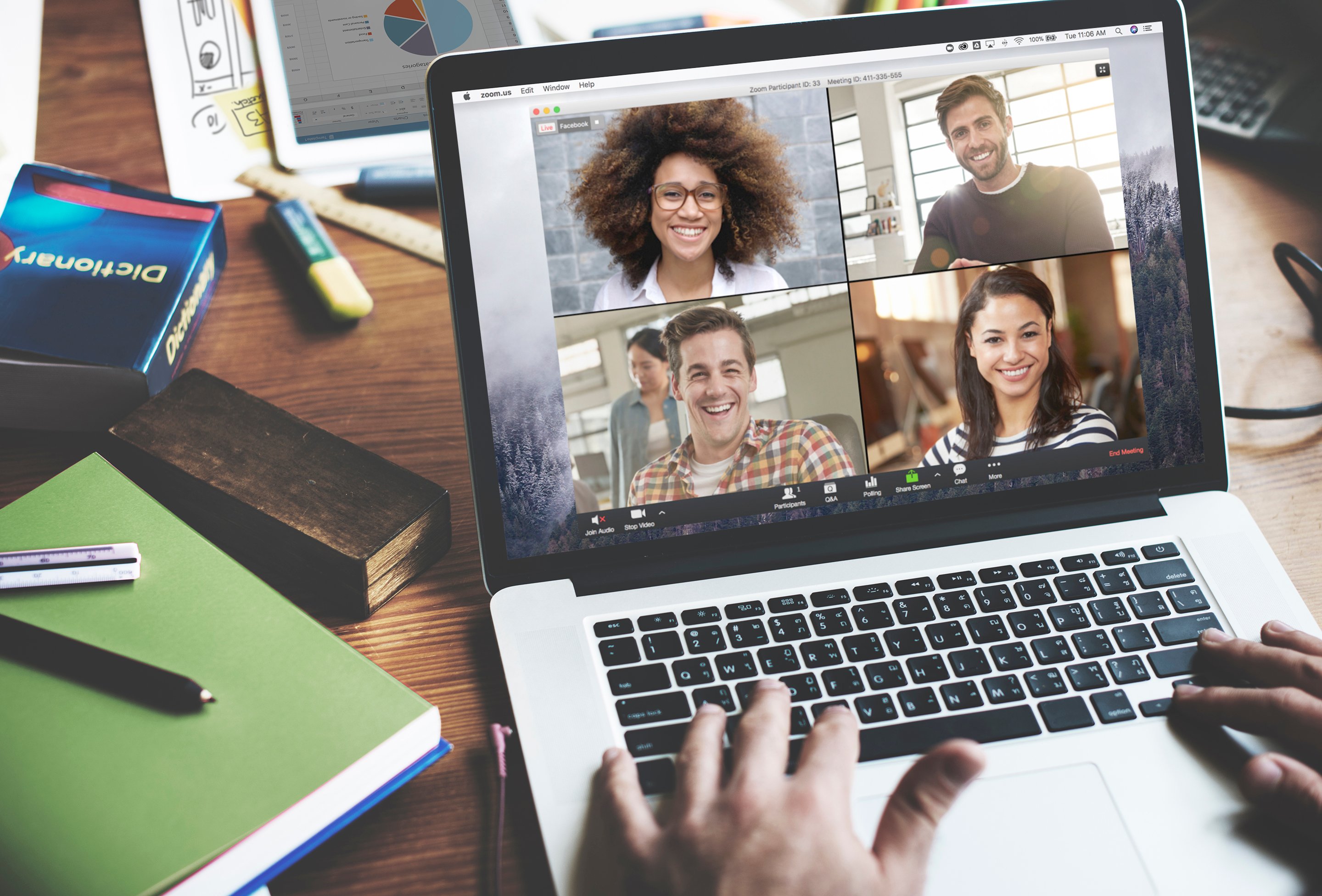 Zoom's web conferencing tool
With more than 750,000 active customers, Zoom is one of the leading video conferencing tools for businesses and individuals alike.
Zoom's plans allow for up to 1,000 participants, with a limit of 10,000 viewers. This makes the tool suitable for webinars, large-scale events, and broadcasting. Plus, Zoom can integrate with Facebook Live + YouTube. For these events, up to 100 live video panelists can share their webcam at the same time.
Zoom also offers video recording and auto-generated transcripts for those who missed the meeting or need a quick recap. For presentations, Zoom's host controls offer the ability to mute or unmute panelists, as well as granting viewers the role of a panelist.
For businesses that need to keep up with day-to-day ops, Zoom offers a conference room connector and calendar integration. Pricing ranges from $14.99 to $19.99 per user monthly, which includes Zoom's chat feature.
Flock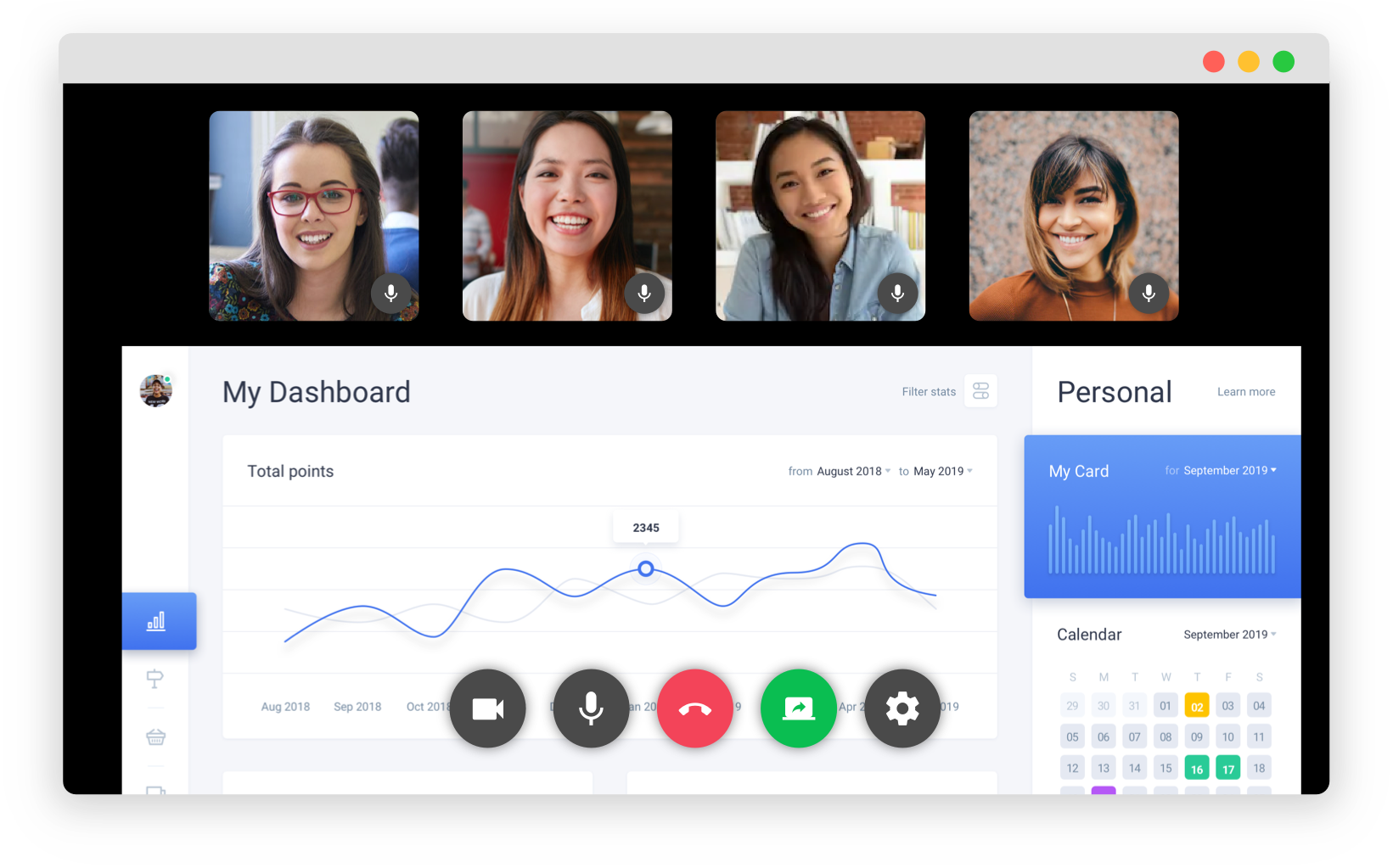 Flock's video conferencing and screen sharing
Flock offers one-click video conferencing with screen sharing and collaborative annotation features. You can also invite participants by sharing a link or calendar invite. Flock's free plan allows unlimited 1:1 video calls, limited to 20 minutes. PRO users have access to video calls with no time limit and no limit on members.
Flock's screen sharing feature, available to PRO users, makes meetings more effective. And Flock's video capabilities come packaged with its productivity suite, including chat, third-party integrations, file sharing, process automation, and more.
Pricing for Flock starts at $4.50 per user per month, with a specialized pricing plan for enterprise users.
Microsoft Teams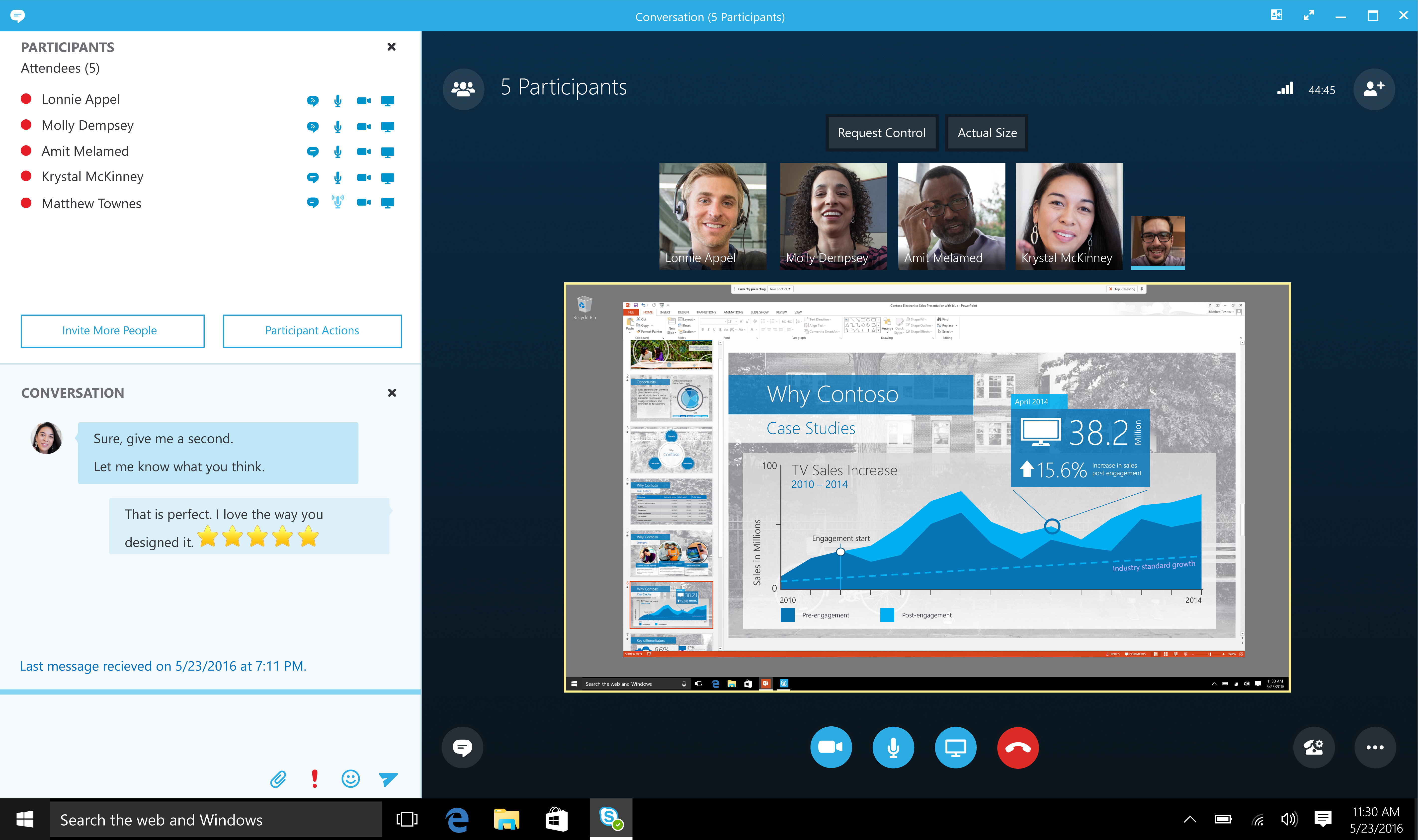 Microsoft Teams interfaces chat, video calling, and screen sharing
As Microsoft moves away from Skype for Business, Microsoft Teams is taking over as the company's biggest video conferencing tool. It has already surpassed Slack's daily user base, expanding past chat with Skype video calling. Teams' web conferencing allows for up to 10,000 viewers, which is ideal for a larger business.
Of course, Microsoft Teams integrates with Office 365 apps like Word, Excel, Powerpoint, and SharePoint. Pricing ranges from a free product to $20 monthly per user.
Join.me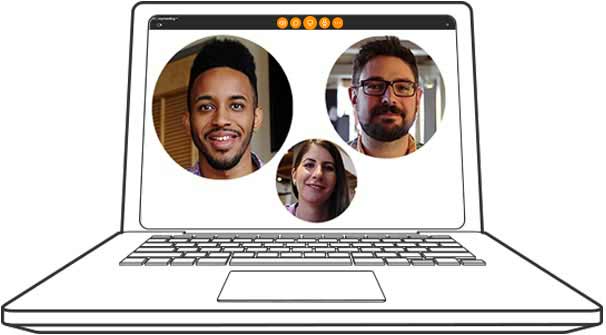 Join.me's video conferencing is characterized by their video bubbles
Join.me is the go-to video meeting option for small teams and working groups. This is due in part to its always-free option for up to three participants, allowing up to ten participants under a priced plan. While Join.me's video calling features are few and far between, its screen sharing capability is ideal for team collaboration. Plus, its "video bubbles" set it apart from other video conferencing tools—and are fun to drag and bounce around.
Join.me's priced plans start at $10 for up to five people, with a $20 pro plan that allows 250 participants and a $30 business plan for 250 participants and more features.
GoToMeeting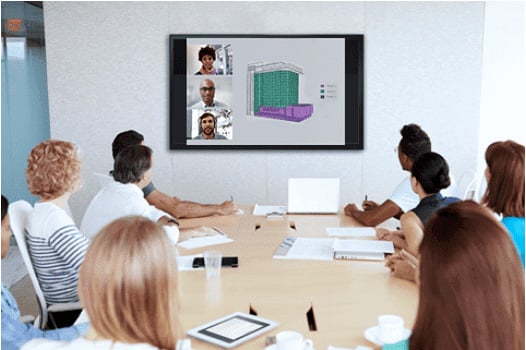 GoToMeeting links with GoToRoom for large conference calls
For GoTo users, GoToMeeting is a preferred solution for web conferencing. Integrated with GoToRoom, users can book conference rooms and provide remote workers with a dial-in option. GoToMeeting includes unlimited cloud recording, with automatic transcripts for each call.
GoToMeeting is available for 250 participants with 25 active webcams and is accessible via a web browser. Video-specific features include live screen sharing, multistream HD technology, and integrated scheduling.
Plans for GoToMeeting start with a free 14-day trial, and range from $14 to $39 per user per month.
Bluejeans
Bluejeans video broadcast conferencing
Bluejeans is well-suited for larger businesses that often broadcast company-wide. Bluejeans allows up to 150 participants per call and 15,000 streaming viewers. It offers screen sharing as well as cloud recording and streaming for all meetings.
The platform is available for desktop, mobile, and meeting rooms, as well as accessible via a web browser. Users can schedule video calls and launch them from their calendar.
Pricing runs based on business size; individual and small business plans start at $12.49 per host per month, mid-sized businesses and teams at $16.65 per host per month, and enterprise users receive a specialized pricing plan.
Google Hangouts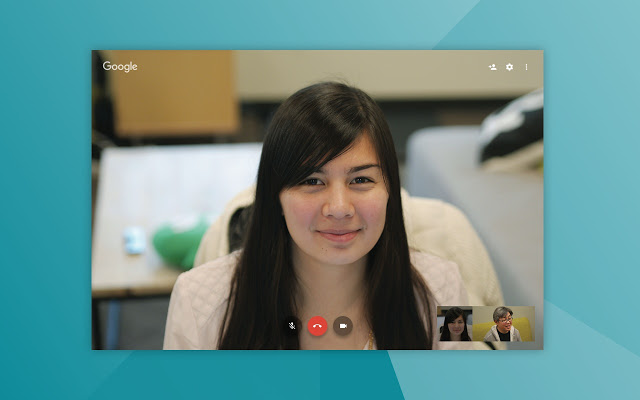 Google Hangouts can be used by individuals and businesses alike
Google Hangouts is a preferred video conference tool for individuals and small teams, but its capabilities can extend to enterprise users.
Hangouts is available via app and browser extension, but is also accessible via a link. This makes Hangouts device-agnostic and accessible for all users. It integrates with Google Calendar, so users can click through to meetings directly from their calendar event.
Hangouts' main perk for business is its meeting room hardware. While pricing starts at a steep $1,999, the tool allows for full meeting functionality in conference room settings.
Google Hangouts is free for individual users. It costs $6 to $12 for business and $25 for enterprise monthly.
RingCentral
RingCentral offers video conferencing for up to 500 attendees
RingCentral's full conferencing suite offers video, audio, and chat messaging for businesses of all sizes.
The platform boasts HD-quality conferencing for up to 500 people per meeting, emphasizing webinars for large audiences. On top of its room system functionality, RingCentral includes screen sharing and a whiteboard function for more hands-on meetings. Apps are available for computers, smartphones, and tablets, with a "Call Me" option to join a meeting via phone.
Unique to RingCentral is its breakout rooms option. This allows participants to split into smaller groups during a meeting. There, they can brainstorm, hold one-off conversations, and more. Attendees can then return to the main session anytime.
RingCentral's pricing ranges from $19.99 to $49.99 per user per month.
What video conferencing software does your business use?