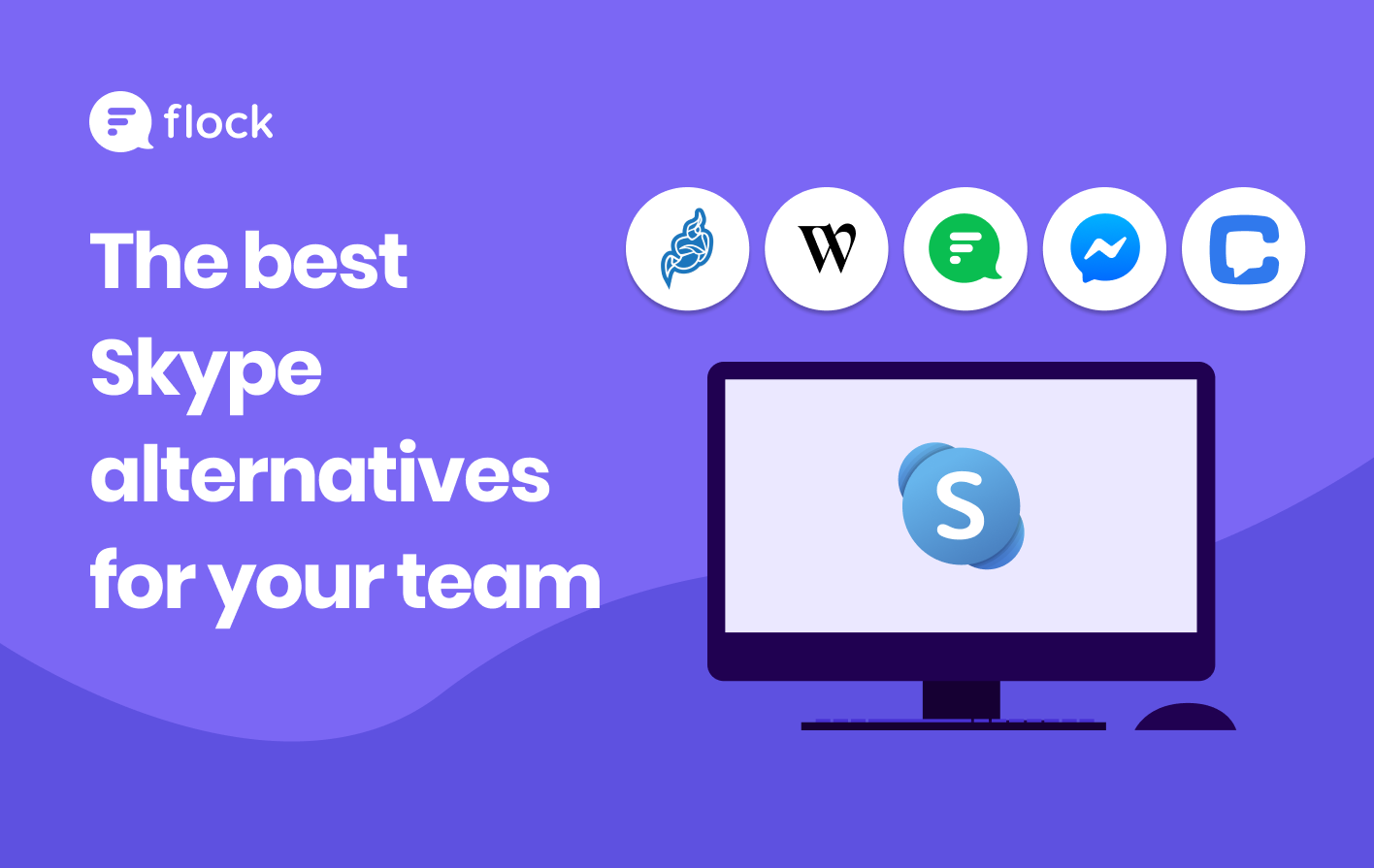 Remember the good old days of Skype? Heading back to your dorm room after a long day of classes, plugging in the ethernet, and dialing up friends in schools across the country—it all seems like ages ago.
Well… it was ages ago. And Skype, for the most part, has stayed the same. But with workplaces changing rapidly and remote work being sprung upon us all, is it the best choice for your business's video meeting needs?
The short answer: probably not. We've done the research, and Skype for business still pales in comparison to newer, more expansive video tools. Whether you're using Skype via Microsoft Teams or the standalone app, here are the best Skype alternatives for your business in 2020:
Flock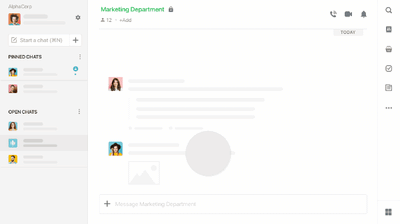 Flock isn't just about chat. Flock's built-in video conferencing is designed with teams of all sizes in mind—simply click "start a video conference" in any channel and you're good to go. Video calls are available for all Flock Pro users with up to 20 participants and no time limit. Free users can host 1:1 video calls directly with individual team members for up to 20 minutes.
Flock recently added a cloud-based video recording option for calls started directly within a chat. The platform also incorporates a Zoom integration for easier sharing across teams, clientele, and more—because sometimes you need to use the tools you're already familiar with :)
Unique features
Screen sharing
Zoom integration
Android / iOS capabilities
One-click meeting setup
Any team that needs face-to-face interactions—whether it's a volunteer group or an enterprise—can benefit from Flock video conferencing. Big businesses, particularly ones with a large remote workforce, will appreciate Flock's virtual meeting tools to keep their line of sight open.
Pricing
Flock's free plan includes 1:1 video calls for a maximum of 20 minutes. Pro users, starting at $4.50 per user per month, and Enterprise users, starting at $8 per user per month, gain the addition of group video calls with no time limit, screen sharing capabilities, and more.
Jitsi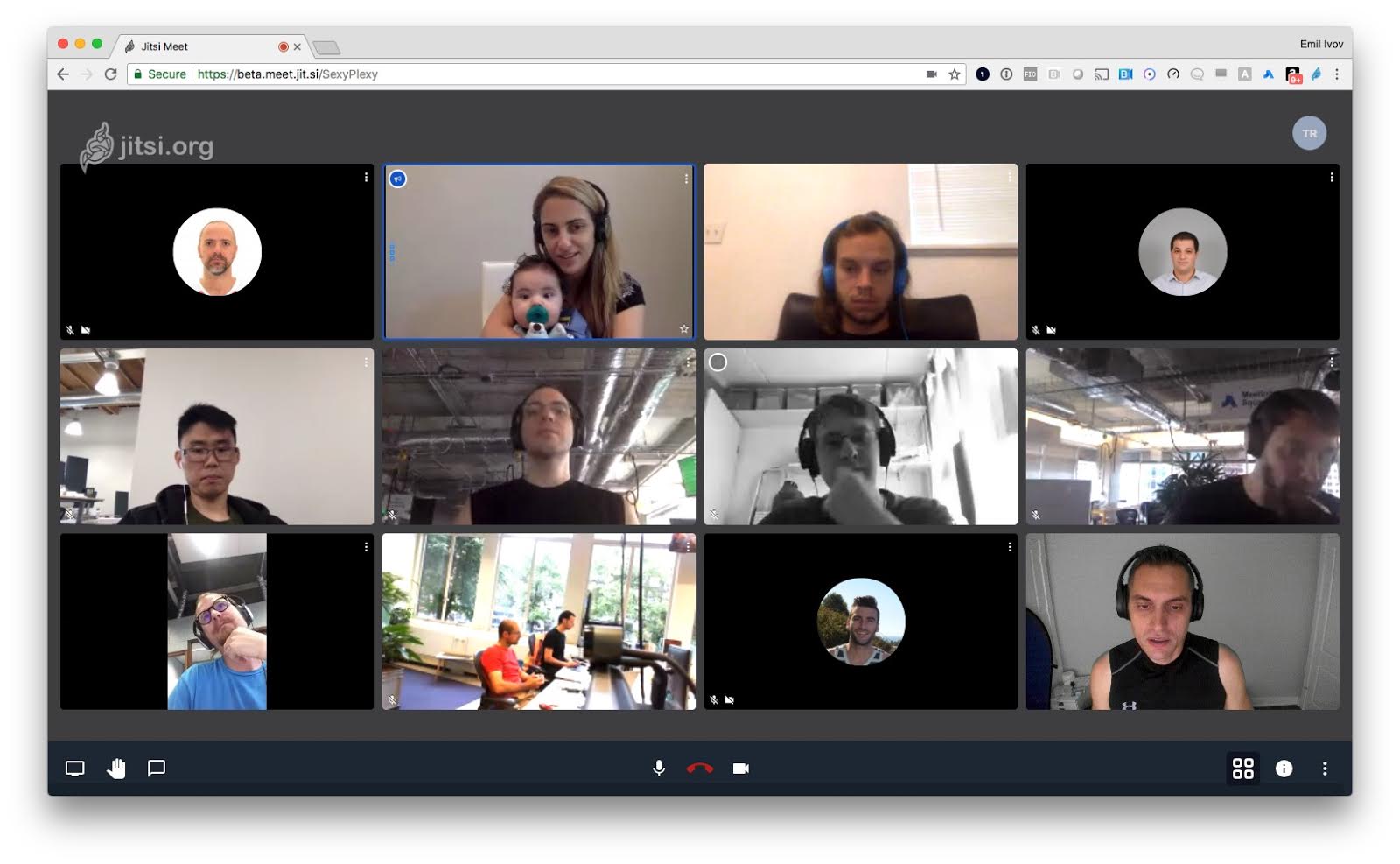 Jitsi's video tool is open-source and encrypted
Jitsi is a newer video tool, built on an open source platform that is accessible by web browser or mobile app. Jitsi emphasizes security, with end-to-end encryption on every video call, and allows its base code to be used for anyone looking to build their own video service.
Unique features
Direct streaming to YouTube Live
Hand-raising functionality
Dial-out to a telephone participant
Open source coding for build-your-own services
Participant talk-time statistics
Jitsi is best for tech-savvy teams of any size looking to build their own video service, host a virtual event, or live stream on a consistent basis.
Pricing
Jitsi is a base product offered at no charge. Jitsi offers no additional features in pricing tiers; any customizations are built by users themselves.
Workplace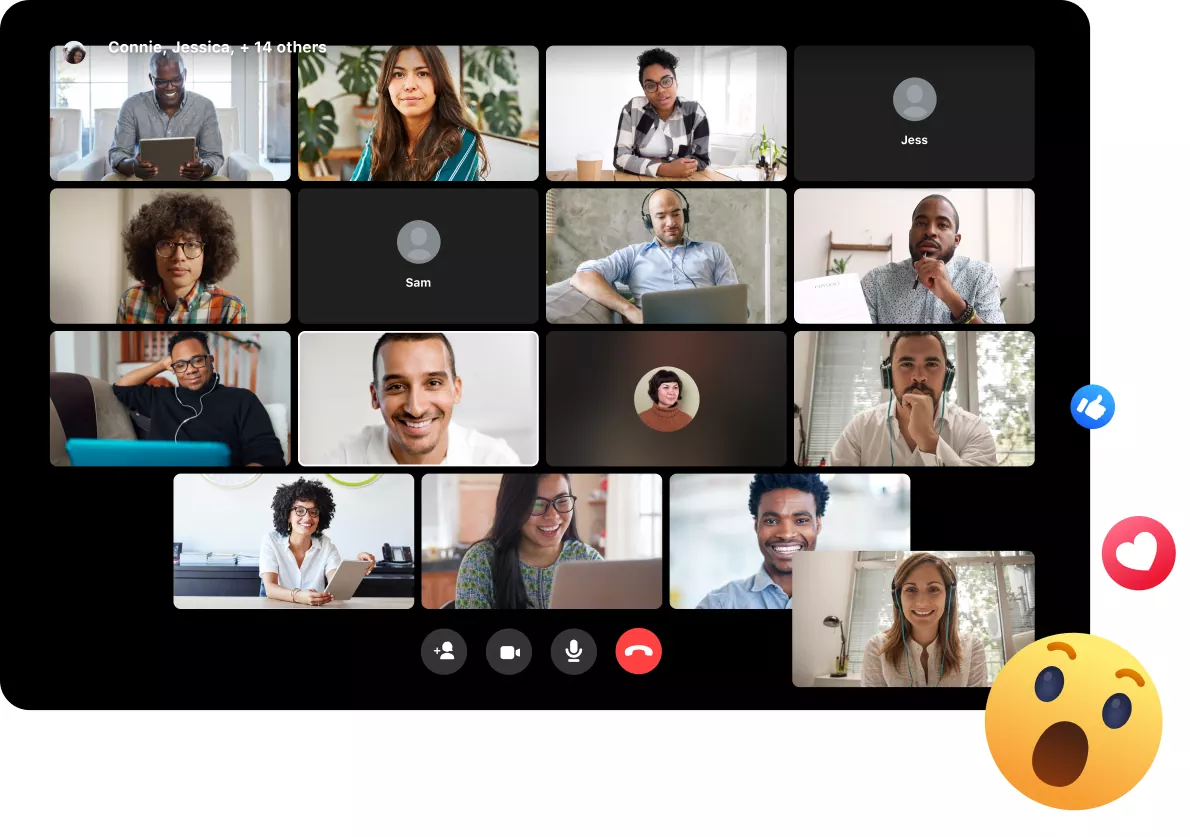 Workplace uses Facebook messenger as a video conferencing solution
Most people are already familiar with Facebook and its Messenger tool—Workplace takes Facebook's platform a notch up, functioning as an enterprise social networking platform. While Messenger includes a myriad of business functions, including file sharing, comment threads, and a business-focused news feed, its video functionality is straightforward and available to all.
Workplace offers the opportunity to make voice or HD video calls 1:1 or in groups, which can be launched directly from the app or browser. Workplace Rooms, which function like channels, allow up to 50 people to join a video meeting, even if they do not have a Workplace account.
Unique features
Live video broadcasting
Voice and HD video calls
Screenshare and host controls
Multi-company groups
Workplace is ideal for enterprise teams looking for a platform to combine employee engagement and advocacy with daily communication and productivity. Its broadcasting features make the app ideal for companies who host many live events or webinars.
Pricing
Workplace from Facebook offers three primary plans: Essential (free), Advanced ($4 per person, per month), and Enterprise ($8 per person, per month). All plans include 1:1 and group video calls, while Workplace's Enterprise plan offers higher-quality live video broadcasting.
Chanty
Chanty functions as a regular business chat tool.
Chanty, like Flock, is a communication and collaboration hub that includes audio and video conferencing as one of its base features. The tool just launched its video conferencing services, starting with 1:1 video calls—group video meetings are expected by the end of 2020.
Unique features
Voice messages
Guest users
Group audio calls
Chanty is ideal for small teams who need productivity features but don't necessarily rely on video conferencing. As their video calls are still in beta, a large business or enterprise won't benefit from Chanty at this time.
Pricing
Chanty's free plan is for teams with up to 10 members, but does not allow for video calling. Chanty's business plan, which includes 1:1 and group video conferences with screen sharing, is $3 per user, per month.
Whereby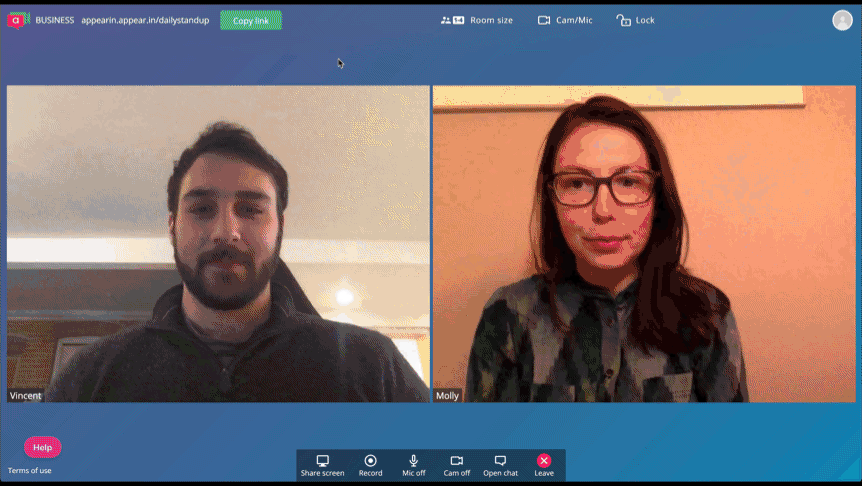 Whereby is a video-first conferencing tool
Whereby, formerly known as appear.in, is a browser-based video conferencing tool designed for businesses. While their free plan offers one meeting room for up to four meeting participants, Whereby structures plans based on business needs—meeting rooms can be purchased in blocks of 10.
Unique features
No app installs
Room integrations: YouTube, Google Drive, Miro, Trello, etc.
Screen sharing
Pro and Business: Branded meeting rooms with a custom logo and background
Business: Custom domain for your business
The flexibility of Whereby's plans make it ideal for a rapidly-growing business—administrators can add or remove rooms as the team grows. Whereby's XL Team rooms allow a capacity of up to 50 participants and a maximum of 12 on-camera participants.
Pricing
Whereby's free plan, meant for personal use, comes with standard features like custom links, screen sharing, and room integrations. Pro users, starting at $9.99 per month, are allotted three meeting rooms with up to 12 participants, meeting room branding, premium support, and for an extra $5 monthly, the ability to record meetings. Business users start at $59.99 per month for a block of 10 XL rooms, a custom domain (companyname.whereby.com), price-inclusive meeting recording, and the ability to set up multiple users and admins.