Find the right screen sharing tool for your business.
In a team meeting or on a support call, screen sharing is an effective way to illustrate your point. You can present a design or document exactly as you see it on your screen - in real-time. The best screen sharing apps make virtual collaboration as visual, interactive, and seamless as an in-person presentation.
While some screen sharing apps are made specifically for remote access (tech support folks love them!), the most popular ones for business almost always come bundled with a video conferencing tool. It's a marriage made in heaven. You can work face-to-face with teammates and see eye-to-eye on projects from anywhere! So which one do you pick for your business?
The Best Screen Sharing Apps for Business
From Zoom to Flock, we tested over a dozen screen sharing apps to help you find the best one for your business. We evaluated each app for ease of use and collaboration features, rather than remote access features. Whether you are a team of three or a larger organization with thousands of employees, here are the best screen sharing apps for business.
Effortless video meetings with Zoom
With screen sharing, video recording, auto-generated meeting transcripts, and integrations for Facebook Live and YouTube, Zoom is the leading business video conferencing tool for a reason. It takes a minute to install and less than that for you to get started!
You can connect with up to 100 participants on the free plan, but Zoom also offers paid plans that allow up to 1,000 participants. This makes it suitable for small teams, big companies, and everyone in between.
Sharing your screen? Just start a Zoom video call and hit the share button. It's that simple! Not to mention, Zoom works on almost any device with apps for Windows, Mac, Linux, iOS, and Android.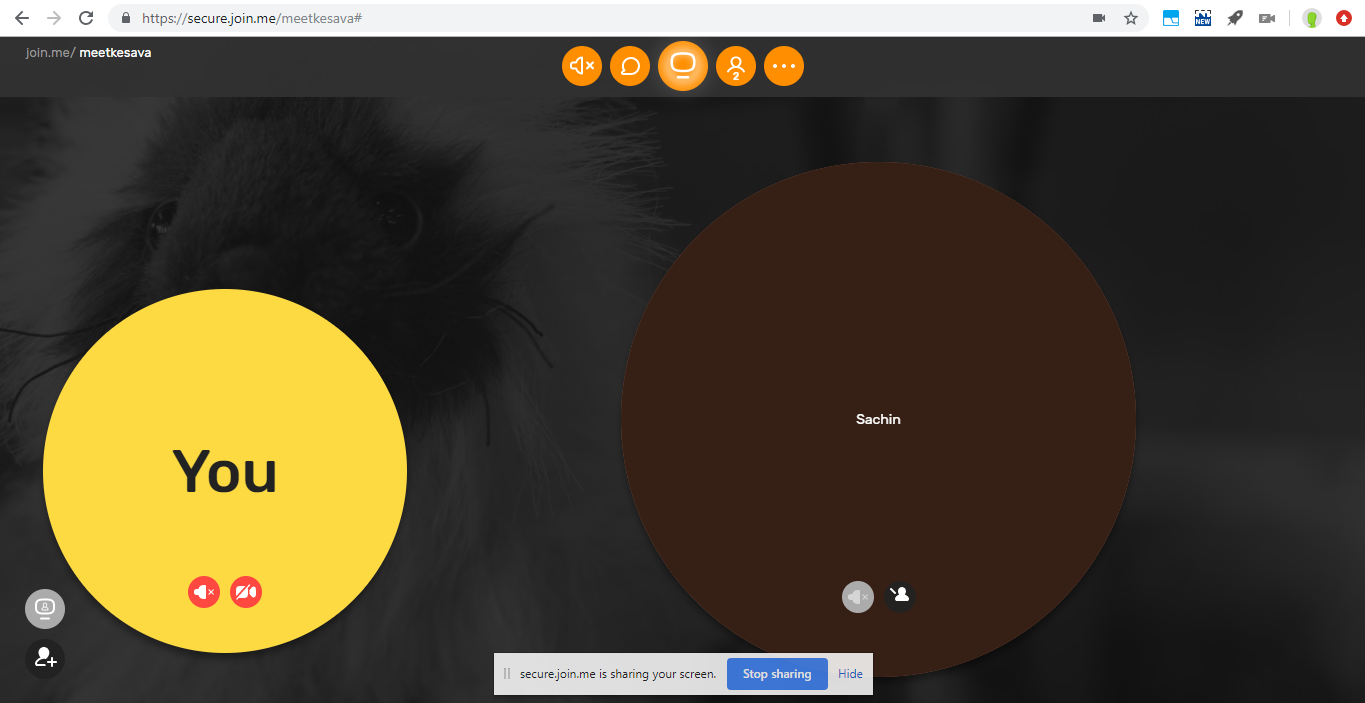 Join.me's unique 'bubbles' layout for participants
Yet another contender for the best screen sharing app for business, Join.me makes it ridiculously simple to connect on video and share your screen. From the folks that built LogMeIn (a leading remote access tool for support), Join.me also offers a toll-free number that participants can call in to join a meeting - handy when you don't have internet access!
To share your screen via Join.me, you just invite participants to your meeting room and hit Broadcast. You can switch presenters, annotate your screen as you share it, and even schedule meetings directly from the app with plugins for Outlook and Google Calendar. After a free 14-day trial, Join.me offers pricing plans that start at $10 per month with unlimited calls, a personal meeting link, and up to 5 participants.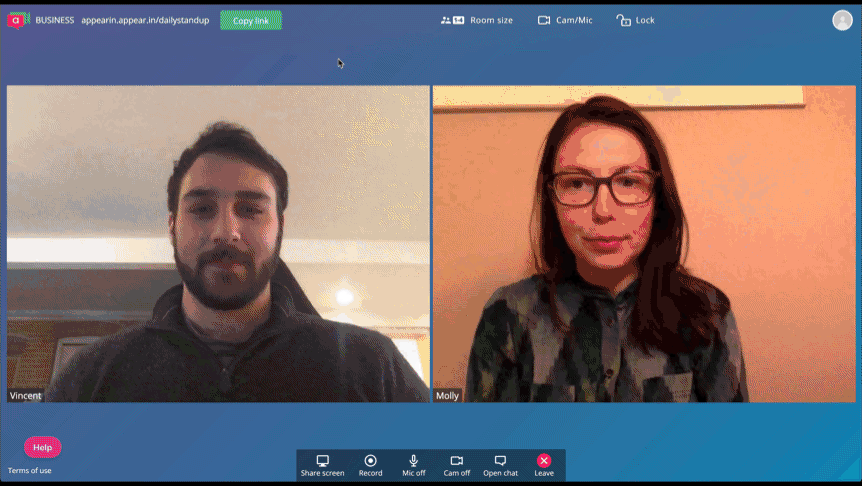 Screen sharing with Whereby
With a free plan that offers screen sharing and allows up to 4 participants in a meeting, Whereby is perfectly suited for teams new to video conferencing. For businesses that need more, Whereby offers paid plans with personal meeting rooms, video recording, calendar integration, custom meeting links, and more.
The app runs in a web browser, so it works on almost any device, and getting started takes a minute or less. This means that it's a great choice for meetings with people outside your organization, or when you are working with customers that are new to tech.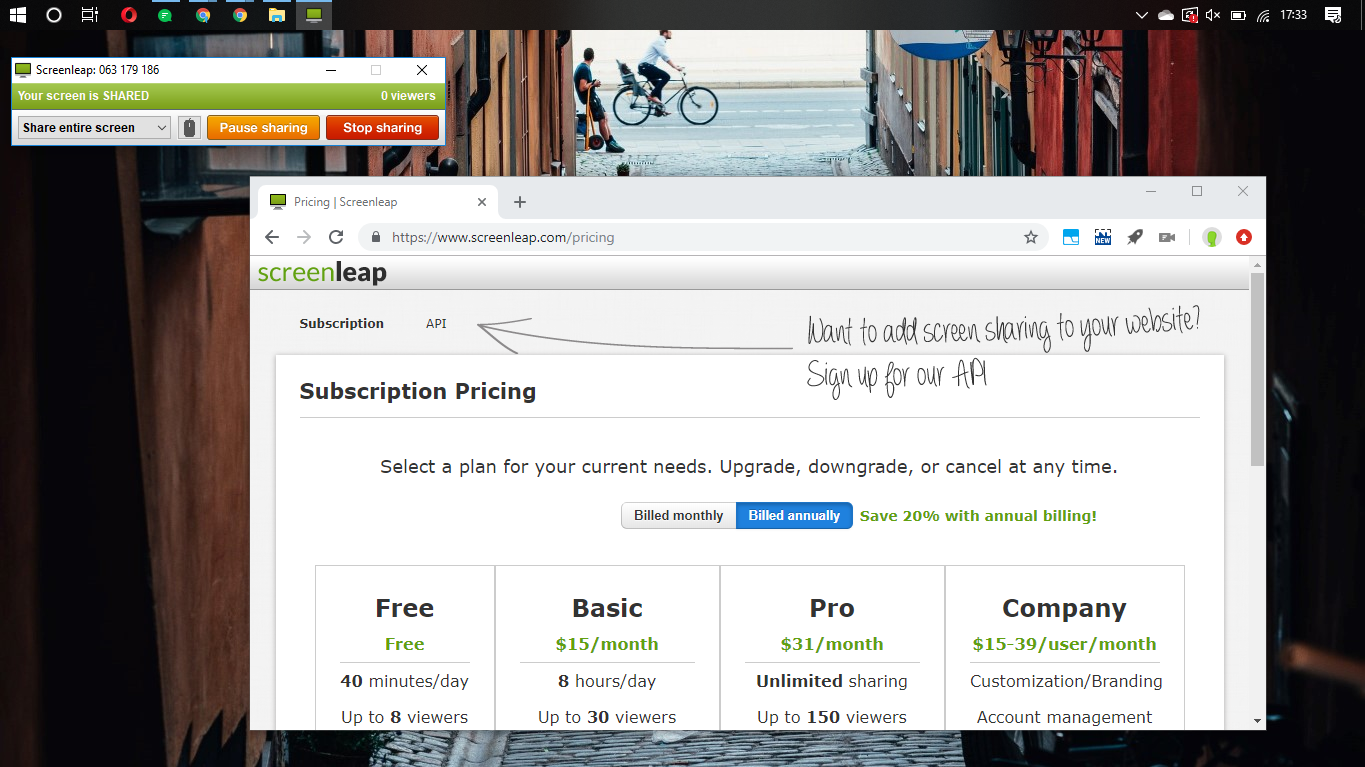 Simple screen sharing with Screenleap
One of the few screen sharing-focused options on this list, Screenleap allows you to easily share your screen with up to 8 participants for free. While not as fully-featured as Zoom or Join.me, it's a great choice if all you need is screen sharing and audio conferencing (requires a paid upgrade). A unique feature is that you can allow viewers (participants) to point out things on your shared screen using their mouse cursor.
Working with TeamViewer
Built for technical support teams, TeamViewer is a fully-featured remote access tool that works well for virtual meetings with screen sharing. With TeamViewer, you'll need to start a meeting in 'presentation mode' to be able to share your screen without enabling remote control.
TeamViewer is free for personal use and offers paid plans for small businesses as well as enterprises. It allows participants to collaboratively annotate reports and meeting hosts can pass 'presenter' controls to other participants. Plus, your screen sharing sessions can be recorded and stored in the cloud!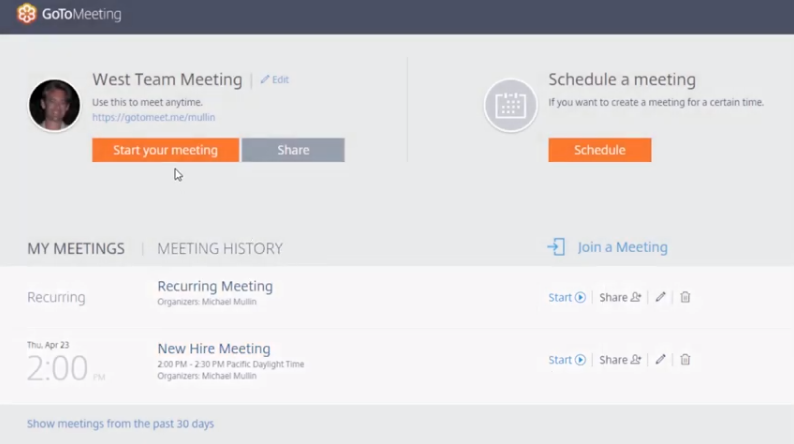 Quick meetings via GoToMeeting
Yet another option from the folks at LogMeIn, GoToMeeting offers one-click video meetings with screen sharing, meeting transcripts, collaborative annotation, and video recording. It is enterprise-friendly with support for Single Sign On (SSO) and strong encryption. There is also an Admin Center to help IT teams manage GoToMeeting across an organization.
Like Join.me, GoToMeeting offers a free 14-day trial for new users, with pricing plans starting from $19 per month.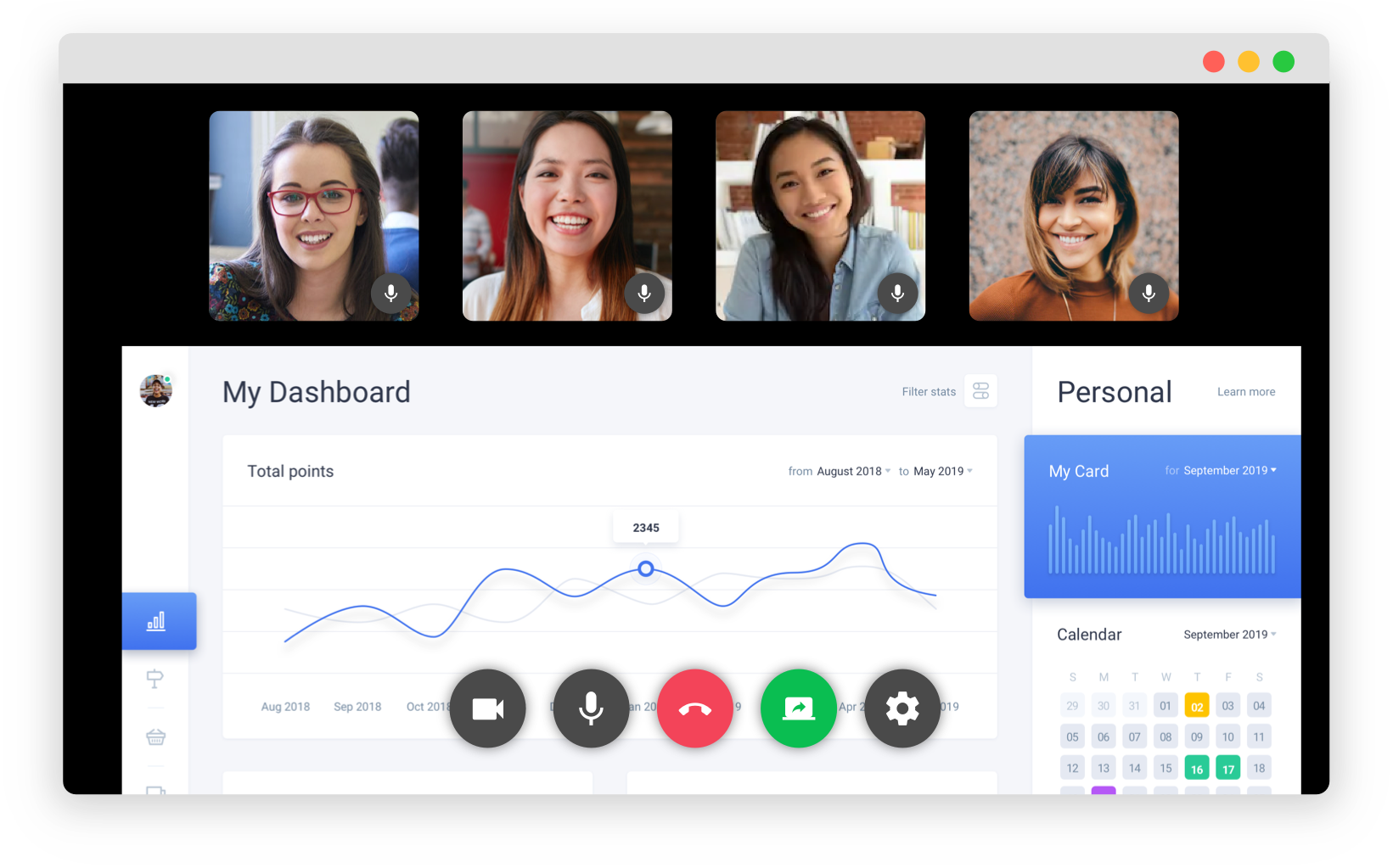 Video conference with screen sharing in Flock
Besides being a fantastic team chat app, Flock also offers one-click video conferencing with screen sharing and annotation features on the PRO plan. You can schedule meetings (using the Google Calendar integration), share media and files, and host unlimited meetings directly from the app.
With native apps for Windows, Mac, Linux, Android, and iOS, your team can host video conferences from anywhere, and share screens to collaborate more efficiently - without having to install and juggle a bunch of apps and services. Flock PRO pricing starts at $4.50 per user per month with customized plans for enterprise users.
---
---
Because screen sharing needs vary based on how your team collaborates, you may want to determine deal-breakers and nice-to-haves before you finalize a tool. Do you need annotation support? Or remote access? Or just a bare bones screen sharing app? Try some of the apps listed above to identify one that works just right.
Take a look at our list of the best business video conferencing apps to see if one might work for all your video calling and screen sharing needs.