Flock's tips of the trade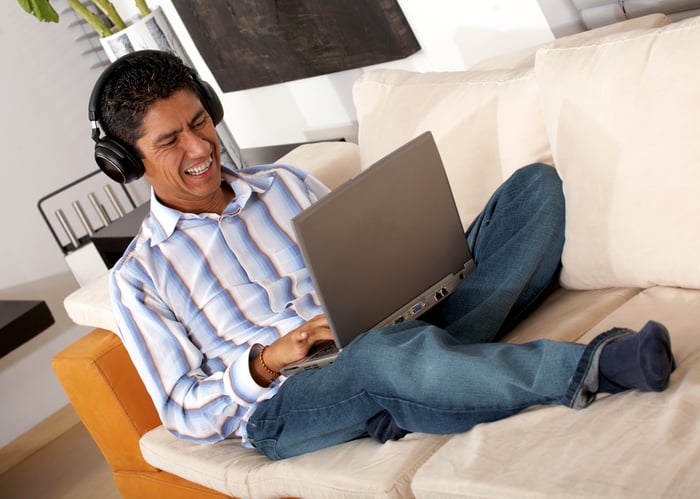 Your remote team is online, your desk is fully equipped, and you're ready to get to work at your home office—but how do you know you'll stay productive?
There's an abundance of business tools out there aimed at keeping your remote work as seamless as possible. But it's not just about the tools! You need to manage your team—and your time—properly to focus on productivity when you work from home.
Here are some tips on staying productive while remote, whether you're managing a remote team or working remotely as an individual contributor.
Benefits of remote work
Remote work goes beyond "working from home"—it's a smarter alternative to the more traditional office setting. Remote work is about having the flexibility to set up a desk at your home, at a co-working space, in the Bahamas, or even at another branch of your company.
Remote work gives employees the advantage to work wherever they want, often at their own pace or their own schedule. It saves employers expensive overhead costs while offering a broader (read: international) pool of talent to hire, and prioritizes employee engagement and satisfaction.
Some companies choose to make remote work optional, others choose to go all-in. Regardless of whether you're "half remote" or fully remote, working remotely should be an executive decision that comes from the top.
Keeping your remote team productive
Managing communication and collaboration is a constant struggle within the workplace, and that's only exacerbated by a remote work environment. That means managers of remote teams need to be proactive about creating an environment that fosters effective communication—where remote teams play nice together!
One thing to keep in mind when managing a remote team is hiring people who are suited for it. Make sure your new hires are highly skilled in their position, can work without external motivation, and are primarily results-focused. They'll be more equipped to work autonomously.
Need help understanding if remote work is right for your business? We created The Flock Guide to Building Great Remote Teams with leaders like you in mind.
Now, to track tasks and ensure progress, start with objectives and key results (OKRs), a goal system every remote manager needs. OKRs create alignment and engagement around measurable goals, helping to identify objectives and key results as measurable metrics to track progress. John Doerr, the venture capitalist who introduced Google to OKRs, described them best: I will (Objective) as measured by (this set of Key Results).
OKRs should be public within your organization so employees can see what their co-workers are working on. The likes of Google, Spotify, Walmart, and ING Bank use OKRs to set and achieve goals. So do remote teams such as Piktochart, Buffer, Coworker, and yours truly. Learn more about setting measurable goals using OKRs.
Keep your remote team on track
Now that you have your OKRs, it's time to get cracking on those goals. But how do you manage projects for a remote team where people work different hours and the majority of communication happens asynchronously? The answer, unsurprisingly, is technology.
Modern tools make it easy for teams—remote or not—to work together on projects with hundreds of moving parts. For example, Wyeworks uses Trello to conduct sprint retrospectives for their remote team and they are in love with its simplicity and flexibility.
Closer to home, we use a mix of Flock's shared to-dos and Asana to manage day-to-day tasks within channels and cross-functional projects respectively. Not only does this help us be more transparent within the team about "who is working on what," but it also fosters a sense of ownership and accountability.
Flock's tools for productive remote work
Did you think we'd leave you hanging without suggesting tools that make working remotely work for you? Flock comes equipped with many tools for remote teams to work better together in your virtual hub.
To-dos
To-dos can be assigned in your personal space, where you can keep track of the tasks you need to perform each day. If you're working in a team capacity, shared to-dos will help you track who's working on what—and when it needs to get done. When you assign a to-do directly to an individual and set a due date, they'll get daily reminders until the task is complete.
Reminders
When dealing with asynchronous communication, it's easy to log in to work for the day and find yourself flooded with work that needs to get done. That's where reminders help. The Flock reminders function can be found in the app sidebar, but can also be accessed by typing the slash command /remind within a channel. Once you've plugged in a label, a date, and a time, you can set your reminders to individuals, channel-wide, or just to yourself.
When it's time, the Flock Reminder Bot will shoot a message in the channel where you set it. And you can access your reminders from the sidebar at any time, tracking your progress in one place. Reminders can be snoozed, repeated, edited, and deleted at any time.
Pro tip: Pair your reminders with to-dos to be twice as efficient!
Do not disturb
Sometimes you just need to tune out to get real work done. Flock's do not disturb (DND) function helps you do that. Turn on DND in the Flock configuration channel and set the amount of time you'll need—1 hour, 8 hours, 12 hours, or indefinitely—and you'll stop receiving notifications for that duration. When you come back, you'll see a list of all unread messages in the All Channel Feed.
If you just need time away from that one specific channel that's distracting, like your designated sports chat, you can mute specific channels by simply typing /mute.
Files
The easiest way to work together is to work in the same place—and it's hard to do that when you're 10,000 miles apart. We have the next best thing. With Flock, you can connect your Google Drive and share, edit, and delete files through Flock. You can also send files directly in any channel—just click "attach" and watch your files go!
Integrations
Of course, the best tools that work for your business are the ones that will make you the most productive. Flock's integrations help you tie all the tools you need directly to Flock.
If your organization lives and breathes Google Calendar to plan meetings, book conference rooms, and more—here's a winning feature for you. Flock integrates directly with Google Calendar so you can pretty much manage your entire calendar right in the app. You can view your calendar, create an event, get notifications, and accept or decline invites right in Flock. Plus, Flock integrates with a variety of Google apps, including Drive (mentioned above) and Analytics.
Are you a task manager pro? You don't have to break up with your to-do lists. Flock integrates with Asana, Trello, Todoist, and more, so you can keep track of your tasks while you're discussing them. We even make it easy for you to capture all of your work with our Zapier integration that pulls all your Zaps into your channels!
Process automation
Those repetitive, day-to-day tasks you do can become mindless, especially when you're remote. Why not make it easier and set up automation? Flock's process automation tool helps you build custom workflows that can be completed at the click of a button. Many of the tedious tasks you do over and over again—like employee onboarding and reimbursement claims— can be done automatically through process automation.
Not only does this make you more productive and faster as a remote worker, it also allows you to standardize your work across offices, desks, and even time zones. And streamlining the work you do makes working from home 100% worth it.