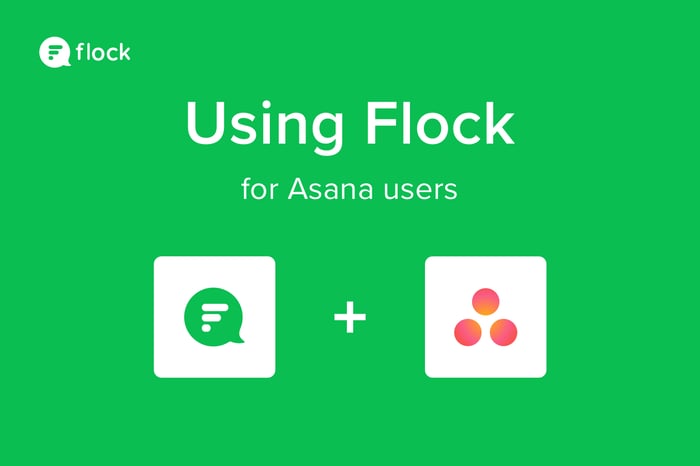 So you're an Asana user—that means you value organization above all else.
Your teams are set up, your tasks are on board, and you know your timeline. Now what?
Asana is a collaboration and task management tool that allows you to see all of your team's workflows in one place. The easy-to-use software lets you establish due dates, organize subtasks, share files, and even assign subtasks to your teammates, all in one "card" or project.
Flock's integration with Asana makes it easy for Flock users to collaborate, coordinate, and communicate all in the messenger app. Here's how to use it.
How Flock works with Asana
Installing Asana's integration into Flock means you get notified for every task created, completed, or commented upon. You can also use the slash command /asana in Flock to create tasks in Asana.
Flock's customizable configurations also mean you can monitor multiple Asana projects in different channels. You don't have to pick just one. And doing it all in Flock means you can chat about your tasks and projects in real-time without ever having to leave the app.
Want to master the Flock app? Check out our step by step
Guide to Getting Started with Flock
for more tips and tricks.
How to integrate Asana into Flock
Log into your Asana account

Visit the

Flock Apps

page to install Asana

Authenticate with your Asana app

Configure Asana by clicking

Add New Configuration

Select the Asana workspace and project you want to monitor

Select the events you want notifications for and the channel you want to your notifications to live

Click on

Enable Integration

, and Asana will start sending activity notifications to the channel specified
How to create an Asana task in Flock
Use the slash command

/asana add [task]

to create a new task in your project

You'll receive a bot notification confirming that the task has been added

If you have multiple ongoing projects, you can also specify which project the task needs to be added to with the slash command

/asana add [task] to [project]
Why use Flock?
Flock makes it easy to communicate and collaborate with your team in one place. Having your Asana tasks in Flock brings it all together to simplify your work and keep everyone on one page.
And we offer so much more…
Flock features you'll love:
File sharing: No more context switching from chat to browser when you need to share a file or have one reviewed. With Flock, you can chat with your team and share files in the same place—no need to move from Flock to Asana.
Direct chat: Have a question, but don't want to burden your team with notifications meant for one person? Flock's direct chat capability makes it easy to have a one-on-one conversation without distracting everyone on board.
Video conferencing: Let's face it, sometimes you just need to iron out the details. We make it easy to chat face-to-face with your teammates no matter where you are, so you can collaborate and better understand each other.
Search: We know sometimes things get lost in the maze of task management. Search through your Flock history for conversations or shared files so you don't waste time looking for your lost marbles.
Guest accounts: Working with a client or another team and don't want them to have access to your full Asana board? Add them as guests to a team channel in Flock and chat with them there. The rest of your team can use Asana to track tasks but keep the client synced directly with Flock.
Pinned messages: Keep your important notes and files where they should be. Pin any message or file to your team's channel so anyone can access it at any time.
Shared notes: Jot down your ideas, draft some copy, or brainstorm together. You can create a shared note in each channel, direct message, or personal space and say goodbye to sticky notes.
Reminders: Have an upcoming project due, or a task that needs to get done for the project to move forward? Built-in reminders help you make sure you'll never miss a deadline again.
Process automation: Even with an expedited workflow in Asana, work can get… repetitive. Make boring tasks a no-brainer with built-in process automation.
Explore the possibilities of using Asana in Flock here.
Discover even more Flock integrations, including Github, Zapier, Google Suite, and more!