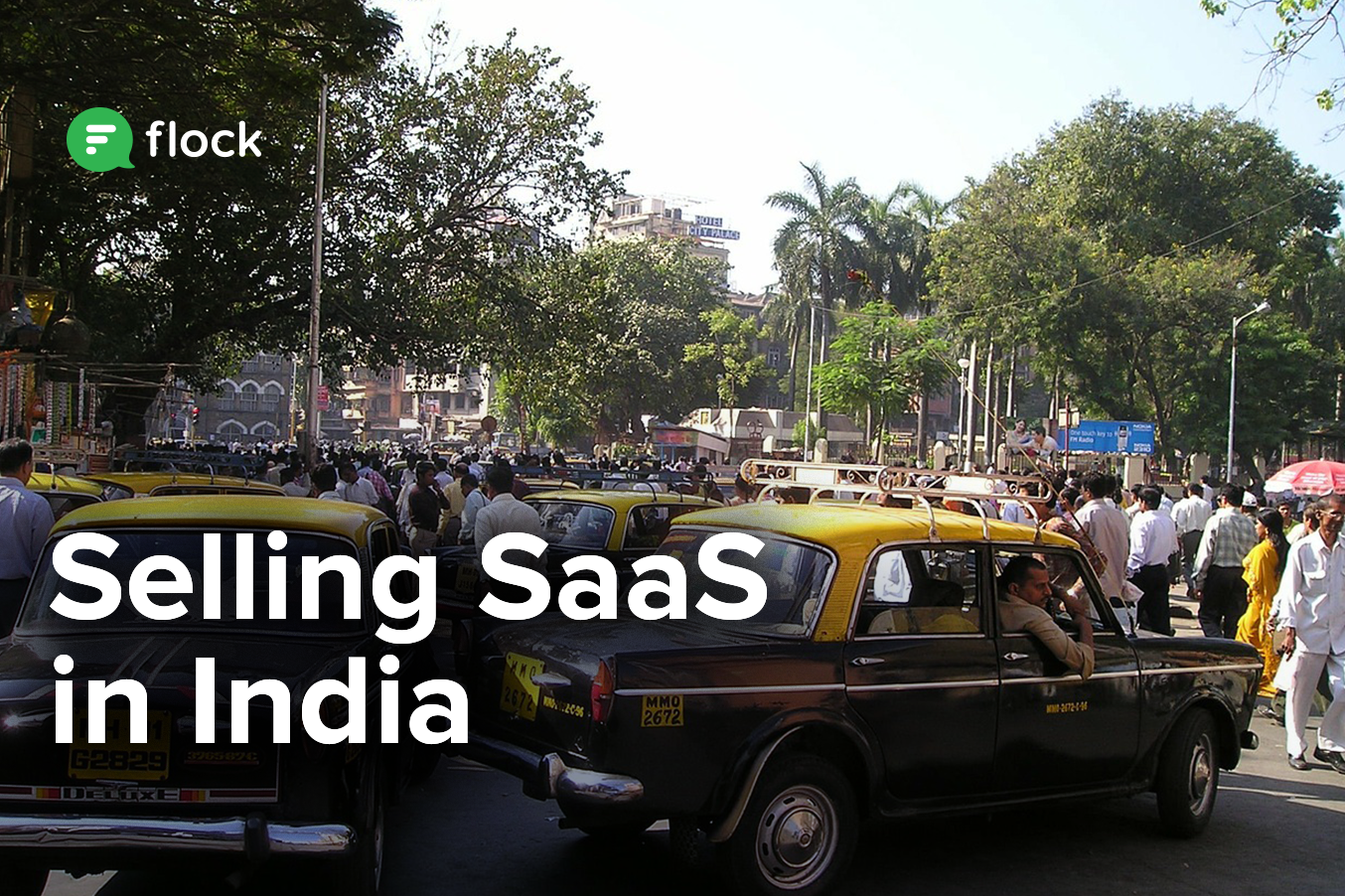 When we launched new paid pricing plans for Flock teams in February 2018, we looked at India, our home market, as a growth opportunity.
The demographics were right—an enormous working population and a rapidly growing economy—and India was already our second biggest market after the US in terms of existing users as well as website visits. Once we set out to sell software-as-a-service (SaaS) in India though, we hit a few snags.
At first, we tried to find a localized playbook for SaaS sales, but there was little of use to be found; particularly in a nascent enterprise collaboration space. So we started working through these challenges by ourselves—from trying different approaches for effective sales discovery to reorganizing our value messaging to market-specific pain points, we iterated until we found something that worked for us.
Here is a look at some of the challenges we encountered selling SaaS in India, how we addressed them, and what we learned in the process:
1. The discovery process is a challenge
Most B2B sales begin with a discovery conversation where you learn about and qualify your lead. However, the process of getting answers to even basic discovery questions can be difficult in India. We found that companies with a history of SaaS purchases have a higher level of tolerance for discovery. But overall, the clarity of answers provided and the willingness to share them is lower than that of more mature SaaS markets.
Why? In my experience, Indian prospects are more comfortable with a 'one-way' sales process in which the seller keeps providing information until they, the prospects, ask questions. The discovery process is further complicated by the fact that tools such as LinkedIn aren't as rich in data as they are in Western markets, hampering pre-interaction lead evaluation.
We clear these hurdles (most of the time!) by:
Communicating better.

Clear signaling during the 'agenda-setting' phase and explaining the mutual benefit of discovery puts prospects more at ease as we move along the sales process.
Saying no.

Controversially, at least internally, we refuse to continue conversations when relatively basic discovery questions are not answered. In a majority of instances, prospects respond well to this tactic—they understand that discovery is essential to the sales process for both sides—and we are able to move forward. Saying 'no' to non-cooperative prospects early in the sales process also shortened our trust-building cycle, even more so than the traditional discovery-led process.
2.

Prospects are price-conscious negotiators
Compared to prospects in our other markets, prospects in India are more sensitive to pricing and 'per unit' value. Sometimes, prospects may choose to endure highly manual and repetitive tasks, or continue using substandard software, simply because that is often cheaper, if less efficient in the short-term.
The obvious solution is to clearly quantify the value and benefits of using Flock, like pricing and integrations. But as a player in the relatively nascent enterprise collaboration space, we found it challenging to clearly quantify the sweeping changes collaboration platforms can affect before the client has experienced its value. Also, some of our 'value add' factors in the US market were seen as neutral or negative factors by Indian prospects.
For example, the ability of employees to directly contact senior management was viewed negatively by some prospects. This did not mean that we had to completely redefine our value messaging, but we did have to re-organize it. So your sales and marketing teams have to be rockstars at identifying parts of your global value proposition that land well and adapt your messaging.
There are two other takeaways here: first, think about your list pricing because your prospect will likely expect a steep discount. If you traditionally give 25-50% off of your list price in established markets, expect concerted pressure to go deeper still in the Indian market. Be aware that price negotiation can happen over several rounds with each level of management keen to show that they saved some money. Our learning: don't give too much away to start with.
Finally, for businesses that charge on a per-seat basis, it is worth knowing that despite the downward pressure on unit prices, employee headcounts are often significantly higher in India relative to companies with similar revenue in western markets. For us, as a team collaboration SaaS, taking a hit on the unit price was manageable because larger employee headcounts offset the impact on our average sale price.
3.

Do It Yourself (DIY) vs Do It For Me (DIFM)
For any SaaS business, the sales process never ends at the original sale. However, in our experience, there is a much higher cultural expectation in India, especially from non-technical prospects, that we provide extensive post-sales implementation support. This leads to significantly higher post-sale costs (PPP adjusted) in the Indian market. For those with a complex SaaS product that requires extensive on-ground implementation support, this is not necessarily a cause for concern. But for those with plug and play SaaS products—who probably do not have extensive customer success teams—this is an on-ground reality to consider.
The solution to DIFM is not as simple as more clearly managing expectations in the sales process or changing the customer onboarding process (not to say that there is no value in these areas). From what we have seen, the lack of post-sale human-led customer success involvement can simply lead to lower product adoption and thereby higher churn. The solution will differ according to your company's unit economics but, in general, we learned that we must expect relatively higher post-sales involvement in India than in other markets.
Yet another manifestation of DIFM is in the number and scale of customization requests. Although not universal, there is an expectation that products can and should be customized as part of the sales process. While this happens to some degree in all markets, the requests are more notable in the Indian market. For us, customization requests in the Indian market are almost 2x more frequent than in other markets.
4. Some prospects go for a quiet retreat and never return
That salespeople don't take no for an answer is a common misconception. Maybe not when closing a sale, but we do like hearing 'no' when a prospect is not interested. We often hit a block on this one due to the lack of a clear and definitive 'no' from Indian prospects. Instead, we experience a slowdown in communication followed by a gradual slide into a complete absence of it.
From a forecasting perspective, this is a challenge as our sales pipeline in India can deteriorate in a less predictable manner than in other markets. We haven't yet 'solved' this problem but we are definitely getting better at assessing our Opportunity to Deal rate.
Selling SaaS in India has been an exciting and rewarding journey, and we are getting better at it every day!
Without a doubt, India is a great market for SaaS businesses. With approximately 500 million internet users and year-over-year growth in internet usage hitting double digits, India represents an opportunity that few companies are in a position to ignore.
Is turning the 'Indian potential' into a reality a challenge? Absolutely. Will it require you to make some changes to your sales processes? Probably. Thankfully, the changes required to win in India are not so significant that you need to consider going back to the drawing board. If you already have a well-oiled sales and marketing machine, our experience suggests that most of your SaaS sales playbook will work just fine in India—with a few tweaks, of course.
We are learning new things about selling SaaS in India with every deal we close and each one we fail to. It has been an exciting and rewarding journey, and we are getting better at it every day.