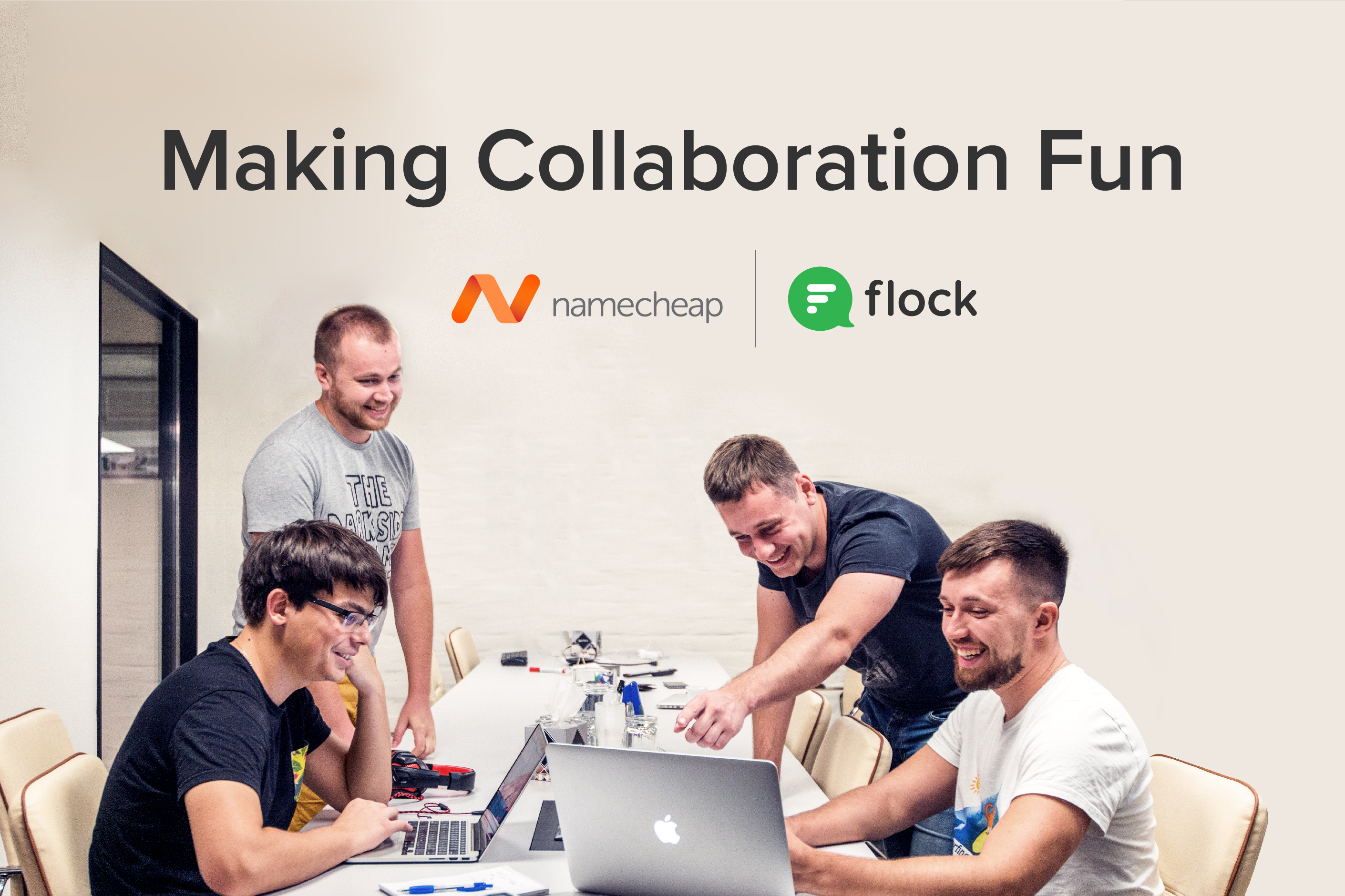 Ever tried buying a web domain for yourself or your business? If yes, then chances are that you've come across Namecheap, the second-largest domain retail registrar in the world. On a mission to make building websites accessible and affordable for everyone, the company offers services such as domain registration, web hosting, and website building.
Namecheap employs more than 1,200 people working from on-site, co-located, and remote offices spread across the globe. This mix of talent is a strength—the team has different levels of expertise, varied senses of humor, and a mosaic of cultural backgrounds to draw inspiration from. But being spread out is also one of their biggest challenges, especially when teammates on opposite corners of the globe work together on projects.
Email worked for formal communication, but it wasn't great for extensive collaboration or real-time feedback.
Video conferencing systems worked for quick meetings, but weren't great for large groups. Differences in time zones made scheduling meetings trickier.
HipChat worked for instant messaging, but the team soon realized that they were using too many tools to achieve one goal.
Then, Namecheap switched to Flock.
Making collaboration more fun and engaging
Previously, Namecheap used HipChat for instant messaging. It worked well but team members were still leaning on emails and going back to voice calls for follow-ups. Flock simplified and strengthened the teams' communication by making collaboration more fun and engaging.
"One thing that Flock has enabled us to do as a team is to really bring to life the personality of our people. It's a little less formal than HipChat was - more fun and engaging. The experience is a bit more lighthearted but it has all the tools and functionality that we need to really be effective on a day-to-day basis. But it doesn't mean we can't have a good time while we are doing just that!"

- Hillan Klein COO of Namecheap
Flock makes it easier for teammates to connect over text chat, audio calls, and video conferences; they can now discuss projects, share files, manage tasks, set up reminders and more—all in one place. As a result, team members find themselves having more effective conversations that lead to action. And they love using Emojis and GIFs to spice up conversations, celebrate milestones and achievements, and have fun at work! Sergey, an engineer at Namecheap adds, "I can send text messages, have video calls, share files, add and control tasks, and create reminders. I can even send GIF by using keywords, which adds a bit of entertainment into communicating."
See how 30,000+ companies globally get more done with Flock—read our case studies for more!
Not just users, even admins—the ones responsible for setting up and managing Flock for a team—find it easy to implement and get started. Anna, a project manager at Namecheap, was part of the pilot group that set up Flock for the team and she says, "It was really easy & straightforward - the admin area also looks so intuitive! In addition to that, we've got the customer orientated Flock team with a high level of responsiveness - this is what makes the product unique and extremely useful."
Creating a virtual office for a global team
The team at Namecheap uses Flock to cut down on the 'transit time' in exchanging information so they can move faster on projects and tasks. They use it to quickly identify each team member's availability (presence) and the tasks they are working on (custom status). This makes collaboration seamless, with team members looking up a colleague's availability on Flock in a second rather than asking the dreaded "Hey, do you have a few minutes?" question a few times every day.
"Flock is one of the best tools I use every day. Most of my stakeholders and peers are remotely located, and Flock is amazingly helpful for quick chats and keeping us connected. What I really like is that we can create as many separate groups as we want. I love the ease of use and the reminder options. Wow! Messages reach faster, status updates, file sharing, access from anywhere, a lot of emojis. :) LOVE it!"

- Jacqulin Preethi Global Talent, India at Namecheap
They are also heavy users of Flock's built-in productivity tools such as Shared To-dos and Reminders. This saves team members all the time wasted on juggling half a dozen different tools and allows them to track tasks and complete projects faster. They also love hosting quick video conferences within Flock to discuss ideas and share updates. Finally, the ability to connect third-party business tools to Flock means that it brings together all their work in one place.
For example, last September, Namecheap crossed 10 million domains under management - they are only the third registrar ever to achieve this! To recognize and celebrate this milestone, the company hosted contests and discussions in Flock channels, with hundreds of employees participating in them across time zones, borders, and offices.
Ultimately, Flock helps Namecheap bring together a global team of people into a virtual office where working together is easy, fun and engaging. And it comes with advanced productivity tools built-in, so the team gets more work done in less.
"Flock is our virtual office - a central hub where everyone can work together, drive through action and, ultimately, succeed as a team."

- Hillan Klein COO of Namecheap