Performance Management & Employee Engagement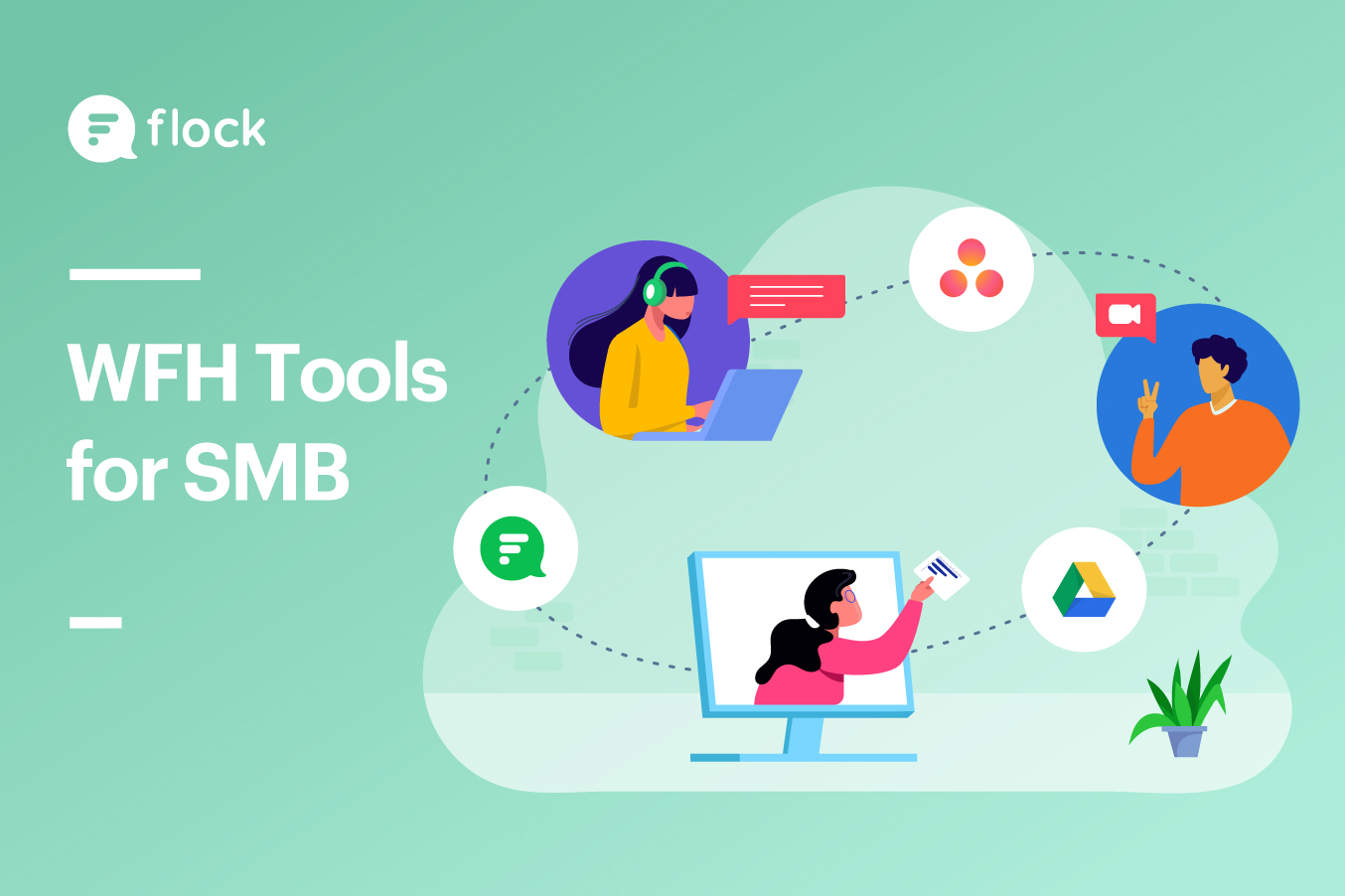 Working from home is no longer a luxury for the modern business. The COVID-19 pandemic has made it a necessity, and adopting flexible remote work policies is helping thousands of businesses keep their employees safe and workflows stable.
Flock is no exception—we started working from home mid-March—but the transition was easier because even as a distributed team, we leveraged a host of collaboration technologies to stay in sync and collaborate more effectively every day. After all, technology is what makes working from home possible, and in our experience, implementing the right tools has significantly increased both employee productivity and happiness.
Embracing technology is easy, but we know finding the right tools for your small business can be exhausting. So we evaluated dozens of business tools—from team collaboration and project management to remote access and employee engagement—and put together this curated list of the best work from home tools for your small business. Implementing learning management system for small business can unlock new revenue streams by effectively monetizing customer education through scalable and cost-effective training solutions.
The best work from home (WFH) tools for your small business
Team Collaboration
Flock makes collaboration effortless. With Channels for cross-functional projects and focused discussions, built-in video conferencing for virtual meetings, and productivity tools like to-dos and polls, Flock is your team's collaboration hub. Flock also plays well with popular business software like Google Drive and Jira, making it easier to centrally access critical business reports and monitor progress. Your employees save time when they don't have to juggle too many apps.
Pricing: A free plan is available for unlimited users and up to 10 public Channels. At $4.50 per user per month, Flock PRO unlocks enhanced admin controls, unlimited Channels, guest accounts, and priority support.
Like Flock, Microsoft Teams brings together your people, conversations, and files in a chat-based workspace, along with the tools that teams need to collaborate efficiently. Deep integrations with Office 365 services are a plus if your business already uses other Microsoft products. Innovative features such as meeting recordings, automatic transcripts, and a built-in whiteboard make Microsoft Teams work for effective video meetings, too.
Pricing: Free for up to 300 users. For admin controls to manage users and features such as meeting recordings and transcripts, pony up for an Office 365 subscription. Pricing plans start at $5 per user per month.
Slack needs little introduction. It's a real-time collaboration app for teams that brings all your communication together. Conversations in Slack are organized in channels and threads, with bots for hundreds of third-party tools helping bring all your work together in one place. Slack also offers an API to integrate your internal tools and simplify business workflows.
Pricing: Free with up to 10 service integrations. For video conferencing (up to 15 participants) and shared channels, upgrade to Slack Standard at $6.67 per user per month.
Virtual Meetings
Meet is Google's new secure video conferencing service that works directly in the web browser. With up to 250 participants on a group video call, screen sharing, a low-light mode, noise cancellation, and the ability to save meeting recordings in the cloud, Google Meet is a great choice for efficient virtual meetings, but it'll cost you.
Pricing: No free plan. Google Meet is bundled in with the G Suite of productivity apps and subscription plans start at $6 per user per month.
When it comes to video conferencing, Zoom is the popular choice. It's easy to use, offers screen sharing, group chat, whiteboarding, and a meeting scheduler built-in—everything your team needs for effective virtual meetings. Even the 40-min time limit on the free plan is a plus when it stops meetings from going long!
Pricing: Free plan with unlimited meetings and up to 100 participants. For longer meetings, more participants, and features such as video recording and automatic meeting transcripts, Zoom offers paid plans starting from $14.99 per user per month.
Bonus! Zoom now fully integrates with Flock for instant video calling! Learn more.
UberConference delivers beyond its simple promise of "No PINs. No Downloads." Users schedule video conferences directly from Google Calendar and Outlook (via an add-on). Participants join in simply by clicking the link in their calendar invite. Much like Google Meet, there is no software installation required as everything runs in the browser. UberConference also offers advanced conferencing features such as a local dial-in number, screen sharing, an online whiteboard, searchable meeting transcripts, and more.
Pricing: Free with up to 10 participants. Upgrade to their Business plan at $15 per organizer per month for meetings with up to 100 participants, automatic meeting transcripts, and more.
Project Management
Asana is all about organizing your work. Best for teams that work closely together—like a department or a cross-functional project team—Asana's board-style layout makes it easy to manage tasks, monitor due dates, and track projects all the way to the finish line. Being able to check things off as you complete them—and having individual due dates for each subtask—boosts motivation and keeps everyone on track.
Pricing: Free for up to 15 users. Upgrade to Premium ($10 per user per month) for advanced features like custom fields, forms, and an admin console.
Basecamp has been around for a long time, so it's jam-packed with collaboration features. To-do lists, message boards, schedules, file storage, and group chat—it truly has everything your team needs to get projects done. It's less project management and more all-around collaboration software.
Pricing: Basecamp Personal is free with up to three projects and 20 users. Basecamp Business costs $99 per month for unlimited projects, users, advanced client access, and priority support.
Trello's easy-to-learn card system means you see everything you need to do as soon as you open your board. Users can create a board just for themselves, or add a team to a board to collaborate together. Trello's "power-ups" connect the tools you use everyday, like Google Drive, Twitter, or Salesforce, to make your workflow even easier.
Pricing: Free with up to 10 team boards. At $9.99 per user per month, Trello's Business Class unlocks unlimited team boards, power-ups, custom fields, and more.
Cloud Storage
Box is a secure cloud storage and content management system for business that enables frictionless file sharing and collaboration across the organization. With Box, team members can quickly access, organize, and find their files on any device and collaborate on tasks in a central workspace.
Pricing: No free plan. Business plan starts at $15 per user per month.
A leader in cloud-based file-sharing, Dropbox Business makes it easy to manage all your content in the cloud from any device. With flexible storage plans, data recovery options, collaboration tools such as Dropbox Paper, and thousands of third-party app integrations, Dropbox Business has everything your team needs to get things done.
Pricing: No free plan. Dropbox Business offers paid plans starting at $12.50 per user per month.
Google Drive for Work offers excellent document editing and file management tools in a familiar and easy-to-use interface. With unlimited storage and an admin console to add/remove users, track usage, and manage devices, it simplifies data management while securely storing your data in the cloud.
Pricing: No free plan. Google Drive for Work is bundled in with the G Suite of productivity apps and subscription plans start at $6 per user per month.
Remote Access
AnyDesk ensures secure and reliable remote desktop connections between devices anywhere in the world. This means your IT team can quickly help employees with any technical issues even when they are working remotely. Employees can also use AnyDesk simply for screen sharing to work together on tasks.
Pricing: No free plan for commercial use. Pricing starts at $20.99 per month for AnyDesk Professional.
Built for technical support teams, TeamViewer is a fully featured remote access tool with screen sharing, annotation, and presenter controls. So support reps can guide employees through visual steps as they share files and instructions to resolve issues on any device.
Pricing: No free plan for commercial use. Pricing starts at $49 per month for TeamViewer Premium.
Zoho Assist is a simple-to-use remote access tool that makes it easy to access and work with multiple remote devices. Plus, Zoho Assist supports both ad hoc remote access sessions and unattended access—which means the app launches automatically upon reboot—so remote IT technicians can access and resolve issues more efficiently.
Pricing: No free plan. Pricing starts at $10 per user per month.
Whether you're a digital nomad or a business owner operating out of their home address, Incfile's Virtual Address service and flexible mailbox options will come in handy. In 48 states (excluding Oregon and Arkansas), Incfile can set up a virtual address where their team will scan and upload all paper mail to a secure private portal. There, you can read and review correspondence. All boxed packages, bank checks, and debit or credit cards will be forwarded to another address on file.
Performance Management & Employee Engagement
15Five's performance management tools help businesses figure out what drives their employees by tracking progress on goals and improving employee engagement. It's perfectly suited for remote teams with weekly check-ins to collect feedback, reassess priorities, and coach employees.
Pricing: No free plan. 15five's basic plan costs $7 per user per month.
As your business continues to adapt to working from home, engaging your employees so they stay focused on the goal is more important than ever. With pulse surveys, 1:1 check-ins, and custom polls, Officevibe offers a fantastic platform for managers to build better relationships with their direct reports and positively affect employee productivity and happiness.
Pricing: Officevibe offers a Manager Essentials plan for free that has all the basics. For unlimited team history and priority support, upgrade to the premium tier at $3.33 per user per month.
Based on the OKR framework, North is a goal-setting system to improve focus and drive results across your organization. It helps teams align themselves to business goals, measure progress against said goals, prioritize initiatives for impact, and collect actionable feedback from employees.
Pricing: North is currently invite-only. Get in touch through the website.
Invoicing
Invoice Simple
Invoice Simple Invoice Simple is an easy-to-use online invoice payment processing platform that allows you to accept payments online or in person easily. Offering flexible payment options and seamless checkout experiences to clients, Invoice Simple gives your customers the option to pay through credit or debit, PayPal, or Venmo, all at once or in installments. Within 48 hours, the funds will hit your bank. You can use Invoice Simple through your browser or as an app on iOS or Android.
Plans Essentials: $6.99 per month Plus: $13.49 per month Premium: $19.99 per month
Billdu is a comprehensive, user-friendly invoice and expense management tool designed to streamline financial operations for small businesses. Leveraging innovative technology, Billdu simplifies invoicing, expense tracking, and financial management, making these crucial tasks more efficient and less time-consuming.
Its feature-rich platform supports a wide range of functions, including invoice creation, estimate management, receipt scanning, and online payment facilitation, ensuring businesses can maintain financial transparency with ease.
Billdu's secure cloud-based system allows users to access their financial data anytime, anywhere, providing essential flexibility in today's fast-paced business world.
Their pricing model is structured to cater to diverse business needs.
Try Billdu free for 30 days and then choose from our flexible pricing options – Lite, Standard, or Premium ($3.99 - $16.99).
These are just our favorites of the many work-from-home tools available to help employees and businesses collaborate and stay engaged. Did we miss any? Let us know.