Now more than ever, as businesses work from home, keeping communication channels open and accessible is key to getting things done. Email simply isn't enough anymore, and today's fast-moving companies are looking more at modern business communication software as a means to boost productivity and problem-solving.
With group chat, video conferencing, screen sharing, and productivity tools, modern business communication software makes working together easier than ever. But the best business communication apps go way beyond team chat—they connect people within your organization to a network of shared knowledge, ideas, and talents, and simplify business ops challenges such as aligning internal groups towards business goals and outcomes.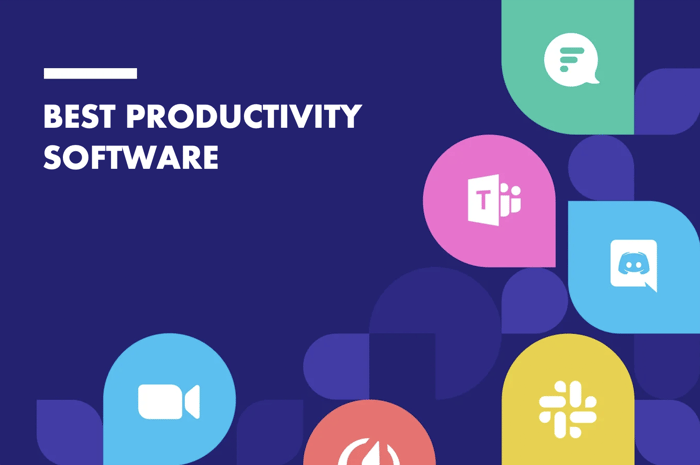 Flock, Zoom, Slack, Twist, or even WhatsApp—there is a communication app for every business, but finding and adopting the right tool(s) for your business is a decision you shouldn't take lightly. Plus, if you're a small business that runs a tight ship but expects big results, you'll want a business communication app that offers the most value at the best price point.
10 Best Productivity Software for Small Businesses in 2022
✅Business chat + video conferencing + screen sharing
✅Easy-to-use interface + built-in productivity apps
✅Powerful integrations for popular business tools


With Flock, your teams can work together on projects and discuss shared interests in Channels. Employees can exchange messages, share files, host video conferences, share their screen, manage to-dos, set up calendar events, automate repetitive processes—all from one easy-to-use cross-platform app.

Flock also integrates with popular business tools such as Google Calendar, Google Drive, Zoom, Asana, and MailChimp—which means less time spent shuffling between apps. Fun extras include a dark mode, animated stickers, and more diverse emojis for your teams to express themselves, which helps promote company culture.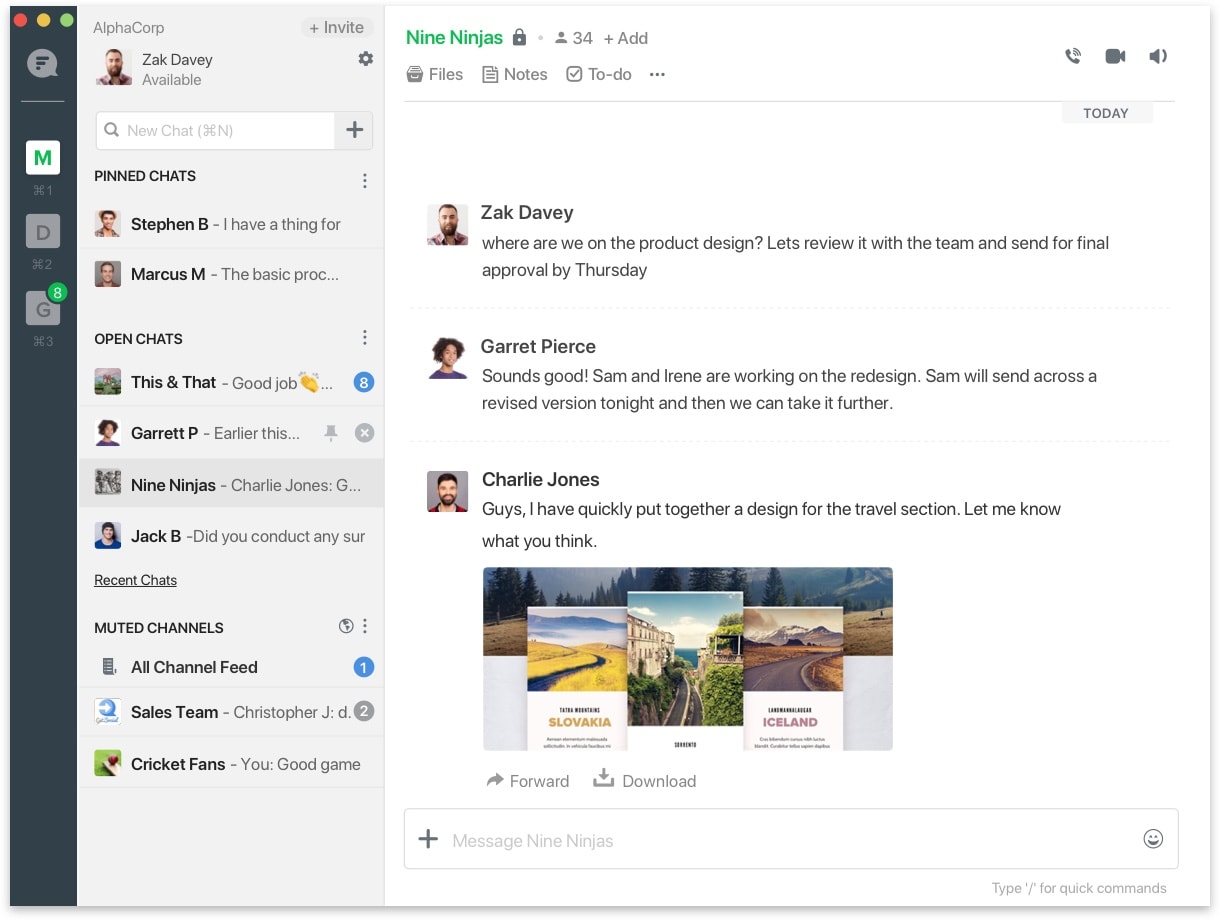 Pricing
Flock offers a generous free plan with unlimited team members, 1:1 messages and video calls, and up to 10 public Channels. Go PRO to unlock enhanced admin controls, unlimited Channels, video conferencing, and guest accounts, plus access to priority support. At just $4.50 per user per month, it's a steal!
✅Features created specifically for small businesses that help streamline productivity
✅Well-designed interface that makes managing email simple
✅Apps available for web, Android, and iOS

Titan's premium email suite is the first of its kind, designed specifically for professionals and businesses looking to expand their online presence with a custom email address, and provides the tools needed to build deeper, more meaningful relationships with customers.

Features like Read Receipts, Email Templates, Follow-up Reminders, Send Later, and Calendar make life incredibly simple to establish a more personal connection between companies and customers.

Pricing
Titan can be purchased from web-industry partners like WordPress.com, Name.com, Newfold Digital, Hostinger, and Namesilo.

✅Easy-to-use interface
✅Video conferencing + screen sharing
✅Schedule and record meetings


Zoom has quickly become synonymous with virtual meetings, and for good reason. It's super easy to use and the 40-min time limit on the free plan is good enough for most meetings (with up to 100 participants). With screen sharing, group chat, whiteboarding, and a meeting scheduler built-in, Zoom makes virtual collaboration as effective as in-person meetings.
Pricing

Zoom's free plan offers unlimited meetings with up to 100 participants, though there is a 40-min time limit on each meeting. For longer meetings, a more generous cap on participants, and advanced features such as video recording and automatic meeting transcripts, Zoom offers paid plans starting from $14.99 a user per month.

✅Free, if you're a G Suite customer
✅Video conferencing + screen sharing
✅Record meetings to Google Drive


Free for businesses that are already G Suite customers, Google Meet is a secure video conferencing service that works directly in the browser. With up to 250 participants on a group video call, a low-light mode and noise cancellation, and the ability to save meeting recordings directly to Google Drive, Meet is a fantastic choice for quick and easy video conferencing.
Pricing

G Suite Basic is $6 per user per month and gives you access to an entire suite of productivity tools including Google Meet.

✅Business chat + video conferencing + screen sharing
✅Bots and integrations
✅Shared channels


Arguably the most popular team communication app, Slack has it all—messaging, channels, video calls, integrations, and bots for hundreds of third-party tools—but the free plan limits you to 10 service integrations, so choose wisely. It's a little too much to take in all at once (it's definitely not as straightforward as Flock!), but once your team gets the hang of it, they'll learn to appreciate its versatility.
Pricing

For video conferencing (up to 15 participants) and shared channels, upgrade to a Slack Standard plan that costs $6.67 per user per month. There's also a Slack Plus plan that adds more features at $12.50 a user per month.

✅Business chat + video conferencing + screen sharing
✅Deep integrations with Office 365
✅Meeting recordings with transcripts


Microsoft Teams' deep integrations with Office 365 services makes it an easy pick if your business is already paying for their productivity software. There's a free plan for up to 300 users with all the basics—chat, channels, video conferencing, search, etc. However, admin controls to manage users and apps as well as features such as meeting recordings require a subscription.
Pricing

Free plan for up to 300 users. For advanced features such as meeting recordings and automatic transcriptions, Office 365 Business Essentials costs $5 a user per month. The full-featured Office 365 Business Premium plan sets you back $12.50 a user per month.

✅Built for gamers but works for business
✅Audio channels + team chat + video conferencing + screen sharing
✅Free with no usage limits


Discord started off as an all-in-one voice and text chat app for gamers, but it works equally well for business. Beyond private and group chat, employees can communicate in real-time using voice channels—think of them as always-on radio channels to talk to your team. Voice channels can also be an easier, less stressful way to collaborate remotely on shared documents.
Pricing

Discord offers unlimited voice, video, and text chat—all for free. For $4.99 per month, Discord Nitro Classic lets individual users upload a GIF avatar, use custom emojis everywhere, and ups that pesky file size limit to 50MB.

✅Threaded messaging ~ less noise
✅Integrations for video conferencing


From the folks behind Todoist, Twist offers a new take on sync and async communication. Twist's message board-like interface is easy to use, though using threads and the inbox (they work more like email threads, not Slack threads) takes some getting used to. The upside? Fewer notifications! Plus, threads make it easier to keep track of discussions. Twist doesn't offer built-in video conferencing or screen sharing, but you can easily integrate Skype or Wherein.
Pricing

A free plan with unlimited users and messages, access to one month of conversations, 5GB storage for file sharing, and five service integrations. For $5 a user per month, Twist Unlimited offers unlimited conversation history, file storage, service integrations, and priority support.

✅Multiple-conversation view
✅PrimeTime Assembly (live stream to 10,000 participants)
✅Integrations for popular business tools


Zoho Cliq shows multiple conversations—each in its own column—so employees can view group discussions and private DMs at a glance. Cliq integrates smoothly with other Zoho apps, but there are also integrations for third-party services such as Asana, Wrike, and Zapier.

If you're not already a Zoho customer, Cliq has a free plan with unlimited users, messages, and channels (up to 100 members in each), video conferencing, screen sharing, and 100GB storage for file sharing. However, message search is limited to 10K most recent messages and you get up to 10 third-party app integrations.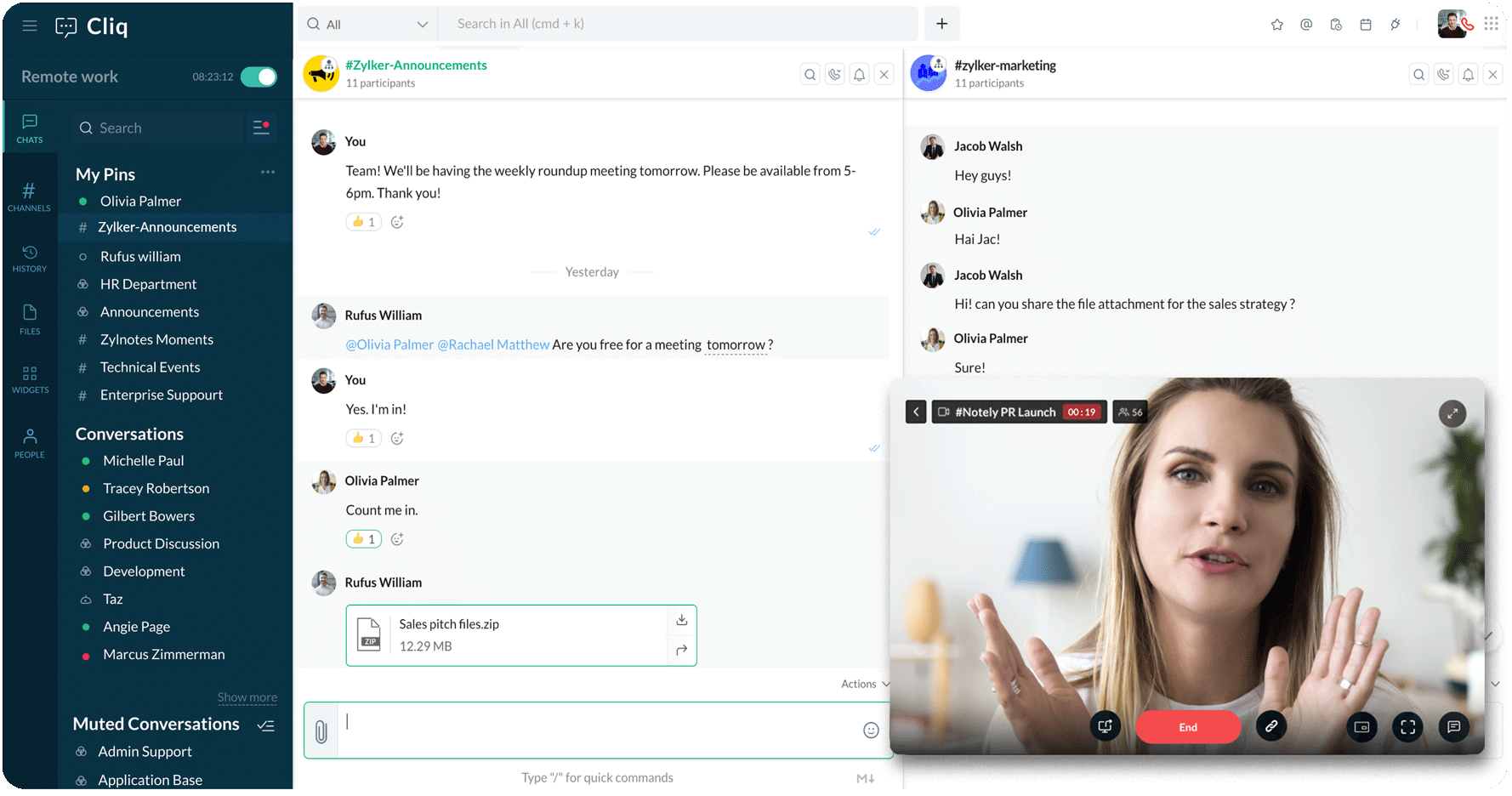 Pricing

For $3 a user per month, Cliq Unlimited gives you access to all message history, ups file storage, and lets you connect up to 100 third-party integrations. It also unlocks a PrimeTime Assembly feature that lets you stream live video (not the same as video conferencing) to as many as 10,000 participants.

✅On-premise communication software
✅Integrations for popular business tools
✅Open-source and highly customizable


If your business needs an on-premise communication software, look no further than Mattermost. One, it's self-hosted—meaning it can run directly on your servers. Two, it's open-source and you can customize it to meet your unique needs (if you have the dev resources).
Pricing
Post a free trial, Mattermost's small business plan costs $3.5 per user per month and offers access to next-day business support, advanced access controls, guest accounts and more.
º º º
As a business owner, you know that optimizing team communication is the number one contributor to productivity and success. We hope these reviews help you identify and evaluate the best communication app for your business that will transform how your teams work together.
If you haven't made up your mind yet, we recommend starting with Flock. It's super-easy to use, and has everything your business needs to streamline team communication. Plus, our stellar support team is on standby to help. Just start a live chat below to get started.