Here's how you can save time and effort by using Flock for your marketing needs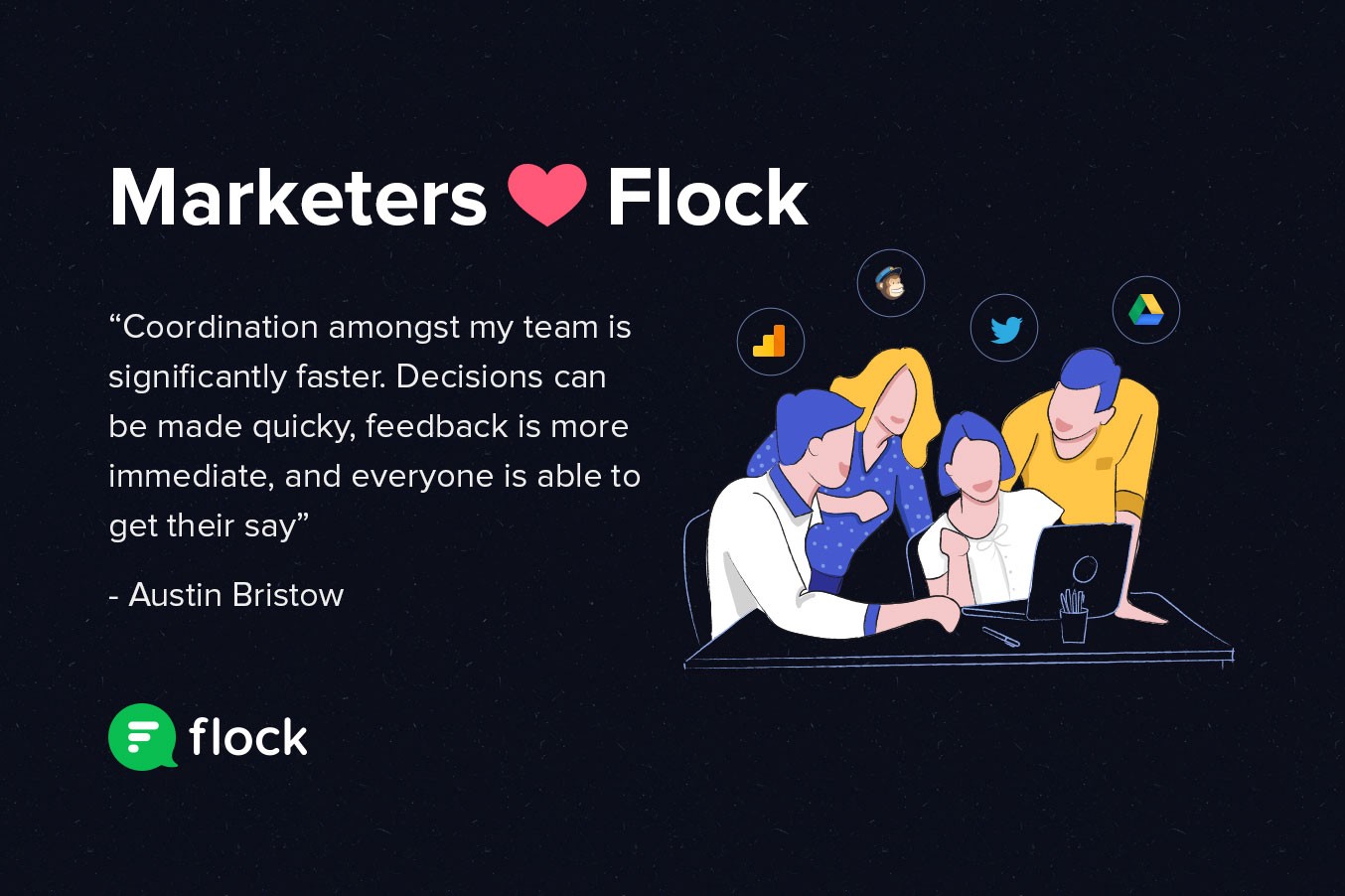 Marketing is a full-time job. Literally.
And marketers are a busy lot. You've got to run multiple campaigns, spy on the competition (read: social media listening), and collaborate on creatives — with tons of different people.
Oh, and we almost forgot the most important part — digging for numbers that answer the penultimate existentialist question — What is the marketing team doing?
And like most modern companies or startups, you're probably using multiple tools to get all these tasks done. But what if we said that you could do all of this on a single platform, without switching tabs? Save the drool for the leftover cupcake.
Say hello to Flock, your handy team messenger and marketing ally. It comes packed with apps and features that are sure to make your day so much more productive — and increase your team's marketing productivity.
Now let's start ticking off those check boxes, shall we?
Social listening
First things first. It's important to know what people are saying about you and your competition and have a strong social media presence.
But, 'I like refreshing my Twitter feed every few seconds', said no one ever!
And let's not even talk about how the list of social networking sites, blogs, and review sites to track is absolutely bursting at the seams.
Now for the good news. With Flock, all you need to do is go to the Flock App Store and set up a Twitter integration. You'll start receiving real-time notifications about your social media mentions in no time at all. No more switching tabs!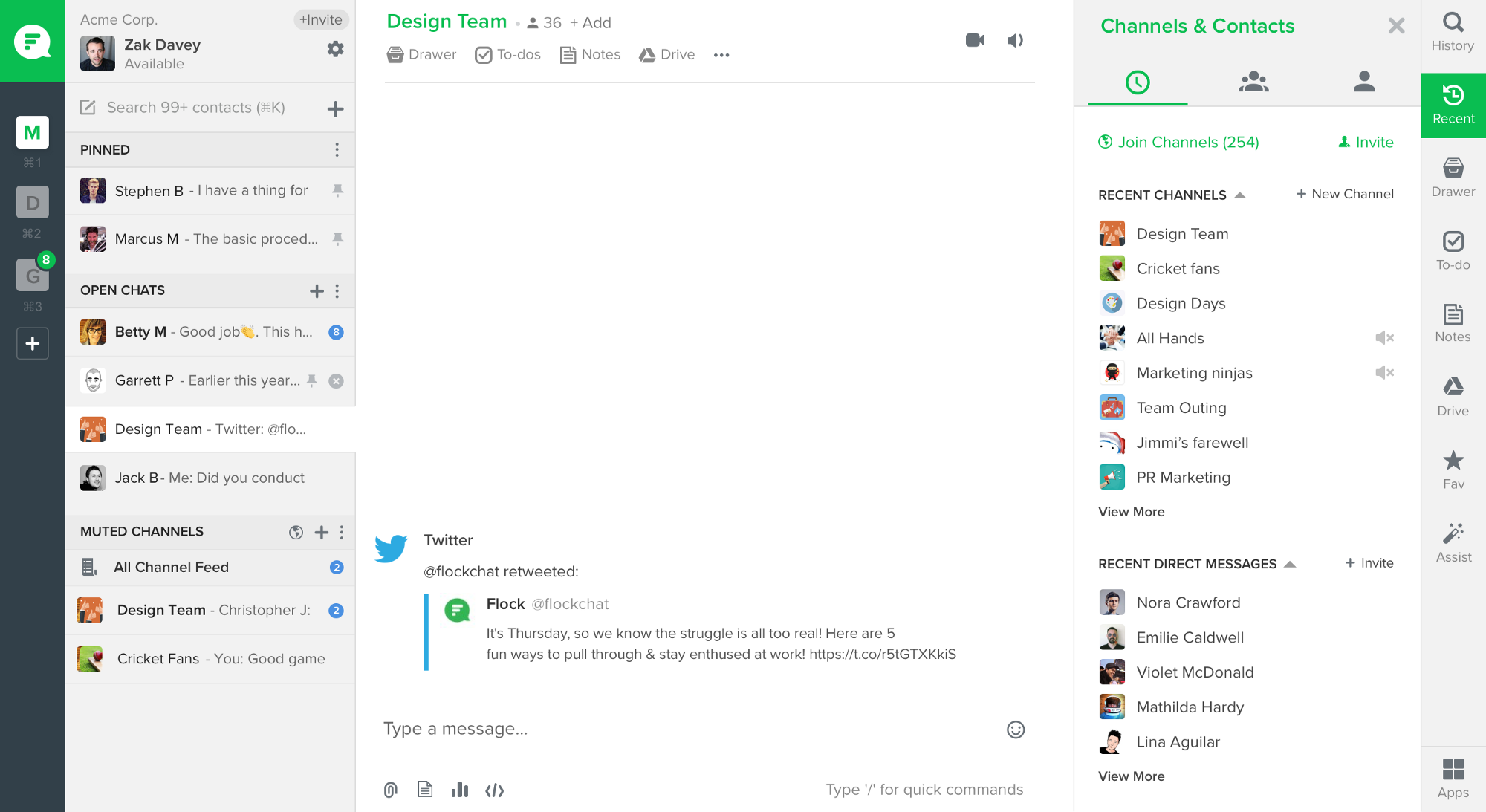 Keeping track of your customer base
Never underestimate the power of a good email. I think the folks at Really Good Emails are onto something. Email marketing is a great way to get more leads and retain them too.

But tracking how your email is performing is always a task. And that's where MailChimp's integration with Flock is super handy. Once you integrate the app with Flock, you can get instant notifications of users subscribing or unsubscribing from your mailing list.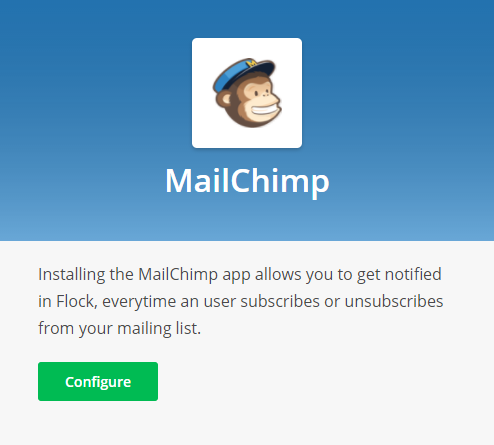 Keeping track of your customer base, just got a whole lot easier!
Collaborating on projects with other teams
Who hasn't heard of or used Google Drive?
Now what if you would access your entire Drive from within Flock?
For everyone who swears by Google Drive but hates all the tab switching, Flock's deep integration with Google Drive is a god send.
With the integration, you can access your entire drive and work on multiple projects from within Flock. You can create and share documents and folders, and collaborate on creatives on the go.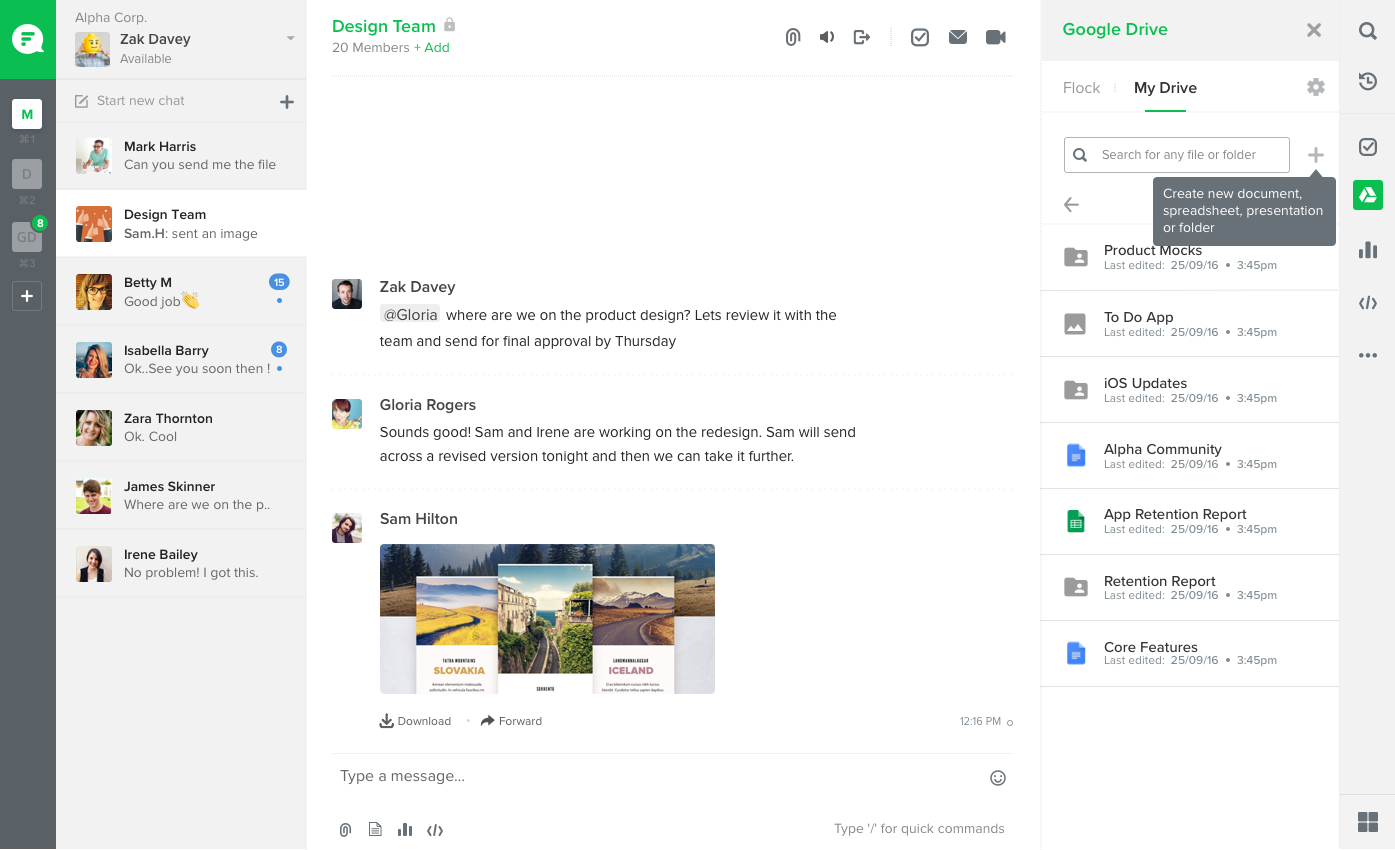 What's more? You can also manage edit permissions and add multiple accounts, directly from the app. Now collaboration on projects happens at a click of a button!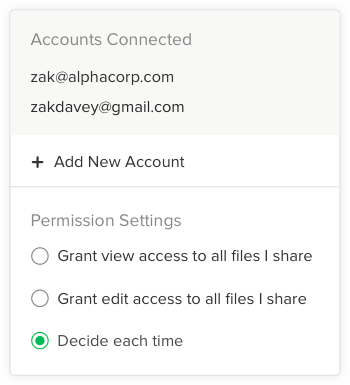 Tracking campaign performance
Used all your tricks to market your product well? The only thing remaining is to accurately measure the performance of your campaigns.
Did someone say Google Analytics? Well, here's the good part.
You can simply integrate Google Analytics with Flock and track your campaign performance in real time. You'll get notifications of your website performance, for example, including details such as average session duration, bounce rates, and unique page views.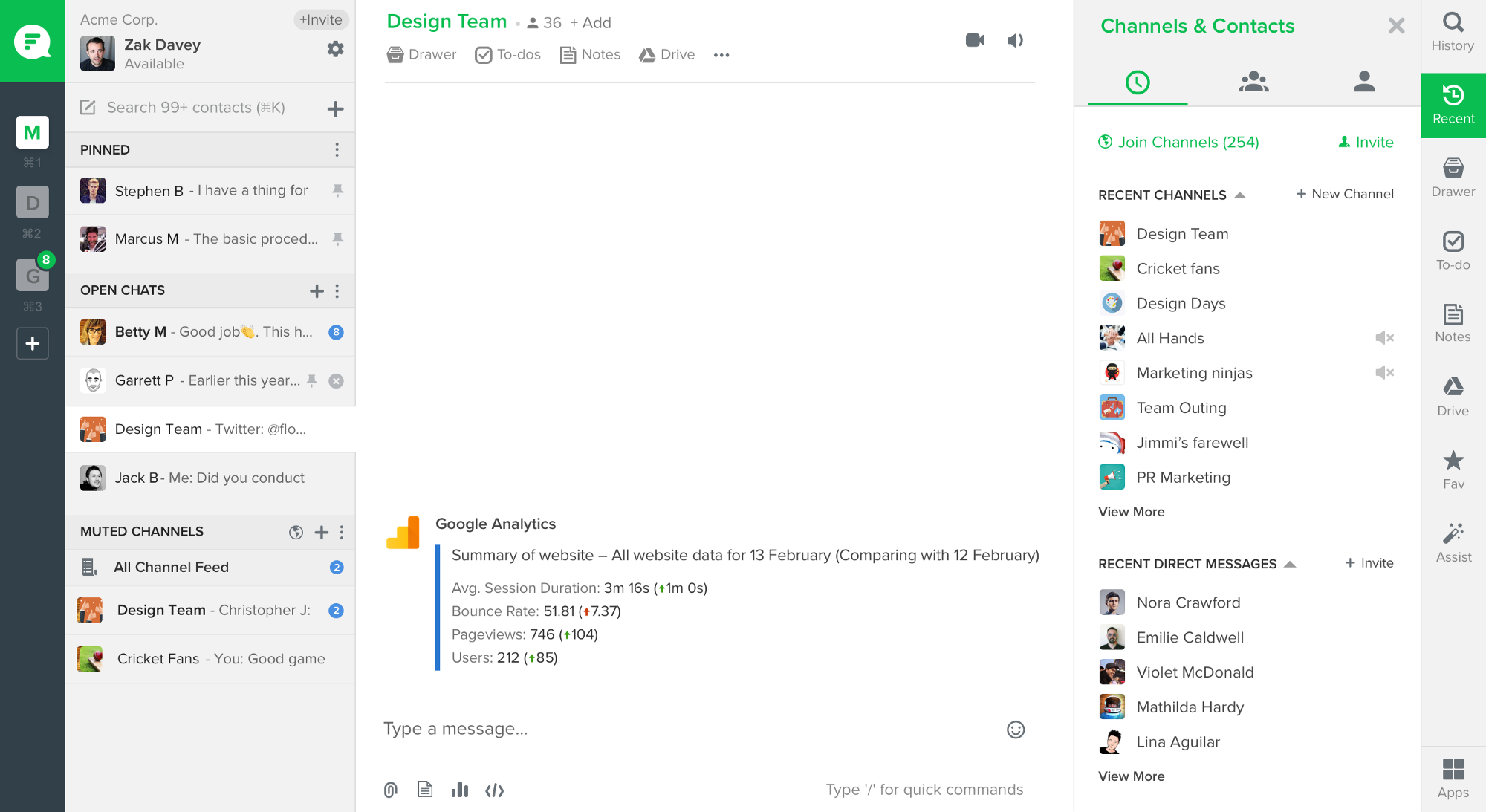 But wait, there's more.
Apart from external apps on the Flock App store, this slick team messenger offers a rich suite of native apps that a marketer can benefit from. Here are the activities that Flock can help you with.
Managing your projects better
With the Shared To-dos app, you can create tasks for yourself and your team, and keep track of all important activities.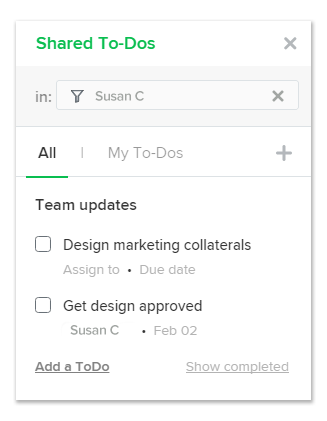 And that's not all.
Flock's nifty reminders are also a great way to make sure that you don't miss that important meeting with the team. These apps work like magic to ensure your project management is right on track.

Getting ideas from everyone
Whether it's running a new campaign or discussing a new marketing strategy, it's always a great idea to gather everyone's opinion when making a decision. And what better way to do so than a running a poll!
Flock's slick opinion poll app lets you get ideas and opinions from all your team members in real time, to make smarter, more informed business decisions. Plus, no chance of anyone not being heard!