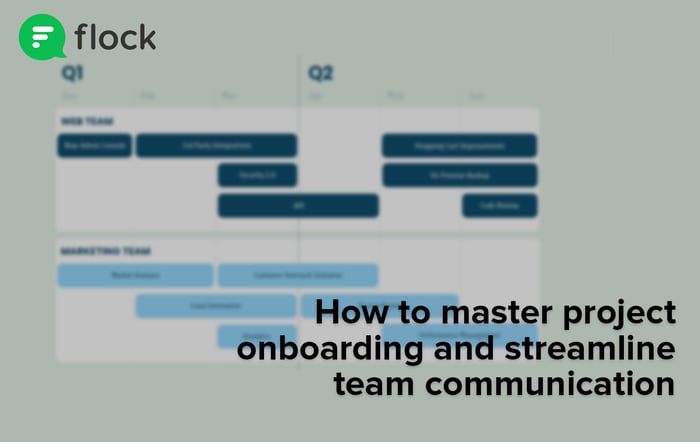 Imagine taking up a project, committing to a deadline, and midway through realizing that you're nowhere close to finishing it on time at the agreed-upon budget.
This is what a project manager's nightmare is made of.
One of the most effective ways to avoid such a situation is establishing a project onboarding process.
We can all agree that for a project to be successful, it needs to have a strong foundation—and project onboarding can help you achieve that.
What is Project Onboarding?
Project onboarding is the process of introducing your team to the project. It takes place in the project initiation phase and is meant to get all team members on the same page.
From communicating roles and responsibilities to establishing deliverables and timelines, the onboarding process is a vital step as it ensures team alignment and reduces the chances of project failure.
5 Essential Elements of a Smooth Project Onboarding Process
As the project manager, it's your responsibility to onboard your team members properly and start the project on the right note.
According to a Project Management Institute article, "Many teams are muddling along on fifty percent of their potential because no one is really clear on where the project should be headed."
Having a project onboarding process in place ensures everyone involved in the project understands the project goals and what's expected of them.
Let's take a look at the five essential elements of a smooth project onboarding process.
Prepare onboarding documents
Before you onboard your team members, it's important to prepare all the necessary information they need to get started and work towards the project's goals.
The more information you equip them with, the more empowered they are to successfully complete it.
Here is a list of project onboarding documents you can prepare to share with your team:
Client or companies' priorities
Goals and objectives
Scope of work
Project budget
Deadlines
Any other background information they need to know
It's also a good idea to create a mind map that outlines the top-level goals and plan of action. This serves as a reference and makes it easier for your team to digest and retain the information.
Source: Venngage
Establish roles and responsibilities
The next step is to establish the roles and responsibilities of every individual team member. Assigning clear responsibilities improves productivity, efficiency, and avoids conflicts.
Villanova University recommends creating five key roles while managing projects:
Project manager: responsible for successful completion
Project team member: team members who actively work on the project
Project sponsor: in-house champion of the project
Executive sponsor: point of contact with the external stakeholders
Business analyst: defines needs and recommendations to improve the project
While assigning roles is one half of the story, the other half is communicating those roles and responsibilities effectively.
It's a good idea to illustrate this through an organizational structure flow chart. It highlights everyone's key responsibilities, presents team relationships, and shows the working hierarchy.
Here's an example of a flow chart template you can use to create your team structure.
Source: Venngage
Host an internal project kickoff meeting
While it's great to have all your project onboarding documents and written communication in place, nothing beats the effectiveness of a face-to-face meeting (either in-person or over a video conference call).
According to a Harvard Business Review research study, face-to-face meetings are 34 times more successful than emails.
Make sure you host a project kickoff meeting with your internal team to take them through each of the onboarding documents, lay down the project goals, and ensure they're on track.
If there are any issues, such as device-related technical problems or budget questions, within the team, you will have to address those.
This meeting should not be a one-way conversation. It's important to use this opportunity to get their point-of-view, understand if they're comfortable with their roles, and address their concerns if any.
If you have formed a new team, you must get everyone to introduce themselves, break the ice, and help them build a rapport.
Create a project schedule
A huge aspect of project management is managing your time well. How do you do that? By creating a project schedule in the initial stages.
A project schedule breaks down the project into smaller, manageable tasks and outlines the deadlines and required resources. It offers a high-level overview of the deliverables, helps identify bottlenecks, and track project progress.
It's important to create a project schedule as part of the onboarding process because it chalks out a clear course of action and sets the foundation for successful completion.
Make sure you get the entire team's buy-in on their respective deadlines at this stage to avoid last-minute delays or conflicts.
Here's an example of a project schedule you can create to quickly communicate tasks and deadlines.
Source: Venngage
Use collaboration tools
Collaboration tools form an integral part of project management. Regardless of whether you're working remotely, using the right tools like knowledge base can improve collaboration and productivity.
The last step of the project onboarding process is to introduce your team to the collaboration tools you plan to use during the course of the project and give them access to the same.
Here are some types of collaboration tools you can consider using:
Instant messaging (eg. Flock, etc.)
Video conferencing (eg. Zoom, LifeSize, etc.)
Task management (eg. Trello, Asana, etc.)
File-sharing (eg. Google Drive, Dropbox, etc.)
The takeaway: master project onboarding for a smooth-flowing project
The next time you take up a new project, don't make the mistake of overlooking project onboarding. Implement these five elements to onboard your team members for a smooth-flowing project that successfully meets its goals.
At the end of the project onboarding process, if your team members leave knowing what's expected of them, you can be sure to have started the project on the right note.
---
Simki Dutta is a content marketer at Venngage, a free infographic maker and design platform. She writes about all things marketing and communications. Find her on Twitter and LinkedIn.