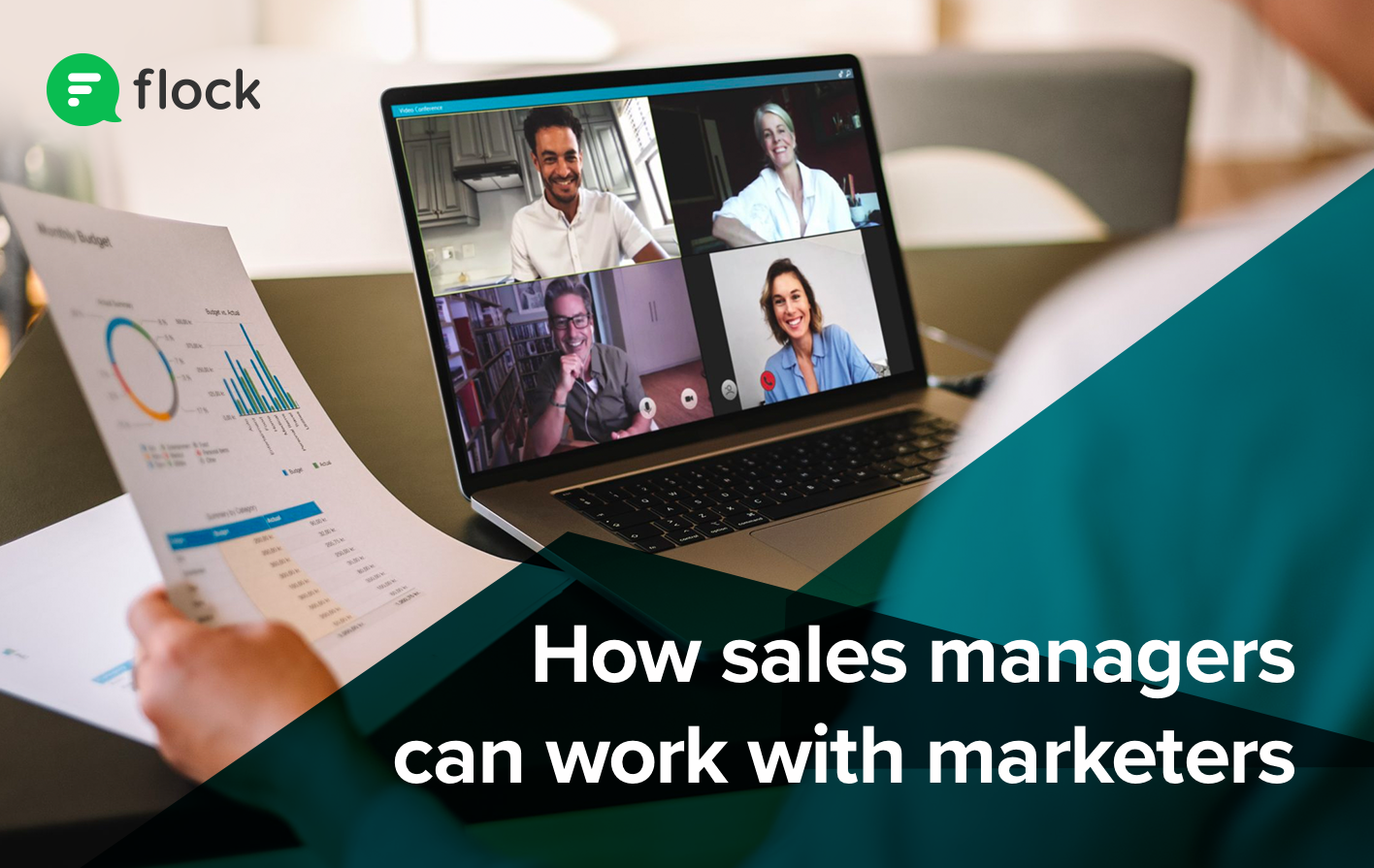 Smarketing strategies bring sales and marketing teams together to work on common goals and break down the silos that they often operate in.
While the terminology may be new, the concept isn't—businesses that effectively integrate sales and marketing goals experience faster revenue growth and faster profit growth. I sat down with our content marketing team to discuss this interplay at Flock and share some best practices.
How does the sales team differentiate between product and marketing funnels? Where does the marketing team come into play?
For the sales team, the first interaction that a prospect has with Flock dictates whether they're in the product funnel or the marketing funnel. If the first user interaction is with a marketing asset such as a blog post, website chat, or a social media campaign, then they are tagged as a marketing funnel lead. Conversely, if the first user interaction is with the product—for example, signing up for Flock—they are in the product funnel.
It's essential to get this classification correct because it informs the approach that our sales team takes to engage with each lead and gives information to the team about the customer's mindset coming in. Getting this classification right via clearly demarcated parameters is the ambit of the marketing team.
For a product lead, the sales team's objective is to ensure the prospect has an optimal product trial experience, increasing the chances of monetization post the trial.
Conversely for a marketing lead—usually a new prospect—the objective is to make the prospect more ecosystem- and product-aware before pushing them towards a potential trial and subsequent monetization.
What tools and channels of communication do you use to work with marketing? What has proven most effective?
Besides cross-functional Flock channels, we depend on our sales and marketing CRM tool—HubSpot—to stay in sync with the marketing team. Hubspot dashboards allow both sales and marketing teams to effectively track progress on shared goals, mainly how the two types of leads are performing.
Various metrics such as the number of leads generated, meetings booked, meetings to sales conversions are tracked via these dashboards to effectively gauge the performance of a specific funnel, becoming a single source of truth for both teams.
While syncing up a couple of times a week over Zoom is enough to track overall progress, cross-functional Flock channels allow our sales and marketing teams to constantly share feedback in real-time. The feedback loop is always on.
Flock also doubles up as a fantastic knowledge sharing tool and information repository since all assets shared between our "SMarketing" teams are stored on the cloud, easy to access, and available across devices.
How do meetings like the marketing funnel check-in and the product funnel catch-up help you establish goals and plan to-dos?
These meetings give us a bird's eye view of how each funnel is performing in terms of lead conversion, helping the sales team prioritize meetings and follow-ups effectively.
Check-ins are also an effective forum to establish clear service-level agreements (SLAs) and expectations that both teams have of each other, in terms of lead quantity and quality that marketing teams need to deliver and lead attack times and outreach that the sales teams need to maintain. Clearly defined SLAs help both teams set periodic goals and plan to-dos accordingly.
Last but not least, these meetings act as effective enablers for the sales and marketing teams to have some much-needed facetime, so the sales team can share user journeys, use cases, and anecdotes with their marketing coworkers. From a marketing perspective, this qualitative feedback improves the efficacy of their marketing efforts.