If you're a founder or a small business owner, it's time we had an honest conversation about why you need a comprehensive game plan to address workplace communication.
Leaders who fail to foster a culture of open communication and cross-collaboration can fast-track their fate into the red both financially and productively if they're not careful.
It's been estimated that poor workplace communication costs companies $37 billion (that's billion with a B) per year, which translates into $62 million per business—$420,000 per small business—with a cumulative cost of $26,000 per employee.
Now those are problems not even the Ray Donovan of CROs can fix.
Bottom line: Effective communication starts with you.
Let's give 'em something to talk about
As a team leader, one of your top priorities is to cultivate a culture of transparency that instills confidence, builds trust, and permeates inclusivity from the top down. This type of trickle-down tenet encourages employees (at all levels) to gain intimate insights into each other's personalities, tap into potential, and dive deep into creative ingenuity—all of which ignite innovation and boost productivity.
In fact, according to the McKinsey Global Institute, productivity jumps 25% when employees socialize, contributing to upwards of $1.3 trillion in annual ROI value. Thus, it's no surprise that when leaders facilitate open communication in the workplace and invest in communication tools, teamwork takes off. 🚀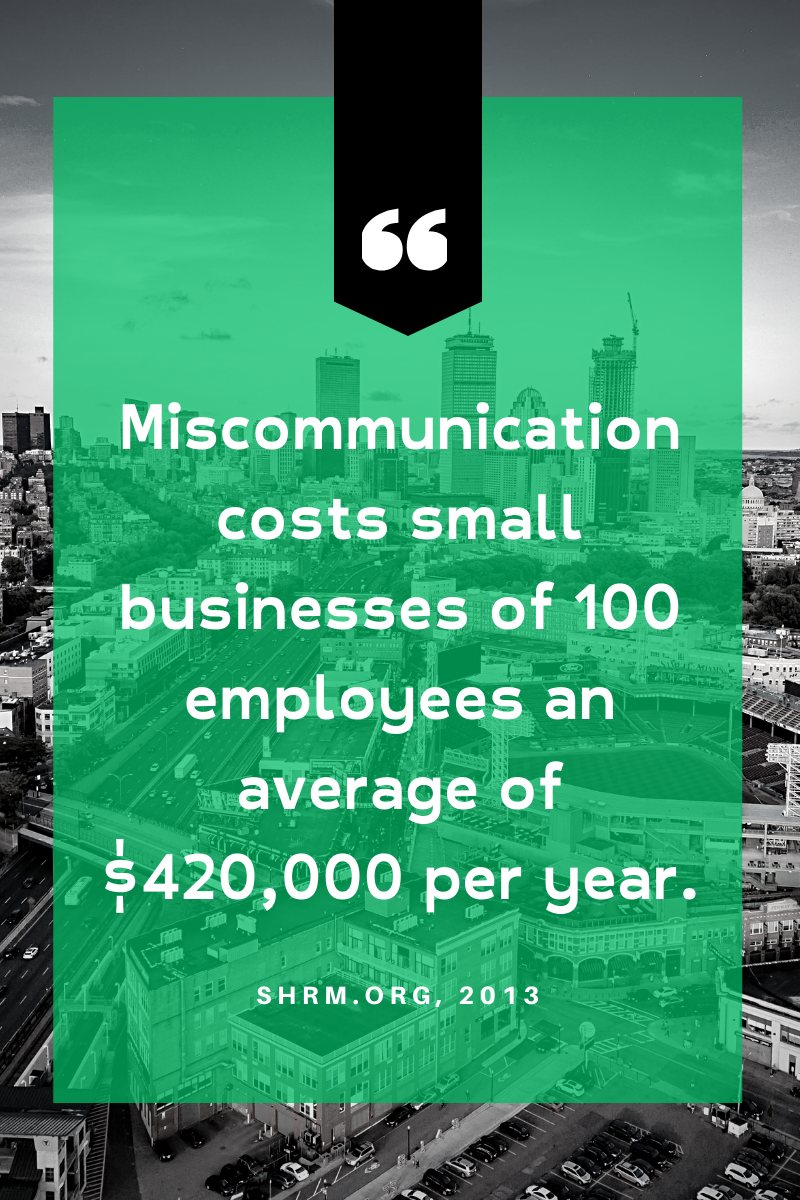 Of course, the type of communication (formal vs. informal), the means by which you communicate (in-person vs. email vs. messenger), and the frequency thereof, all play crucial roles in establishing a healthy working rapport.
We've created a lean five-step guide to help walk you through the basics of how to establish a communication culture that gets teams talking and gives everyone a voice. It will help you even if you are on an early stage of your business such as POC vs MVP.
After all, sharing is caring, but doing so in a way that doesn't distract or disarm is imperative.
1. Drop the whole squad a line
Being a leader in the workplace means it's also your job to set the tone. Take a thoughtful approach to how you'll make an impression that'll resonate but is also inclusive and respectful.
While your direct reports and close colleagues may already know your favorite emoji, most junior staffers probably don't know you from Adam. Take the initiative to break the ice and introduce yourself via email, and then follow-up individually via messenger (or in-person) to prove you actually exist.
2. Keep the conversation flowing and the momentum going

Once you've established a direct line of communication, keep it open and nurture momentum. Work on building and maintaining relationships through dialogue that inspires fodder and cross-collaboration.
Remember, not everyone has the same bandwidth, so be mindful and sensitive to untimely banter or unnecessary distractions that may impede your team's daily workflow and performance.
3. Stay in-tune and in-sync
Stay connected, turned up, and tuned in to what's happening across your entire organization. Sync up early and often to ensure nothing gets sucked into a vacuum or lost in translation during the daily grind.
We recommend using a centralized workspace and messenger tool like Flock to track your team's conversations and progress all in one place. This will help you gauge efficiency and prevent potential disasters from spiraling.
4. Strike a brand, a bond, and a balance

Advocate for a balanced culture that rewards perspective and regards character. Adding context and personality to a conversation can break up the monotony, so encourage your employees to get creative and bring their own flavor to team discussions, jam sessions, and brainstorms.
Taking this candid approach to engagement will help ease any lingering doubts that may (unknowingly) stifle progress. It also lays the foundation for a fruitful dynamic that can accelerate collaborative partnerships and harness the quiet potential of introverts.
Moreover, aim to strike a proper balance between open-communication, over-communicating, and suffering silently. This not-so-subtle nuance can mean the difference between a minor misunderstanding and massive miscommunication. Ask your employees for feedback so you know what to adjust.
5. Don't just stand there, bust a move
Time and energy are not mutually exclusive, nor are they a luxury, especially at a thriving startup. Make the first move and take on the mindset of being a facilitator. Nudge colleagues to connect, and when they do, urge them to make their time count.
Avoid bear traps by being approachable and making yourself accessible during working hours—either online or off. Use this time to recalibrate momentum and address conflicts like time sucks and black holes that are swallowing up productivity.

As a leader, it's your job to rally your troops around the collective mindset of being socially active in the workplace. Doing so will revitalize synergy, amplify morale, and develop good communication habits that stick.
Get your team together and watch them thrive. 🐣