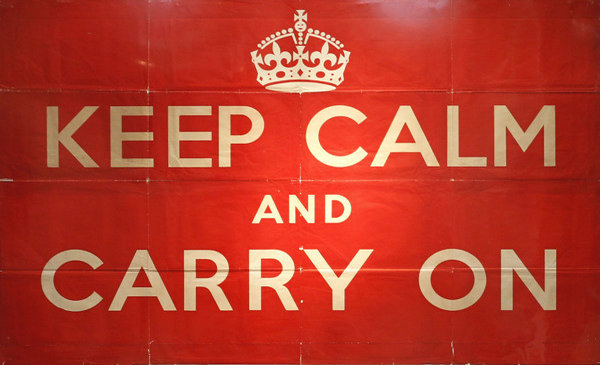 It's hard to avoid the news about the spread of Coronavirus globally. Stock markets have dropped, worldwide production and supply chains are affected, and travel is shutting down.
We should all keep a level head as we consider the best way to keep illnesses like COVID-19 and the flu from spreading to our neighbors and coworkers. One clear option is to better enable remote work and allow people to work from home.
---
In fact, 91% of workers agreed that working from home could help prevent people from getting sick, according to a recent Flock survey of 500 professionals in the US. And 89% were willing to work from home to help prevent the spread of illness.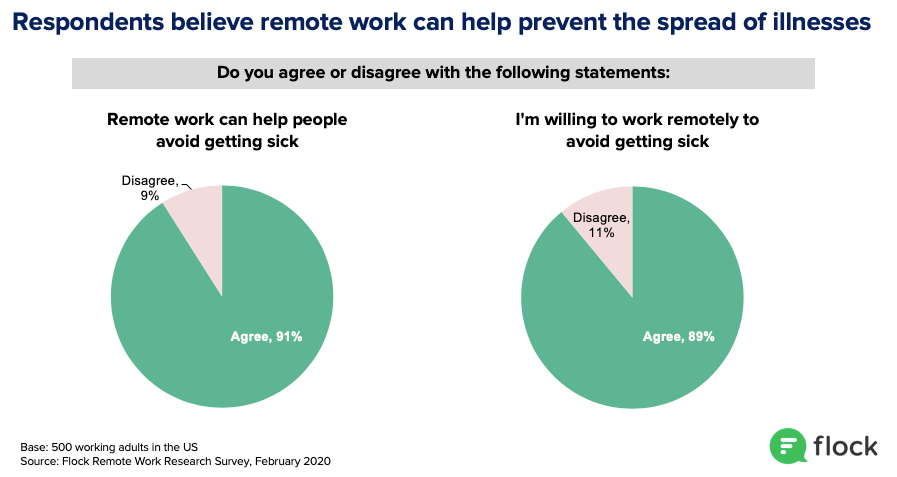 Who is currently allowing remote work?
Overall, 75% of respondents indicated their company allowed remote work in some capacity. However, when we split the responses by company size, we found that small and medium sized businesses have not adopted remote work as much as their larger counterparts. Remote work has clearly become the norm within larger companies across the United States, but smaller companies currently appear less equipped.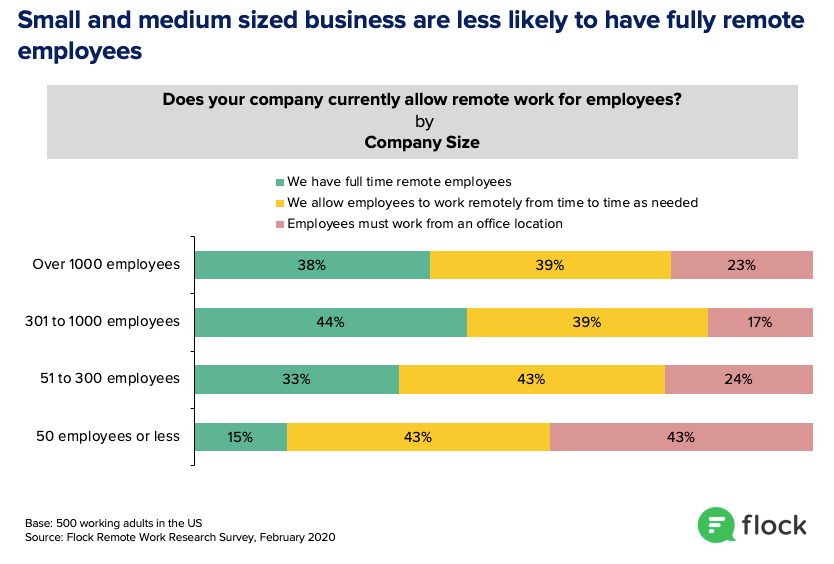 Non-remote businesses lack the right tools and policies to enable remote work
53% of respondents at businesses that don't allow remote work admitted they didn't have the proper tools to enable it. Luckily, creating a remote policy and implementing communication and collaboration tools is now easier than ever. Many companies are sharing their tested remote policies and there are robust communication tools like Flock that enable collaboration across geographies and time zones.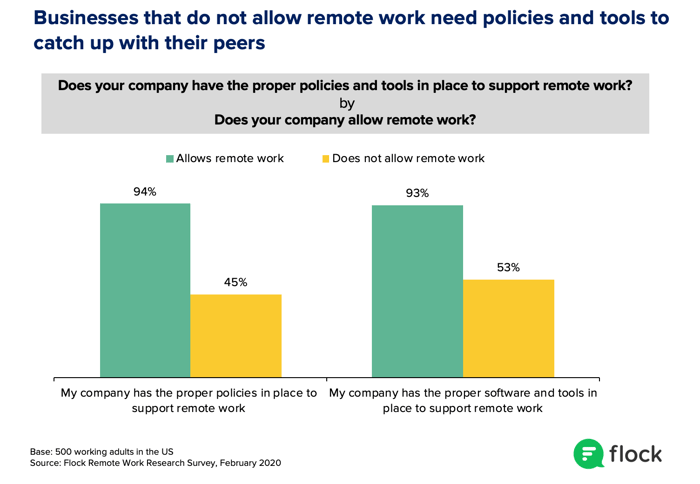 Use an all-in-one collaboration tool to prepare your business for remote work
For businesses that are considering starting a remote work program, consider an all-in-one solution like Flock that takes care of your company's messaging, videoconferencing and screen sharing, file sharing, and productivity needs. There are many tools on the market that focus on specific elements of remote work, like just voice calling or just video conferencing. But choosing tools for each individual functionality separately means businesses have to adopt and pay for multiple remote work tools just to get started.
Likewise, companies that struggle with tool overload could also save frustration and some cash by consolidating their communication and collaboration tools into a single platform.
If you're planning to implement a remote friendly tool, make sure to sign up for a collaboration tool that offers the following functionalities at a minimum:
One-on-one (1:1) messaging to hold direct conversations with a colleague
Group messaging so everyone in a team or project group can communicate
Ability to create custom team or project channels as needed
Ability to make channels public or private, because some things need to be kept under wraps!
Videoconferencing when you need to speak face to face
Screen sharing so you can refer to the same presentation or document
Search functionality, so you can find your messages or files
Drag and drop file sharing so you can quickly send assets to a group or single coworker
Polls, tasks, and reminders to keep productive
Robust integrations with other tools you use, such as Google Drive, Trello, or Twitter
Robust security features, because you don't want your work files or conversations leaked!
Reminder: With remote work, think of the bigger picture
Remote work is about more than simply staving off illness. While current events are accelerating the adoption of remote work, remember there are serious benefits to enabling remote work at your business. Flock's Guide to Remote Work cites business results that show that remote work can:
Improve employee productivity
Reduce employee attrition
Save on real estate costs
Coronavirus as a Catalyst for remote work isn't sustainable

It might drive people reluctantly toward remote — for it to stick it has to have been a conscious choice

Remote work delivers huge quality of life benefits and business efficiencies

That has to drive it 📈🚀

— Chris Herd (@chris_herd) March 2, 2020
As more and more people are exposed to remote work opportunities, it'll become less of a perk and more of a necessity, as shown by our research below. Most businesses competing for talent will need tailor their operating model to the preferences of their workforce and embrace remote work.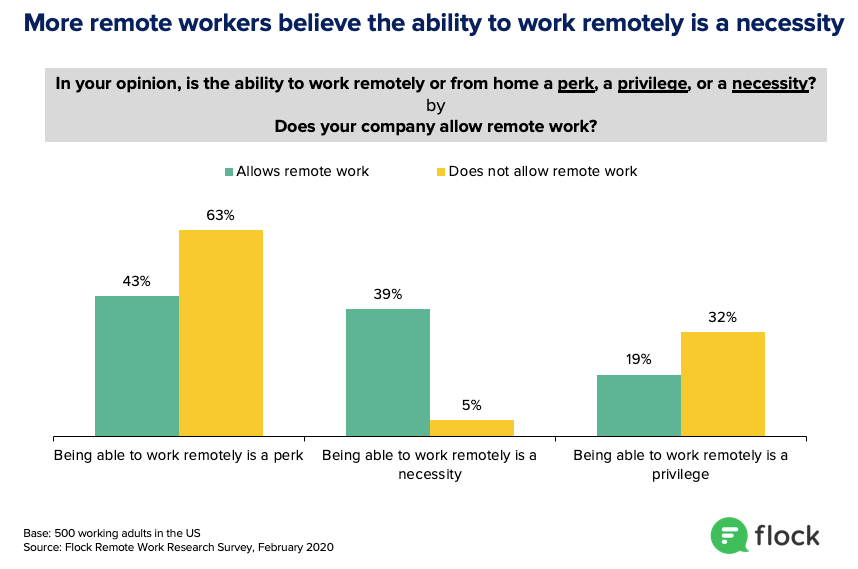 As a business leader, all you need to do is start with a thoughtful remote work policy and select a robust collaboration tool to help your employees do their best work, no matter where they are.