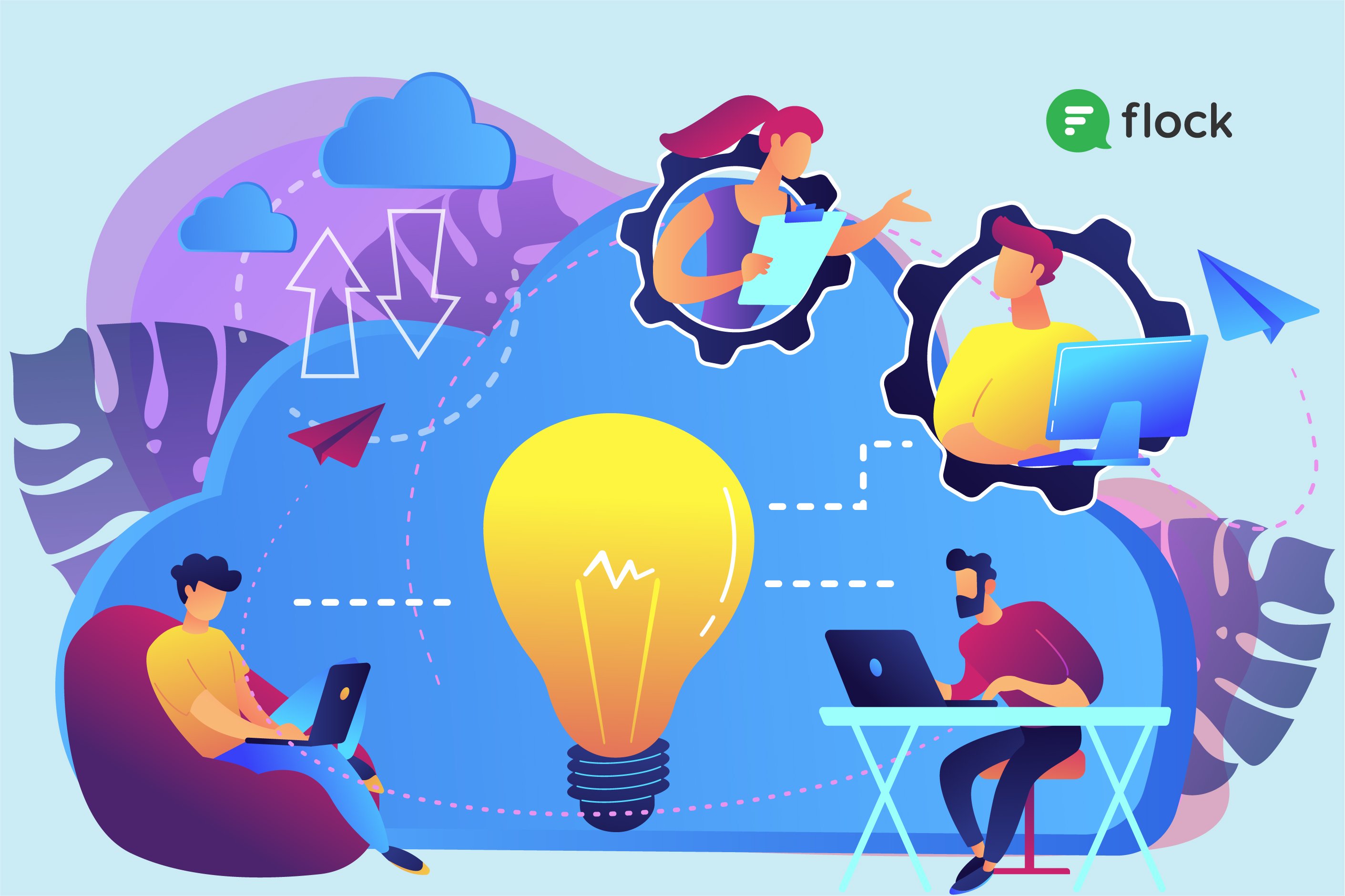 Pave your pathways to productivity in the workplace.
Effective collaboration and teamwork take many forms, especially with the array of digital collaboration tools and software that small businesses and startups use to foster both. Nurturing your team's productivity is critical to converting short-term progress into long-term growth, but like anything worth doing it takes time and effort.
We're all creatures of habit so adjusting to new ideas or ways of doing things certainly comes with an adjustment period. But subtle changes to the way we collaborate can influence teamwork and carve out pathways to productivity.
These changes can also have a huge impact on your business immediately, and there's no better time than now to boost office morale.
Here are six simple but powerful ideas to boost teamwork and collaboration in the office.
1. Whistle while you whiteboard
For as long as sticky notes have been around, there's always been a whiteboard to stick them on. Whether you use an interactive whiteboard or the old-fashioned dry and erase with a cork board strip—a humble whiteboard is an essential collaboration tool to pin your thoughts to.
Whiteboarding helps teams think out loud to visualize problem-solving and idea mapping by sketching (and often scribbling) everything from workflow diagrams to stick figures. It serves as a visual notepad and reference point to remind your team of an important meeting or conversation that took place and shows that you had fun doing it.
That being said, marking up a whiteboard is almost a rite of passage for highly collaborative teams, and only a few have managed to do it with grace.
2. Swap jobs for the day
Think you can do your co-worker's job for a day? Give it a shot. Role switching encourages colleagues to try on new hats and gain unique insights into other roles within the business. This builds mutual respect amongst peers while shedding light on how everyone's work governs the business as a whole. The goal here is to learn and grow from every mistake you will inevitably make, and clearly communicate feedback that you believe can help colleagues do their jobs better.
3. Switch desks for the week
If you think switching jobs for a day is a challenge, try switching desks! Steve Jobs famously had "collision corridors" built on the way to bathrooms at Pixar's headquarters so employees would unexpectedly run into each other. This was meant to spark unplanned collaboration. Today we have digital collaboration tools that connect us indefinitely.
Still, the concept of accidental collaboration by design resonates today more than ever before. If your team works five days a week in the office, try reassigning seating arrangements every couple of weeks to allow employees to refresh their line of sight and communicate with different colleagues throughout the workday.
Effective communication is the key to efficient collaboration, and when teams talk to each other productivity skyrockets.
4. Create talking teams
If you use Flock to communicate with co-workers then it only makes sense to get them talking! Start new conversations in Flock based on popular interests like sports, entertainment, food, and travel. This will encourage your team to get to know each other on a more personal level, much like switching your desk. It also gives introverts an opportunity to speak up and become more assertive. Try lightening the mood with a funny YouTube video or GIF that everybody can relate to. Work to build rapport and engagement around informal dialogue that can swing momentum in the right direction.
5. Dare to screen share
By now you should know the many benefits to team video conferencing, but don't forget to leverage screen sharing capabilities along with it. Screen sharing enhances the power of video conferencing by letting teams collaborate on presentations, reports, or Google docs in real-time, together. With the right collaboration tool, this can be done from anywhere—directly from your laptop or even from a smartphone. For example, Flock offers one-click video conferencing with screen sharing and collaborative annotation features, while other tools like Microsoft Teams and Zoom do the same but at different price points.
6. Host a reading rendezvous
Per Amazon CEO Jeff Bezos, executives are required to read long-form, narrative memos before meetings. These memo "pre-reads" are meant to add context "for what will then be a good discussion," he claims. In this same vein, reading rendezvous help teams share knowledge and insights that can jog collaborative dialogue and be a launchpad for bold ideas.
Start by using a messenger tool to curate channels for different subject matters and ask your team to share their favorite articles or book excerpts. Once everyone has chipped in and there's recommended reading for the whole office, schedule some time to gather the flock and read through the material out loud. This will sync your team's thinking along the same lines (literally) which can help uncover shared interests and build team chemistry.