How do you chat with your team?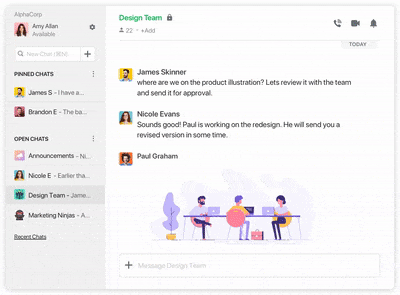 Flock's chat functionality keeps all your team's conversations in one place.
Office chat tools are sweeping the workforce, and it seems like a new one surfaces each day. So how do you know which app is best for you?
If you're looking for chat functionality and collaboration features in one easy-to-use tool, we have you covered. We've tested out nine of the best chat apps for your team or small business. Apart from chat here's a list of tools and email service providers which are extremely useful for small businesses
What is a team chat app?
A team chat app is a platform where your team or business can communicate in one place. These chat programs interface with multiple communication and collaboration features like file sharing, to-do lists, and video and audio conferencing.
Why should my team move to a chat app?
Moving your office chat to a multifunctional app enables a mix of synchronous and asynchronous communication that'll help your team communicate more and work better. Knowing how to contact your team and how to streamline your communication solves countless problems many workplaces still face. Plus, having all your communication in one place means it's more difficult for good ideas and important conversations to fall to the wayside.
10 chat apps for your team and small business
1. Flock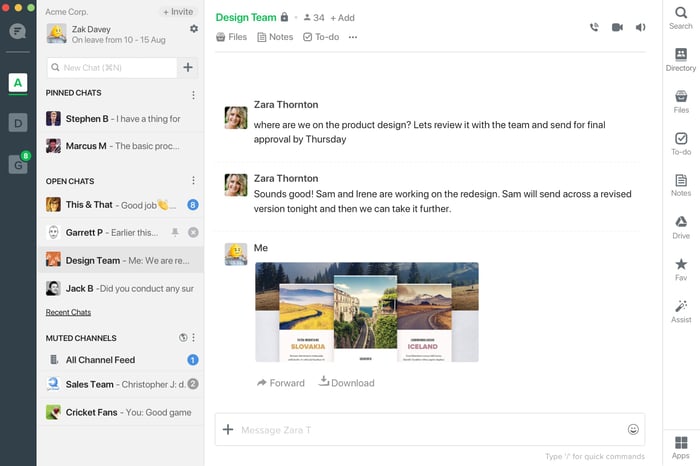 Organize and chat with your team on Flock.
Surprise, it's us! Flock is designed with teams and small businesses in mind as an effective, scalable team communication app. With direct messaging, personal space, and team-based channels, you can Flock anyone at your organization, anytime.
Flock's collaboration and productivity features, like shared to-dos, reminders, and polls, all help keep your team on the same page as you chat to get your work done.
Pricing for Flock starts at $4.50 per user/mo., billed annually for unlimited messages, with 10GB of file storage per user, and more.
2. Microsoft Teams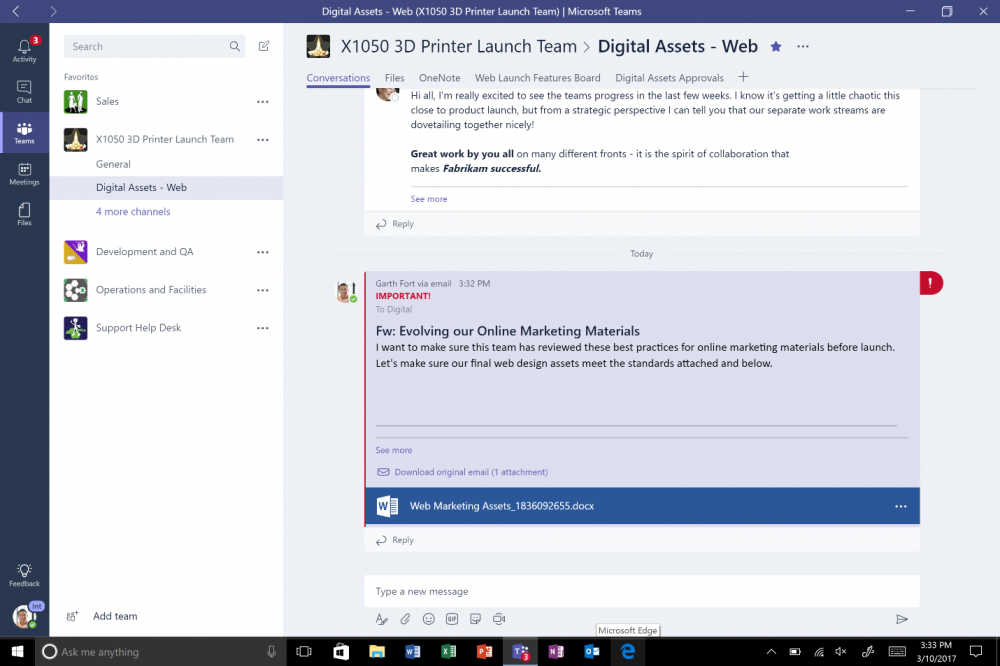 Microsoft Teams offers team chat, OneDrive integration, and more.
Microsoft Teams, the company's latest productivity tool for business and enterprise, is quickly becoming a default chat app with more than 20 million users (at the end of 2019).
Teams integrates pre-existing Microsoft tools like OneDrive and Skype into one central database and communication hub. Users can communicate with each other through text chat or video conference, and easily share files and calendars directly through Teams.
Microsoft Teams offers its chat function as a standalone free version. Pricing for the full suite starts at $12.50 per user/mo. with an Office 365 Business Premium subscription and $20 per user/mo. with Office 365 E3.
3. Slack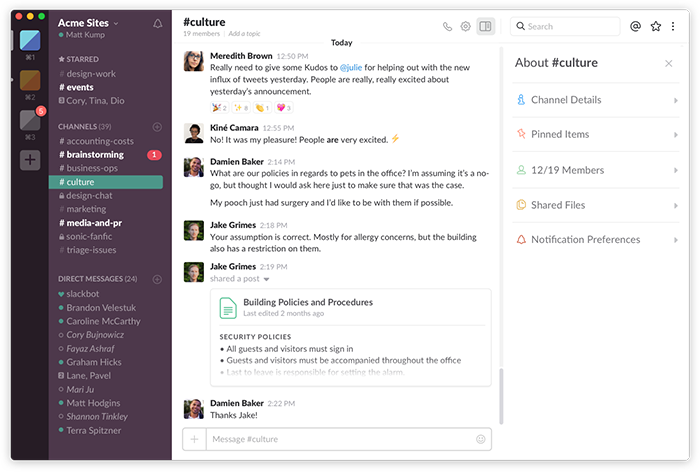 Use Slack to chat about whatever you want, whenever.
Slack is likely the first team chat program you've heard of. Its straightforward chat functions make it ideal for businesses with multiple teams that need to communicate frequently. Slack has expanded its product as of late, offering video conferencing, integrations with productivity tools, and a process automation function.
Slack pricing starts at $6.67 per user/mo. for a standard plan and $12.50 per user/mo. for its Plus plan.
4. Troop Messenger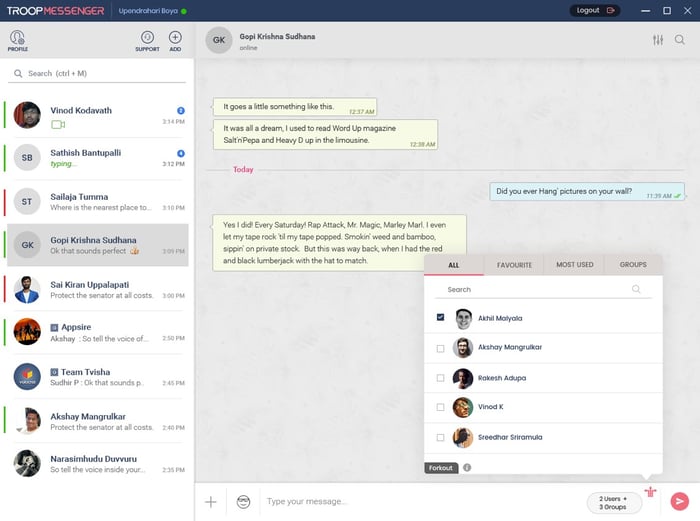 Troop Messenger is all about your team.
Troop Messenger streamlines your teams' collaboration and allows them to interact with your whole workplace with one-on-one messaging, group conversations, voice-video calling, audio messaging and more. Each team member has a voice, and Troop messenger distributes it to everyone across the organizations.

This SaaS and Self-hosted delivery model allows the users to easily share files and preview them across the UI. Its simple and clean UI can be further enhanced with fun wallpapers. Features like the advanced filter group enable the users to filter the content that they need. Troop also offers unlimited message history and self-messaging.

Troop Messenger offers a 30-day enterprise free trial. Pricing for its Premium plan starts at $1 per user/mo. and its Enterprise plan starts at $5 per user/mo.
5. Chanty
Chanty's AI-driven chat platform makes messaging easy.
Chanty uses AI and machine learning to drive its messaging—offering predictive responses and "key findings" to summarize message overload. Chanty's Teambook de-clutters messaging by pulling together key messages, contacts, and other content. Chanty also offers audio and video calls, screen sharing, to-do lists, on-the-go voice messages, and more.
Chanty is free for up to 10 users, then it's $3 per user/mo. billed annually.
6. ProofHub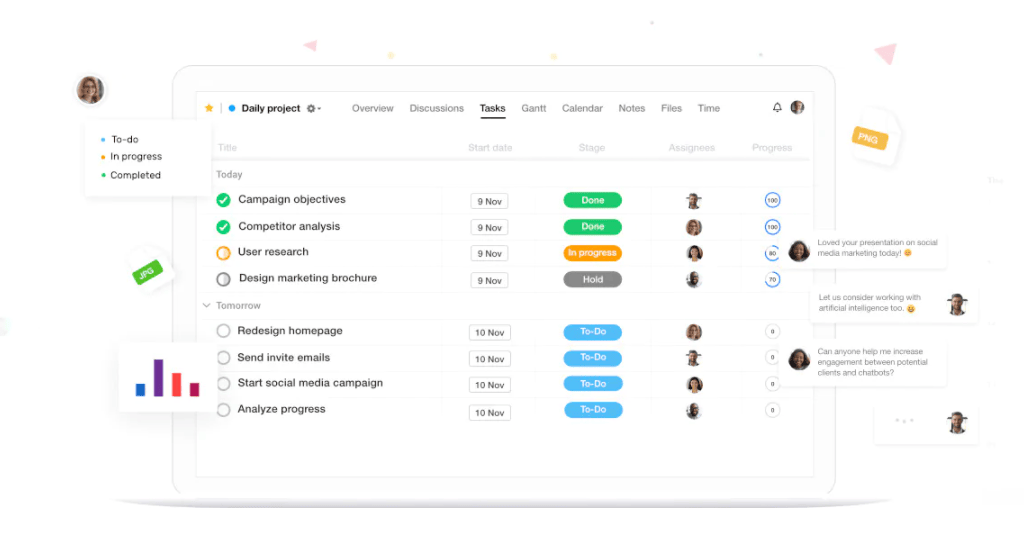 ProofHub is an all-in-one project management and team collaboration software that brings all your project communications together in one place. ProofHub's in-built chat application makes instant messaging with your teams and clients easier and simpler.
Users can have one-on-one chats and group chats to reduce the use of email in internal communication, pass on important messages instantly, and stay in touch with their teammates at all times. You can even send emojis and attach documents or files in the chat.
Also, features like Discussions, @mentions, file proofing, Kanban boards, Gantt charts, time tracking and more make it simple for teams working on multiple projects to collaborate efficiently.
ProofHub offers no per-user fee and simple subscription plans: The Essential Plan is priced at Flat $45/month and The Ultimate Control Plan is priced at Flat $85/month.
7. Mattermost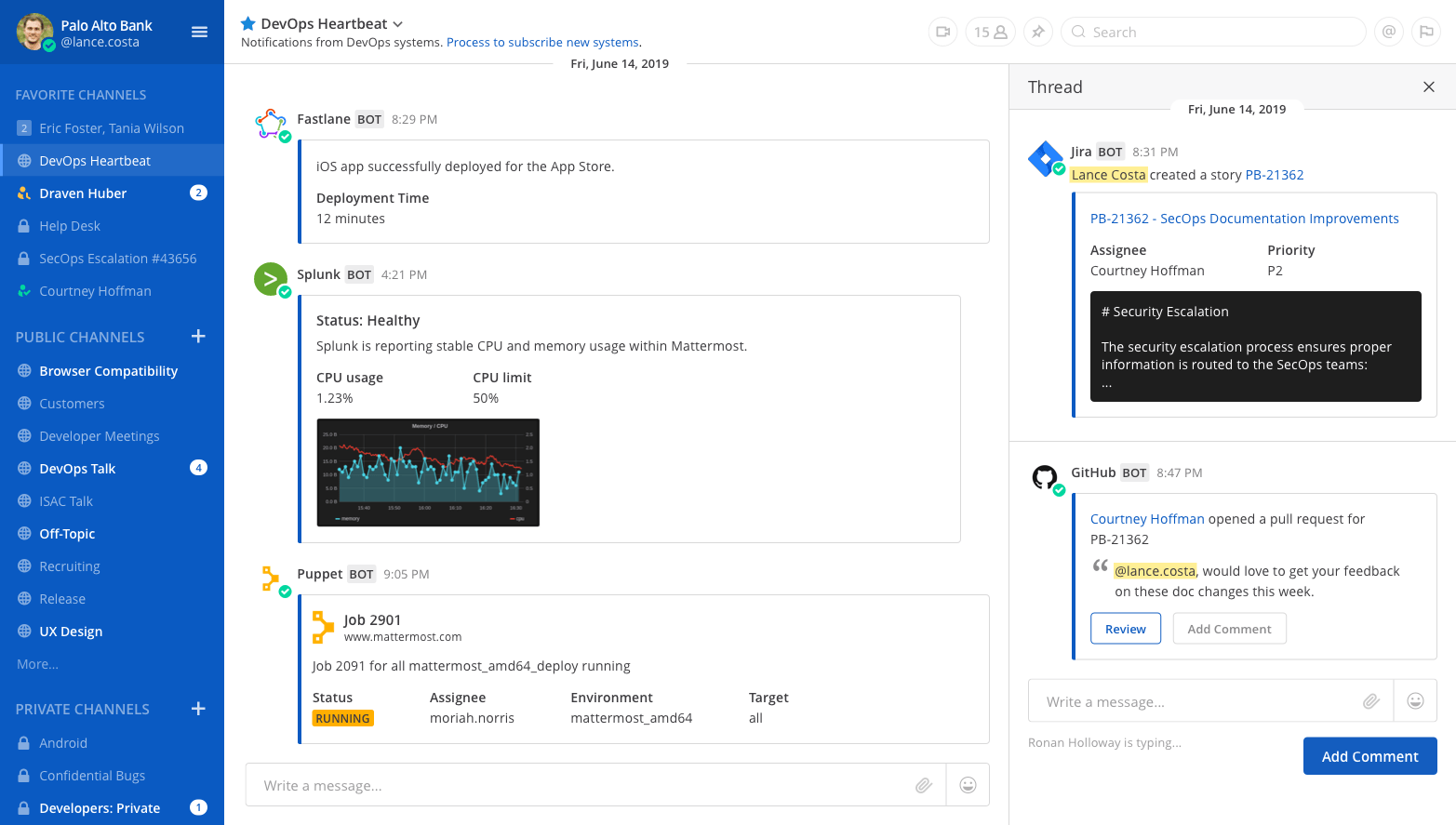 Mattermost brings customizable chat to your business.
Mattermost is a platform built with enterprises in mind. The service is self-hosted, meaning it can run directly on your business' servers. This self-hosted open-source software means you can customize whatever you want, from UI to storage to the mobile app. Its in-line replies keep threads in one place for easier collaboration and conversation tracking.
Mattermost is priced at $3.25 per user/mo. for small businesses, with an Enterprise option offered at $8.50 per user/mo.
8. Ryver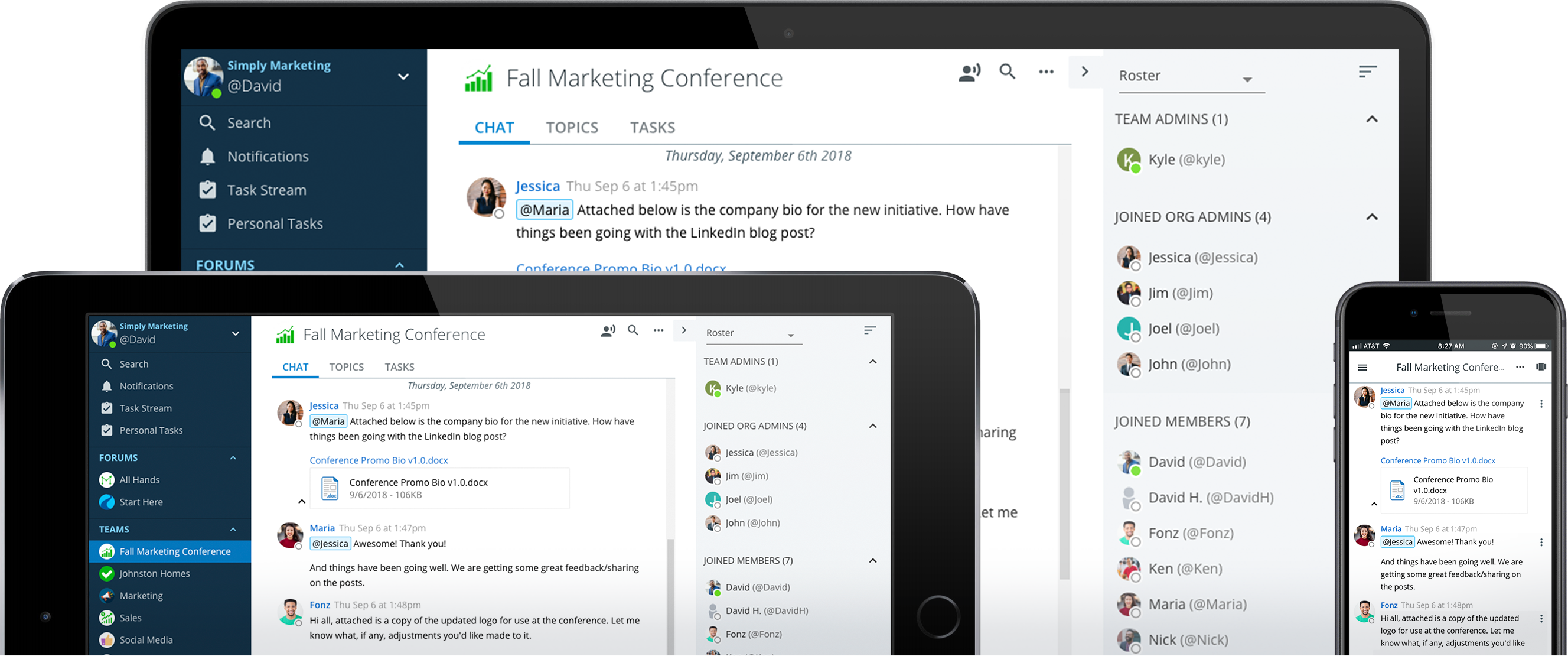 Ryver organizes and focuses your conversations.
Ryver fuses its chat into a central hub for task management, bringing your team's collaboration tools into one place. Its topics feature re-focuses your conversations in a pop-out format, letting your team keep track of the conversation and focus on the task at hand. Ryver also offers features in workflow automation (for enterprises), RSS streaming, and voice and video conferencing.
Ryver starts at $49 for up to 12 users/mo. with an unlimited plan at $99/mo. and a $399/mo. Enterprise plan.
9. Rocket.Chat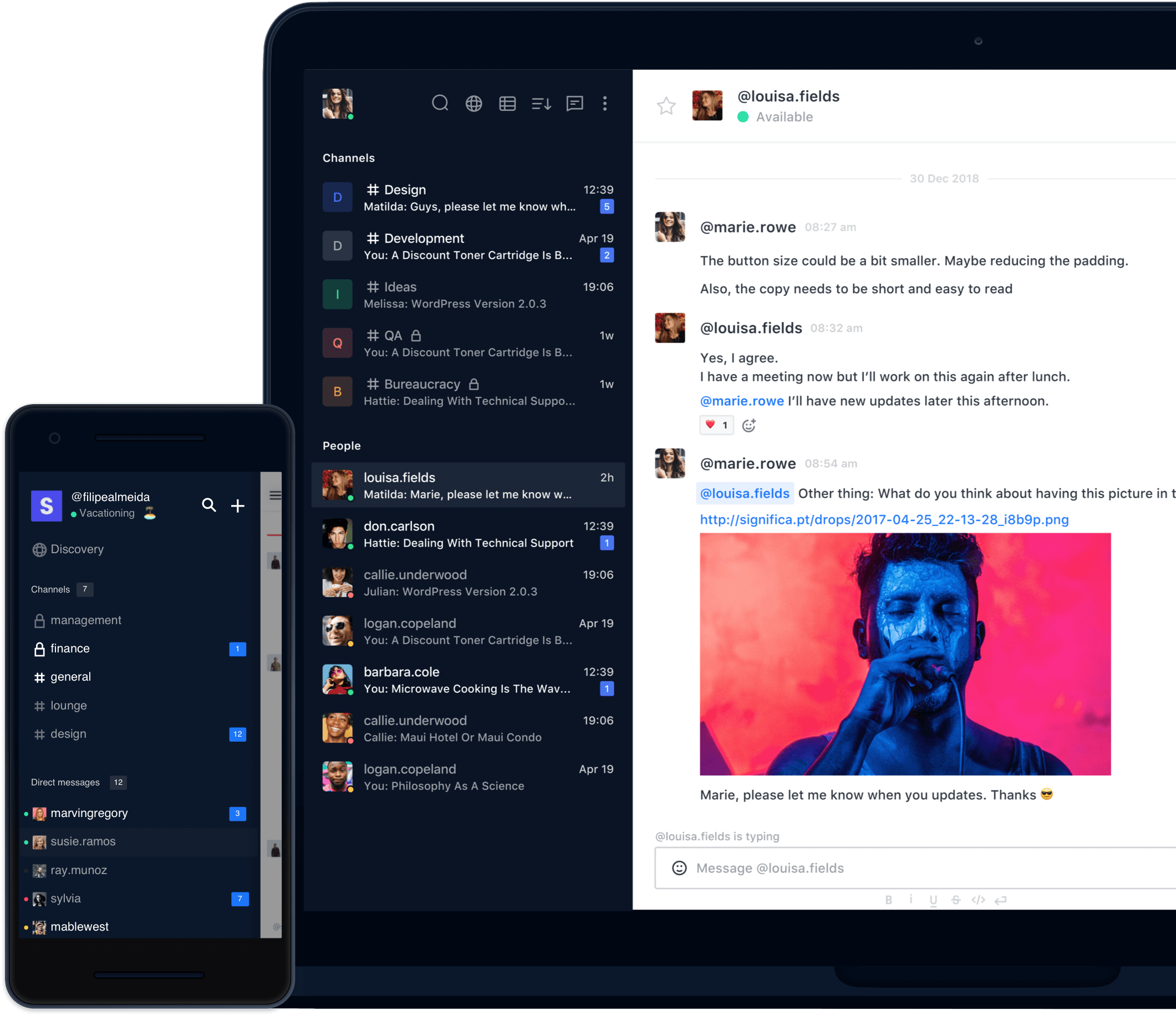 Rocket.Chat is a straight-forward, easy to use chat app.
Open-source platform Rocket.Chat focuses on chat first, in the same vein as Slack. Users can chat in topic-driven channels or 1:1 conversations. Its open-source format allows for customization, integration, and more, making the app fit your team's needs. Ryver offers unlimited message history and audio and video conferencing to elevate your office chat.
Rocket.Chat is free for up to 1,000 users, then it's $30 per user annually.
10. Glip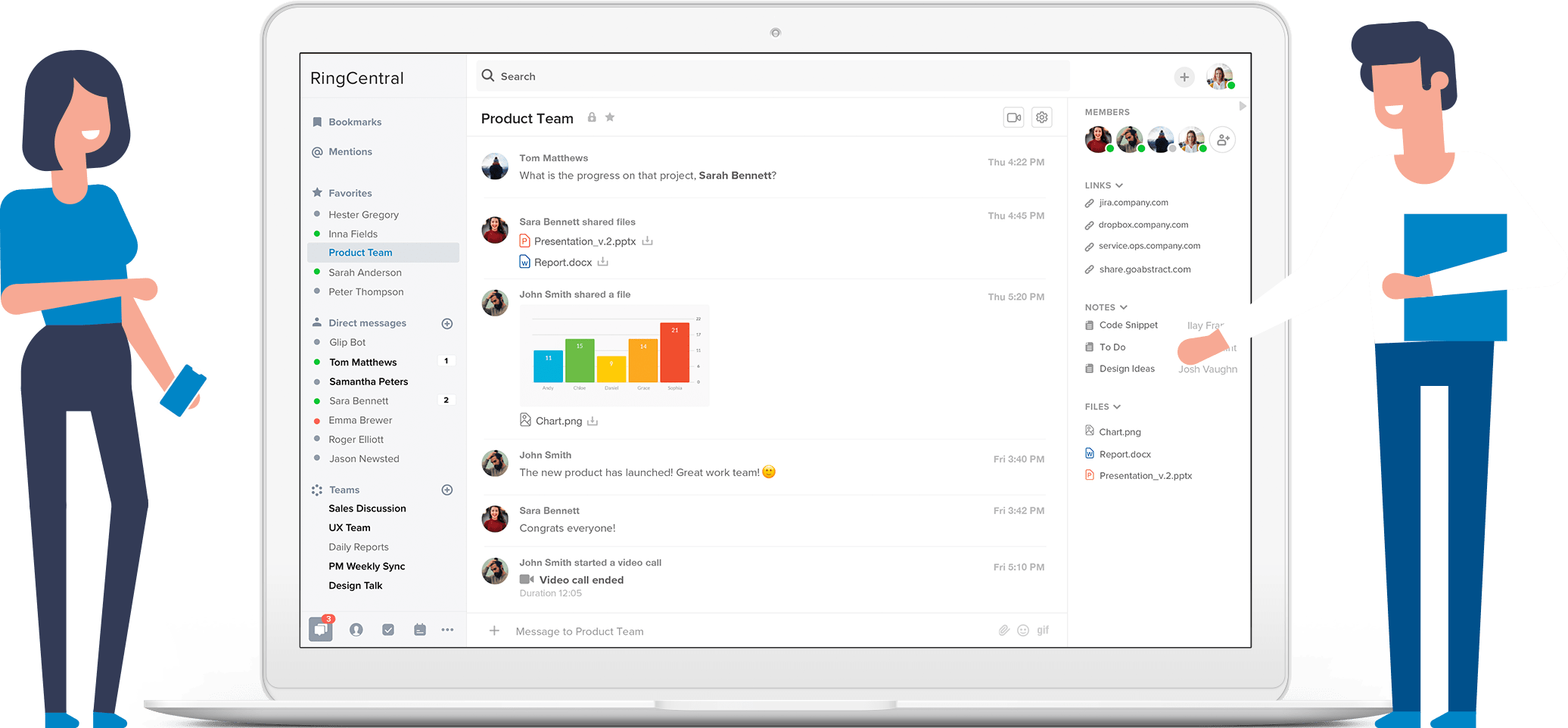 Glip is a call-focused team chat application for business.
Glip takes RingCentral's call-first focus and elevates it with chat. Glip's text chat has a built-in call tool for both video and audio, which allows you to call any RingCentral phone, even if the user isn't on Glip. Video calls include screen sharing functionality for both users and guests. And the tool also has a dedicated task manager, calendar, and notes to keep all your discussions and ideas in one place.
Glip has a free offering that allows 500 minutes of shared video chat, or a standard plan for $5 per user/mo. for up to 1,000 minutes of shared video chat.