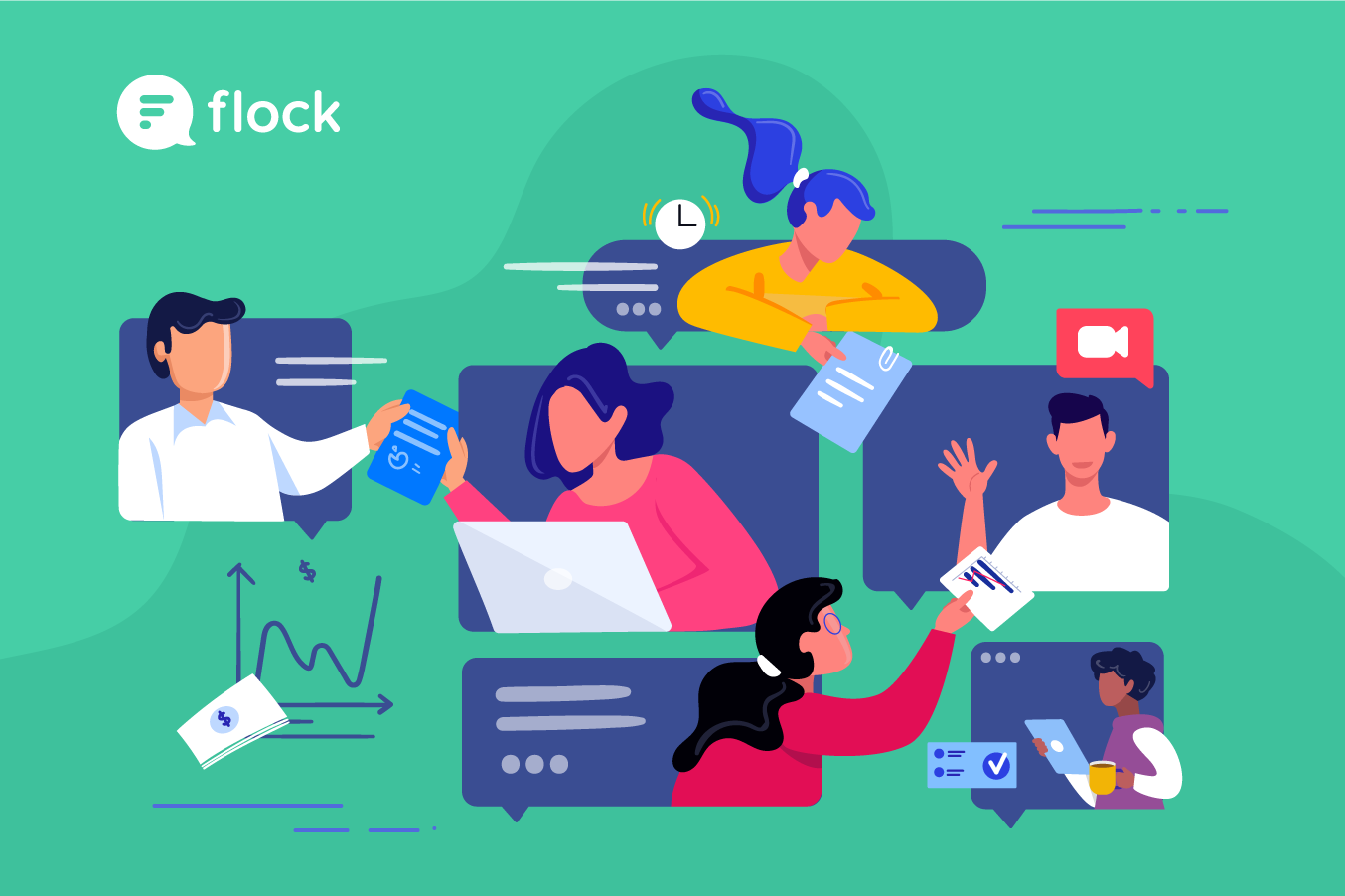 Your business has been navigating remote work for months now, and it's starting to seem like more of a permanent solution. How do you tap into the collaborative culture your office once had and bring that to the digital sphere?
Here at Flock, our priority is in making work better using digital tools. That's why we emphasize the importance of building a collaborative team—and why we have expert tips on hand to help your virtual team collaborate better.
Communicate to collaborate
The number one way to improve your team's collaboration is to jumpstart their communication. We recommend setting up channels for each individual project so your conversations stay focused and productive.
However, it can be normal for your remote workers to feel isolated, especially when your teams are located across multiple time zones. These silos can cause a lull in productivity or even a steady decrease in employee engagement. Here are some tips to prevent that and to keep your team motivated to collaborate.
Be strategic with your communication tools
You use your communication tools to chat, meet, share files, and more. Elevate your communication strategy by taking advantage of all the capabilities a quality tool presents.
First, encourage regular chats. In the office, it's not rare to find your teammates stopping by each others' desks or booking a conference room to work on a task together. Your team can replicate this by using a business messaging tool to engage with each other on chat or a quick video call to act as a sounding board or answer questions directly.
As a manager of a team, you want your employees to find ways to work together with regularity. Teamwide brainstorming sessions on video conferences paired with screen sharing and file sharing capabilities can inspire your teammates to work off of one another's ideas and suggestions. These sessions will keep your team in the loop and can foster collaboration. You can also host virtual work sessions (I call them study halls!) where teammates work independently, but can periodically interact with each other for help along the way.
In fact, these breakout sessions should be a regular practice. By proactively placing your team together in a highly engaged working environment, you can instill teamwork as a routine that your employees will use as a foundation for collaboration.
Pro tip: Encourage your workers to overcommunicate.
Have fun with your team
A team standup or brainstorming session on a video call doesn't sound too different from a boring boardroom meeting. As a manager, you can change that and inspire others to be a bit more outgoing, too.
Start by making your virtual meetings more fun. There are plenty of fun icebreakers for video meetings that can inspire employees to connect with one another and feel more comfortable sharing ideas with each other. Bringing forward the personalities in your workplace brings a great opportunity for others to identify who they can turn to for different needs.
For example, thanks to our consistent conversations at Flock, I know I can go to Eddie for fun and personable copywriting or to Rohit for full-on analysis. Knowing how they communicate helps me understand what our working partnership will look like—and who I can count on for what.
Build a collaborative structure
It's not all fun and games to create a collaborative team—although the fun certainly helps. Your team won't work well together if they don't have a strong foundation.
Virtual onboarding
As a manager, start by emphasizing a culture of collaboration on day one for your new remote recruits. Invite them to meetings and virtual social hours from the get-go so they can get to know their coworkers and see how they work together.
Beyond being social, it's important to have a remote onboarding process that establishes the processes and systems your team uses to collaborate. Flock is great for this! We use Flock to replicate our natural workplace structure to combat the loneliness and confusion a new hire can face. Encourage them to start building working relationships with their new colleagues.
Remote work processes
Now to the nitty-gritty. Once you have your remote team onboarded and talking to each other, you need to set up streamlined processes to keep things productive and on-track.
Start with defined meeting agendas. Provide a "pre-read"—or a brief summary memo—before your meetings, outlining who'll be on the call, what'll be discussed, and what outcomes are expected. This gives your team the ability to prepare for the meeting with updates on their work and new ideas.
Establish a regular cadence of meetings—including team meetings, 1:1s, and project brainstorms. Keeping your team comfortable with meeting virtually and overcommunicating will encourage them to collaborate more frequently and establish processes of their own.
Last, but certainly not least, is setting goals. Your team needs to know what they're working toward, after all! Setting clear goals (we use OKRs here at Flock) aligns your team on a common effort and encourages them to work together. Sprint methods allow team members to brainstorm initiatives, set deadlines, meet for check-ins, and track their progress as they go. It doesn't get more collaborative than that.
So how do you manage these goals?
Productivity tools for remote teams
There are countless productivity tools on the market today, covering any of your business's needs at any time. Here are some tools that can make your business more collaborative.
Messaging tools
Your team can't work if they can't talk. Use messaging tools like Flock or Slack to keep the conversation going all day long. A messenger that allows file sharing, to-dos, reminders, and more will help spur conversations, participation, and new ideas.
Task managers
Project managers, rejoice! Optimize your goal-setting and let your team members work asynchronously on project management tools like Asana or Trello. Integrate them into your chat tools to get to-the-minute updates right in your shared conversations.
Workflow managers
The most important projects in your business probably involve multiple teams, and different teams use different tools. While remote, this can make it really hard to collaborate and track work. With a workflow management solution like
Unito
, you can easily connect everyone's preferred tools, empowering you to communicate, collaborate, and track work seamlessly across remote teams.
File sharing
Gone are the days of stopping by somebody's desk with a memo or a report for review. You're probably already familiar with some of the top file-sharing tools like Dropbox or Google Drive. They are life-changing when it comes to working collaboratively. Pick one that suits your business needs—bonus points if it integrates into your communication tools!