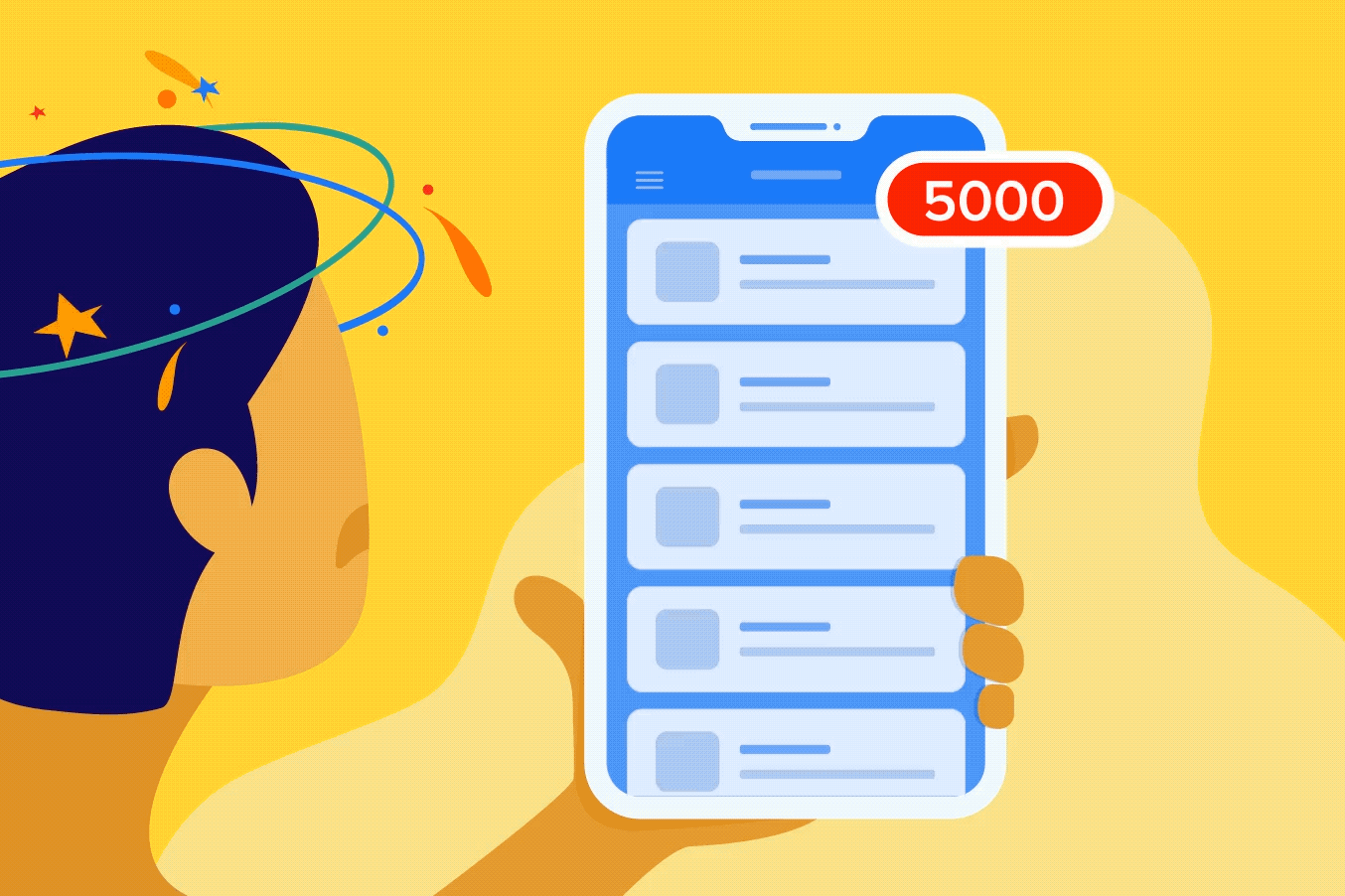 In my first week at Flock, I turned off my push notifications.
This may seem like small potatoes, but I've spent the past 10 years glued to—and working on—my smartphone. I came to Flock from a small social media agency, where I lived and breathed social media 24/7. And with a career change came an opportunity to hit refresh on my digital habits.
Plugging in… indefinitely
Being a digital native means I plugged in early in life. I've had a smartphone for 10 years now, and can't really remember life without it. Being able to tap into my favorite parts of the internet—from binging content on Tumblr and Twitter to constant texting to my personal email inbox—made it easy for me to get caught up by my phone. I was addicted.
Being always-on can be fun, but I realized I wasn't present. When you're at a championship basketball game and fixated on a Twitter chat instead, or asking your friend to repeat what they said three times because you were looking at your texts… you know you have a problem.
While checking my phone all the time is already a negative stressor, tying that into my work only made things worse. There's a fine line between passion and letting something take over your life. Keeping my client accounts connected on my phone meant being plugged in even more. I worked beyond my requirements, becoming obsessive over tracking everything that happened on these accounts. That basketball game was spent digging through client notifications. I'd come home from work and respond to mentions or do community management until bedtime. I soon began to resent every notification that came through.
Eventually, it took a toll on my mental health. Work wasn't just work—it was everything I did. Not having any sense of work-life balance contributed to lack of sleep, heightened anxiety, and stress all the time. I wasn't able to enjoy the career I joined because it was so enjoyable.
Is this thing on… still?
I know I'm not alone. In a survey by Cigna, 87% of workers reported stress, and 64% claim to be in an "always-on" working environment. That doesn't take into account those of us (myself included) whose smartphone addiction carries over into our personal time. Being plugged in both at work and at home is a dangerous combination; by not allowing our minds to rest, we're opening a door to stress triggers, increased cortisol, and anxiety.
So when I started a new role and had to manage many life transitions, I knew there was no better time to reset from the always-on environment I had built for myself. Over the past three months, I've started to:
Turn off my push notifications—for all apps
Limit my time spent on social media
Turn on Do Not Disturb when I'm home
Leave my phone in another room or in a drawer (the hardest challenge yet!)
It's been a tough transition, and I can't claim that it's been seamless. I haven't gone through a single episode of The Mandalorian without picking up my phone, and I'm still tweeting nonstop. It's hard to avoid the allure of the red bubble, even with push notifications off. And FOMO is still real, no matter how often you're plugging in.
It's been worth the struggle though. As much as I love being online, I know it's taken a toll on me. Since I started to unplug, I've started sleeping full nights, being more productive at work and at home, feeling more energized and having more fun. I'll never get back to life before my smartphone, but I'm starting to get closer to that.