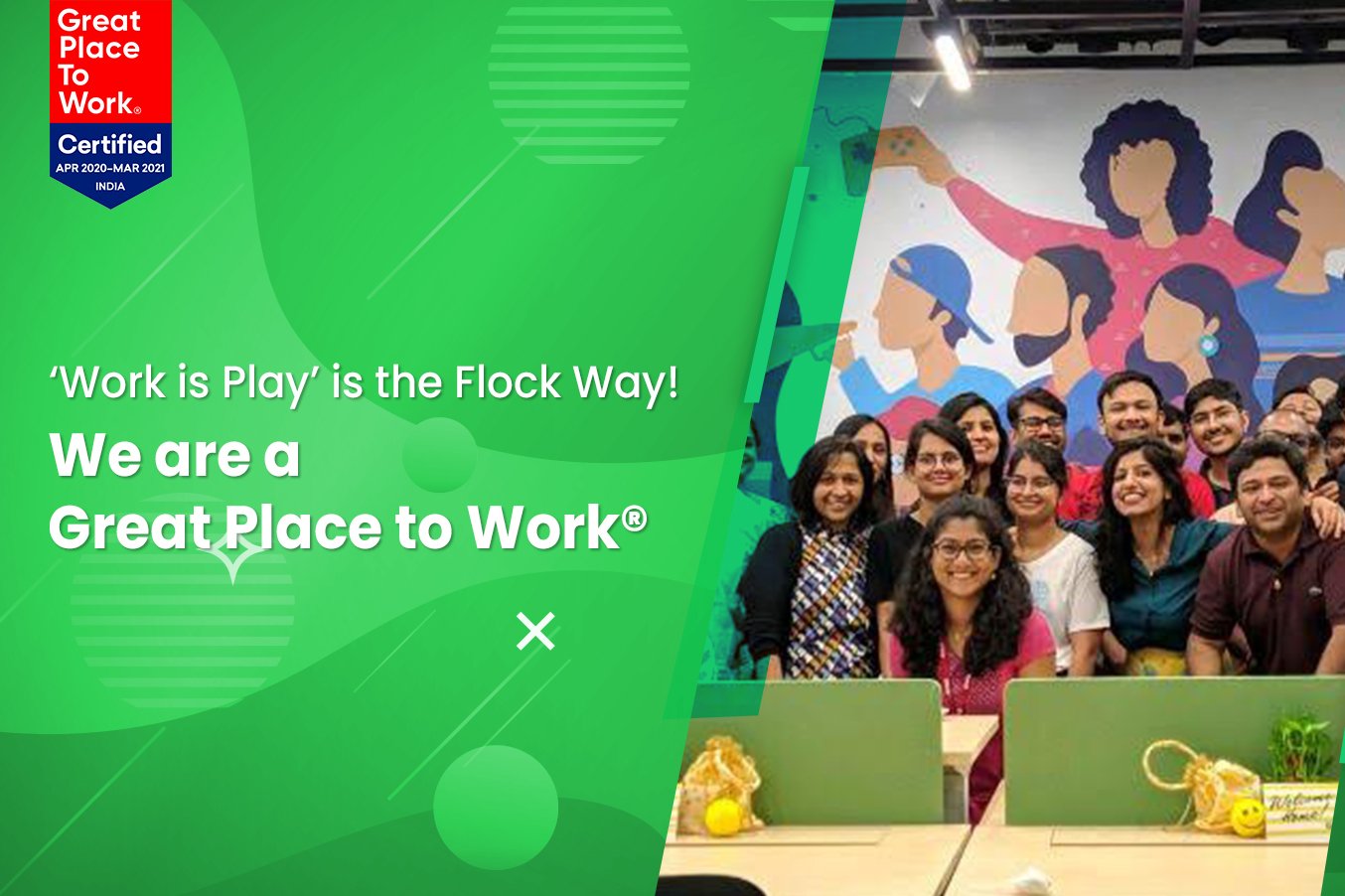 It's official—Flock is a Great Place To Work®!
We are thrilled to announce this incredible feat, a testimony that great talent is here to fly high together, building a trusted and high-performance culture at Flock.
While we've always been proud of our 'Work is Play' culture while shaping an inclusive, safe, friendly, and persevering ecosystem, this certification is a badge of honor for us. It recognizes the credibility, respect, fairness, pride, camaraderie, and experience our employees (Flockstars) bring to the table with well-aligned aspirations to accomplish Flock's mission and vision.
Nearly six years ago, we set out on a journey at Flock not only to build software that improves business collaboration but also to build a company where people are proud to work. All our actions and initiatives are driven by a people-excellence model and the Great Place to Work® certification validates our work towards building a people-centric culture.
"Flock has always prided itself on building a people-centric work culture where the best talent can thrive and succeed."
Bhavin Turakhia, CEO
This is the very first time Flock has participated in the Great Workplaces Study and we take pride in the fact that we have achieved the certification right in the first attempt. Flock earned this recognition based on our people-focused perks and programs as well as positive scores from our employees in an anonymous Trust Index™ Survey conducted by Great Place to Work® Institute (India).

Don't go by our words alone—our employees' feedback and exemplary scores make us extremely proud. See our top scores in the infographic to the right.
Thank you to our team for taking the Great Place To Work survey with utmost sincerity and candidness—this has helped us gather insights on what exactly makes Flock stand out among workplaces and what needs to improve for enhanced employee experience. We strive to work together and make continuous enhancements to make it bigger and better year after year.
The common denominator that keeps us, consistently, high in spirit and confidence is Flock's core values, which we practice organically across Bangalore, Mumbai, and Boston. The dimensions of a great workplace goes far deeper than perks and benefits.
Here's what we call The Flock Way:
We believe that

radical transparency

is the key to build a sense of trust amongst employees, customers, and partners to feel authoritative and promote loyalty, inclusion, and dedication.

We aim to genuinely

stay connected

(on more than just timelines) for better team bonding and trust. Our meetings generally kickoff with "What's Up?" "My weekend was awesome because…" and other sincere check-ins—we listen to each other's delights and challenges before getting down to business discussions.

Celebration

of milestones, success and achievements are ingrained in Flock's culture. "Flock After Hours" are our most awaited party each year-end. We toast to weddings and parenthood through a token of love, like a gift card and hamper for the employee and their families!

Welcoming new hires with open arms

and making their first day at Flock memorable is the aim of our robust and tailor-made (specific to function and job-role) onboarding program called

fledge@flock

.

We recognize the aspirations of our employees; we bring in the right opportunities and then connect them to our disruptive goals.

Knowledge sharing and development

is given supreme value at Flock beyond classroom programs on standard behaviors and functional topics. Our CEO Bhavin takes such a keen interest in the learning and growth of our employees that our learning center includes a host of courses he has especially curated.

Outstanding and stellar performers

are recognized and rewarded for consistently exceeding expectations and constantly surprising business with their performance, ownership and impact. Flock's

patent incentive policy

motivates ideas and innovation that result in the filing and granting of a patent.
We firmly believe that a major component of our open and high-trust culture ties back to Flock leadership where leaders focus on nurturing aspirations, openness, talent, diversity, inclusion, innovation and more.
"The Great Place to Work certification is proof of the level of trust that our employees experience in our leaders, the level of pride they have in their jobs, and the special bond and relationship that they share with their peers."
Margaret D'Souza, HR Head

"Flock's open-door policy is not just part of our onboarding deck—we actually practice it," says Shalini, a Flockstar from our HR team. "Our leadership isn't hiding away in private offices—we all work alongside each other in a collaborative effort to make Flock the best it can be. We value working together and learning from each other. We foster a culture of high performance and trust, which helps us attract and retain some of the brightest minds in the industry."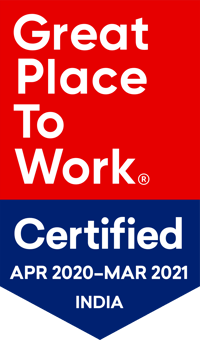 Being recognized as a 2020 Great Place to Work️️® in India is a moment of pride for us—for every member of Team Flock. A reflection of our progress in creating a high-performing culture, it also reinforces our investment in building people-focused practices, programs and culture.
About the Great Place to Work®️ Certification
With more than 30 years of researched assessment models, the Great Place to Work® Certification is the most definitive 'Employer-of-Choice' recognition that organizations around the world aspire to achieve. Recognized world over by employees and employers alike, it's considered the 'Gold Standard' in identifying and recognizing Great Workplace Cultures.
To learn more, visit the Great Place to Work® website.