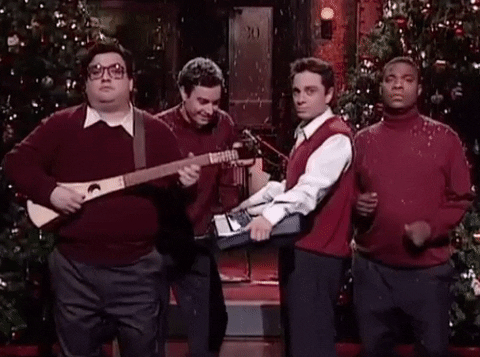 From baking cookies to curating playlists, we got your back

So you've been tasked with planning your office Christmas party and you're scrambling last-minute to finalize logistics. Santa's little elves can't save you now, but Flock sure can.
End-of-the-year holidays are a great opportunity to engage and interact with your coworkers. If you're the one organizing the workplace festivities this season, Flock is just the tool you need to help spread that holiday cheer and bring everyone in on the fun.
Don't let your year-end budget burn a hole in your stocking, spend it on something your coworkers will enjoy. Here's some tips on how to use Flock to plan a last-minute holiday party.
Channel your holiday spirit
First things first: Create a channel in Flock named "Office Xmas Party" and throw in a Christmas tree emoji for good measure. If you want to be more inclusive, just replace Xmas with Holiday and choose an emoji that works for you and yours. You can also set your company logo as the channel icon or add a custom image that symbolizes the holiday you're celebrating.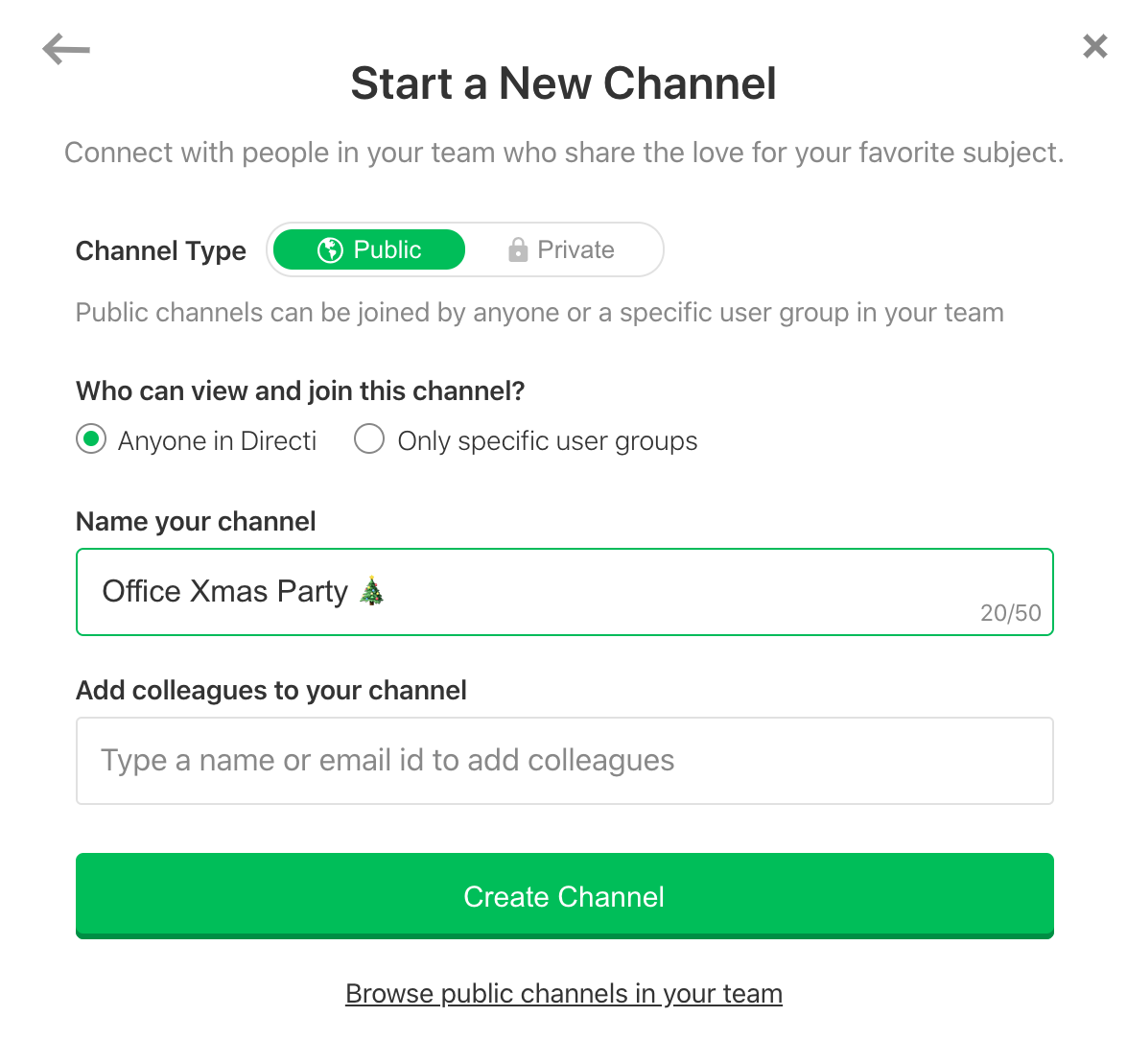 After you've set up a channel, start inviting co-planners to the party. Begin snowballing ideas and build a wish list that includes things like location and venue, decor, food and drink, playlists and guest lists, dress code, gift-giving, and ground rules. And, of course, who's going to play Santa Claus.
Get specific about budget restrictions and be clear on a code of conduct. You don't want to kick off the new year in the red because you splurged on too much Christmas spirit and then sipped on too many spirits. The last thing you need is to let a cordial social event get out of hand.
Once the stakes are set and everyone is on the same page, pin a shared note or Google doc to the top of the channel in Flock so that each stakeholder can refer to it or make changes as needed.
Scheduling
Since this is a last-minute effort, you don't need to have all your turtle doves in a row. Delegate duties by dividing and conquering tasks and to-dos from within a Flock channel. If you use apps like Asana, Trello, or Todoist, utilize those third-party integrations to assign and keep track of logistics directly in Flock.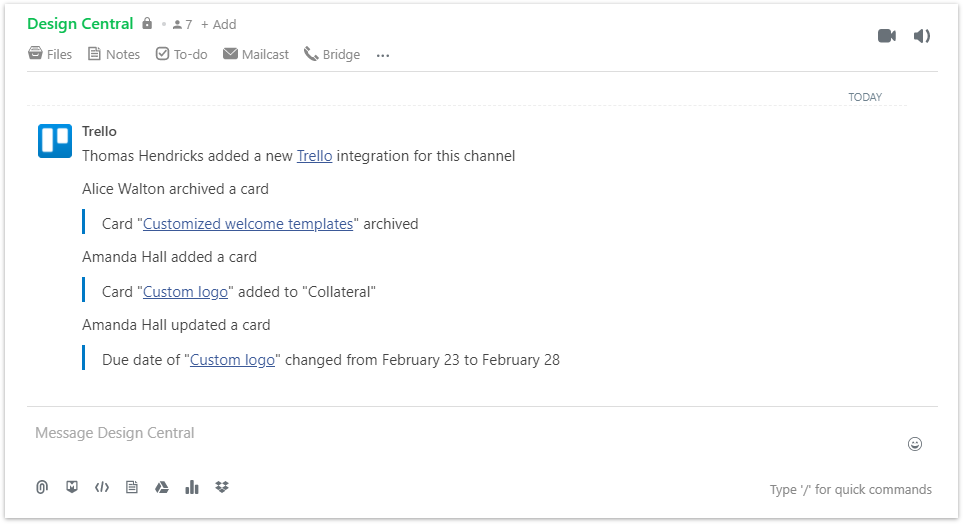 You can also integrate your Gmail and Outlook calendars into Flock to easily keep tabs on your team to avoid scheduling conflicts when folks are busy or out of the office altogether.
Location
Use Flock to create a custom opinion poll and ask everyone in the channel to vote on a venue. Polls help remove the guesswork by making the most popular choice stick. Take the stress out of locking down a location and let the majority rule so nobody gets stuck making a game-time decision the night before the office Xmas party.
Decor
When it comes to decking the halls, try to keep it traditional. Some strands of garland and a few strings of lights should do the trick. Add some fake snow or silver bells if you're feeling merry and bright. Snap photos of the decorations after you hang them by the chimney with care, and then post them in Flock so the team can react with festive emojis and animated GIFs to express their appreciation.
Food and drink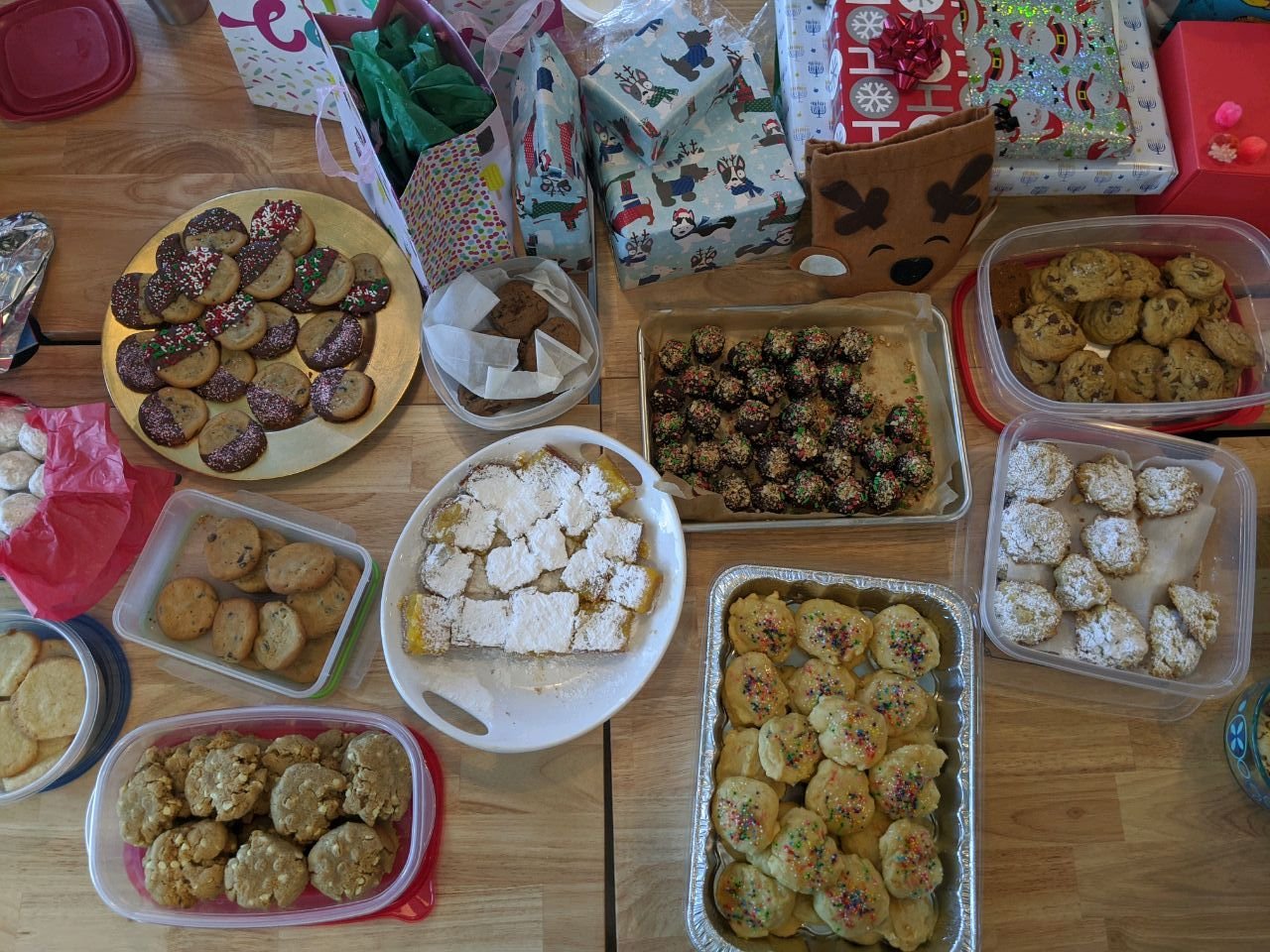 Cookies, anyone? Instead of swapping gifts our Boston office swapped cookies. With the help of Flock, our team of very enthusiastic bakers coordinated to ensure we weren't duplicating our efforts but were double-stuffing our Oreos.
Here's what that exchange looked like in Flock.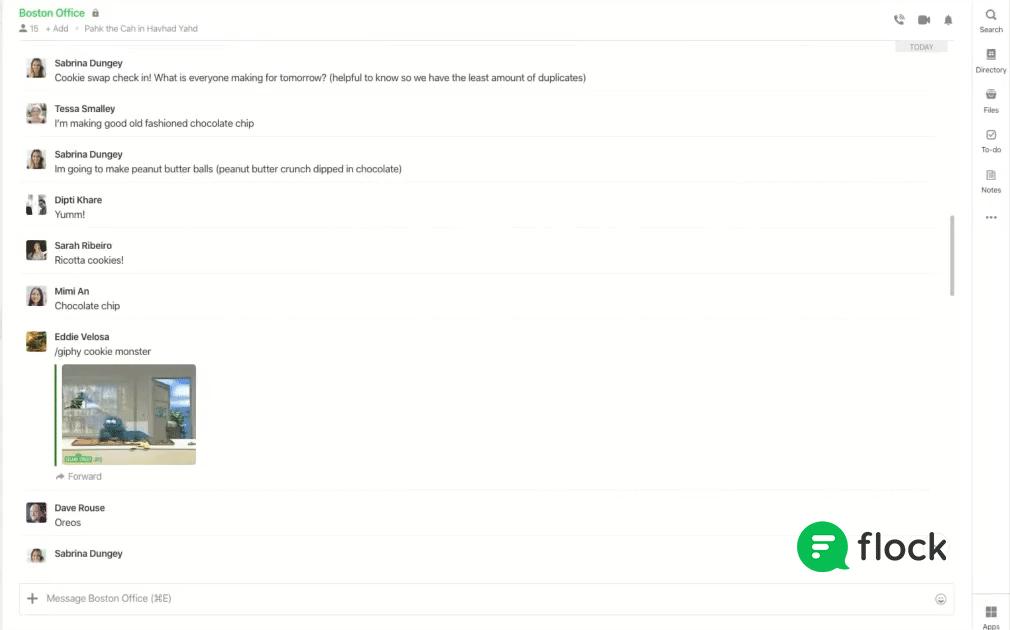 If you plan to make your own morsels or bring your own beverages, create a checklist of who's bringing what—and how much. If you opt for a caterer or an open bar, check with the team lead to make sure the bottom line is budget-friendly. Whoever's in charge of expenses, confirm the actuals in the Flock channel to keep everything on track and on the record.
Dress code
Unless the sales guys plan on showing up in see-through Santa onesies, a festive dress code is typically a safe bet. Keep it appropriate but comfortable and creative. Share funny photos of wintery wardrobes like ugly sweaters, novelty tees, and festive socks to get the whole team excited about playing dress-up.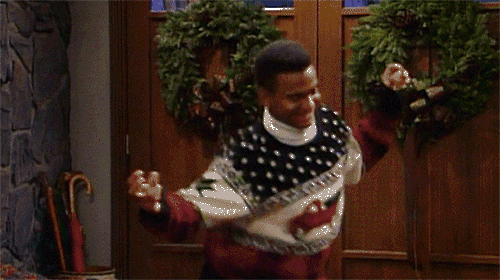 Holiday playlists
Get the jingle bells rocking by putting together a merry music playlist. Start with the classics, but use Flock to crowdsource a variety of different songs that include everyone's favorite yuletide jams—from the traditional tunes to the more trendy ones.
Create multiple threads from within a single Flock channel to curate old-school classics from:
Dedicate another thread to more recent classics from:
...and the magic of Michael Bublé. You get the idea.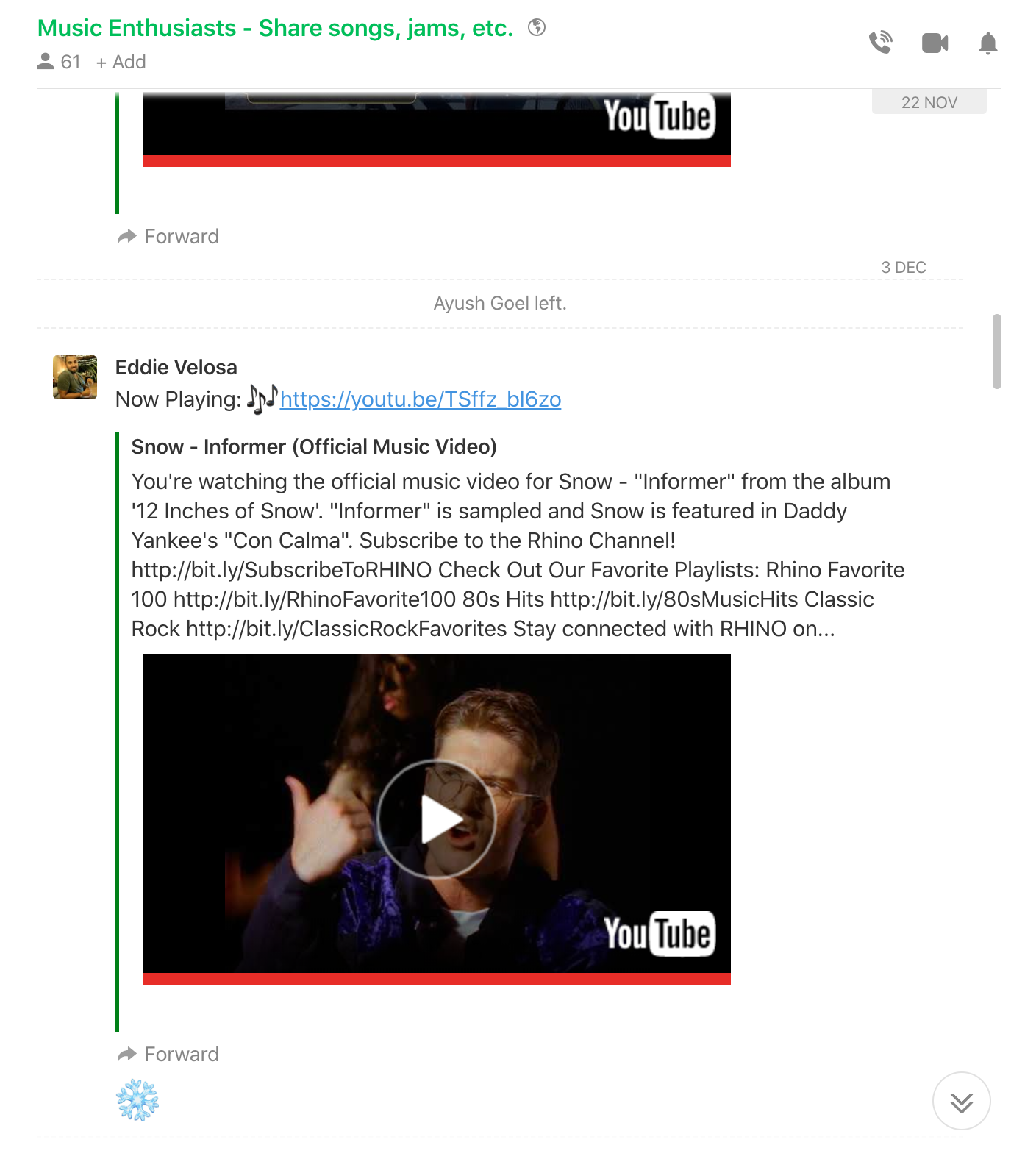 The cool thing about Flock is that it lets you share full audio and video files instantly. So if you have a special song you want to add to the mix (like "Informer" by Snow), share it. Otherwise, you can add direct links from YouTube or Spotify, and a pop-up preview will appear to let you sample the goods.
Guest lists
One of the most underrated Flock features is also one of the most useful for sending invitations: the business directory. Search for anyone in your company or integrated CRM and add them to your naughty or nice guest list. If they're already on Flock you can send them an invite directly. If not, add them as a guest to a public channel and drop in the invite along with a custom RSVP form directly from Google Docs.
Transportation
Need a ride? Book and track your Uber directly in the Flock app. It's a great way to coordinate carpooling to and from your office Xmas party. So unless you're being chauffeured via business-class by Rudolph and Co., safety should be prioritized before coworkers start dashing through the snow.
Whatever holiday your team celebrates, make planning the party a jolly good time with Flock. Let the festivities begin, and from our Flock to yours—happy holidays!