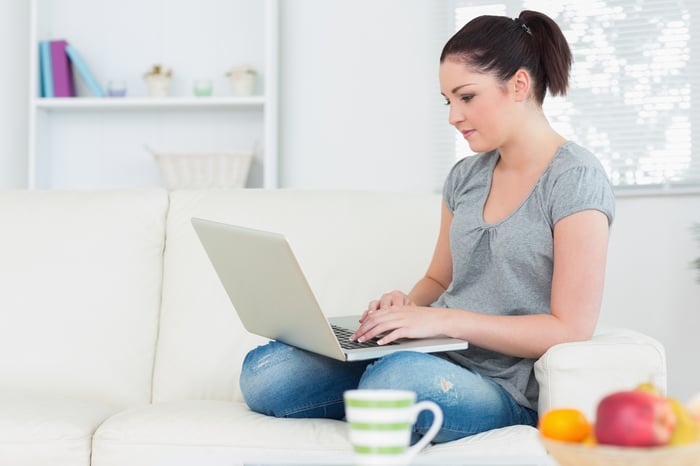 Ready or not, your team is probably going remote.
That's because more and more businesses are implementing work from home policies to help prevent the spread of Coronavirus globally. Global companies like Twitter, Google, and Amazon have all asked workers to stay home.
There's good reason for that: Flock's recent survey found that 91% of employees in the US agreed that working from home could help people avoid getting sick.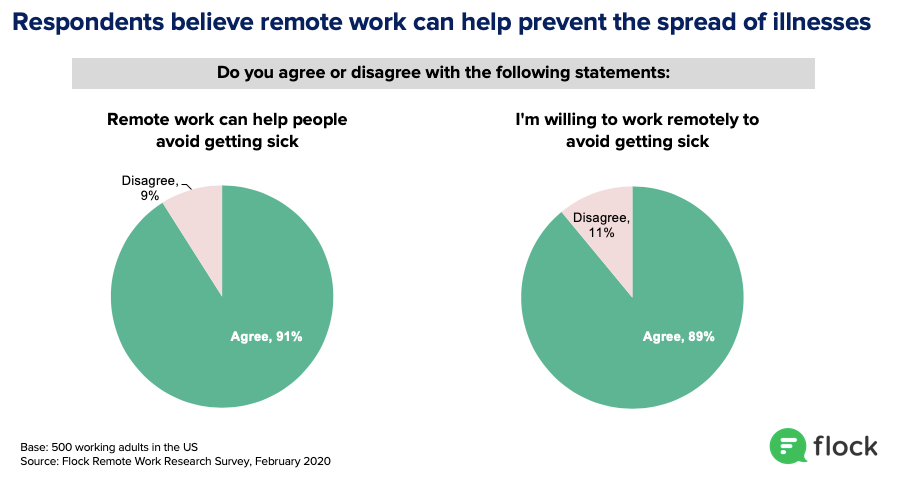 Regardless if Coronavirus has hit your home city, it's worth testing out working from home to get your team prepared for the inevitable. This is especially important for companies who have not experimented with remote work in the past.
If you're grappling with the best way to support your employees as they embark on their work from home journey, check out Flock's guide for managers below, which covers:

1. Offering the right tool for working from home
2. A sample one day agenda for a newly remote team
3. Strategies for managers to help teams stay connected
4. Best practices for working from home, which you can share with your team

Tools and policies for new 'work from home' teams
Think all-in-one.
As people work from home, businesses need to offer tools that bridge the communication gap between teammates separated by proximity. A simple video conferencing tool isn't enough—consider what happens to notes taken during the call, for example. A simple messaging service like WhatsApp won't do the trick either. How will dispersed teammates collaborate, send files to the group, or share follow ups after a meeting? It doesn't make sense to keep your messaging, videoconferencing, files, and notes in separate places when there are tools like Flock that have all that functionality in one easy to use tool.
If this is your first time experimenting with remote work, consider a comprehensive all-in-one communication tool. The last thing you need to do is bundle a bunch of separate communication tools together while you're trying to create a remote policy at the same time.
If you're planning to implement a remote friendly tool, make sure to sign up for a collaboration tool that offers the following functionalities at a minimum:
One-on-one (1:1) messaging to hold direct conversations with a colleague
Group messaging so everyone in a team or project group can collaborate together
Ability to create custom team or project channels as needed
Ability to make channels public or private, because some things need to be kept under wraps!
Video conferencing when you need to speak face to face
Screen sharing so you can refer to the same presentation or document
Search functionality, so you can find your messages or files
Drag and drop file sharing so you can quickly send assets to a group or single coworker
Polls, tasks, and reminders to keep productive
Robust integrations with other tools you use, such as Google Drive, Trello, or Twitter
Robust security features, because you don't want your work files or conversations leaked!
Available on all mobile device types and desktop
Sample one-day agenda for a newly remote team
Get your team started right.

1. To start the day, schedule a team walk-through of your communication tool. If you invest in a comprehensive communication platform like Flock, don't leave your team to their own devices to figure it out. Chances are they'll miss all the rich features they can use to collaborate.

Schedule a morning training session where everyone meets via a video conference. There, you can share your screen and walk them through the key product features.

We recommend showing your team how to:

Start a 1:1 conversation with a coworker
Start a group conversation by adding multiple coworkers to a conversation
Showcase how to create a custom channel for the team, a group project, or shared interest to encourage collaboration
Share how to add coworkers to an existing shared channel so they can get caught up on what's been happening
Start a new video call (how meta!)
Integrate Google Drive accounts so teammates can seamlessly share files with others
Pin and save shared files or links so all files are easily accessible
Use the search functionality to find old messages and files
Integrate their favorite tools like Trello, Asana, Twitter, or Google Calendar
Set up productivity features like create a custom poll, create shared to-do's, or set personal or group reminders
Add emojis, stickers, and GIFs to liven up conversations
Mute channels and set up "Do Not Disturb" times
2. Schedule a team-wide standup so folks can share what they're working on and ask for any help wanted from their teammates via video conference. Ask a team member to be the designated notetaker in the shared notes feature within Flock so everyone can see action items and needed follow-ups.
3. Schedule one-on-one check-ins with your employees so they get used to having robust conversations through video instead of in person.
4. Spend some time thinking through how you can foster productivity within your remote team.
Strategies to stay connected
As people work individually from home, teams lose the kinetic energy of being around each other. It's up to managers to create opportunities for their team to catch up and riff off of each other.
1. Add ice breakers and carve out dedicated time in video-based team meetings for group sharing to encourage a sense of community.
2. Ask people to take advantage of face-to-face communication versus sticking only to messaging. A good rule of thumb is if you have to explain something via messaging and your colleagues don't understand, choose to click the video conference button and get everyone on the same page.
3. Schedule regular standup meetings for the entire team to connect. If you meet once a week in person, increase the frequency to twice a week for remote teams.
4. Create community channels to share interests remotely. Our Flock Pets channel is a big favorite and I keep discovering great songs thanks to our Music channel.
5. Create office hours on your calendar for your team to connect with you to ask questions and give feedback.
6. Ask teammates to send daily morning updates on what they're working on in the team channel.
Communication best practices when working from home
Share these best practices with your team and adopt them yourself:
When sending questions or requests, let the recipient(s) know if a request requires immediate attention or if it can wait.
During video meetings, have people who want to speak raise their hand so people can see that someone wants to talk.
Update your status to share your top priorities or show what you're currently working on.
Turn on DND (Do Not Disturb) so people know when you're not available.
Learn to let go and trust your team.
If you always worry about your team's productivity and ability to get things done, there are two problems: You don't have the tools in place to enable work from remote locations
or You are a micromanager.

If it's problem 1, see the checklist above. If it's problem 2, it's time to reexamine your management style.
6. Log off! Data shows people in leadership roles get the most messages. Make sure you practice what you preach and schedule down time to maintain work-life balance.
For more tips on establishing messaging ground rules, check out our 10 ground rules for business messaging.
If you're looking for a collaboration tool to enable remote work, check out Flock for free today!