The goal is to work smarter, not harder—so you can focus on the work you do best. Here are the 50 best tools and software for small businesses who want to put their best work forward.

At Flock, we understand small businesses because we are one, so we built this guide to small business tools and software with you in mind. When it comes to running a small business, having the right tool for the job can make a big difference. But choosing the right one is no small feat. The secret is to find the right kind of software with the right combination of tools that cater to the nature of your work and the business at large.

Realizing your team's potential to do great things is a critical first step towards investing in small business software and tools. When leadership understands the specific needs of individual teams they can begin to bridge gaps with smarter software and tools that foster growth, ignite communication and collaboration, and drive productivity and performance.
Why do you need small business tools and software?
Modern small business software and tools help small businesses operate more efficiently. Today's technology enables real-time delivery and deployment of information to give small businesses immediate, reliable, and secure access to company data and information whenever and wherever you need it.
However, in order for small businesses to scale, prioritizing and optimizing teamwork is essential. Small business software and tools can be used to conquer everyday tasks from tracking employee productivity and performance to people and money management to streamlining communication and collaboration.
What are the benefits of small business tools and software?
Running a small business is a team effort. Aligning team goals with business goals will help you prioritize your short and long-term needs before making a buying decision.
As remote work and virtual workplaces continue to evolve, small business software and tools can empower your entire organization to achieve results faster by keeping your work organized, your teams in sync, and your business thriving.
Productivity
Productivity software and tools help teams work smarter, not harder. Productivity tools can also have an invaluable impact on your overall performance by powering momentum and conquering procrastination. Learn more about how to improve productivity in the workplace
Create custom digital workflows
Automate recurring processes
Optimize teamwork and performance
Divide and conquer projects, tasks, and to-dos
Communication
Communication software and tools bolster teamwork and boost productivity. When teams practice good communication habits, they foster contagious chemistry that can impact culture, collaboration, and productivity. Never miss a beat when you're always connected.

Incentivizes meaningful conversations
Ignites thoughtful dialogue
Encourages deeper engagement
Drives cohesive decision-making
Collaboration
Collaboration software and tools fuel every facet of your business. This is especially true for small businesses with remote teams. Modern collaboration software empowers teams to work smarter together no matter where they are.
Creates a network shareable knowledge
Cross-functional ideas exchange
Ecosystem of shared resources
Team alignment and problem-solving
Marketing
Marketing software can make a good marketer great with powerful tools that provide intimate insights about customers that help produce qualified sales leads. Also, know about marketing tips for small business owners.
Automate scheduling
Impacts employee performance
Organizes tasks and to-dos
Accounting
Modern accounting software and tools help you keep track of the money coming in and going out of your business—and you don't need to be a financial guru to get started.
Track revenue and expenses
Handle taxes and payroll
Generate custom reports
Analyze and forecast finances
Operations Management
Operations management software helps monitor employee engagement and satisfaction, and establish quality control.
Hire, onboard, and groom top talent
Establish accountability and align goals
Prioritize support and streamline feedback
Build employee confidence and team morale
What are the best small business tools and software?
Choose from 50 small business tools and software to help run your business like a pro. Click on the categories below to jump to each section. This list has been updated as of Feb. 2020.
Productivity Software for Small Businesses
1. Clean Email
2. RescueTime
Workspace Organization
3. Shift
4. Scalefusion
Collaboration Software for Small Businesses
Project Management
5. ClickUp
6. ProofHub
Communication Software for Small Businesses
7. Flock
8. Titan
9. Neo
Productivity Software for Small Businesses
10. Zapier
11 Automate.io
12. Scribe
13 Google Drive
14. Dropbox
Note-taking Apps
15. Todoist
16. Evernote
Video Conferencing
17. Flock
18. Zoom
Scheduling
18. Calendly
29. Doodle
Marketing Software for Small Businesses
CRM Apps
21. HubSpot
22. Zoho
Social Media Marketing
23. Buffer
24. SocialBee
25. Mailmodo
26. Saleshandy
27. Omnisend
28. Active Campaign
Design Tools
29. PicsArt
30. Movavi Video Editor
31. Tailor Brands
Website Host / Business Name Generator
32. GoDaddy
33. Renderforest
34. WordPress
35. AccessiBe
36. Beaconstac
Accounting Software for Small Businesses
Bookkeeping
37. QuickBooks
38. FreshBooks
Payments
39. PayPal
40. Stripe
Invoicing
41. Xero
42. Wave
Tax Filing
43. TurboTax
44. H&R Block
Operations Software for Small Businesses
Customer Service
45. Zendesk
46. Help Scout
Contract Management
47. DocuSign
48. HelloSign
Performance Management
49. BambooHR
50. 15Five
Recruitment
51. LinkedIn Recruiter
52. AngelList
Learning and Development
53. LinkedIn Learning
54. General Assembly
Productivity software and tools for small businesses
Email Management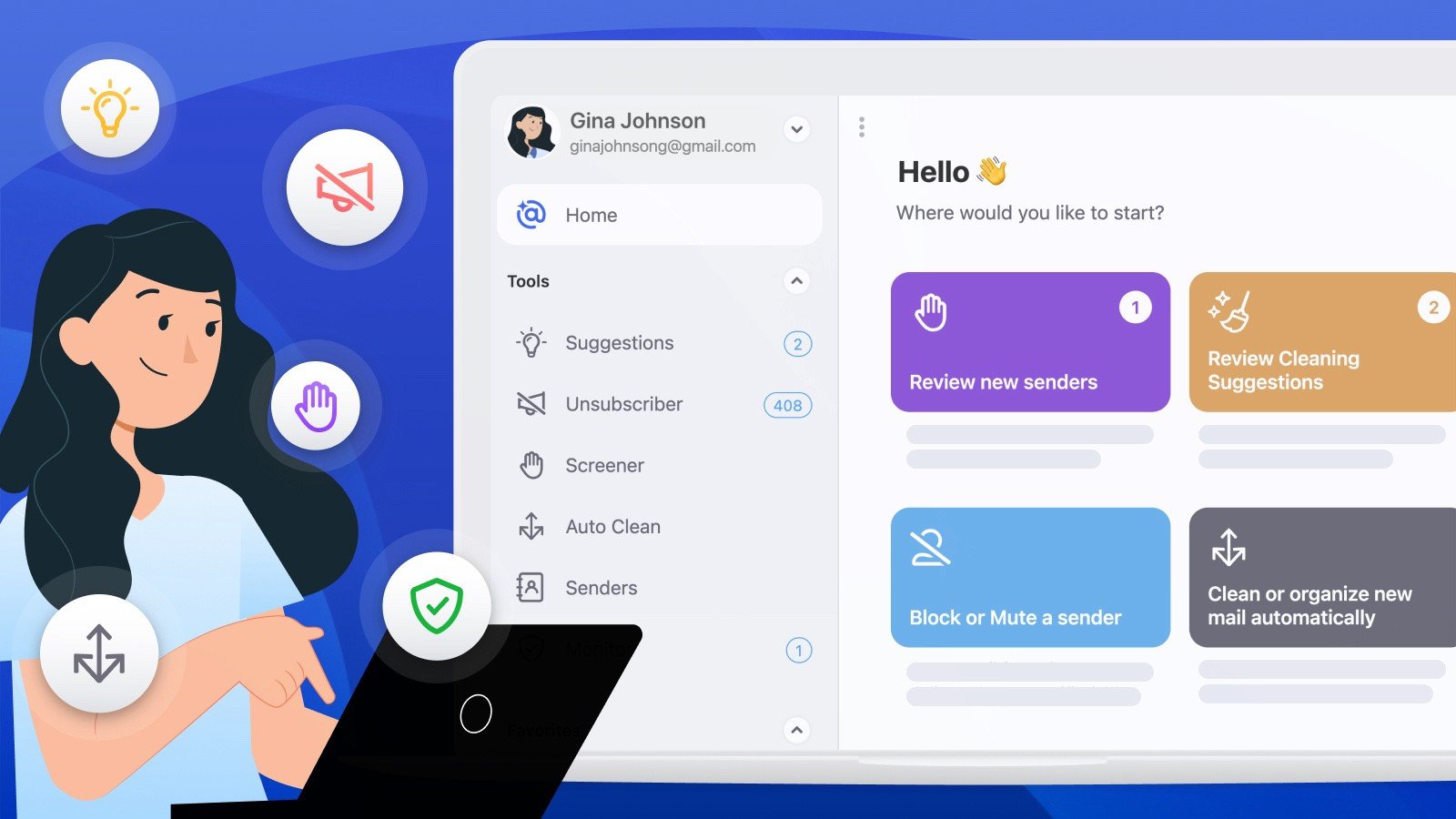 Clean Email is a smart inbox organizer designed to turn any messy inbox around and make it usable again in just a few simple steps. The tool can quickly and securely group messages together into Smart View, allowing you to apply the same action to hundreds or even thousands of messages with a click.
Plans
Basic: Free
Pro: from $9.99 a month
Time Management
Time management tools help you keep track of time spent throughout the workday. This helps teams optimize effort and productivity with a deeper understanding of how profitable certain projects truly are. After all, time is money when it comes to small business growth.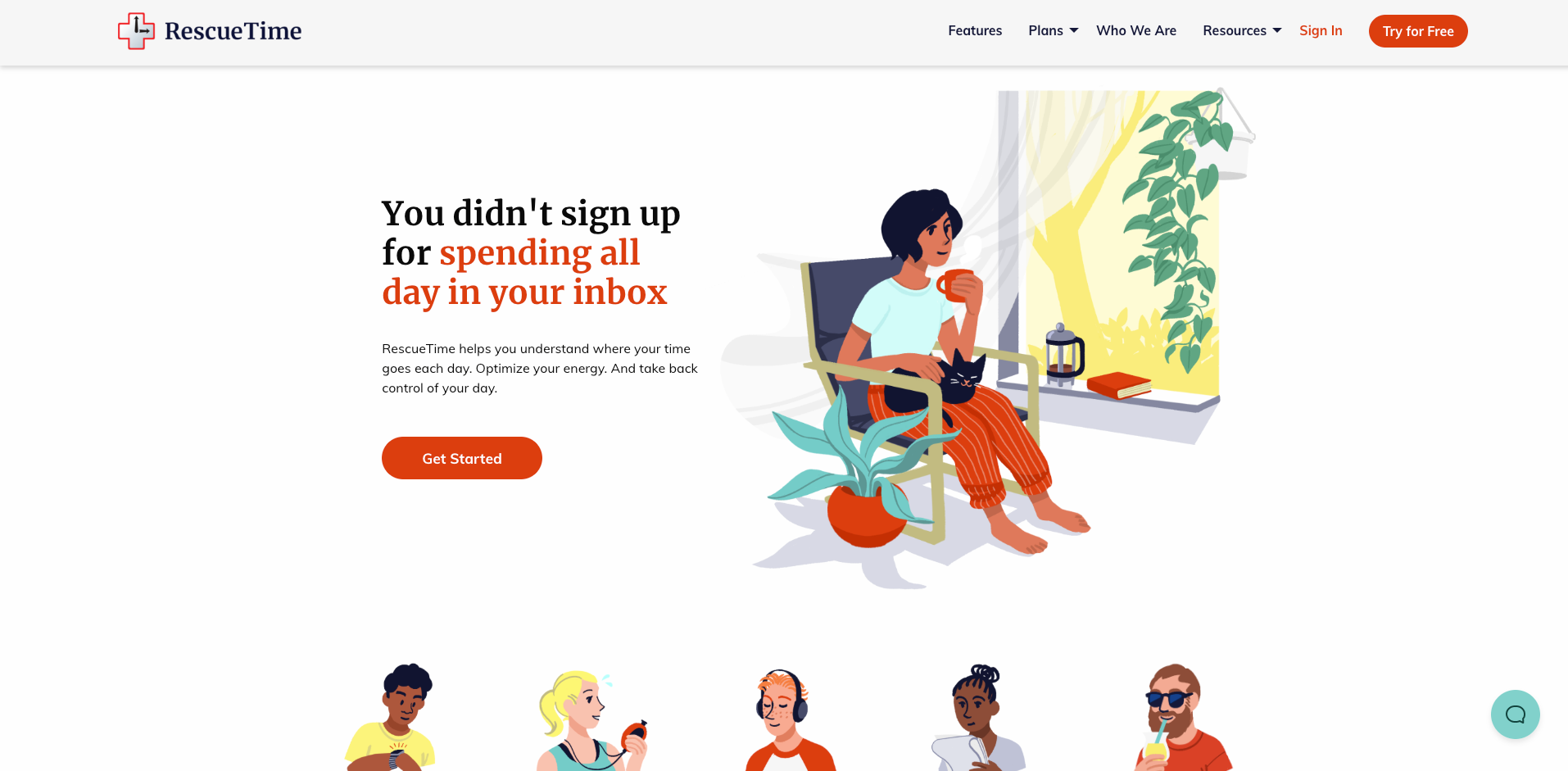 According to ResueTime, only 10% of people say they feel "in control" of how they spend their workday. But focusing for a long period of time on a single task or project can have a massive competitive advantage. RescueTime helps you identify how you spend your time, what you spend it on, and when you're most likely to perform your best work.
Plans
Basic: Free
Premium: 14-day trial, then $6 per month

Workspace Organization
Organizing your digital workspace for optimal focus and productivity and less context switching has become the new standard for employees who moderate multiple accounts across various applications. Aggregating content and information from these apps in a centralized dashboard is where Google Chrome's web browser falls short and these workspaces shine.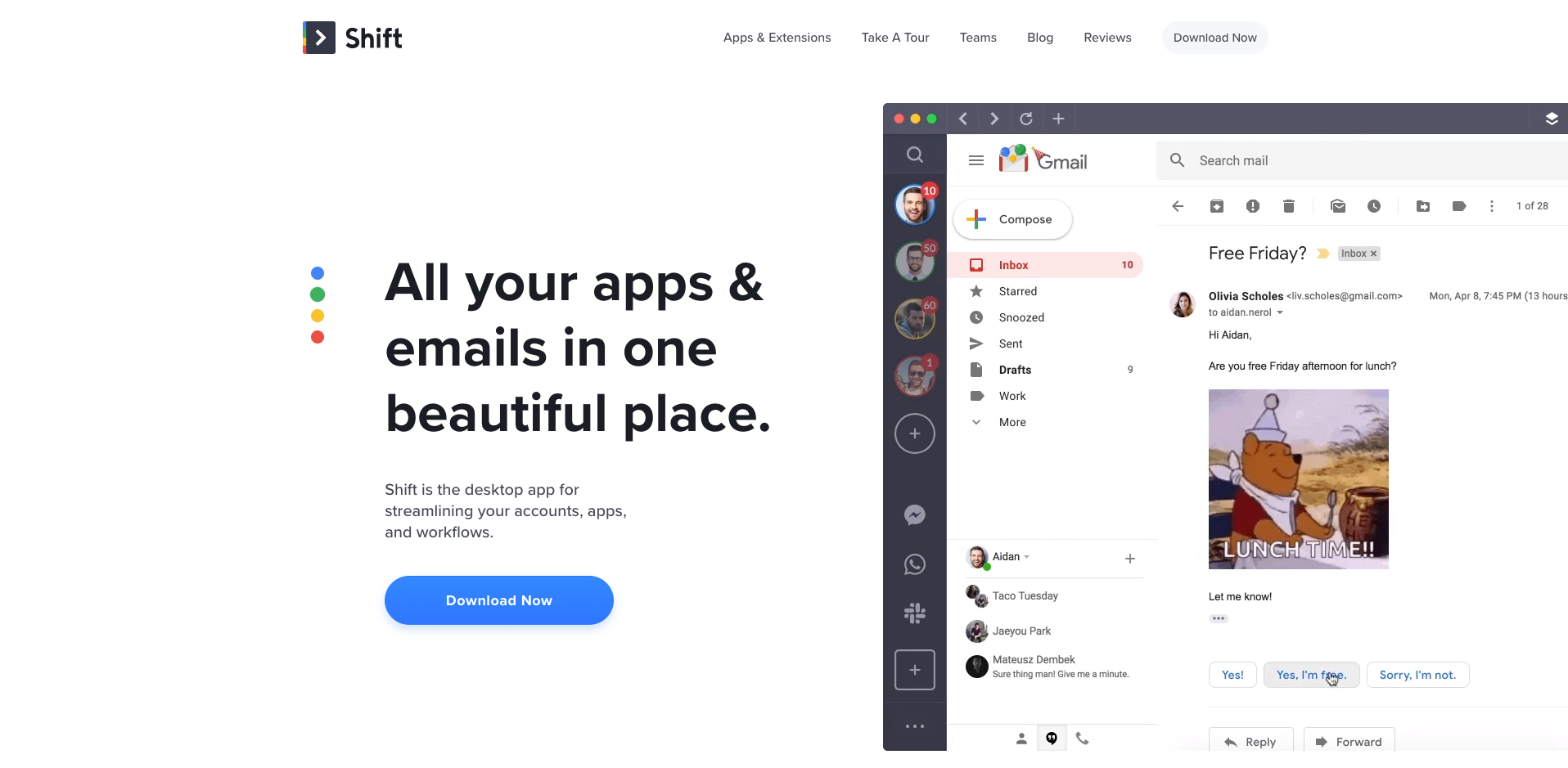 Shift is the modern workstation for highly productive teams and entrepreneurs who want to get things done more efficiently. Shift lets you manage all of your apps, extensions, social media accounts, and email hosting providers in one beautiful desktop application. It's the kind of productivity software that changes everything by keeping everything you're doing right in front of you.
Plans
Basic: Free
Advanced: $99 per year

4.
S
calefusion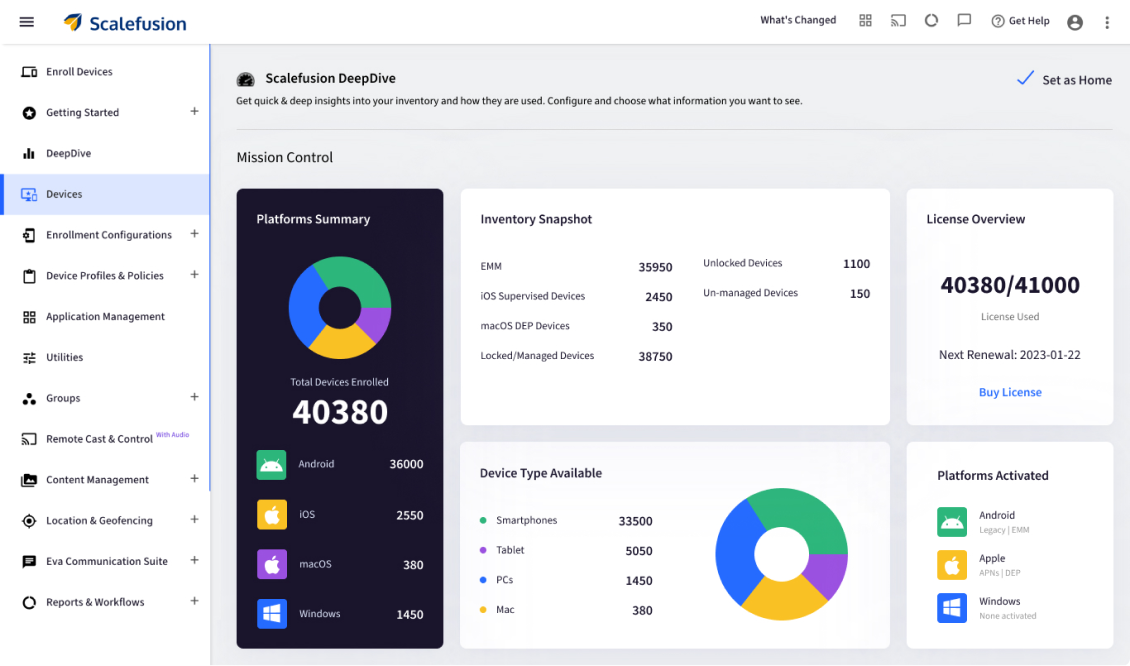 Scalefusion is a simplified and powerful unified endpoint management (UEM) solution that offers extensive endpoint and device management capabilities to IT teams of businesses of all sizes. Scalefusion lets IT admins manage, monitor, and secure a variety of endpoints and devices running on different operating systems. It supports Android, Windows, macOS, iOS and Linux endpoints.With features like kiosk mode, IT teams can ensure their Scalefusion-managed endpoints serve as dedicated single or multi-app devices. Scalefusion also offers shared device management (Android) and OS and third-party app management (Windows). Businesses can stay on top of their workspace organization requirements by leveraging Scalefusion's comprehensive features, such as remote cast & control, app & content management, location tracking & geofencing, and automated workflows, among many others.
Pricing:
14-day free trial
$2 per device/month to $6 per device/month (billed annually)
Collaboration software and tools for small businesses
Project Management
The primary purpose of project management tools is to track teamwork and optimize productivity. Small businesses rely on project management software and tools to ensure that teams carry a balanced workload and tasks get completed on time.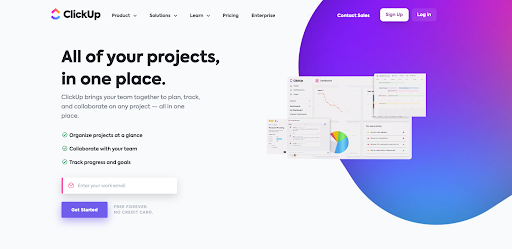 ClickUp is an all-in-one productivity and project management software solution to keep all of your work in one place. Organize your tasks, docs, char, goals, and more in one app. This application helps growing teams and businesses visualize and view all ongoing projects and tasks in a List, Board, Calendar, or even Gantt view. ClickUp has a simple but highly customizable application that you can personalize according to your project needs and preferences. Stay on track and hit your goals and objectives with improved productivity and collaboration through ClickUp.
Plans
Free Forever Plan
Unlimited: $5 per member/month
Business: $12 per member/month
Business Plus: $19 per member/month
Enterprise: Contact Sales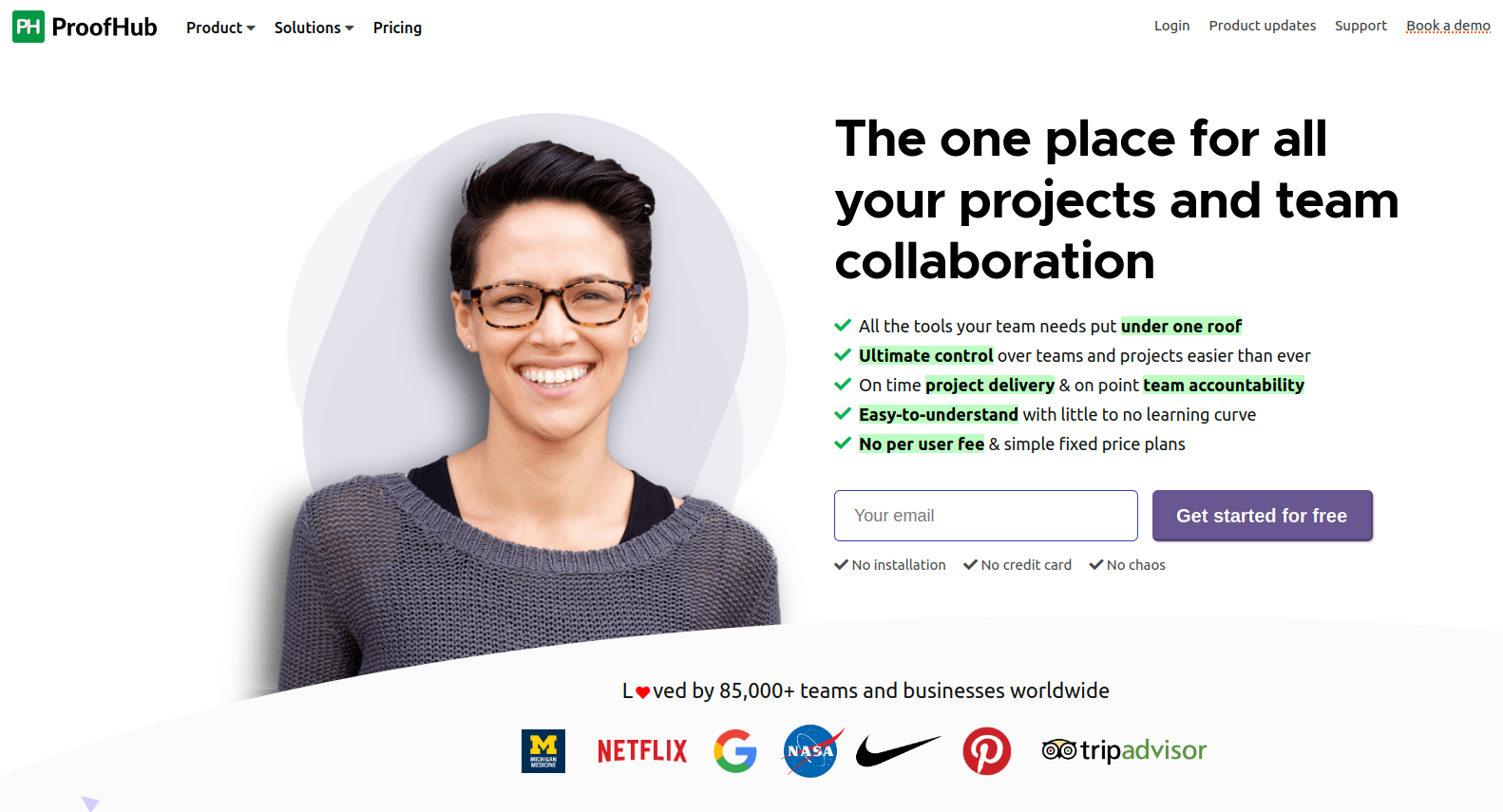 ProofHub is one of the most powerful online project management and team collaboration software. It helps you to track, communicate, stay in sync, and coordinate work from start to finish. ProofHub offers an insane number of project management, task management, time management, team collaboration, and reporting features which eliminates the need to switch between multiple tools to run your business.
With ProofHub you can assign tasks to your team members and get a bird's-eye view of what is being done and by whom. With gantt chart, you can create a plan, modify schedules, and visualize tasks in a roadmap view. Reports in ProofHub gives you a more intuitive, visual sense of true progress of projects in real time. Collaborative features like group chats, discussions, announcements, proofing and mentions ensure effective communication among the team members.
Plans
Basic: 14-day free trial
ULTIMATE CONTROL - Flat $89/ month billed annually
ESSENTIAL - Flat $45/ month billed annually
Communication software and tools for small businesses
Team Messaging
Direct, one-on-one, and team messaging software has emerged as the primary means of small business communication with the ability to send and receive information, ideas, files, and more all in real-time. Messaging provides instant access to information email cannot.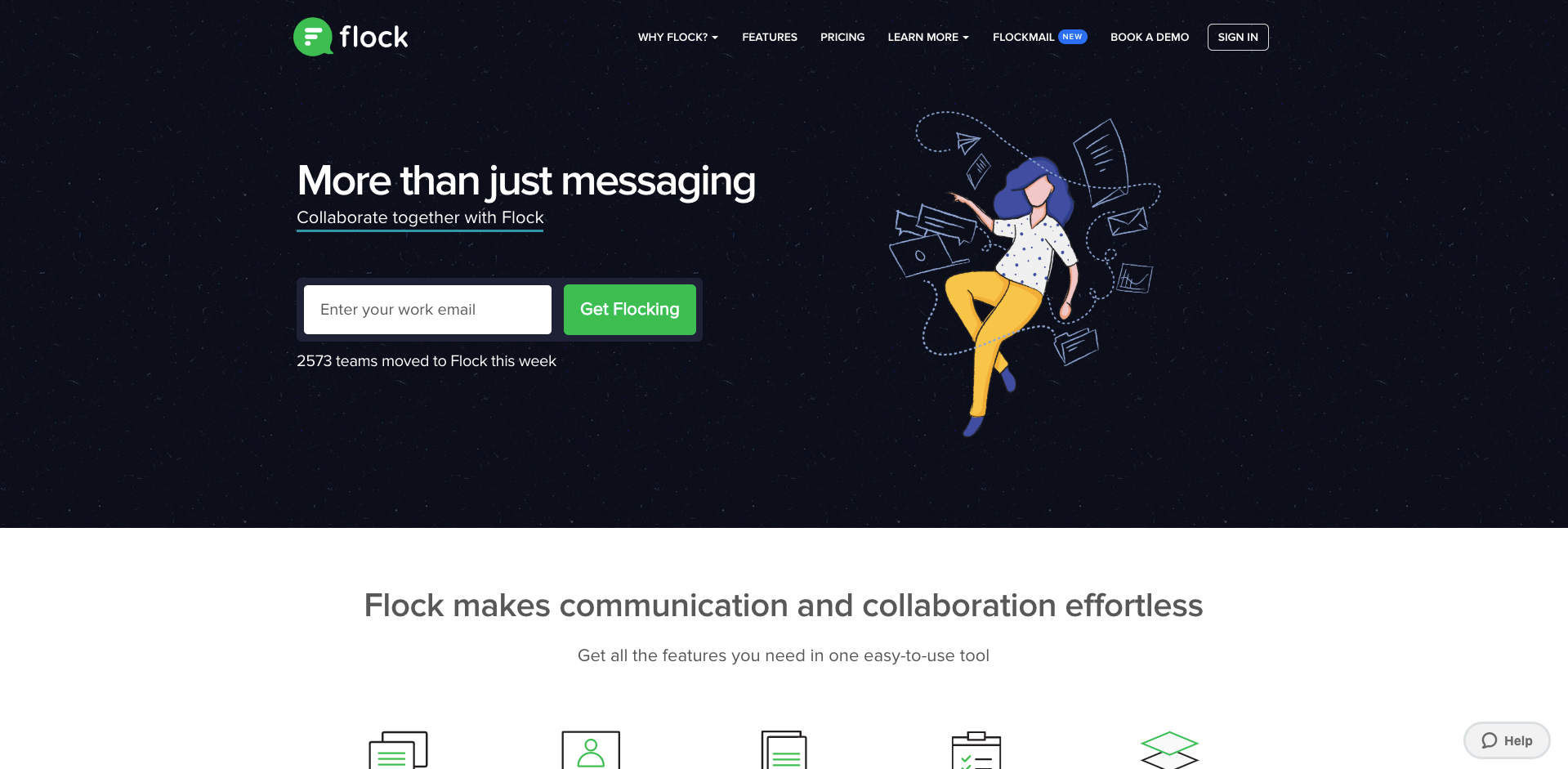 We believe Flock is the best small business software for team communication because it's more than just a messenger: It's a business collaboration hub that helps you get more done, faster. Flock changes the way you connect with your team with direct and group messaging channels, video conferencing, secure file sharing, shared notes, company directories, custom team mailing lists, and more—all from a single app. Flock does everything your small business needs to communicate and collaborate effectively...and still so much more.
Plans
Basic: Free
Pro: $4.50 per user/mo.
Email
Email is still the most widely used business communication tool. While email is not ideal for quick discussions or decisions, it does establish a thread for robust dialogue, specifically when communicating with multiple internal or external stakeholders. It's absolutely vital for SMBs to have business email address address that represents your personal brand.
Use some more predefined templates to save time in writing an email: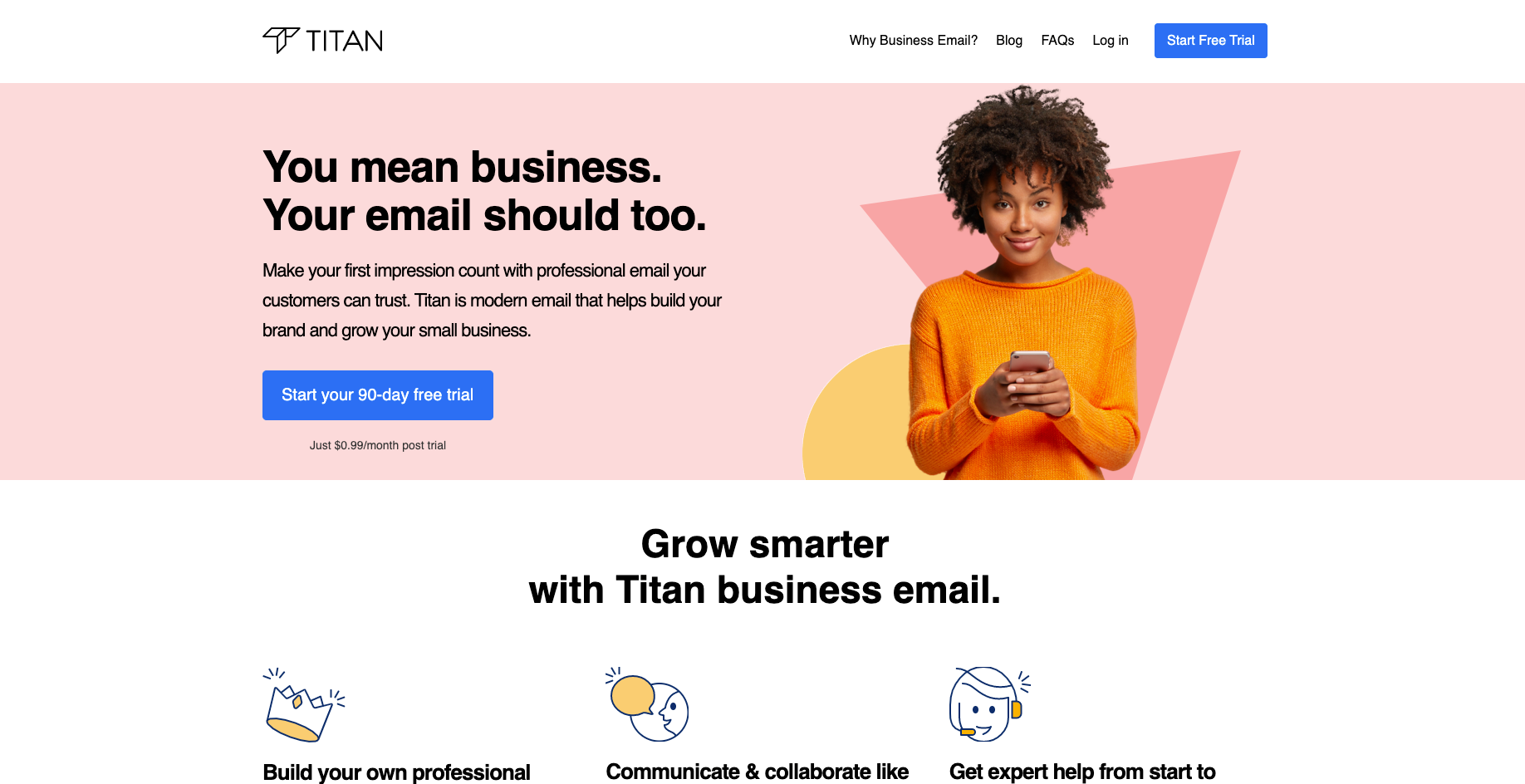 Titan is modern business email hosting that means business. Get a professional email address to match your website's domain name without having to pay a bunch of money for a bundle of add-ons you don't need. Build your brand and your business on the back of Titan.
Plans
Free 30-day trial, then $1.50 per user/mo.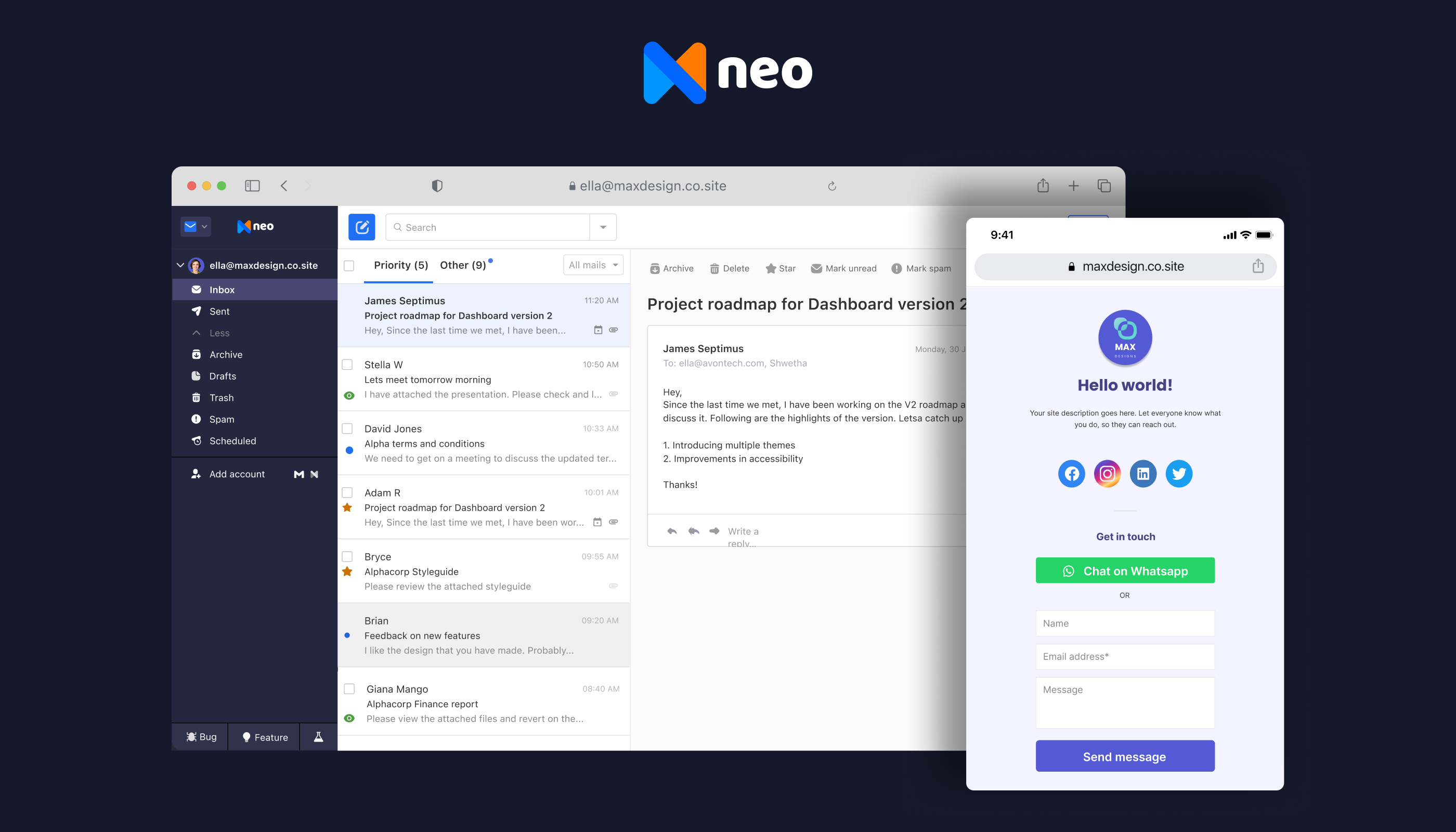 Neo is an email platform that offers users the opportunity to create a customized professional email address starting at just $1.99 per month. With Neo, users can generate an email address that includes their name and brand (e.g., yourname@yourbrand.co.site) without the need to purchase or own a domain name. Furthermore, Neo also allows users to launch a one-page website at the same URL as their email (yourbrand.co.site), providing a fast and efficient way to establish their brand's online presence. So you get an almost free business email with the domain name using Neo.
Plans
Free 30-day trial, then $1.99 per month


Productivity Software for Small Businesses
Process Automation
Process automation helps teams execute the recurring processes within a common or customized workflow. Even the most complex cross-functional and repetitive processes — like employee onboarding and scheduling — can be automated with ease and in real-time thanks to process automation software and tools.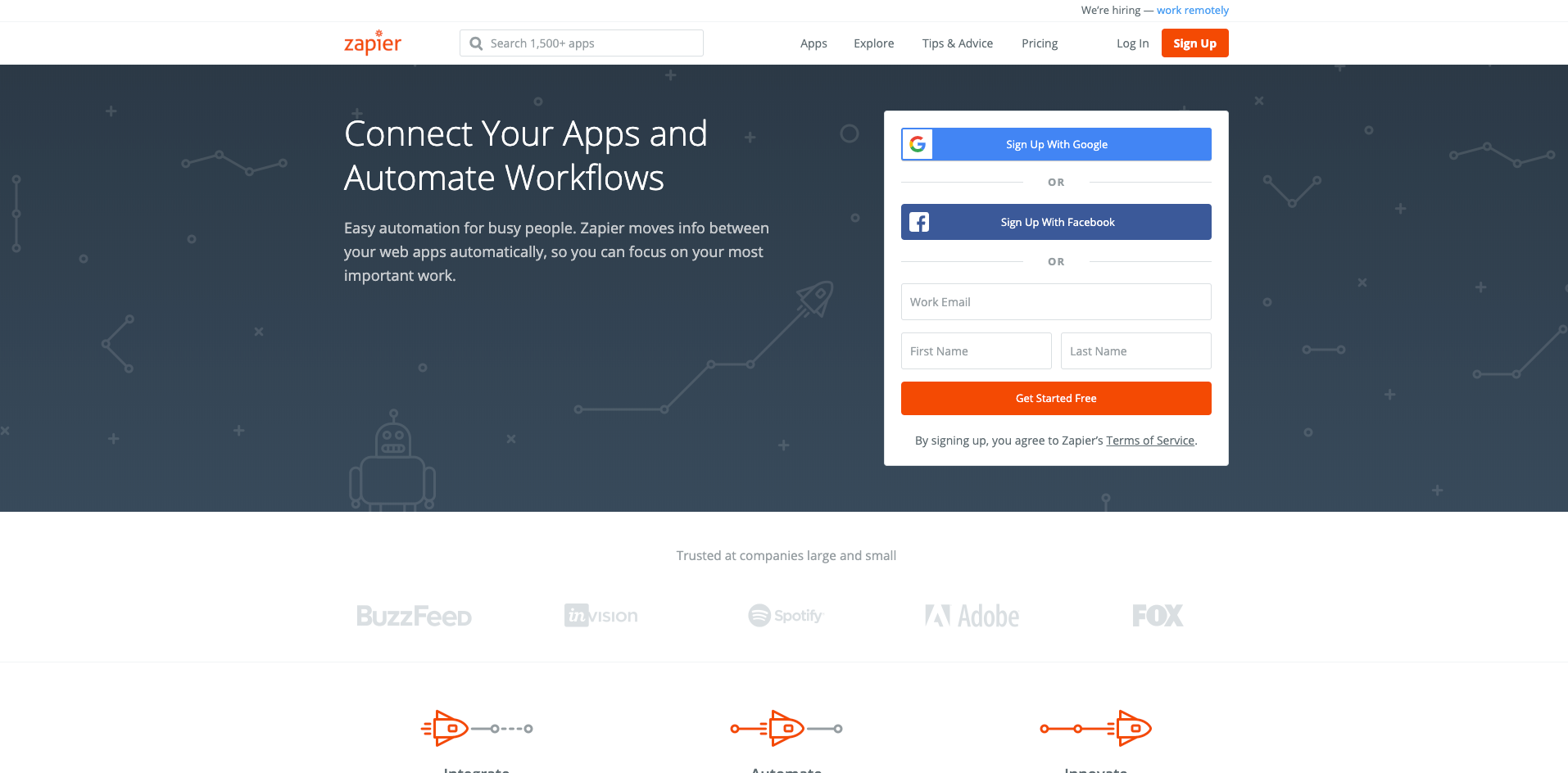 Zapier is a best-in-class process automation software for busy teams. Connect more than 1,500 of your favorite business apps and tools so you can focus on your most important work. Zapier automatically moves necessary information between applications with a central command. Stop wasting time on repetitive tasks—automate them—so you can do more of the work you love.
Plans
Basic: Free
Starter: $20 per month
Pro: $50 per month
As the tagline says - "Automate like the Fortune 500", Automate.io is an easy-to-use & affordable solution for integrating cloud apps & services to create simple one-to-one integrations or complex workflows.
Users can now automate sales, marketing, and business processes in minutes and save 40+ hrs/week.
And the most interesting part? It doesn't require any IT help and users can integrate their apps without coding through a drag-and-drop interface.
Plans
Basic: Forever Free Plan
Startup: $49/mo
Growth: $99/mo
Scheduling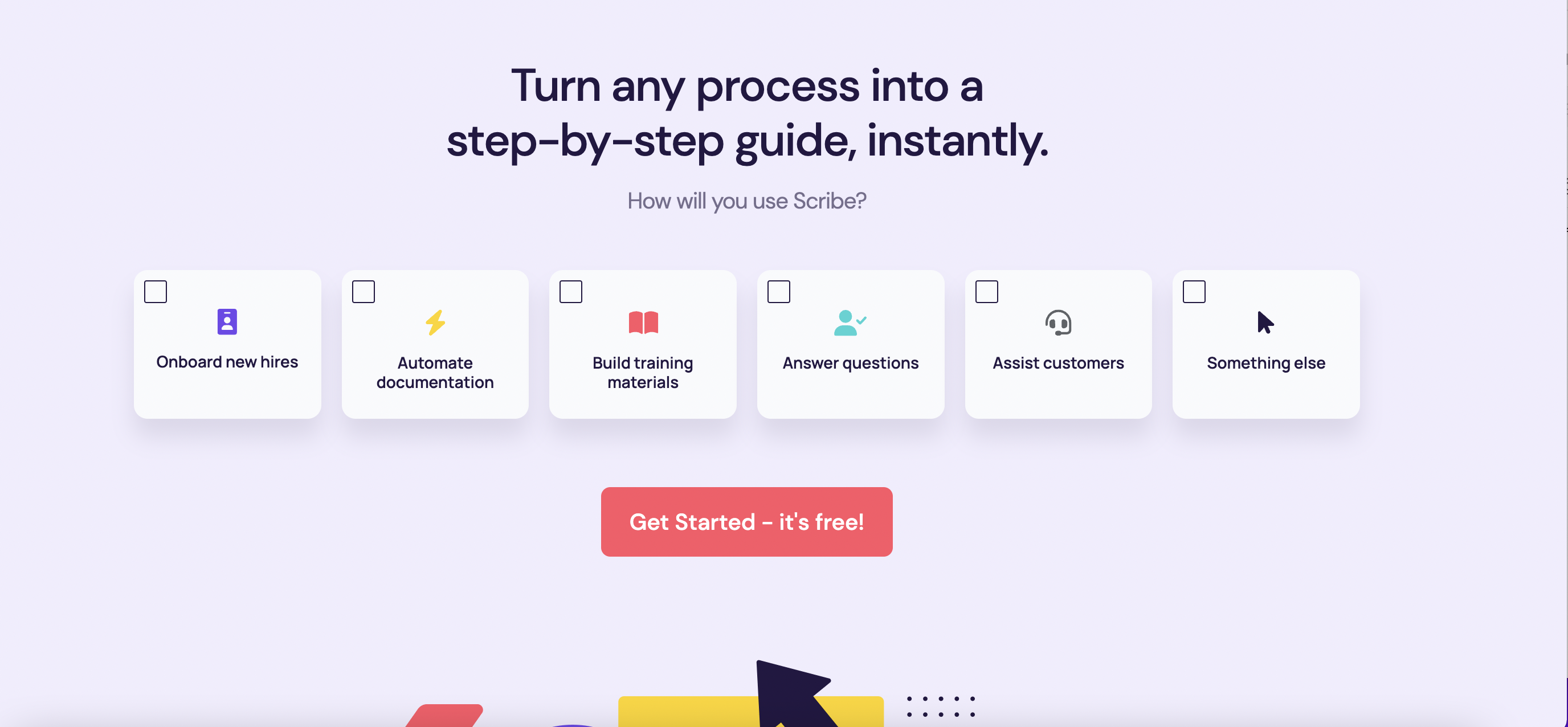 Scribe is an SOP generator that documents your processes for you. Turn any workflow into a step-by-step guide, complete with text and annotated screenshots. It's easy to edit, share and embed in any knowledge base. And with the newest feature, Pages, you can add Scribes with text, video and more into visual process docs. Boost productivity and save hours upskilling teammates.
Plans

Basic: Free
Pro: $29/user/month
Small businesses use shared calendar tools for time-management and scheduling.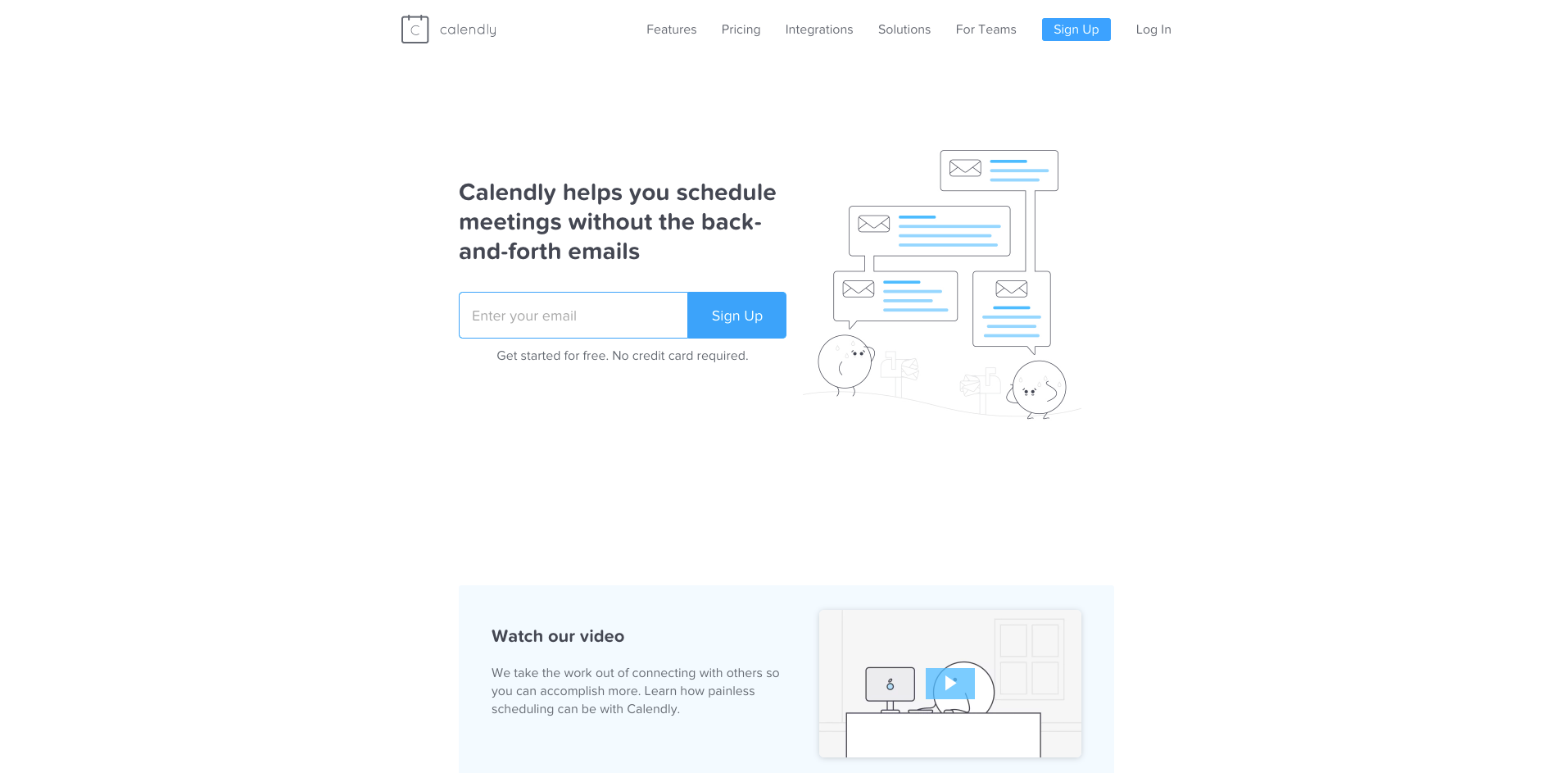 Calendly helps small businesses schedule meetings without the back-and-forth of emails. It works with existing Google, Outlook, Office 365, and iCloud calendars and automates tasks with Salesforce and Zapier. Set buffer times between meetings using seamless timezone detection so everyone's on the same page.
Plans
Basic: Free
Premium: $8 per user/mo.
Pro: $12 per user/mo.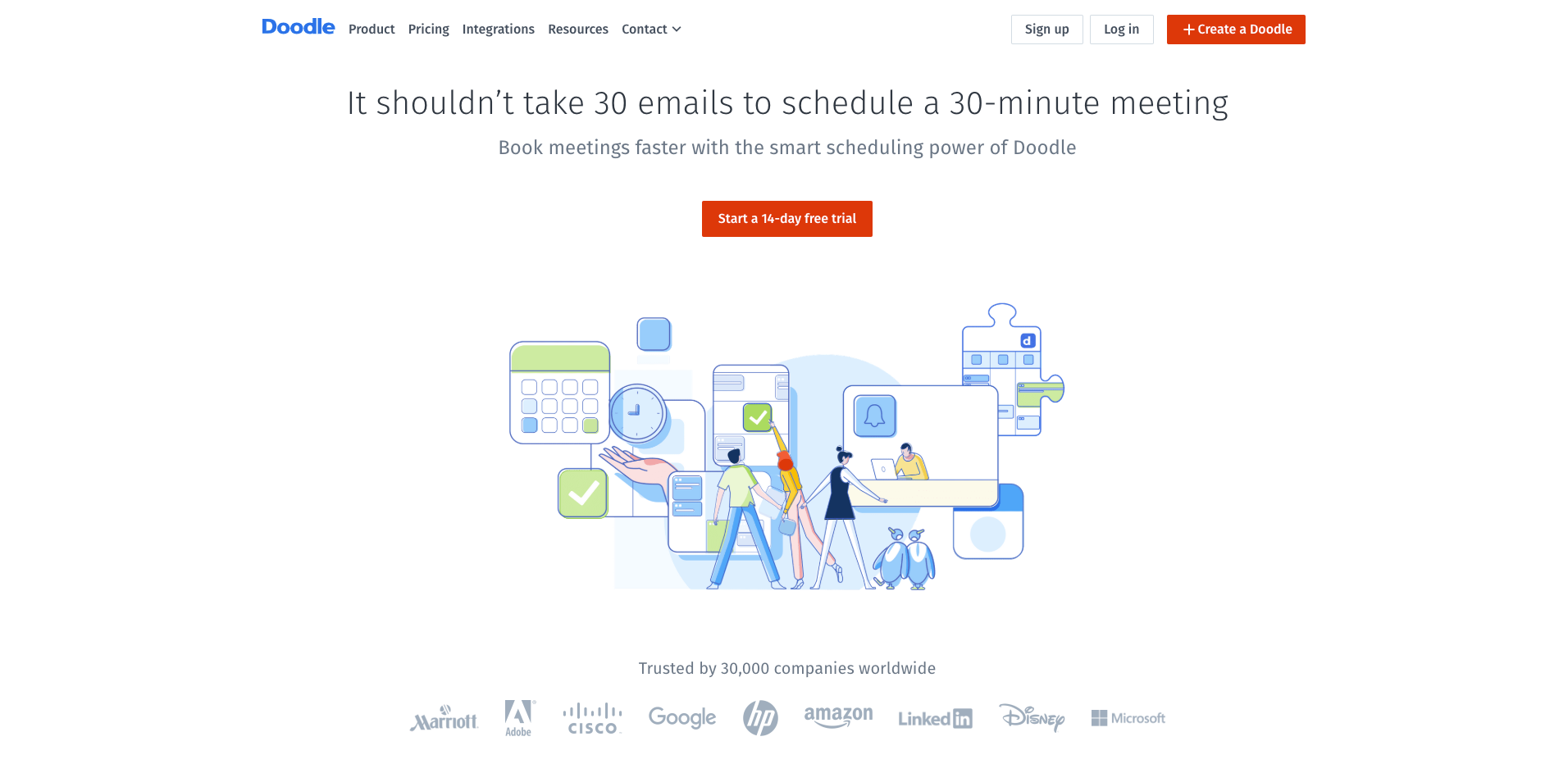 Businesses book meetings faster with Doodle. Quickly schedule 1:1s with outside parties without guessing or inquiring about availability. A first-come, first-served open block for appointments lets guests see and respond to your changing availability without you having to constantly update them.
Plans
Starter: $4 per month
Pro: $6 per month
Team: $30 per month

Video Conferencing
Video conferencing software and tools give small businesses the flexibility of communicating face-to-face from just about anywhere—the home, the office, or a job site—across all devices. The right software and tools integrate screen-sharing, screen-recording, and video streaming capabilities that give SMBs powerful tools to conduct professional virtual meetings.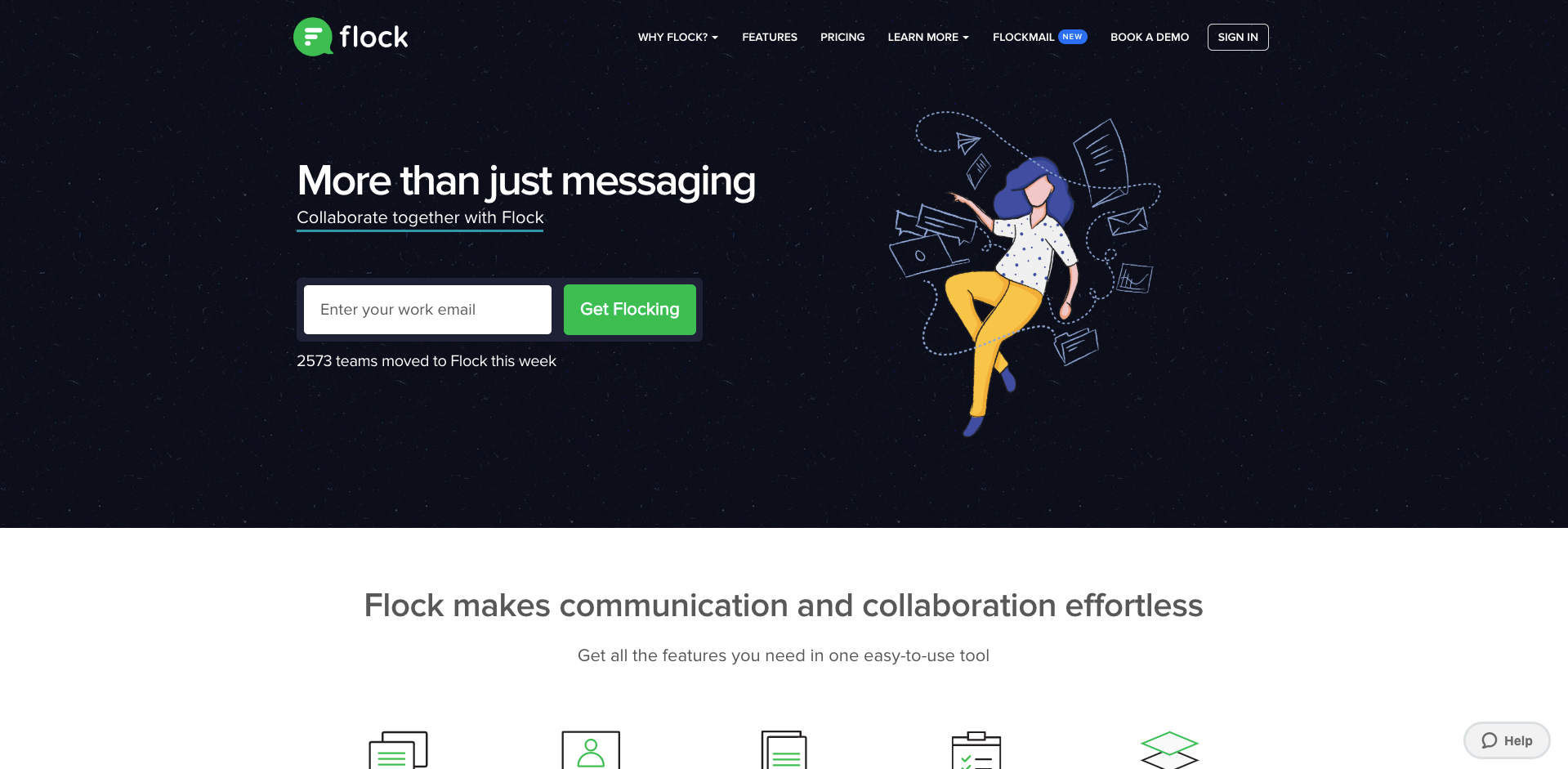 Video conferencing is essential for globally dispersed and remote teams. Flock gives small businesses the ability to host online meetings and webinars with video-conferencing software built right into the core messenger. Start a video call directly in a conversation channel and share your screen during a live stream or presentation. Flock video conferencing lets you communicate with anyone face-to-face and in real-time from anywhere.
Plans
Basic: Free
Pro: $4.50 per user/mo.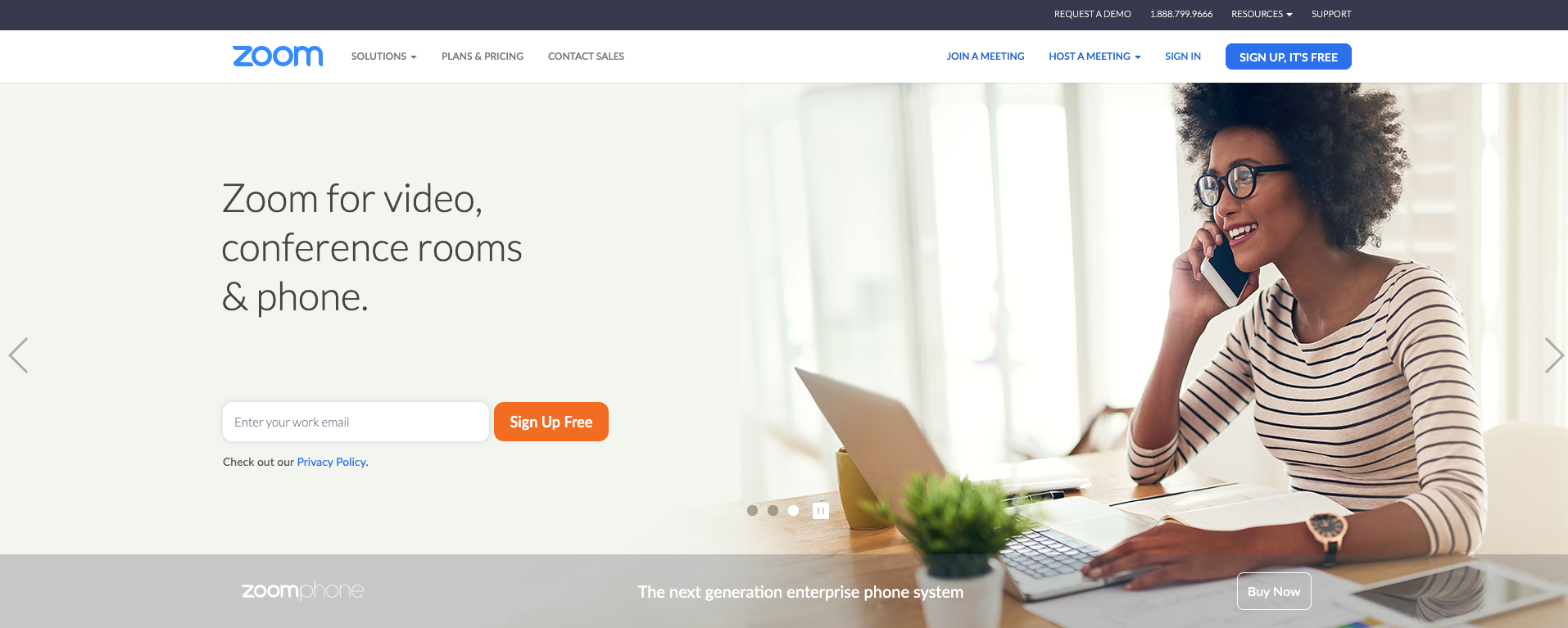 Zoom is one of the more popular small business video conferencing apps on the market. Its free plan lets you host unlimited 1:1 meetings or group meetings of up to 100 participants with a 40-minute limit, and includes custom meeting IDs and screen-sharing capabilities in HD.
Plans
Basic: Free
Pro: $15 per host/mo.
Business: $20 per host/mo.

File & Document Manager
Data management and file-sharing systems are essential to small business operations and team collaboration. File sharing software backs up all of your important files and documents in the cloud and syncs them across all your devices—all the while keeping a record of relevant and shareable data accessible throughout the entire company.
Google Drive is the most popular cloud-based small business file management and sharing software, and it's absolutely free. You can create, store, and share all types of files from documents to slide presentations to spreadsheets to images and edit them collectively as a team in real-time. Google Drive even lets you sync your files across all your devices and share them publicly or privately with external stakeholders.
Plans
Basic: Free, 15GB
G Suite: $6 per month, 30GB
Google One: $2 per month, 100GB; $3 per month, 200GB; $10 per month, 2TB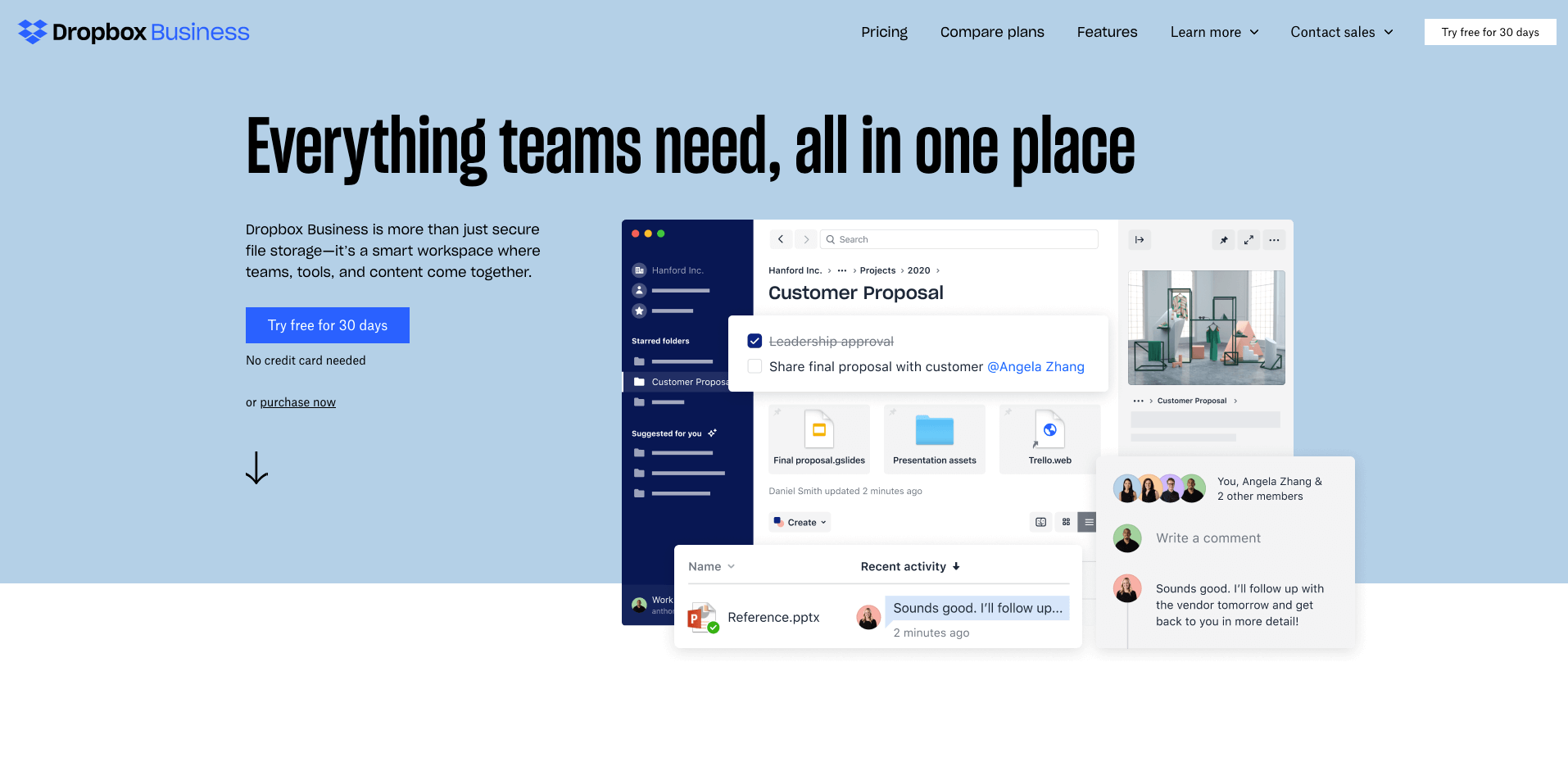 Dropbox has long been known for its blazing-fast sync speeds ideal for larger, more unique file types often used by developers and designers. Plus, its best-in-class user experience and a plethora of add-ons like watermarking, tiered-admin roles, and file recovery give Dropbox the edge for product development and creative teams.
Plans
Individual Plus: $10 per month, 2TB
Individual Pro: $17 per month, 3TB
Teams Standard: $12.50 user/mo., 5TBTeams Advanced: $20 user/mo., Unlimited

Note-taking Apps
Note-taking tools ensure everyone on your team is fully engaged and on the same page—literally. Digital note-taking tools integrate across many productivity platforms and are the most resourceful way to keep all relevant information together and accessible. Attach notes to a message or email, or convert them into tasks or to-dos.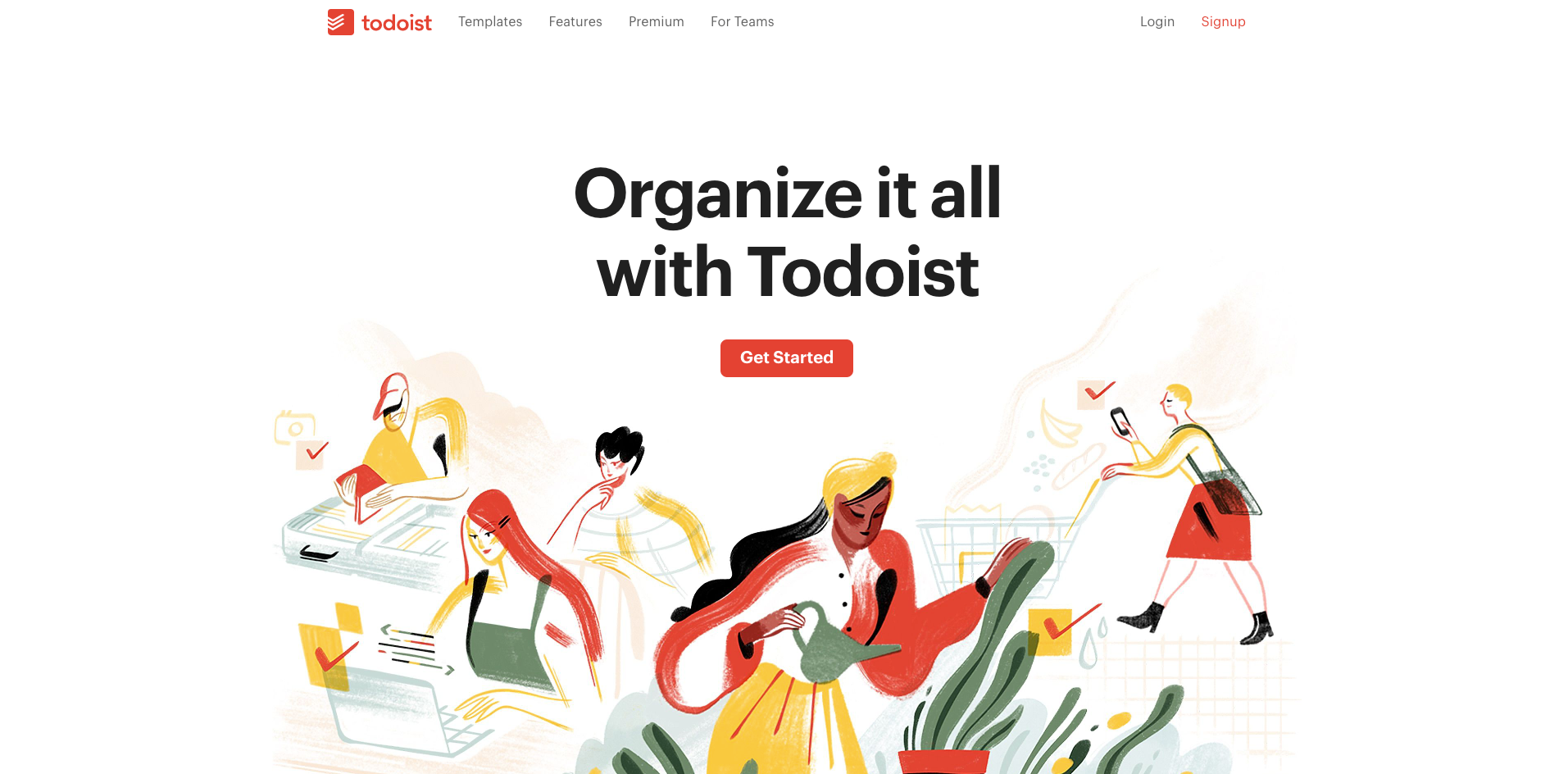 Todoist keeps everything on your plate organized and accounted for. Get a clear overview of your workday and your schedule, and prioritize projects so you'll always know exactly what to work on next. Never lose track of an important task or to-do again.
Plans
Basic: Free
Premium: $3 per user/mo.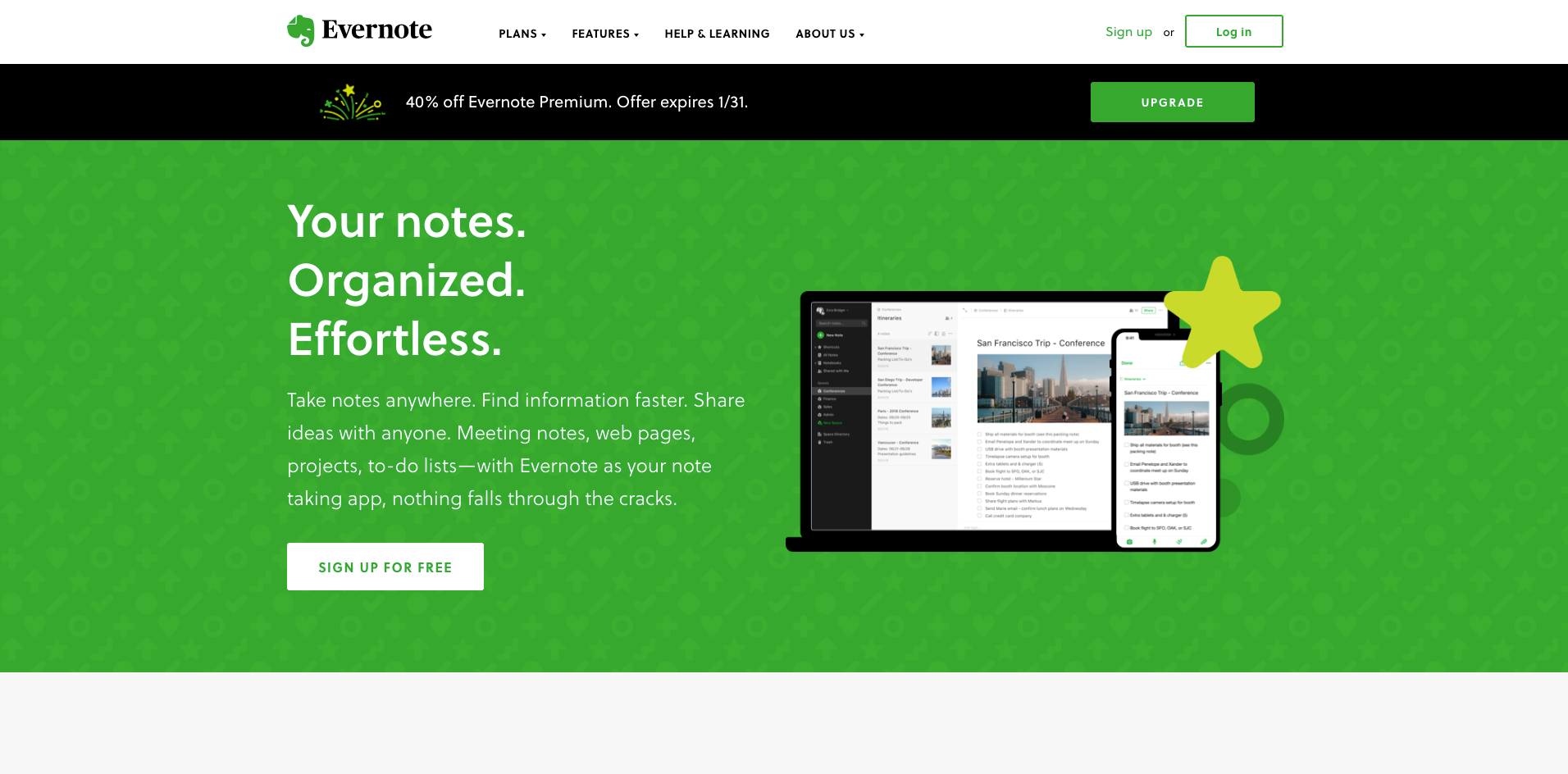 Evernote has been around forever and is still one of the premier note-taking apps available. Save web pages, bookmark articles, and clip PDFs to the app, or use a pre-made template to build a business plan, a to-do list, or a full-blown research report.
Plans
Basic: Free
Premium: $8 per month
Business: $15 per user/mo.
Marketing software and tools for small businesses


CRM Apps
Customer relationship management (CRM) software and tools manage all of your company's touchpoints with existing and potential customers—and so much more. A robust CRM solution can help companies stay connected to goals that drive profitability.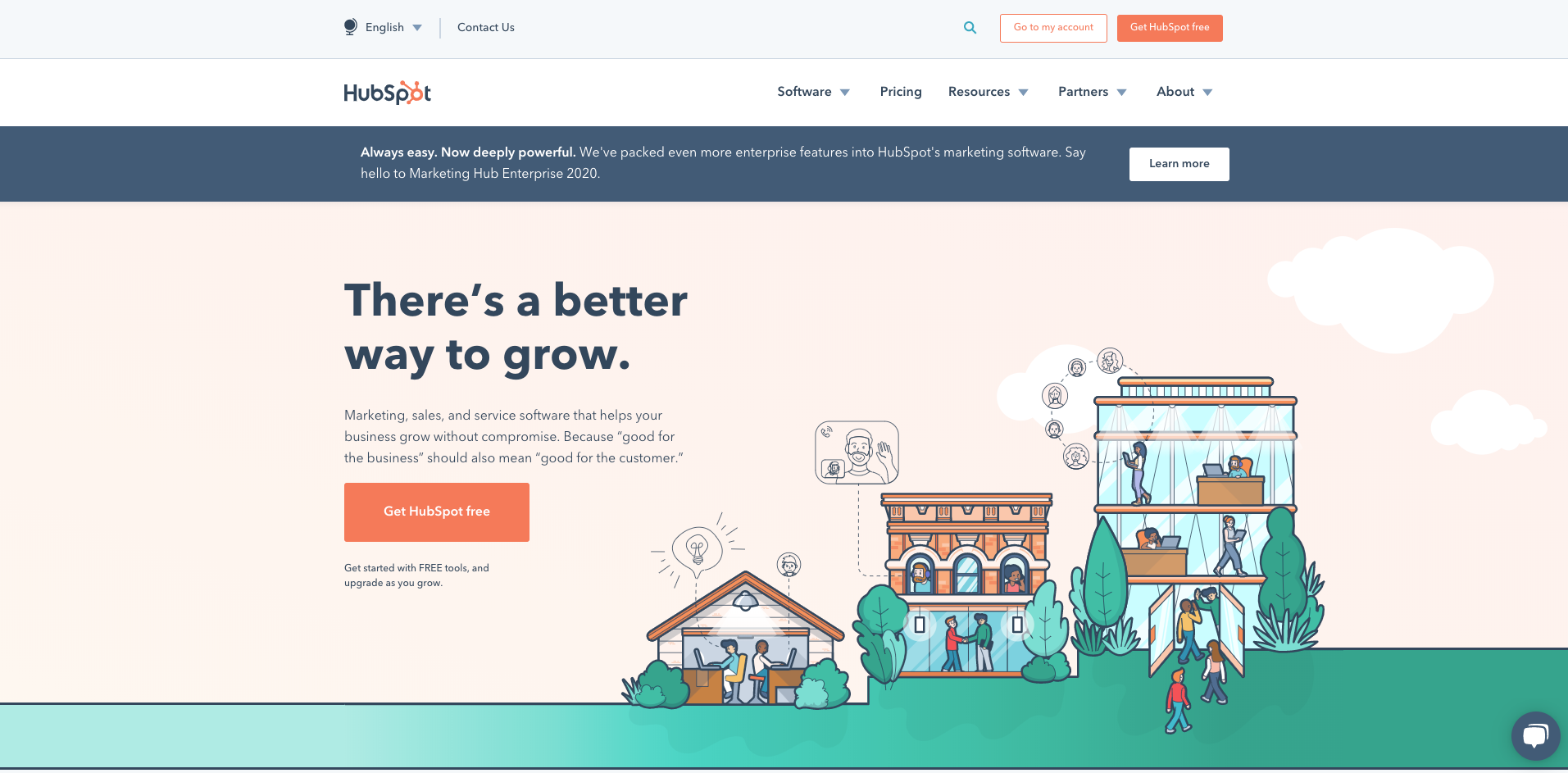 Hubspot's CRM software brings marketing, sales, and customer service tools together under one roof with popular features like lead generation, analytics, and automation. It puts everything you need to know into a central hub for stakeholders to access. Run a full-blown inbound marketing campaign and share key insights on revenue, traffic, and prospecting. The basic version is free forever, but you can upgrade for advanced features as you scale.
Plans
Basic: Free, upgrade as needed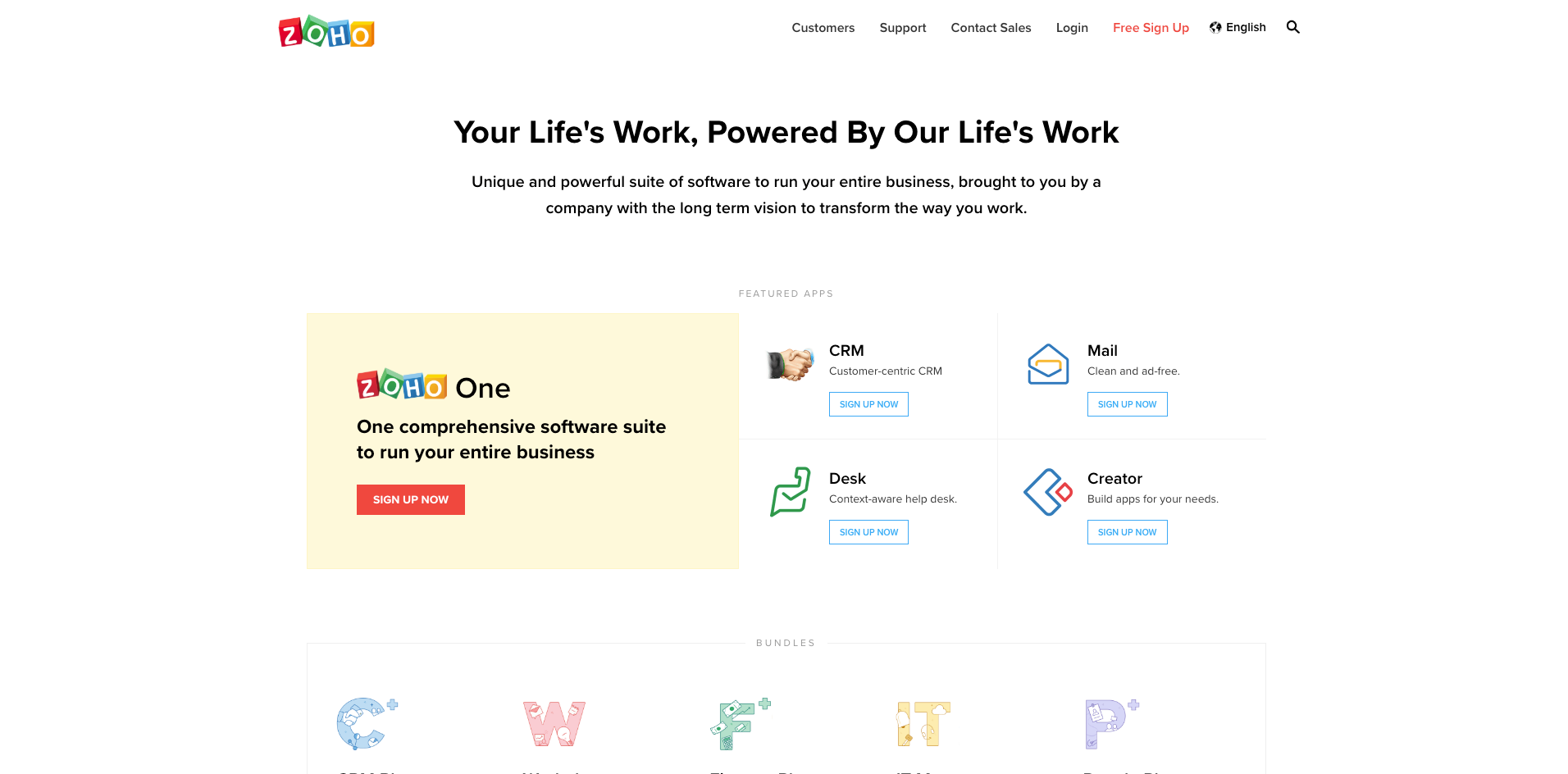 Zoho CRM is another popular CRM solution for small businesses that brings companies and customers together via one integrated platform giving marketing, sales, commerce, and customer service an intuitive lens into every customer. Build pipelines and help sales acquire more leads with marketing automation tools and omnichannel workflows that streamline customer journeys at scale.
Plans
Basic: 15-day trial, then $12 per user/mo.


Social Media Marketing
Social media marketing software is used primarily to monitor, manage, and analyze social interactions and automate post scheduling. Aggregate your social media feeds across multiple accounts and stream them via a single dashboard on a range of devices.
Buffer lets you build your social following and grow your brand by planning, scheduling, and publishing social media content that drives engagement across all popular social media sites like Facebook, Twitter, LinkedIn, Pinterest, and Instagram. To further streamline your social media management, you can also explore the convenience of browser extensions, which offer additional features and capabilities for optimizing your online presence.
Plans
Pro: 7-day trial, then $15 per month
Premium: 14-day trial, then $65 per month
Business: 14-day trial, then $99 per month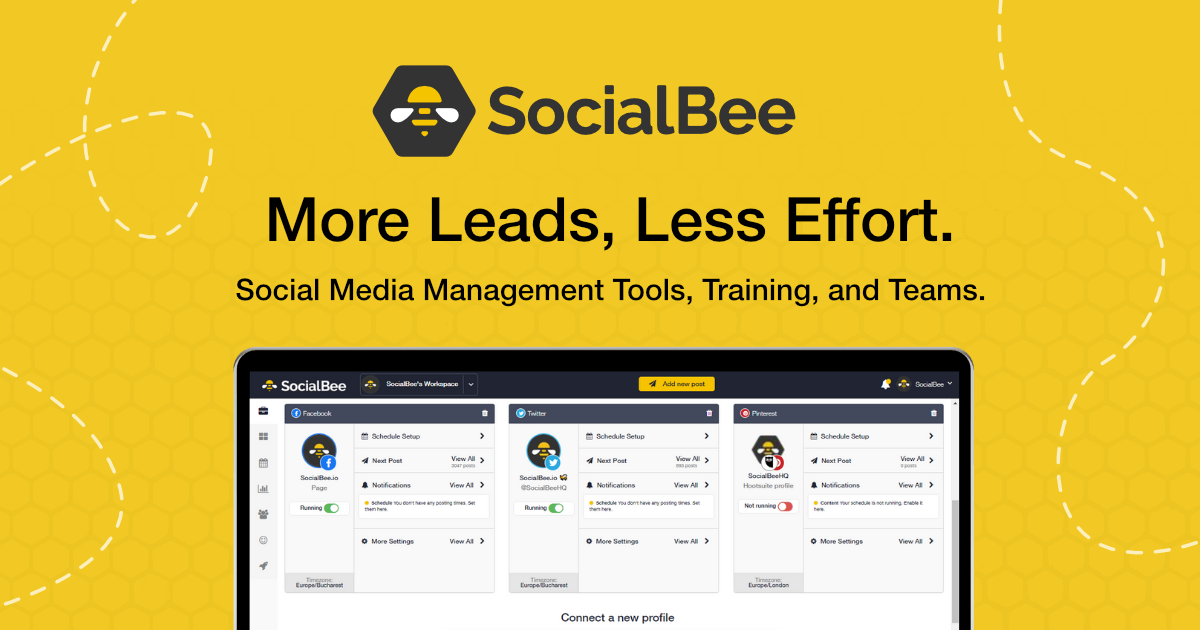 SocialBee is a robust social media automation platform that helps users have a strategic approach to planning and scheduling their content by allowing them to build a content calendar, create posts using AI, publish across multiple social accounts, and analyze the performance of their content. Furthermore, users can manage their messages, mentions, and comments from SocialBee's Engage Module.
Plans

Bootstrap: 14-day free trial, $29/month
Accelerate: 14-day free trial, $49/month
Pro: 14-day free trial, $99/month"


Email Marketing
Email marketing tools are used to automate and schedule promotional campaigns mainly for products and services. Marketing teams also use these tools to maintain relationships with customers and clients. Email marketing supports a wide range of digital marketing initiatives and is a way to supplement social media marketing and content marketing campaigns. Read about best email marketing tips for small businesses

25. Mailmodo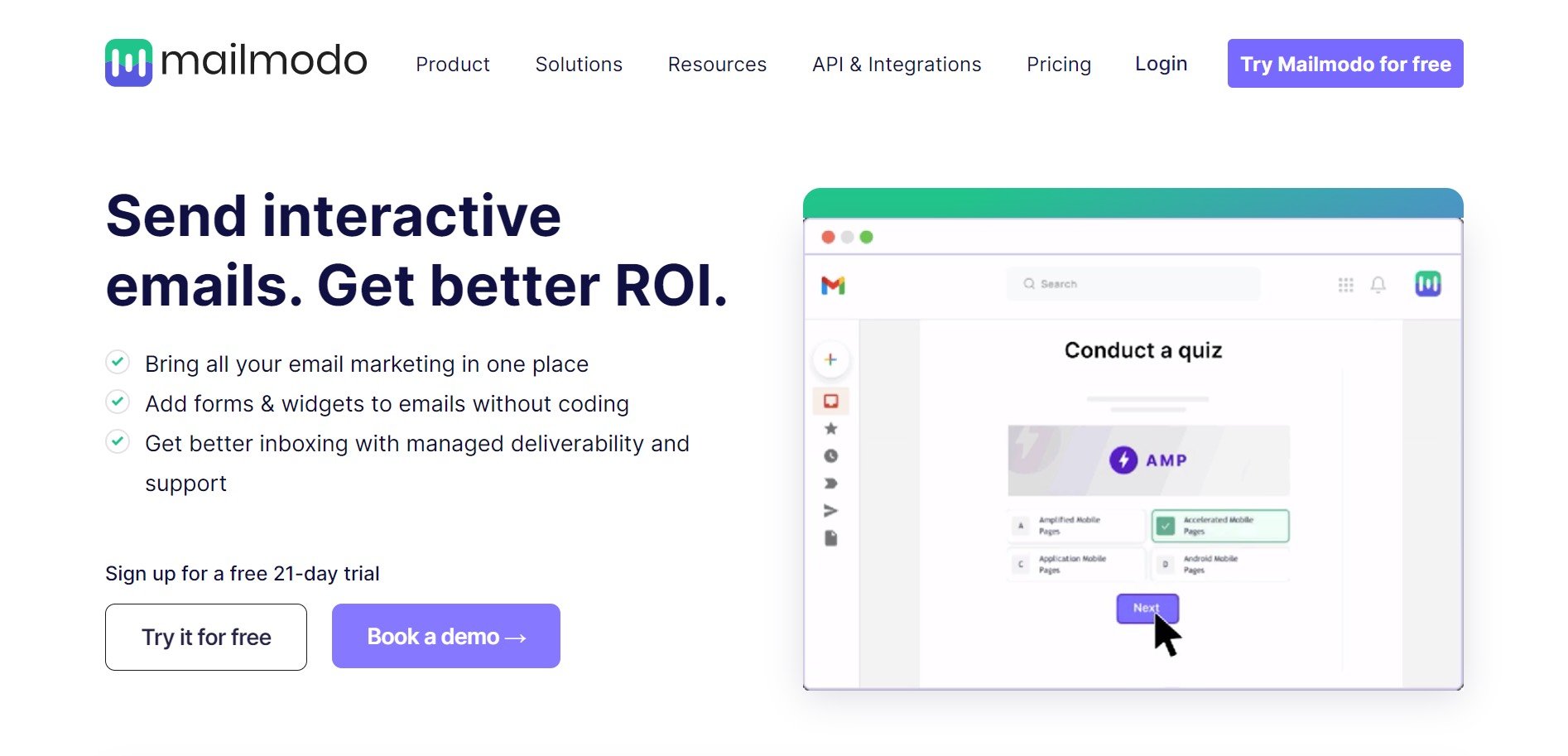 Mailmodo is an email marketing platform that helps businesses create and send app-like interactive emails to improve conversions. Mailmodo is backed by Sequoia Capital India's Surge, Y Combinator, and other popular investors.
With Mailmodo, you can send interactive forms, calendars, calculators, shopping carts, surveys, quizzes, and more inside the email. Unlike other email marketing services, your readers don't have to open a website to book an appointment or complete a purchase; they can do all these straight from their inboxes. This reduces friction and improves email conversions.
Plans:
Mailmodo offers a 21-day free trial, and their paid plan starts at $49/month.
26. Saleshandy
Saleshandy is a cold email software that helps sales teams to send automated cold emails with a great amount of personalization. The sales outreach process is made much easier and faster with automated follow-ups helping sales teams in closing more meetings and deals.
Saleshandy offers features like sender rotation, unified inbox, sequence score, prospect outcome, and more. Many sales and marketing teams use Saleshandy for their email outreach needs. Saleshandy has earned a rating of 4.7 ⭐ on G2 based on 500+ reviews.
Plans:
Outreach Basic - $27 per month (billed annually)
Outreach Pro - $79 per month (billed annually)
Outreach Scale - $150 per month (billed annually)
Custom - You need to contact them.
27. Omnisend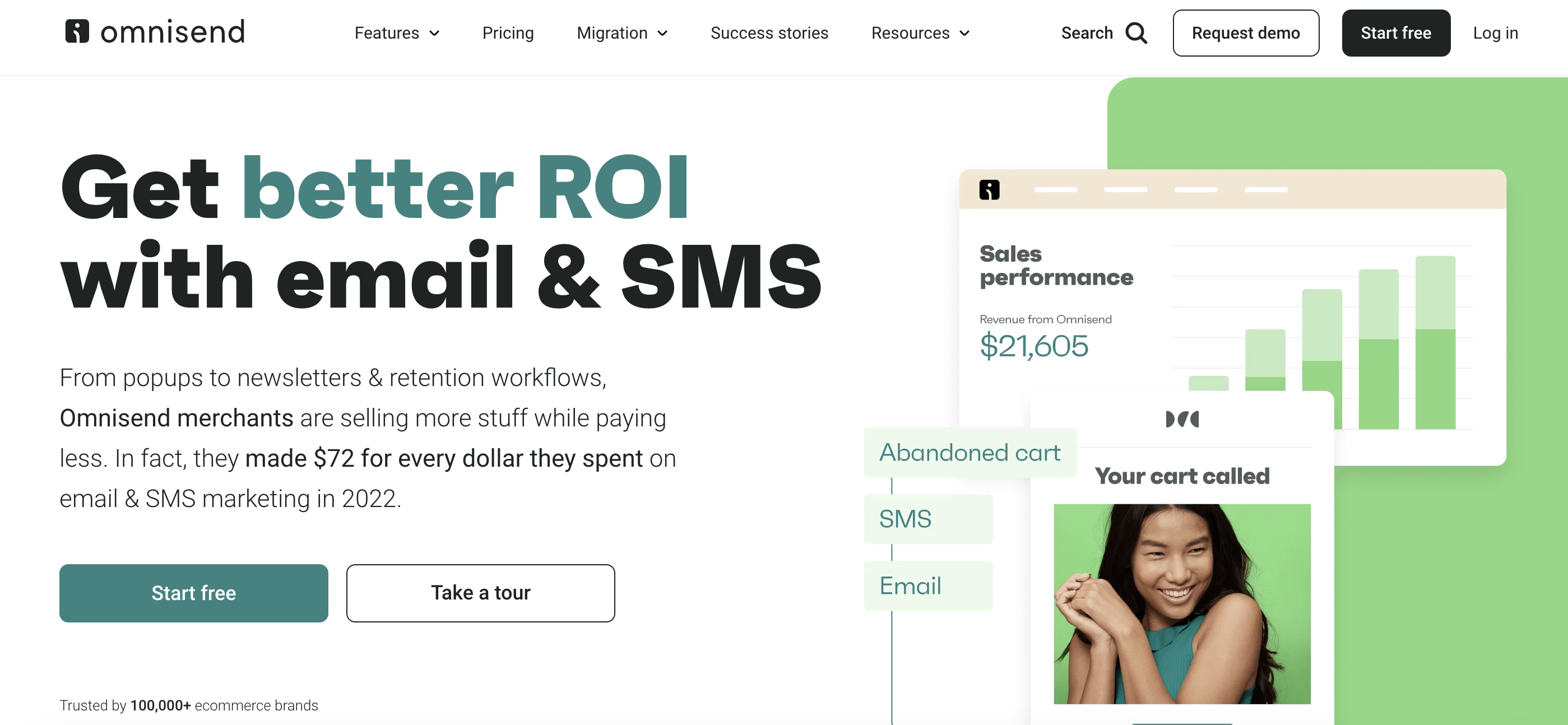 Automate Your Email & SMS Marketing with Ease.
Omnisend is a powerful email and SMS marketing automation platform that takes the hassle out of reaching your customers effectively. With its user-friendly drag-and-drop editor, and 150+ pre-made email templates, customizing your emails and SMS messages becomes a breeze — even if you're new to marketing.
The platform offers a wide array of professionally designed templates to choose from, ensuring you can send eye-catching emails and text messages to your subscribers. Whether it's weekly updates, special event announcements, or product launches, Omnisend has you covered.
Once your email or SMS campaign is ready to go, Omnisend doesn't leave you in the dark. It provides valuable insights and accurate click rate statistics, giving you a clear picture of how each campaign performs. This means you can easily see which messages resonate with your audience and which ones might need a little tweaking to boost engagement.

28. Active Campaign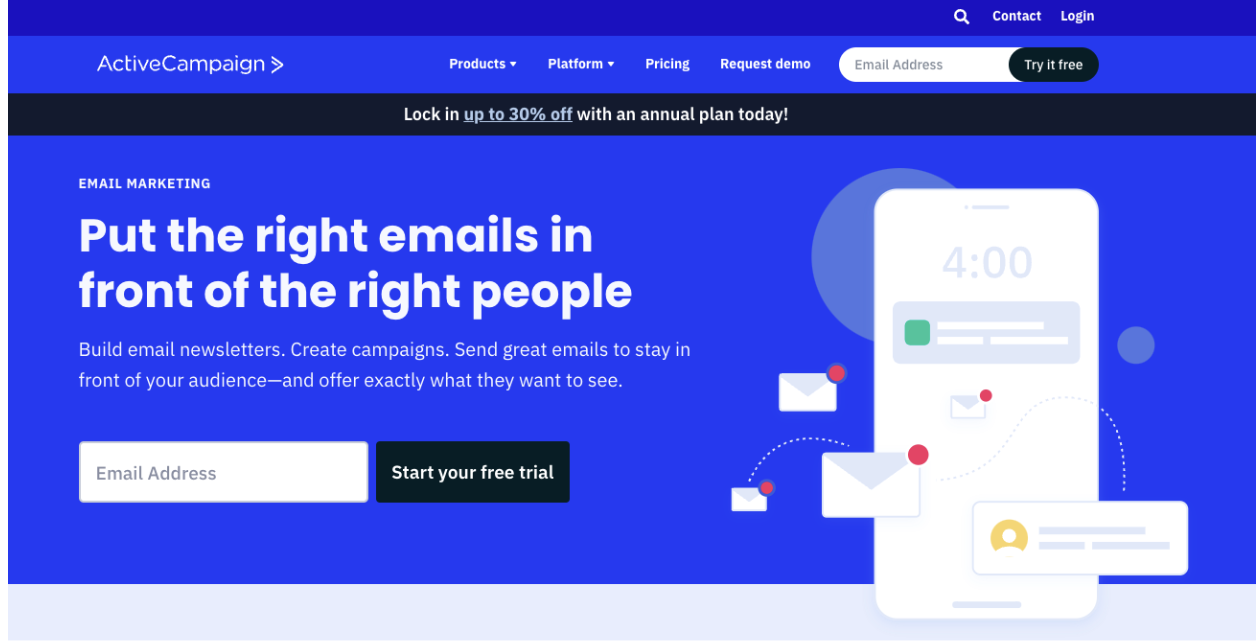 ActiveCampaign is a comprehensive marketing automation tool that includes email marketing as one of its core features. While email marketing is a crucial component, the platform goes beyond traditional email marketing to provide a range of automation and CRM capabilities to help businesses streamline their efforts and engage with their audience effectively.
With ActiveCampaign, you have access to advanced email marketing features that allow users to create, send, and track email campaigns. It provides a user-friendly drag-and-drop email builder, pre-designed templates, and advanced personalization options to create targeted and visually appealing emails. The platform also offers powerful automation tools, enabling businesses to create personalized customer journeys, automate repetitive tasks, and engage with customers at the right time with targeted messages. With over 930 integrations like WordPress, Zapier, Shopify, Salesforce, and more, you can connect with the tools that may already be in your tech stack.
Plans:
14-day free trial
Lite Plan: $29/month paid yearly
Plus Plan: $29/month paid yearly

Design Tools
From logos to websites to blog posts to email templates and social media pages—design can distinguish your brand from the competition. Whether you have a single graphic designer on your team or a full creative staff, modern digital design tools allow for varying levels of expertise and functionality.
29. Picsart
Picsart is an AI-powered design platform that offers creatives a million ways to make and market visuals and digital products. Its one-click editing tools and easy-to-use AI photo generator make Picsart a favorite amongst content creators. With hundreds of templates, stickers, and stock images to explore, you'll never run out of ways to improve your personal branding.
Plans Basic: Free Gold: 7-day trial, then $5.59 per month Team: Create a team for free, then $5.21 per month
Movavi Video Editor is a powerful and user-friendly tool for creators. You can craft stunning presentations, tutorials, demos, promo and marketing videos hands down. Take advantage of the key video-editing features: trim, crop, resize, and rotate clips. Apply impressive visual effects, write captions, and add your company's logo. Complement your videos with music and your voice commentaries to make it more engaging. Let the video speak for your brand.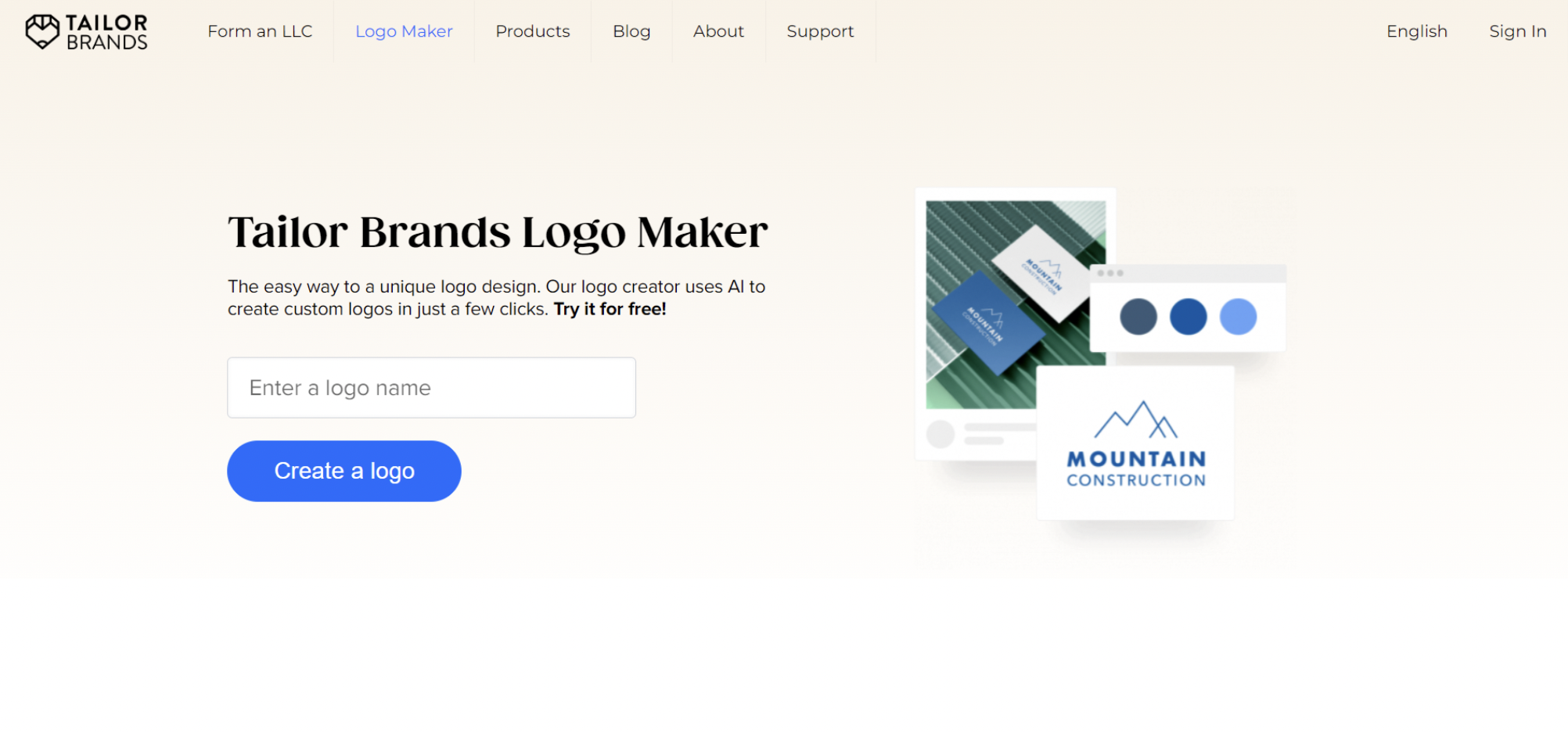 Tailor Brands is an innovative and user-friendly designing tool that empowers individuals and businesses to create stunning logos, branding materials, and promotional assets effortlessly. Using advanced AI technology, Tailor Brands takes the hassle out of design, making it an ideal choice for both beginners and experienced designers. What sets Tailor Brands apart is its intuitive interface, which allows users to craft professional-grade designs in just a few clicks. With a vast library of customizable templates, fonts, and color schemes, users can easily tailor their creations to match their unique brand identity. Moreover, Tailor Brands utilizes smart algorithms to understand users' design preferences, ensuring that the final output aligns perfectly with their vision. The platform also offers seamless integration with various marketing tools, enabling users to apply their designs across websites, social media platforms, and other promotional channels.


Website Builder
A website builder is an all-in-one tool that builds websites without the need for manual coding. A good website builder includes some type of drag-and-drop functionality which allows you to build web pages and structure featured layouts easily. Many website builders incorporate a user-friendly interface that integrates with third-party tools and plugins that dramatically optimize the performance and enhance the functionality of your website.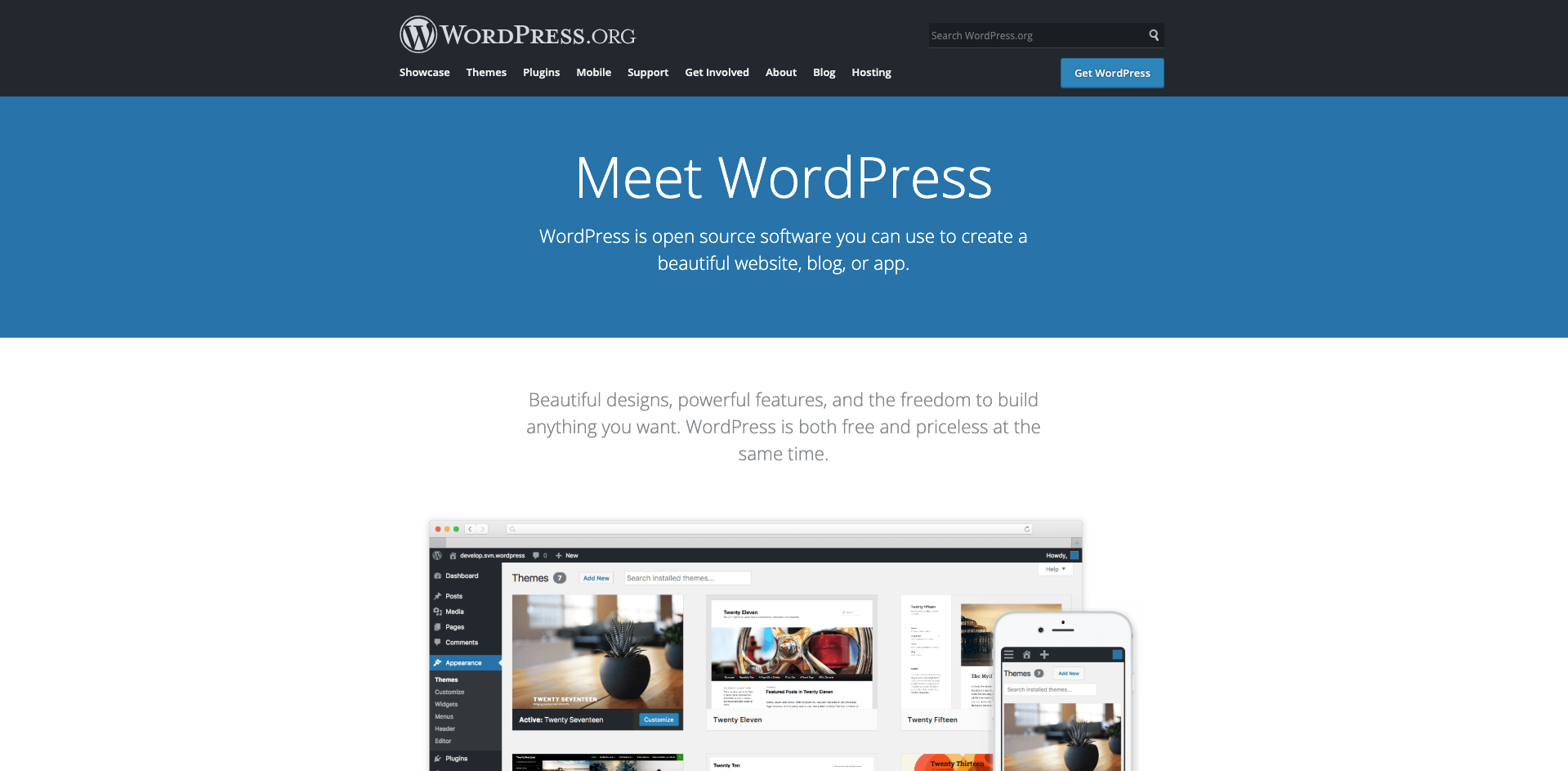 According to WordPress, 35% of all websites on the internet use its platform. Choose from more than 54,000 plugin tools—from online stores, image galleries, search and analytics tools, payment platforms, and more—that help showcase your products, services, content and more.
Plans
Basic: Free
Pro: 30-day trial then $10 per month
Enterprise: 30-day trial then $30 per month


33. accessiBe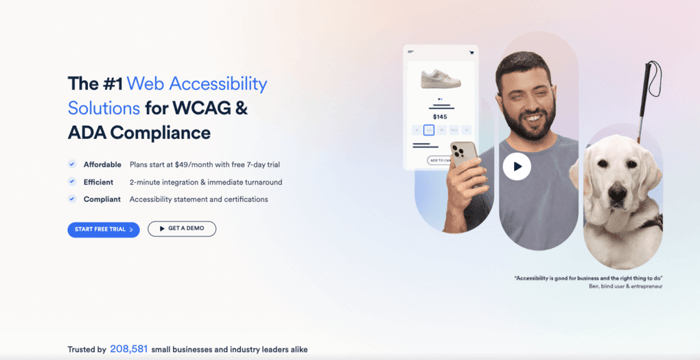 The vast majority of websites (including WordPress sites) are partially or fully inaccessible to people with certain disabilities. Many of the issues preventing a website from being accessible exist on a code level, and, until recently, would require extensive manual intervention to remediate. Today, website owners and developers can use powerful automated solutions like accessiBe. A leading web accessibility tool, accessiBe's widget, accessWidget is injected into a website's code, after which it quickly audits and remediates problematic code. Once installed, accessWidget also presents website visitors with an interface through which they can adjust design elements to fit their unique needs. These include stopping animations, increasing font size, adjusting color contrast, and many more cool features.
Plans
Plans start at $49 a month
QR Code Generator
34. Beaconstac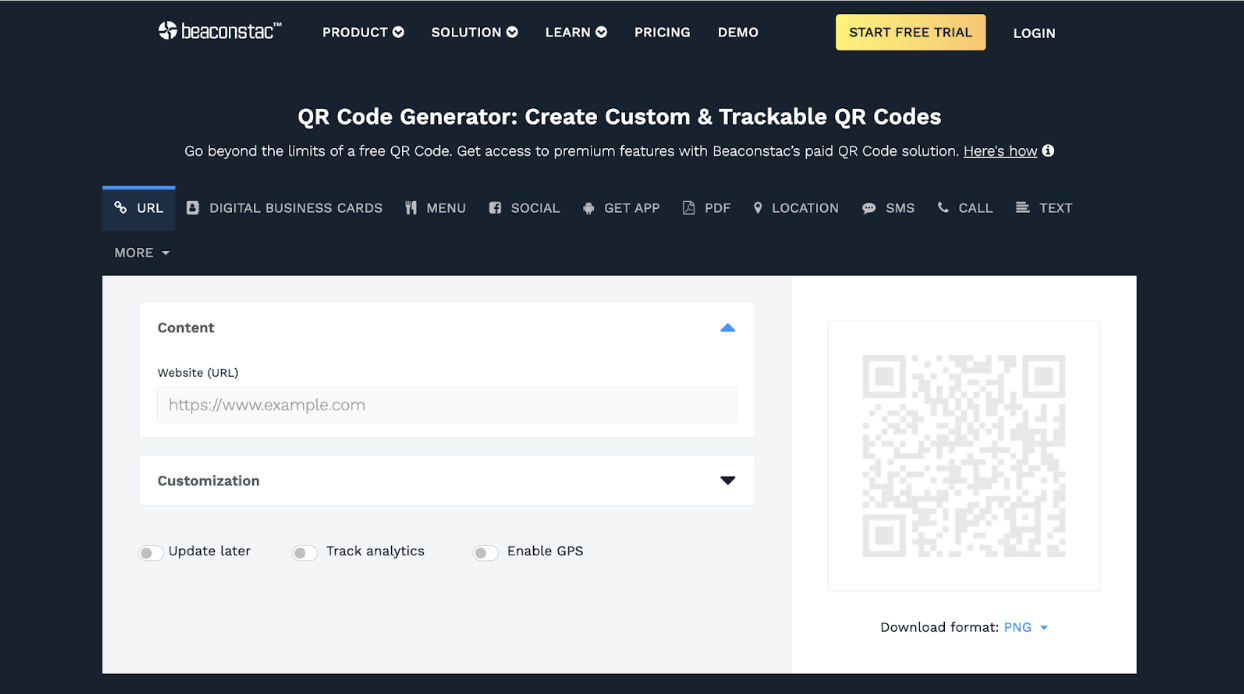 Beaconstac's QR Code generator is a popular solution that empowers you to create custom QR Codes with unparalleled ease and versatility. Whether you're a small business owner aiming to boost your marketing strategies or simply looking to share information swiftly, this generator has you covered.
With advanced customizations, you can create branded QR Codes by adding a logo, custom background, and CTA. The real-time scannability score ensures only fully functional QR Codes are deployed, eliminating the risk of faulty ones. Built-in analytics analyze your QR Code campaign's performance, and Google Analytics integration provides valuable insights into user behavior, click-through rates, and conversions.
You can rest easy with GDPR and SOC-2 Type II compliance, ensuring security and safety. Plus, the QR Code maker seamlessly integrates with over 5000 CRMs, sales, and HR tools, enabling you to scale up your business operations effortlessly. You can explore the complete potential of dynamic QR Codes with Beaconstac's feature-packed QR Code generator.
Plans:
14-day free trial available.
Starter: $5 per month.
Lite: $15 per month.
Pro: $49 per month.
Plus: $99 per month.
Enterprise: Contact the sales team for custom plans.


Website Host/Business Name Generator
Web hosting software and tools (or website hosting providers) enable businesses to host custom websites or web pages and store their data securely on a protected server network. Most hosting companies will also let you register a custom domain name.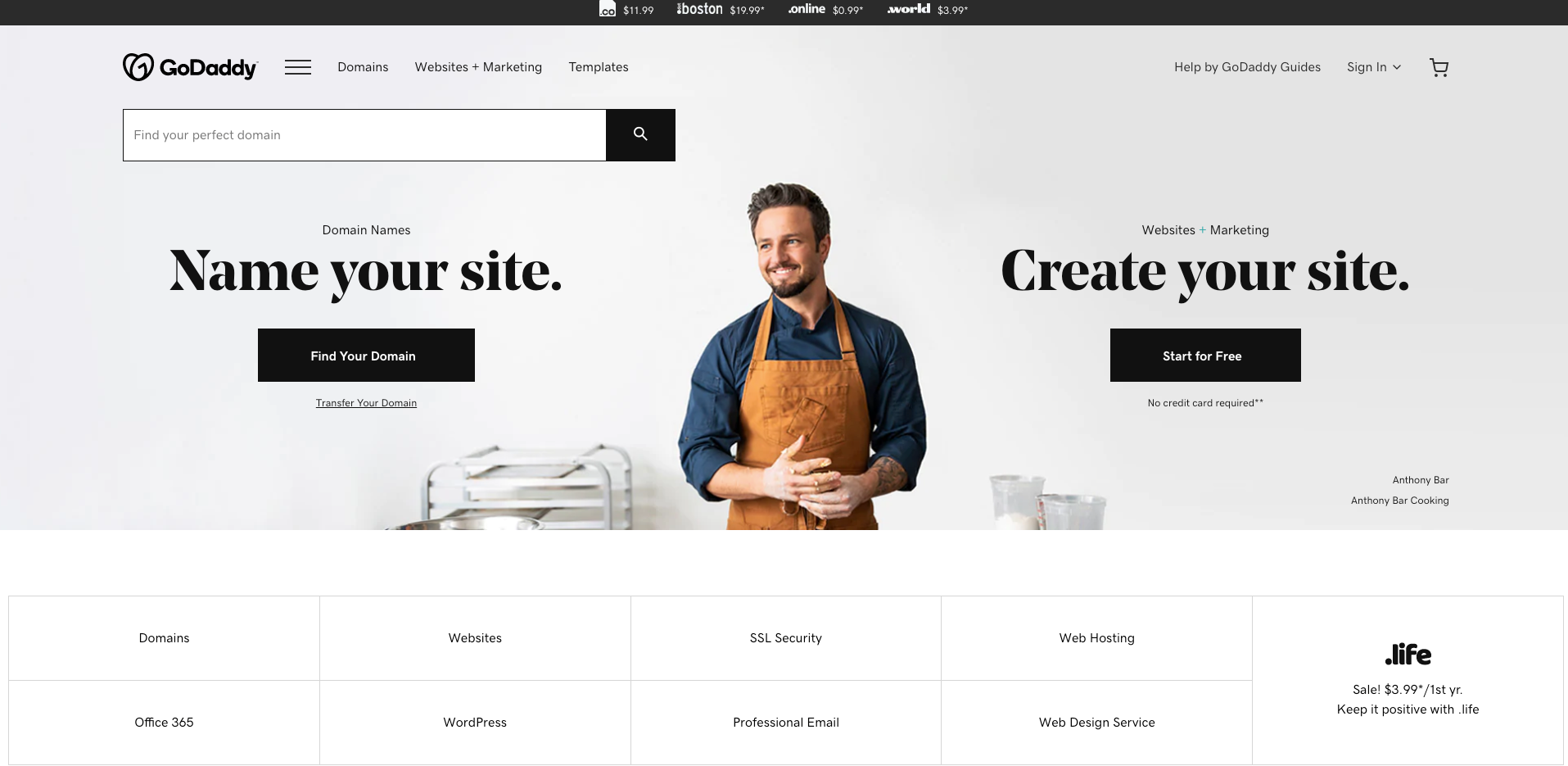 GoDaddy offers more than just a platform to build your website, it offers everything you need to create and run an effective, memorable online business. GoDaddy offers a wide range of affordable hosting plans that include powerful online marketing tools with personalized support.
Plans
Web Hosting: Starts at $6 per month
Wordpress Hosting: $7 per month
Business: Starting at $20 per month
36.
Renderforest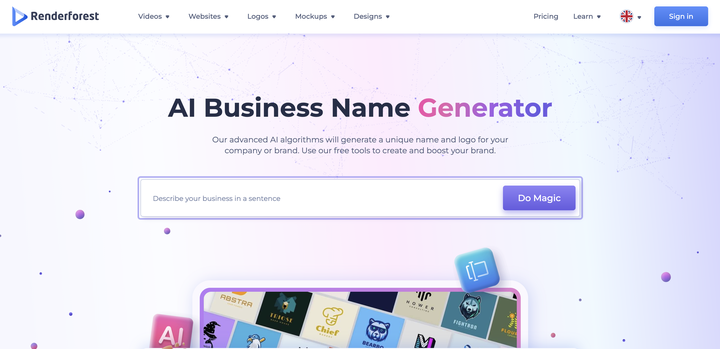 Renderforest's name generator for businesses is an advanced tool designed to help entrepreneurs and individuals find the best name for their businesses. Whether you're starting a new business, launching a product, or renaming an existing business, this tool offers a wealth of creative suggestions tailored to your industry and tastes. Enter relevant keywords, choose a business category, and specify your desired style, and AI will generate a wide range of unique name ideas. From catchy and modern to professional and sophisticated, Renderforest's business name generator assists the brainstorming process, saves time and helps entrepreneurs
Accounting software and tools for small businesses

Bookkeeping
Track your income and expenses. Manual bookkeeping creates a bottleneck at the end of the fiscal year whereas bookkeeping software allows you to create and maintain financial records throughout the year. This helps you monitor your financial records year-round which in turn helps you forecast and avoid critical errors and future problems.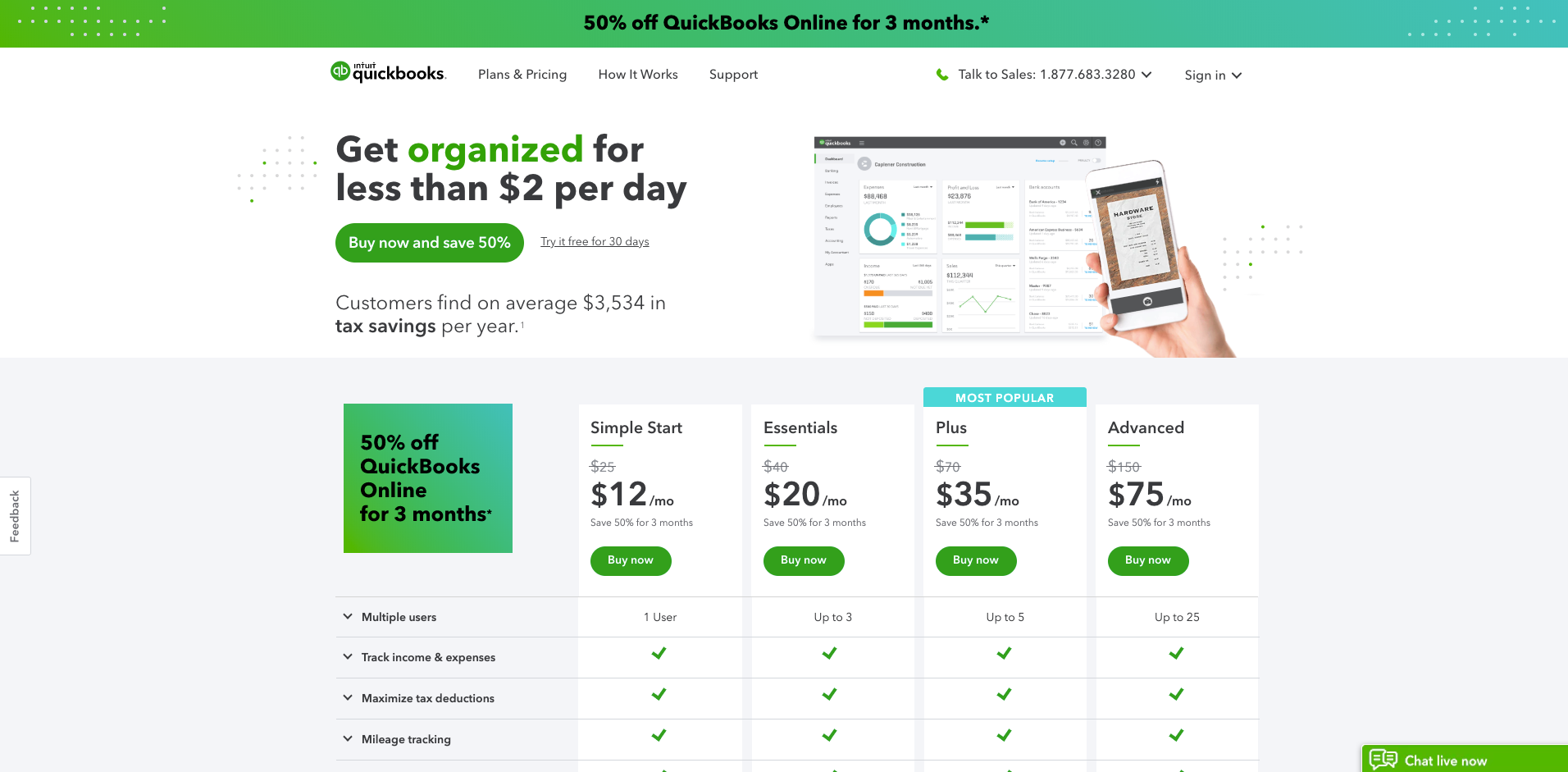 QuickBooks has been the holy grail of accounting software for some time and we don't think that's changed. Developed by trusted Intuit, QuickBooks is built for small and medium-sized businesses and billed as an all-in-one cloud-based accounting platform for everything from money management, bill pay, and payroll functions..
Plans
Simple Start: $12 per month
Essentials: $20 per month
Plus: $35 per month
Advanced: $75 per month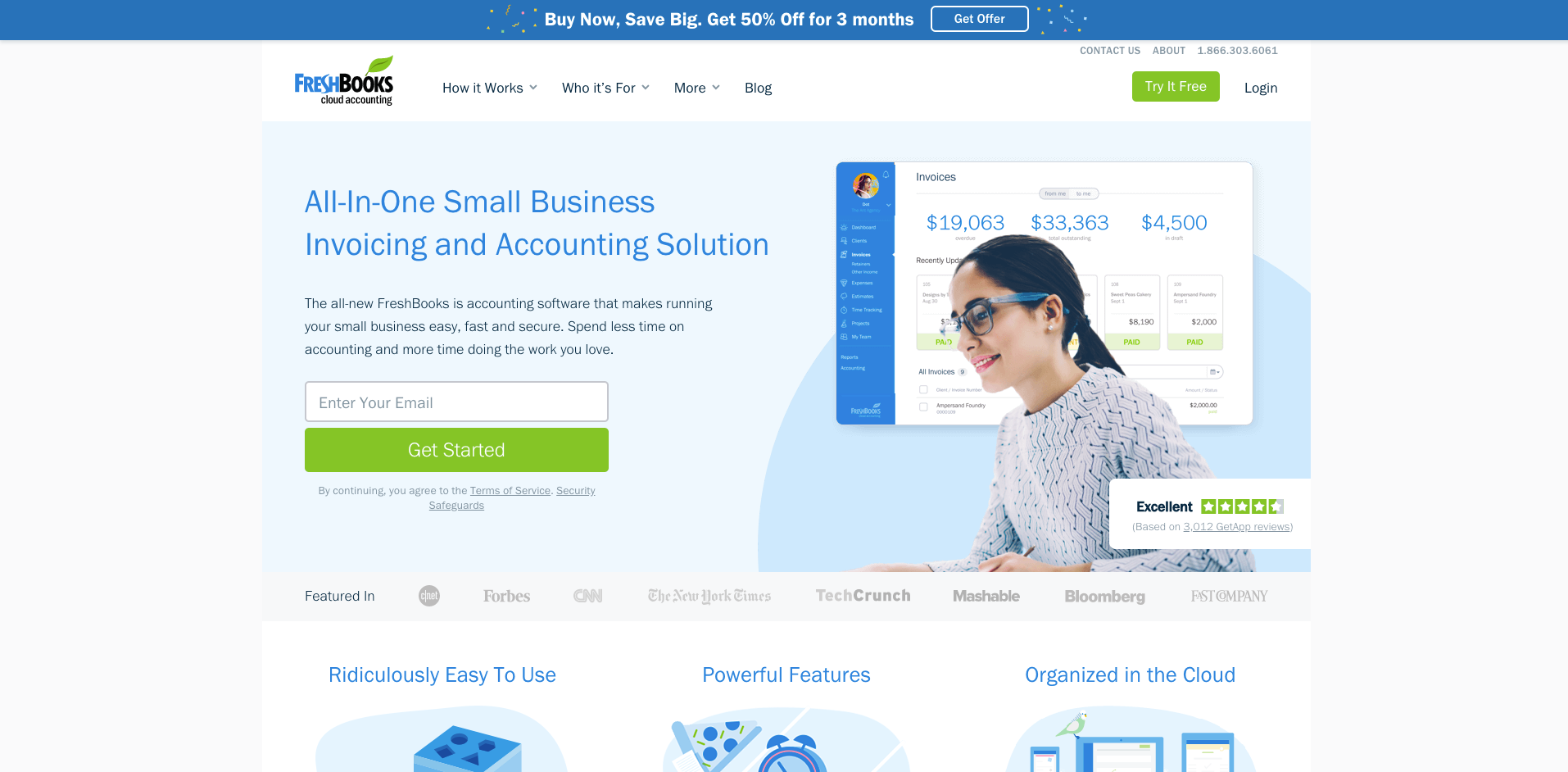 FreshBooks is an all-in-one cloud accounting software for entrepreneurs and small business teams. It completely automates administrative accounting tasks like tracking expenses, invoicing, and vendor relationship management. Its award-winning customer service is always free and supported by real humans, which for young businesses, is a saving grace.
Plans
Lite: $15 per month
Plus: $25 per month
Premium: $50 per month

Invoicing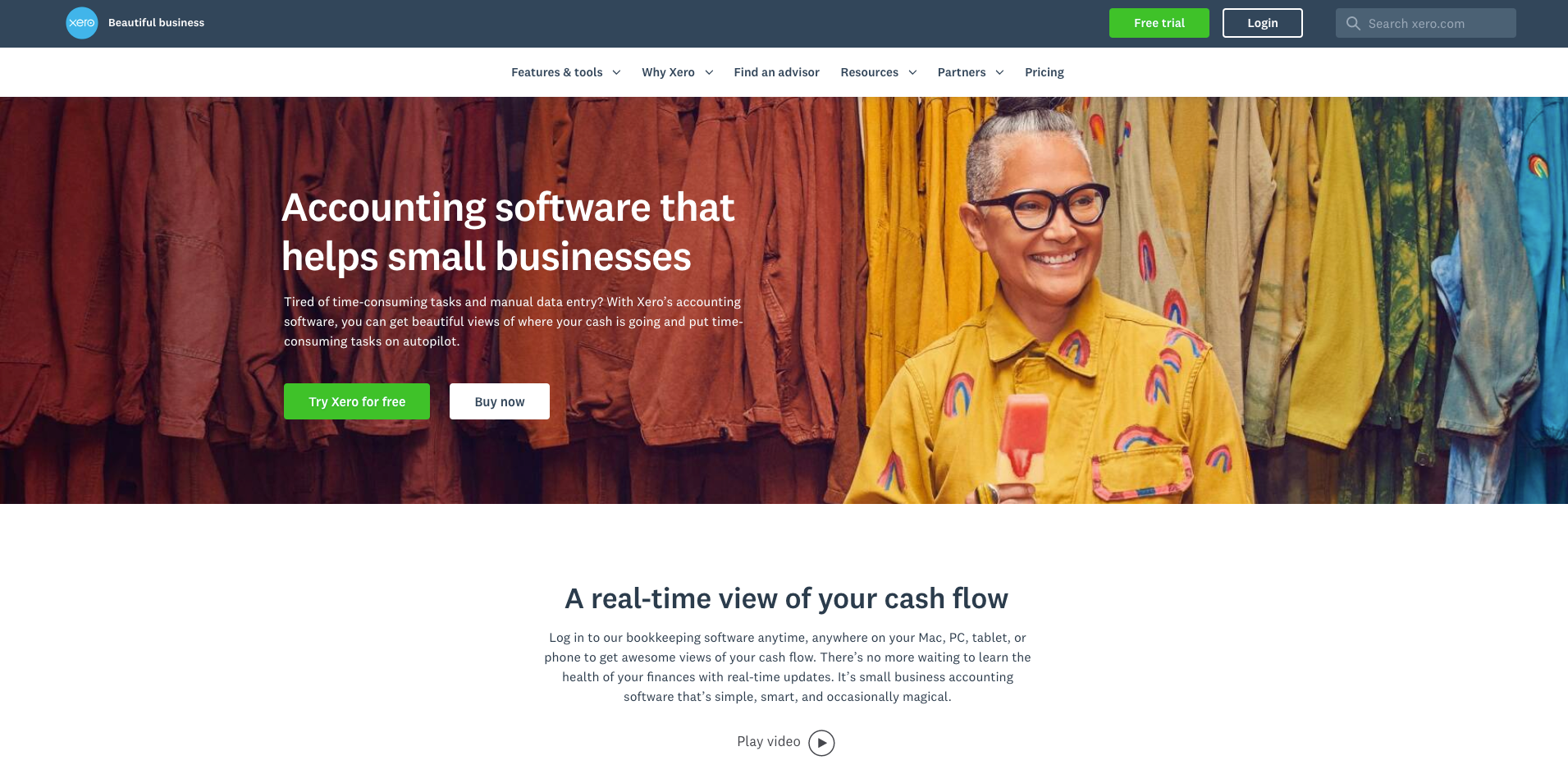 Millions of customers use Xero as their go-to accounting software. Its approach to accessibility provides ease of access for business owners and it's built to scale. But outside of QuickBooks, finding the right kind of accounting software that doesn't put Mac users at a disadvantage has always been a chore. Xero's cloud-based accounting software (available for both PC and Mac) is a full-suite solution that doesn't compromise functionality on a Mac or an iPhone.
Plans
Early: $9 per month
Growing: $30 per month
Established: $60 per month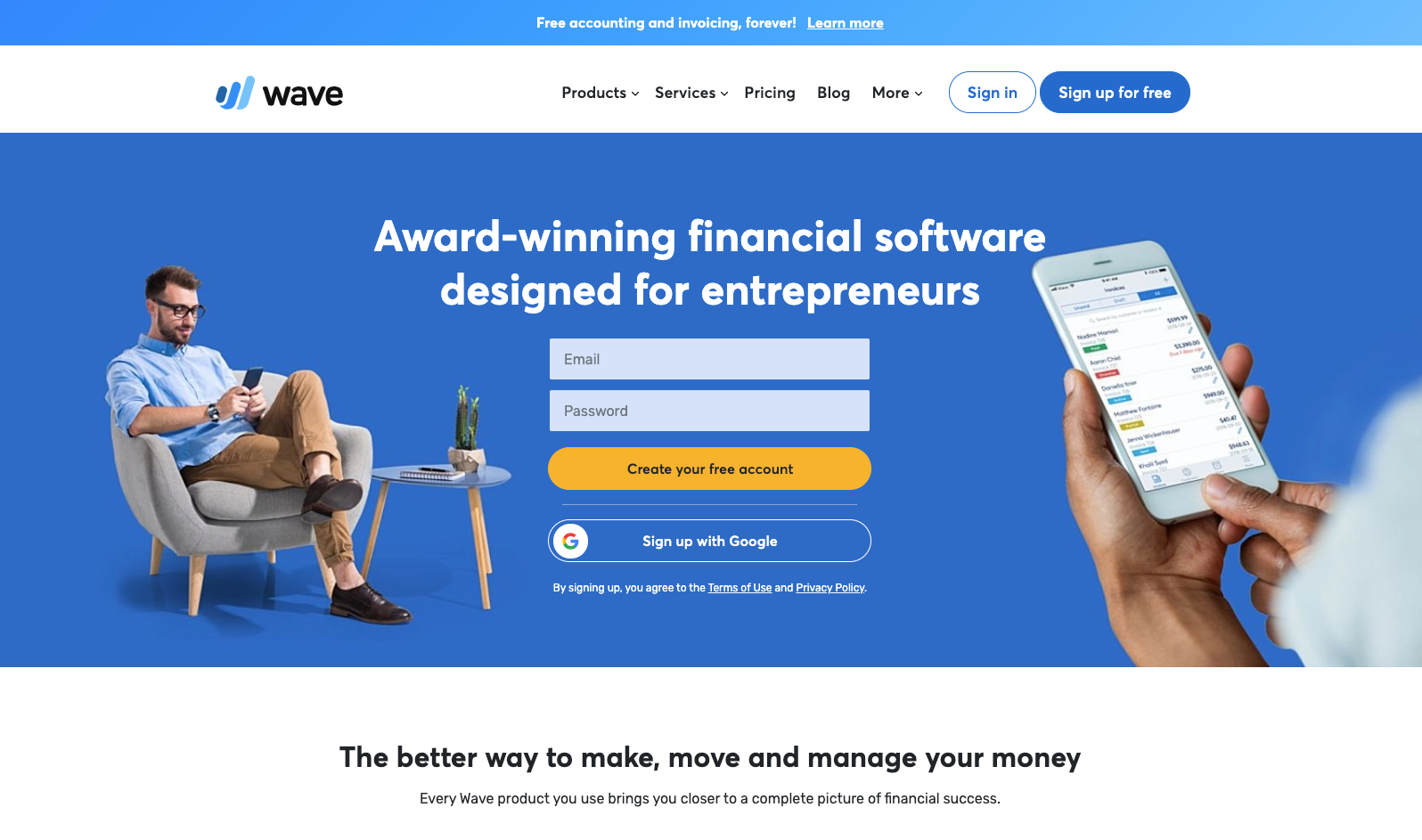 Wave is award-winning accounting software designed for entrepreneurs and the majority of its tools are absolutely free—invoicing, payments, payroll, receipts, and more. However, collecting payments via credit card or running payroll comes with a price tag. Wave's best feature is the ability to fully brand, customize, and personalize invoices with advanced features like recurring billing and automatic payments.
Plans
Basic: Free

Payments
Good payments software is the first and last line of defense when it comes to processing the money going in and going out of your business. Professional payments tools make it extremely easy to issue and collect all forms of payments and manage deductions.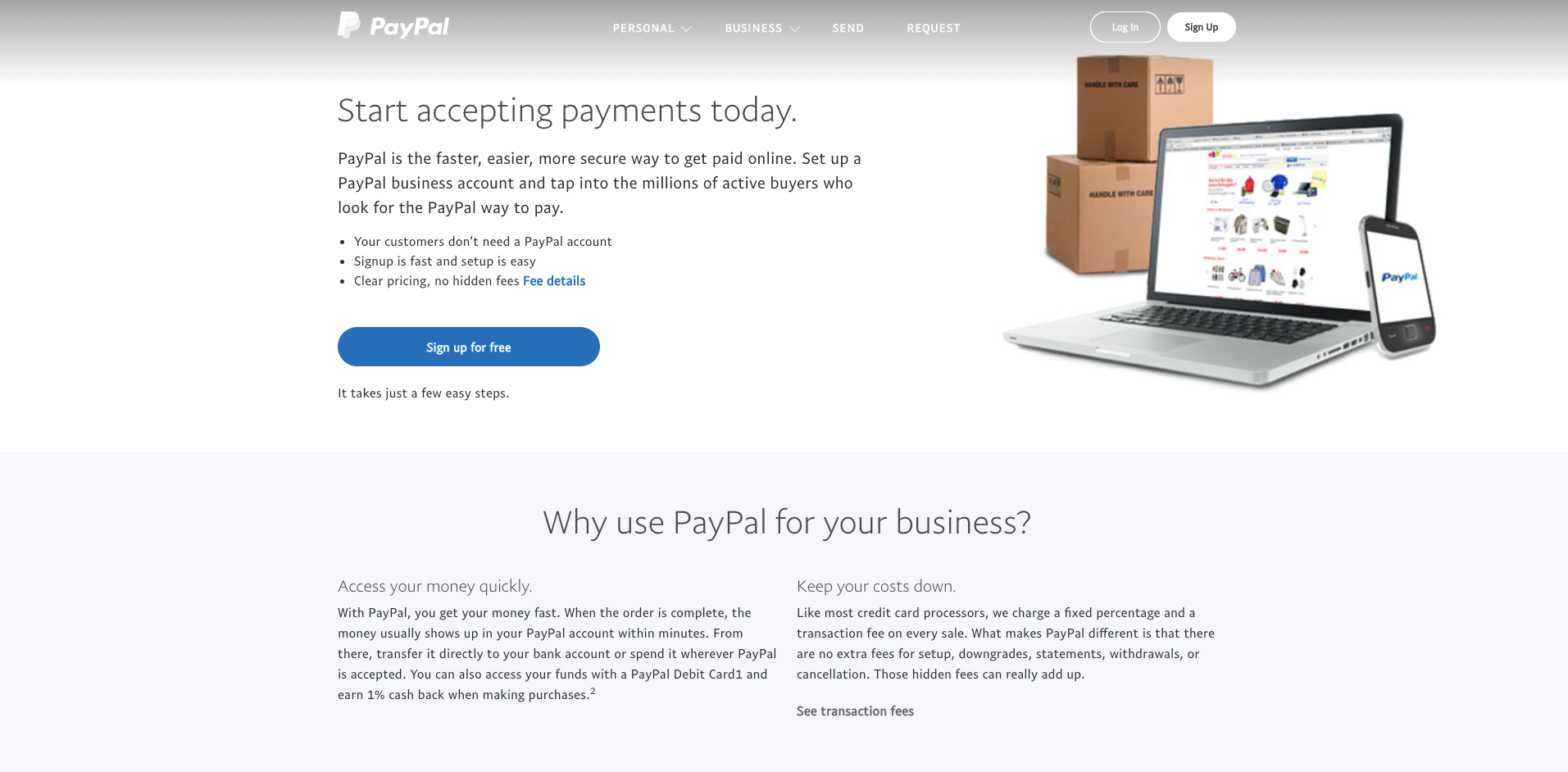 PayPal for business lets you accept all major forms of payment. Start accepting credit cards and PayPal payments or send invoices online and take payments from your mobile devices. Simply add the PayPal button to your website and give your customers a fast, safer way to pay.
Plans
Standard: $0 per month; 2.9% + $0.30 per transaction
Pro: $35 per month; 2.9% + $0.30 per transaction
Stripe helps power millions of small businesses in more than 100 countries and across nearly every industry. Start collecting payments via card, ACH, or other popular payment methods instantly. Stripe provides billing software for everything from per-seat pricing to metered billing out of the box. It also gives you the ability to set custom pricing, automate the collection process, and sync billing and payment data with your other accounting software and tools.
Plans
Payments: $0 per month; 2.9% + $0.30 per transaction

Tax Filing
As a small business owner, doing your taxes can be intimidating, but modern tax software can maximize your deductions and help alleviate your frustrations.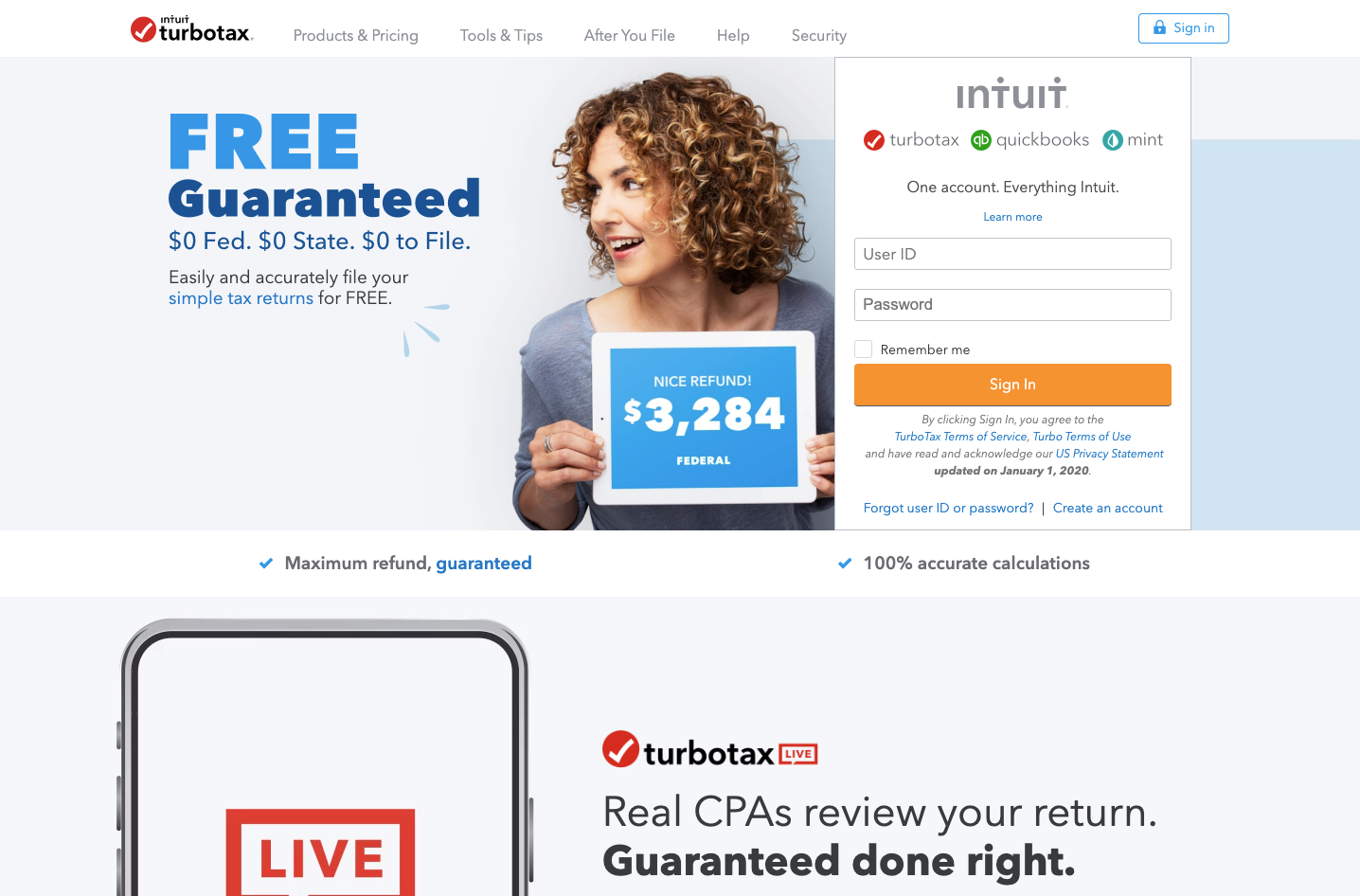 TurboTax saves you time by transferring last year's information into your TurboTax return. It'll automatically import your QuickBooks income and expense accounts and classify them for you, as well as walk you through all your deductible business expenses—from vehicle and supplies to advertising and travel.
Plans
Federal: $160
State: $50 per state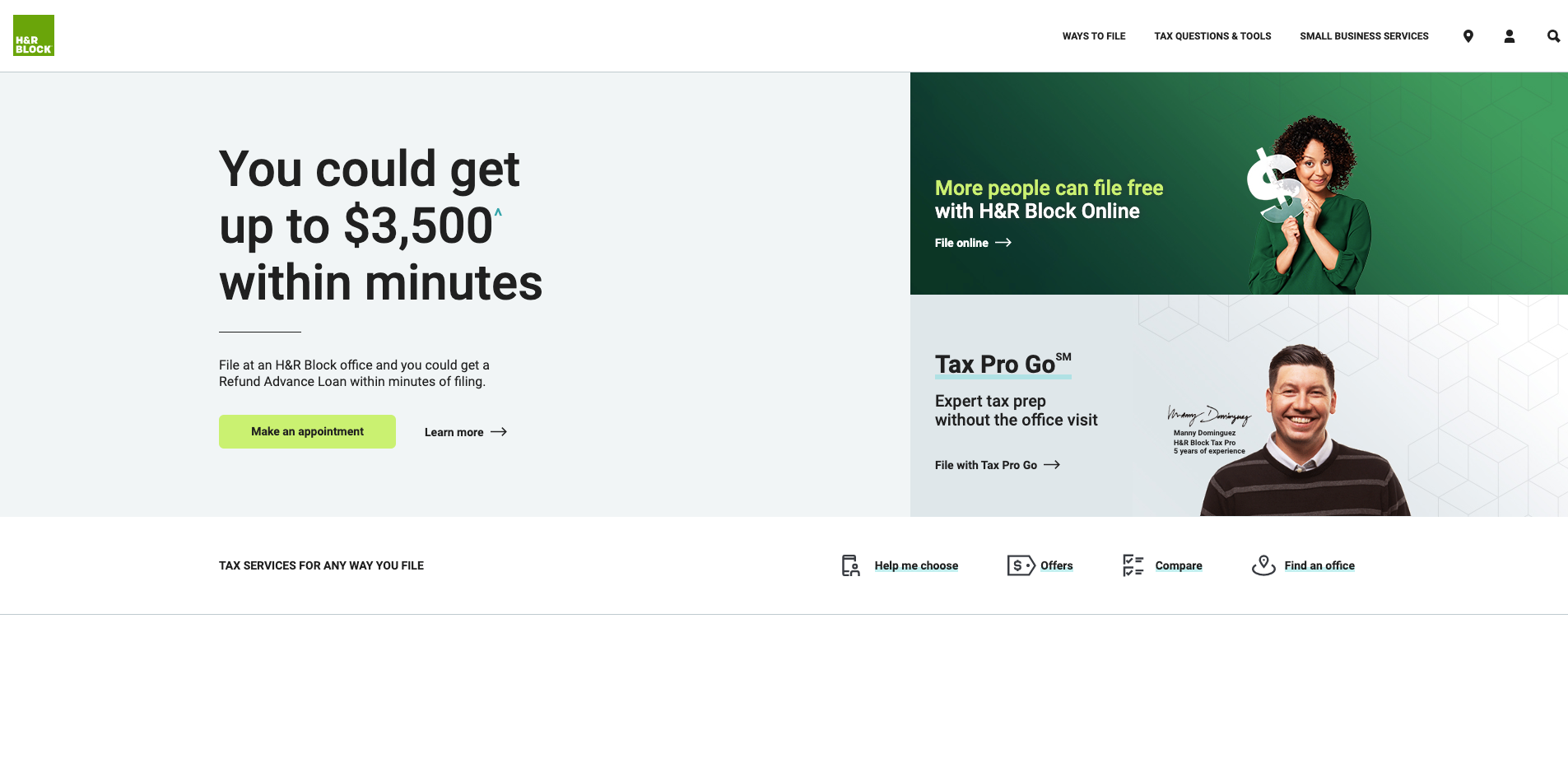 With over 60 years of tax preparation experience, H&R Block is dedicated to serving small business owners with industry-leading software, services, and in-person expert guidance to manage your business' tax needs.
Plans
Federal: $80
State: $37 per state
Operations software and tools for small businesses

Customer Service
Customer support software is a key business tool that allows you to manage customer service requests and track customer engagement using real-time reporting and response times. Most modern customer support software platforms incorporate a ticket system or a chatbot that utilizes process automation workflows to streamline communication and problem-solving.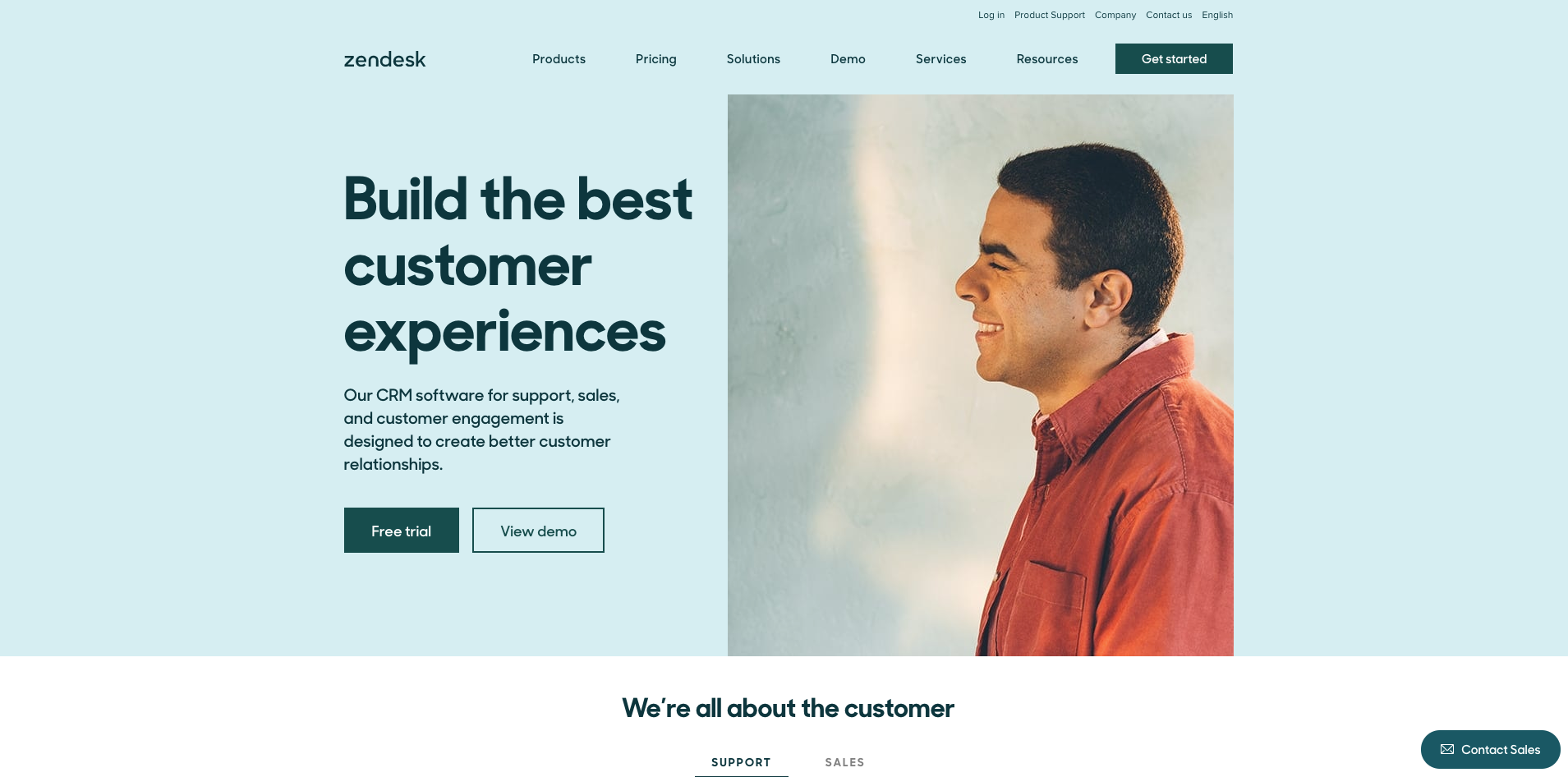 Zendesk is actually CRM software for support, sales, and customer engagement that's designed for small businesses to create better customer relationships—basically a CRM for customer support. You get an all-in-one help desk solution that generates insightful data on engagement that keeps customers happy and conversations flowing.
Plans
Essential: $5 per user/mo.
Team: $19 per user/mo.
Professional: $49 per user/mo.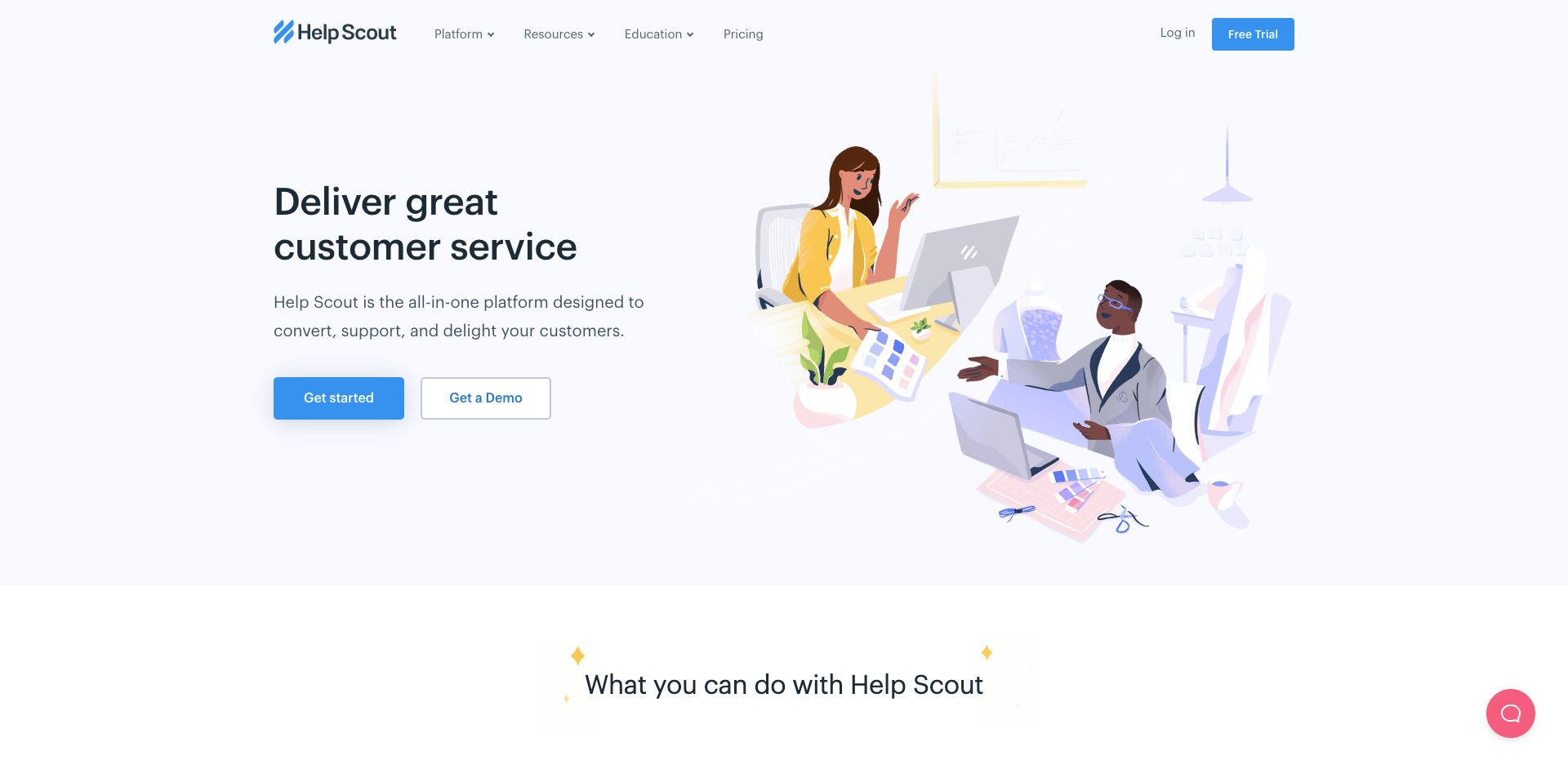 Help Scout is an all-in-one platform customer support tool designed for small businesses to convert and support your customers. Help Scout offers multi-channel support with email and chat, and additional self-service tools that compile customer data and activity to ensure a great customer lifecycle experience.
Plans
Standard: $20 per user/mo.
Plus: $35 per user/mo.

Contract Management
Legal documents like contracts and formal business filings require authorized signatures. Small businesses can think of contract management software as a digital filing cabinet for all the important documents that contain highly sensitive information.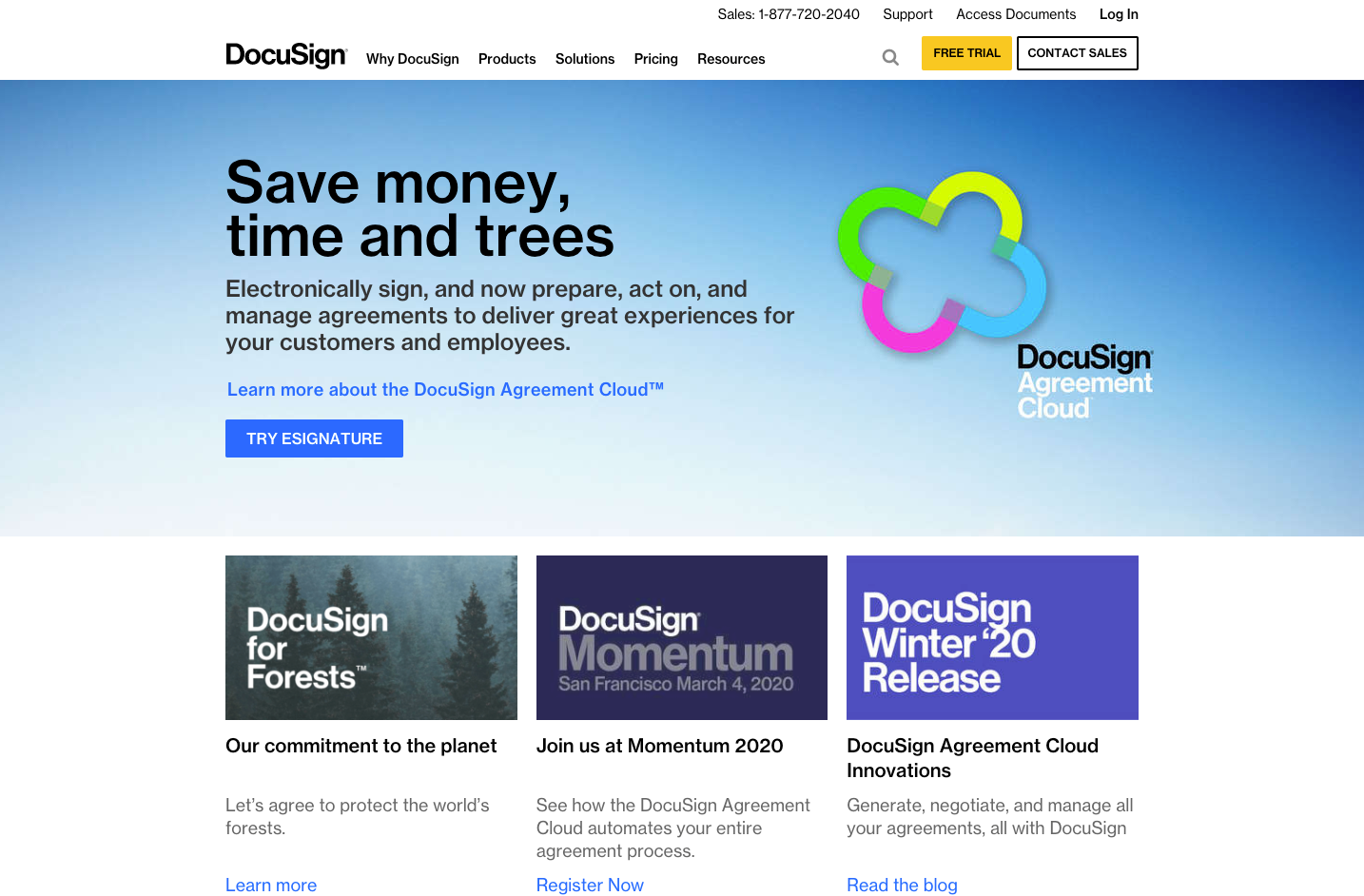 Whether you're approving a purchase, closing a sale, or signing an agreement, DocuSign enables anyone to electronically sign agreements from anywhere. Choose from more than a dozen applications and more than 350 different integrations, covering the entire agreement process—from preparing to signing, acting on, managing agreements, and more.
Plans
Personal: $10 per user/mo.
Standard: $25 per user/mo.
Business Pro: $40 per user/mo.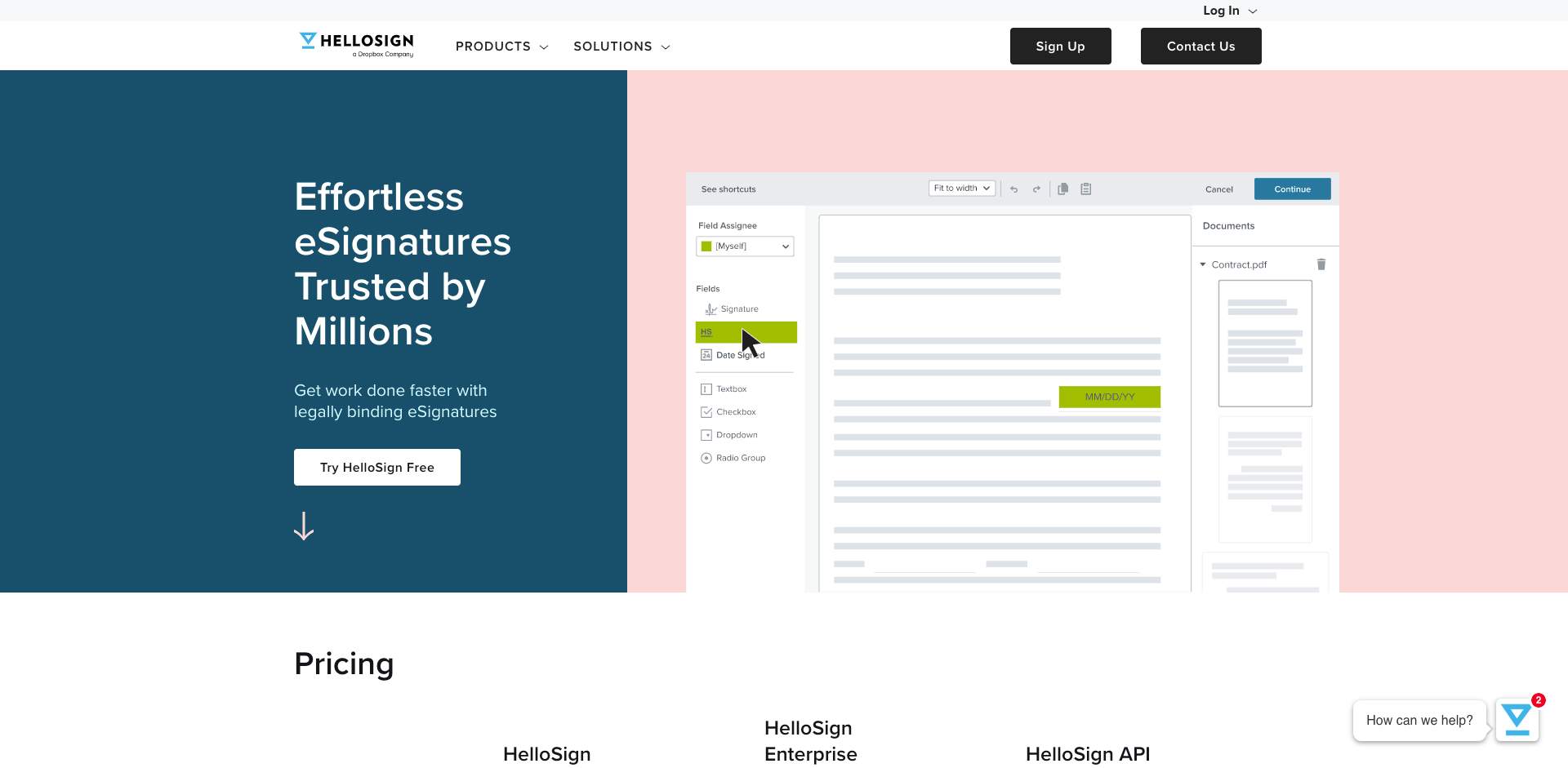 HelloSign makes it easy for small businesses to sign documents or request signatures from up to 20 different people in any order, or all at once. When the document is completed, everyone gets a copy delivered to their inbox. Check your document's progress with status notifications that keep you in the loop throughout the entire process.
Plans
Standard: $13 per user/mo.
Enterprise: $23 per user/mo.

Performance Management
For many small businesses, performance management tools help drive business decisions related to everything from mental health to career development to compensation. Performance reviews set clear expectations and guide employees down the right path by providing periodic feedback relating to the individual, team, and company-wide goals.
BambooHR's performance management software collects and organizes all kinds of information throughout the employee lifecycle—hiring, onboarding, evaluation, and more—and gives you the insights you need to support your most important asset: people. Its approach to performance management incorporates the latest tools for measuring engagement that helps you champion culture and drive organizational growth.
Plans
Essentials: $6 per employee/mo.
Advanced: $8 per employee/mo.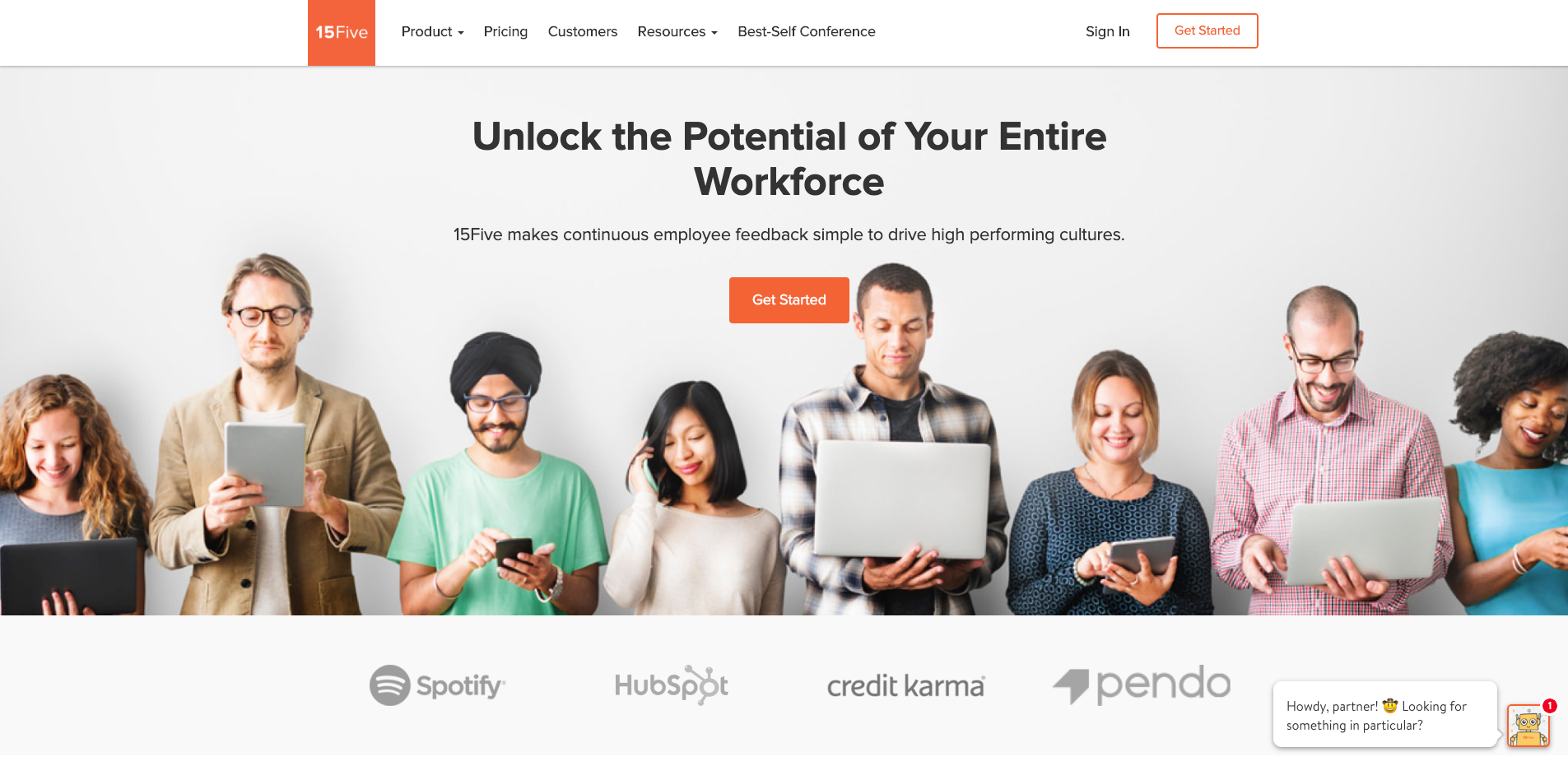 15Five is performance management software that brings the best out of your employees. Its holistic platform lets managers focus on individual and team growth and performance with weekly check-ins, progress updates, and real-time private and private feedback.
Plans
Basic: $7 per user/mo.
Plus: $14 per user/mo.

Recruitment
Recruiting is a human resources and operations management tactic that handles the process of posting jobs and acquiring talent. Recruitment software streamlines the entire candidate search and hiring process—from the job post to the job interview.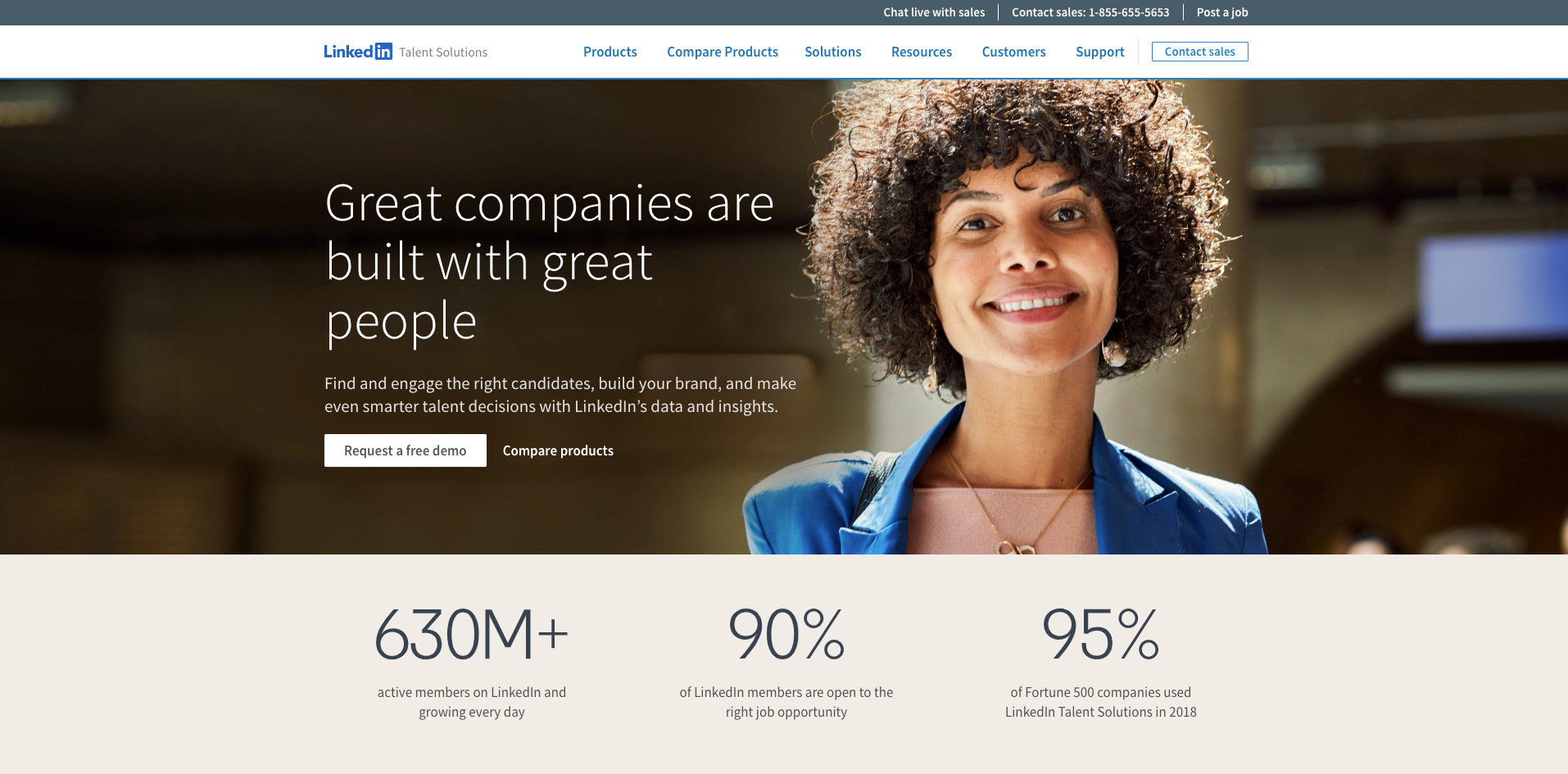 LinkedIn's recruiter tools help you source the right candidates faster by searching beyond your personal connections with more than 500 million LinkedIn members. Its 20-plus simple-to-use filters and smart recommendations lets you create a search based on ideal candidates you may know and contact them directly on LinkedIn using customized templates. Build, track and manage your workflow with folders, reminders, and to-do lists.
Plans
LinkedIn Lite: $100 per month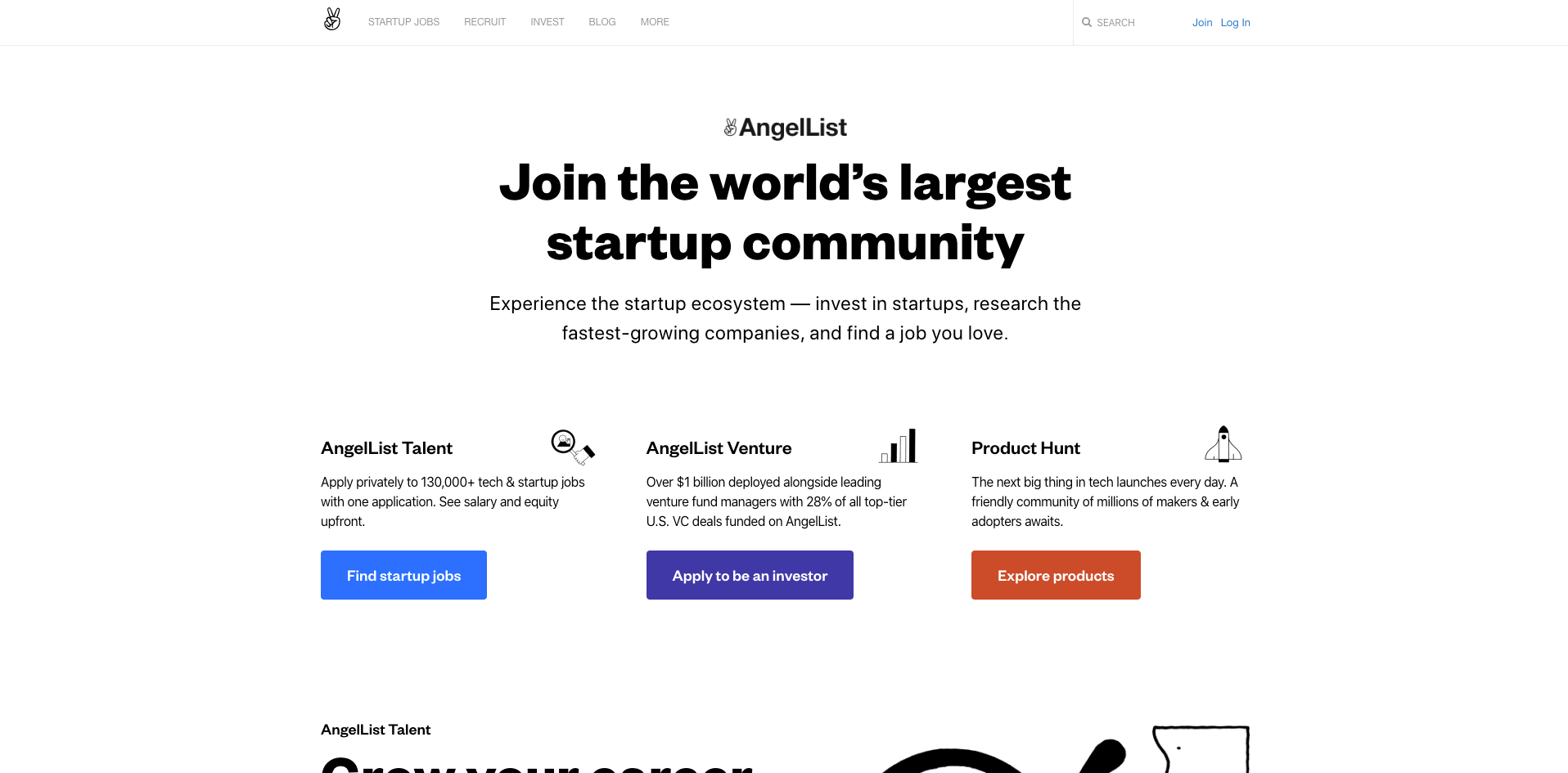 AngelList is more than just an angel investment platform, it's a powerful recruiting tool for startups and small businesses—and a goldmine for top talent. From seed-stage to post-IPO, 36,000+ of the world's top startups have built their teams using AngelList.
Plans
Basic: Free
Source: $200 per month
A-List: 20% per hire

Learning and Development
Providing on-the-job training and investing in employee development and growth is part of a winning operational approach that cultivates core culture and grooms budding talent.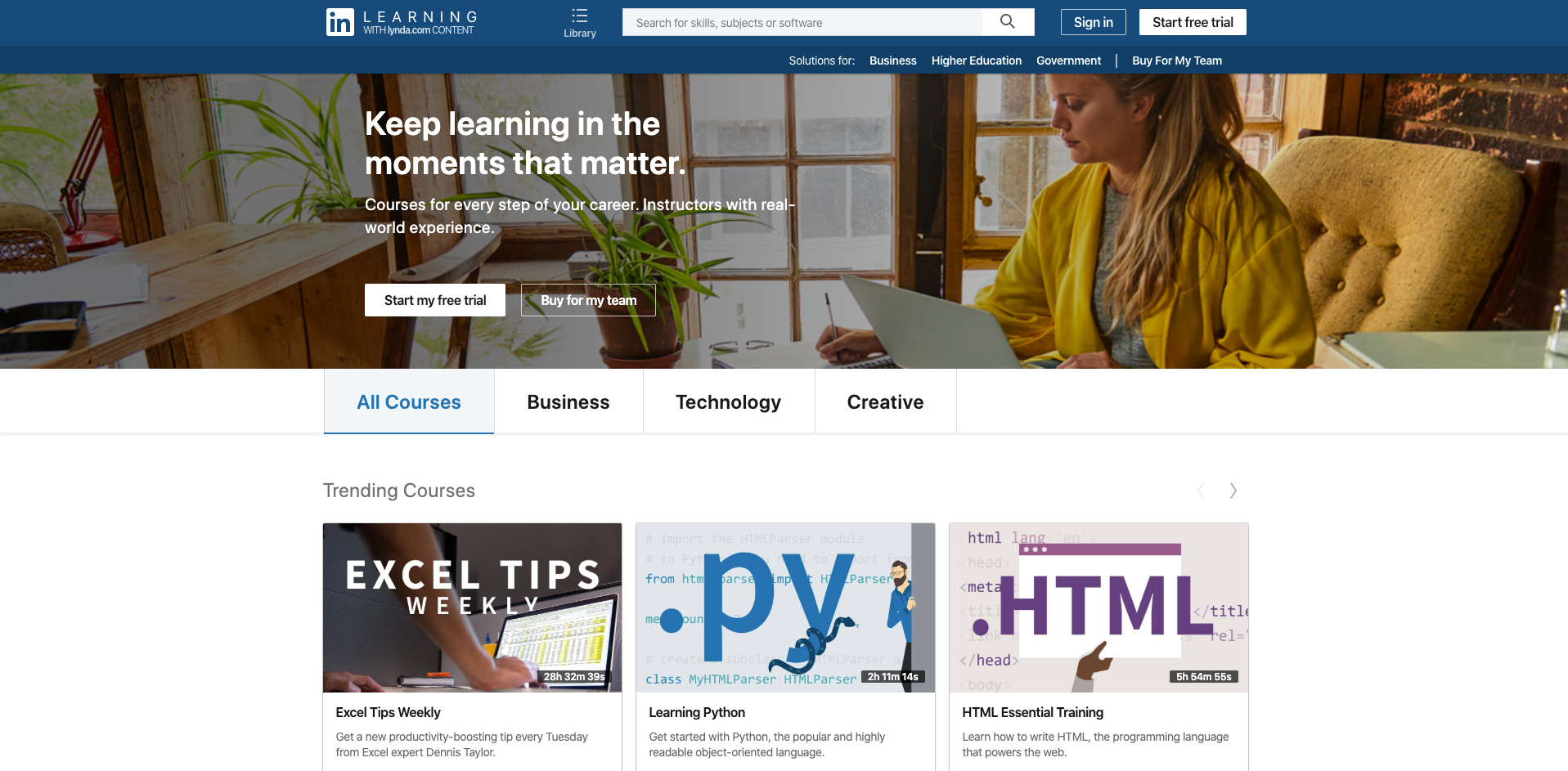 LinkedIn is the world's largest professional network with nearly 660+ million users worldwide. Formerly Lynda.com, LinkedIn Learning lets you pick and choose the courses you want—from business, engineering, creative, and more—and as many as you want for one affordable monthly cost. Choose from a huge depository of professional courses online and complete them at your own pace.

Plans
Monthly: 30-day trial then $30 per month
Annually: 30-day trial then $20 per month
General Assembly is a leading source for training, staffing, and career transitioning. It specializes in today's most in-demand skills from web development, data, design, digital marketing, business, and more. Businesses can leverage its 40,000-plus professional alumni to provide mentorship, help employees fill skills gaps, and foster a culture of lifelong learning.
Plans
Varies by course
Please bookmark this page to come back to it later. We will continue to update
it with new information on plans and pricing as it becomes available.