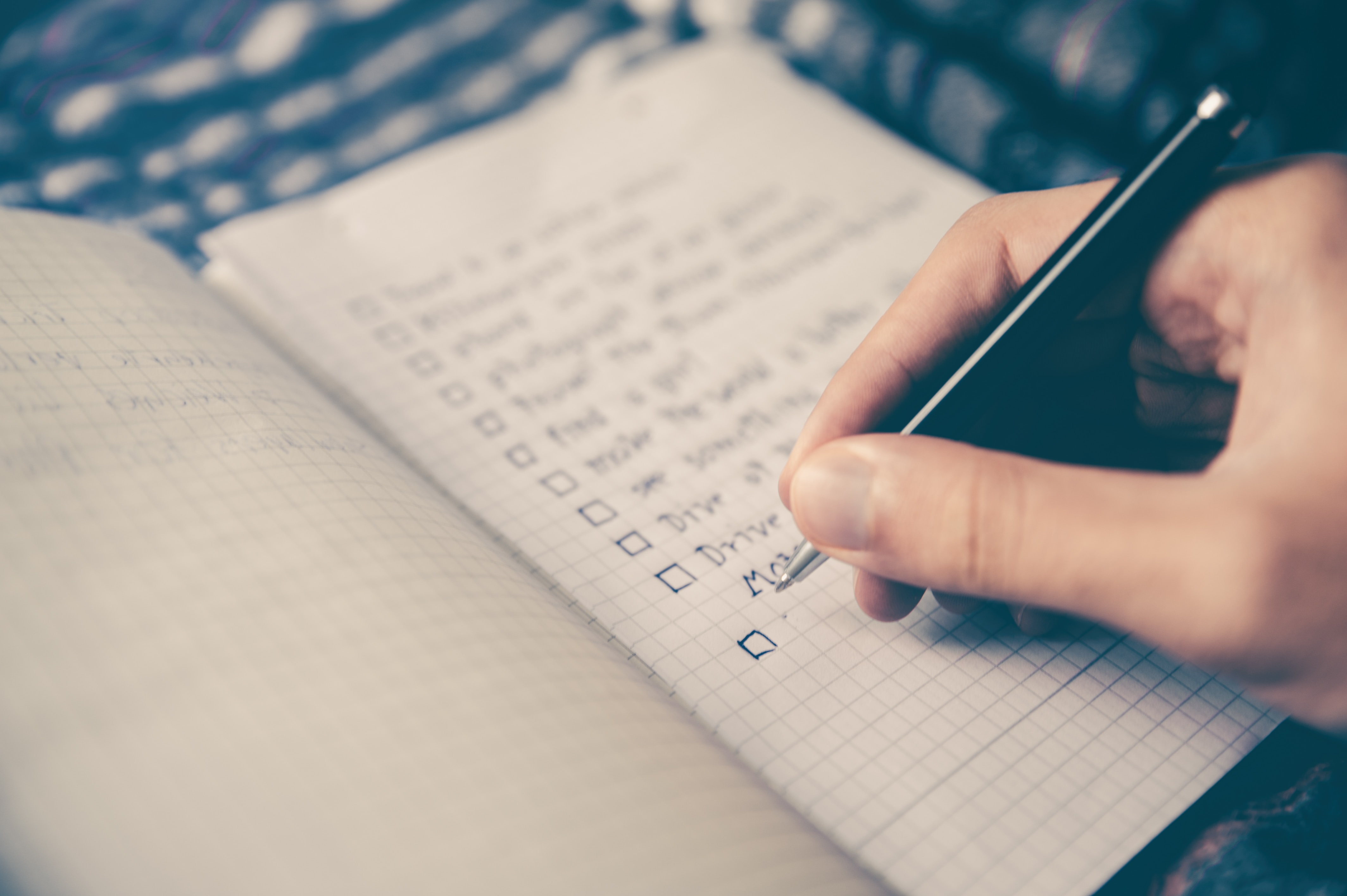 Photo by Glenn Carstens-Peters on Unsplash
Your holiday gift-giving is out of the way and you're ready to make a New Year's resolution—or 10. Once you've gotten through the grueling process of narrowing down your resolutions, it's time to make a plan on how you'll achieve them. That, of course, is no easy feat.
Only 8% of people report accomplishing their New Year's resolutions. Luckily, we live in a tech-driven era filled with productivity tools that make our lives easier. If these tools can help you in your day-to-day work life, they're sure to help with your New Year's resolutions.
Here are 17 productivity tools to help make your New Year's resolutions a reality, so you can focus on what matters most.
Top tools for tracking your productivity:
Trello
Take it from this writer—Trello is the tool for getting stuff done. Its easy-to-learn card system means you can see everything you need to do as soon as you open your board. Users can create a board just for themselves, or add a team to a board to collaborate together.
Trello's "power-ups" connect the tools you use every day, like Google Drive, Twitter, or Salesforce, to make your workflow even easier.
Plus, Trello doesn't have to be all about work—it can help you plan a trip, plan a wedding, or even manage your chores. So you can tackle your work resolutions and your personal ones all at once.
Asana
Asana, like Trello, is all about organizing your work. The tool is best for teams that work closely together—like a project team or a department. In fact, the Flock team uses Asana to manage our editorial calendar!
Asana's subtasks are the secret sauce to managing projects and smaller tasks. Being able to check things off as you complete them—and having individual due dates for each subtask—helps you plan out everything you need to do and make your plan of attack.
TeamGantt
Boards, lists, and cards are all the rage these days, but Gantt charts haven't gone away. The classic project view across a timeline is helpful for scheduling out your work, and TeamGantt is a great tool for you to make a working schedule with your team.
TeamGantt boasts its intuitive UI, which includes drag-and-drop scheduling and "presentation-ready" project charts. And the main Gantt view lets everyone see each team member's delegated tasks and their workload for the day.
Monday.com
Monday.com takes all the best parts of team management software like Trello and Asana and folds them all into one platform. Track your progress in an assortment of views, from Kanban flows to Gantt charts to a map view. That way, everyone on your team can manage their tasks in a way that works best for them.
Harvest
Harvest is a time tracking software program with time-saving benefits. Not only do you get to see exactly how much time you spend on your projects, but you can also use the recorded timesheets to invoice your clients directly.
Beyond that, Harvest lets you observe what your team members are spending time on, so you can better schedule out deadlines, keep your projects on track, and make sure your team isn't burning out. And Harvest's integrations let you track time from the tools you already use, limiting context switching and helping you get work done faster.
Pro tip: Install the Harvest Chrome extension to track your tasks as you bounce around your browser.
Timely
Timely, like Harvest, tracks the time you spend on your work as you go. One added benefit to Timely is its AI-driven tracking that monitors your online activity and categorizes the work for you—no starting and stopping timers (or forgetting that you had one running!). The "Memory AI" helps both individuals and teams take a retroactive look at the day and record and organize the work you're doing.
Quick reporting on Timely makes it easy to both draft invoices and track teamwork to avoid burnout. That means less time spent on crafting the perfect pivot table.
Todoist
Track your New Year's resolutions step-by-step with Todoist. Bring your to-dos and gotta-dos to the next level by adding your tasks to the simple interface and check them off as you go.
Have multiple resolutions? Todoist lets you categorize and label your tasks based on different goals, so you can track your workflow, your personal projects, and even your grocery lists. Use Todoist's built-in templates to get a head start.
Evernote
Notetakers, rejoice! Evernote is built with the "I've gotta write this down" folks in mind. The seamless experience allows you to access your notes at any time on any device, even offline. With a free account, you can journal your resolution progress, set reminders, record memos, clip web pages, and jot down lists. You'll never want to use a paper notebook again.
Cool feature alert: Evernote can even read your handwritten notes using your smartphone's built-in camera.
IFTTT
Here at Flock, we love process automation—anything that brings all your regular routines together is worth investing in productivity. That's where IFTTT comes in. IFTTT, which stands for "if this, then that," takes the apps and tools you regularly use and connects them through cause-and-effect automation. So if your resolution is to make a scrapbook of the year's travels, you can set up your Instagram photos to automatically backup in Google photos so you can print them out at the end of the year. Or if your goal is simply to get to work on time, IFTTT will launch Google Maps on your phone when it's time to leave the house. It's really that simple.
Zapier
Zapier is another automated workflow tool, built with your business in mind. From email to CRMs to Dropbox, Zapier provides one-to-one connections with the apps you use for work, helping you clear away the busy work and focus on what really matters. And plenty of the apps that integrate with Zapier we've already covered!
Notion
Our customer support team calls Notion the Swiss army knife of productivity tools. Its seamless combination of tools, including Evernote, Trello, and Todoist, makes it easy to get everything you need done all in one place. The team here uses it for various projects, both collaborative and personal—meeting notes, project management, and more. What really makes Notion stand out, though, is its knowledge base function, which offers both an internal wiki and also allows cross-team skill sharing to help your team grow together.

Top tools for keeping your focus:
Canva
Canva is more than just a tool for quick designs. Did you know that Canva has its own Personal Planner Maker? It helps you make a beautiful daily, weekly, or monthly planner that is customized to your needs. No more running out of space in your paper planner—include the grid space you need and the tools you need, like to-do lists or open note sections. And Canva's pre-filled templates and image library make it easy to do.
Shift
Shift is a condensed workspace that brings all your apps and workflows into one window for your viewing pleasure. Forget context switching, Shift gives you access to more than 1,000 of your favorite web apps, tools, and extensions in one digital workspace. No more logging in and out of accounts or getting caught in a browser tab shuffle!
Brain.fm
Did you know music can boost your productivity? Brain.fm is on top of it with patents on original, functional music that helps you focus. The platform works with neuroscientists and psychologists to develop music and other sounds that are scientifically tested and proven to kickstart productivity. New users get five sessions free—now that's a no-brainer.
myNoise
Is music a bit too distracting for you? The myNoise app has a more palatable solution. It provides multiple sound environments to drown out background noise or adds some if you need it. From simple white noise and rain sounds to the soundscape of a bustling cafe, myNoise lets you control what you hear and save your preferences. Use it to concentrate on your next masterpiece or to get the sleep you've resolved for in 2020.
focus booster
It's not just a tomato—the Pomodoro technique is a time-management lifesaver for busy folks who can't focus on one thing. That's focus booster's specialty, timing your workflow while also tracking your productivity. The focus booster app takes the time tracked and packages it into a handy dashboard that helps you map out the days and times when you're most productive—and it shows you just how much progress you've made.
Freedom
Sorry to break it to you, but the biggest barrier to your success is probably yourself. In this plugged-in era, it's easy to get distracted by your notifications or websites you love the most. Freedom takes care of that by blocking access to websites, apps, and more, giving you back control of your attention span and refocusing it towards what matters. And you can even set up Freedom to prevent you from turning it off. Now that's productive.