Choosing the right communication software for your business shouldn't be a problem, it should help you solve problems. A big piece to solving that puzzle is knowing which features your teams require so you can go all-in on the communication tools you need.
But every communication tool is different. The trick is being able to leverage the different features each has to offer.
What communication software features does my team need?
There are many secrets to effective team communication. The first step to determining what communication software features your team needs is to better understand the key benefits of the most important ones.
Here are the top 10 communication software features for small businesses.
1. Direct and group messaging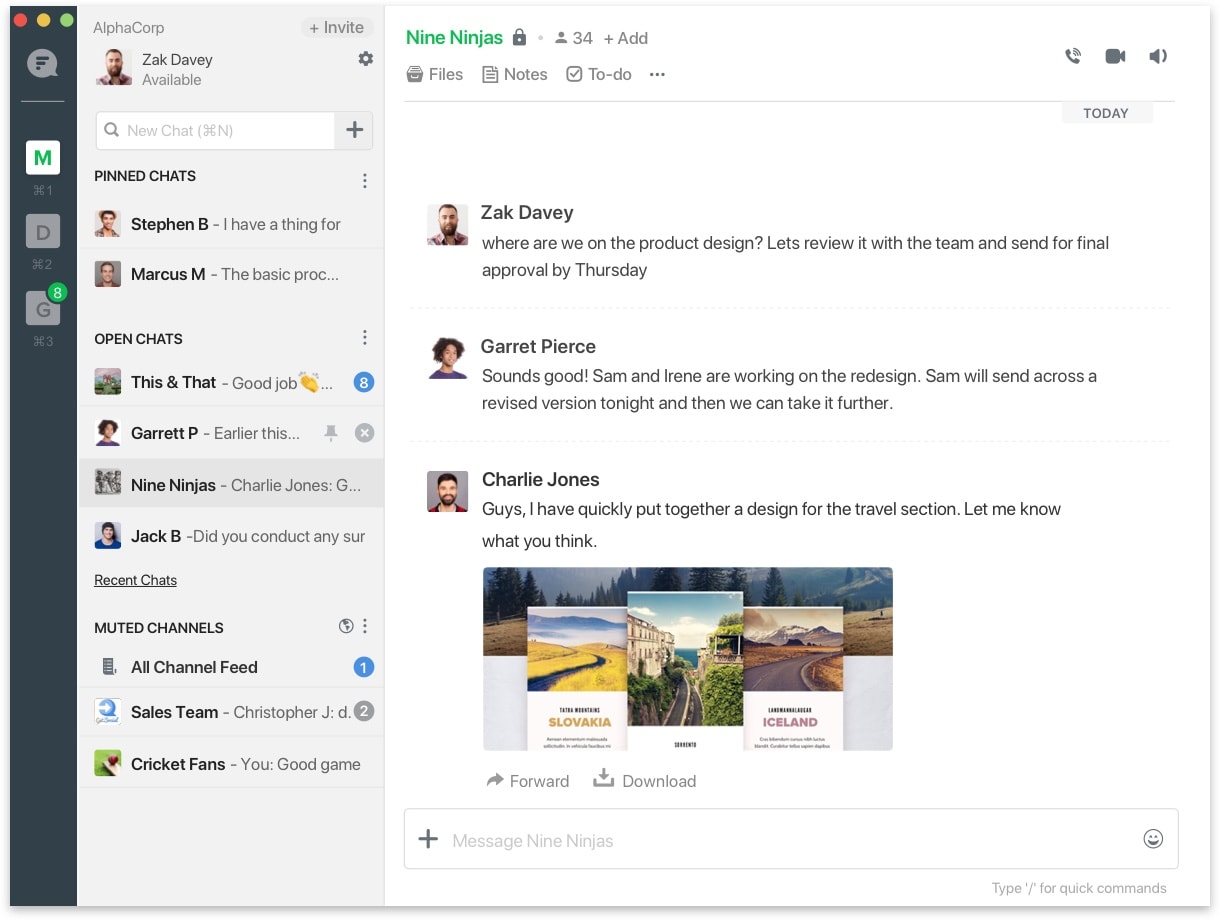 Easily the most important feature every small business communication tool should have is messaging. Direct messaging or instant messaging lets you communicate one-on-one with your teammates. Group messaging expands on that feature by connecting you to the entire team.
The ability to communicate with your team in real-time from your computer or smartphone is critical, and small businesses need more than just email alone. With Flock, you can begin a chat with anyone on your team by simply creating a channel. Use a private channel for focused discussions, or a public one to let your teammates easily discover and join meaningful conversations.
2. Video chat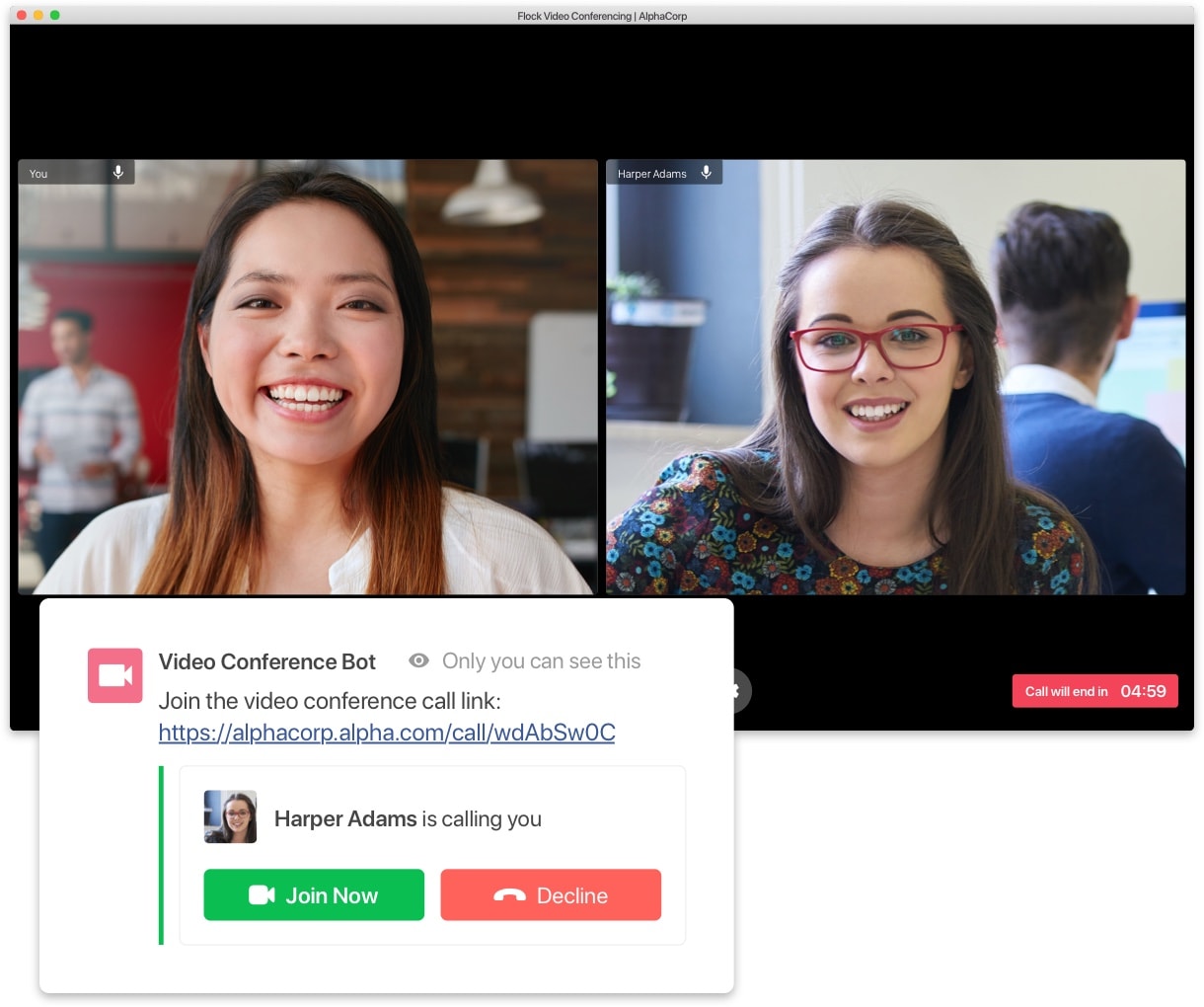 You can take direct messaging to the next level when you have direct messaging also means having the ability to connect with your remote team over video from anywhere. Not having a straightforward video chat solution will turn out to be a nightmare if you need to have a face-to-face with a direct report or a more meaningful group conversation.
The best video conference features will let you initiate a video call with one click, but the right communication software will allow you to start the video call from within an existing chat. If the communication tool you're using doesn't let you start a video chat with one click directly in an existing conversation, then there's likely a better option out there.
3. Screen-sharing
The other benefit of having a reliable video chat feature is screen-sharing. The ability to share your screen directly in a conversation (even from your smartphone) is an invaluable convenience when you need to pull up a report or review an important doc in the middle of a meeting. Not having to switch to another app or leave your existing video chat saves time, preserves momentum, and keeps everyone on the same screen, even on the go.
4. Audio conferencing
Direct voice and audio calling should come standard with any communication software tool on your radar. If you ever need to clarify a point on the spot or quickly follow-up on a conversation you're having, inviting your team to an audio conference makes sense when jumping on video won't work.
This simple feature is great for remote teams to be able to dial in directly from your desktop or mobile device without having to set up an external app or a separate line of communication.

5. Secure file sharing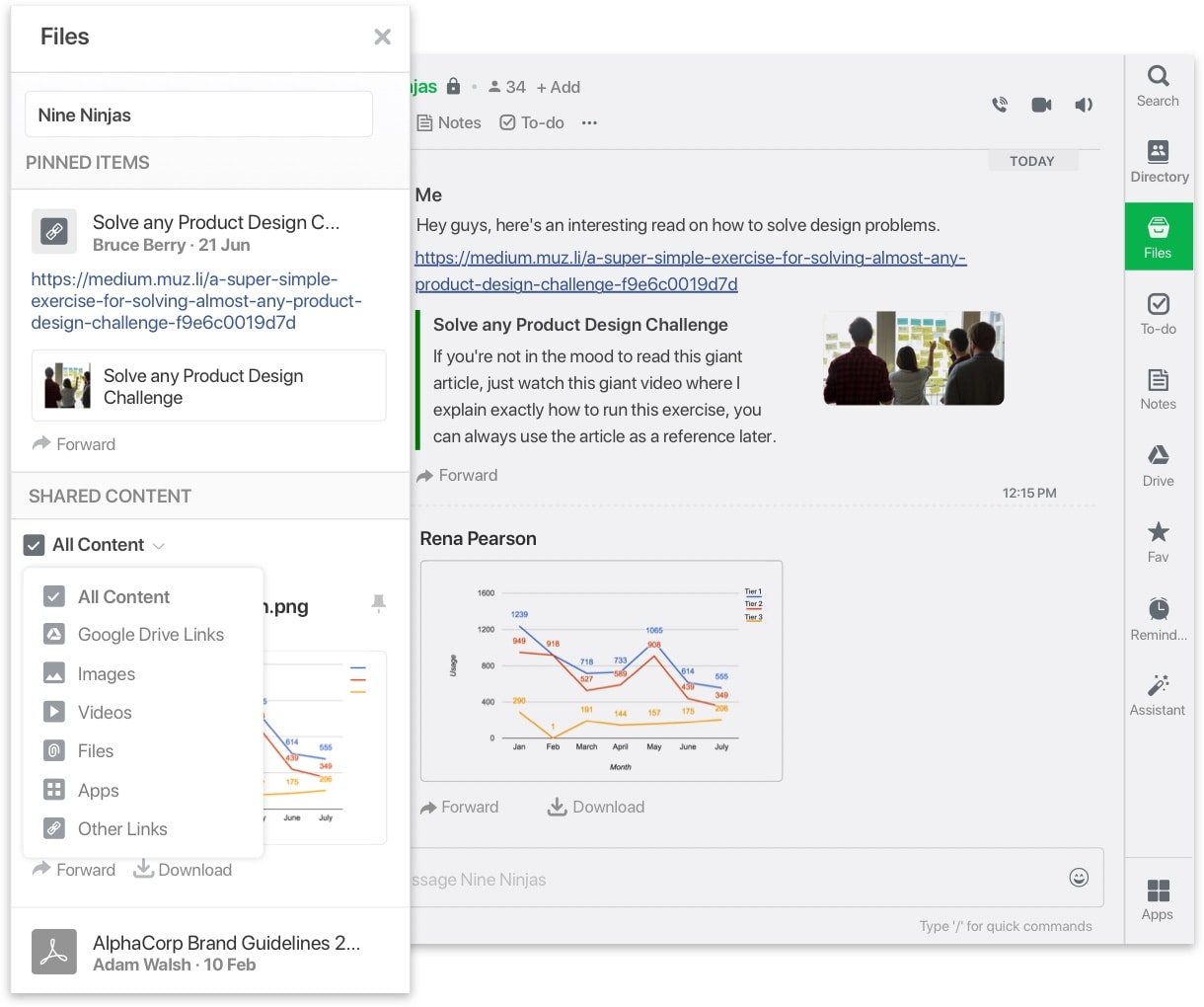 Being able to share files is one thing; being able to share multiple file types is a game-changer. You'll want, err, need, the ability to instantly share files straight from your Google Drive or Dropbox account if you want to be a productive team.
Many of the top communication tools that offer secure file sharing let you drag and drop files of all types and see previews of those shared files as well. The ability to search for shared files or pin files to the top of a conversation in messenger is a productivity feature that many of the tools you're considering should offer.
For example, you can view all of your shared files directly in Flock.
6. Deep app integrations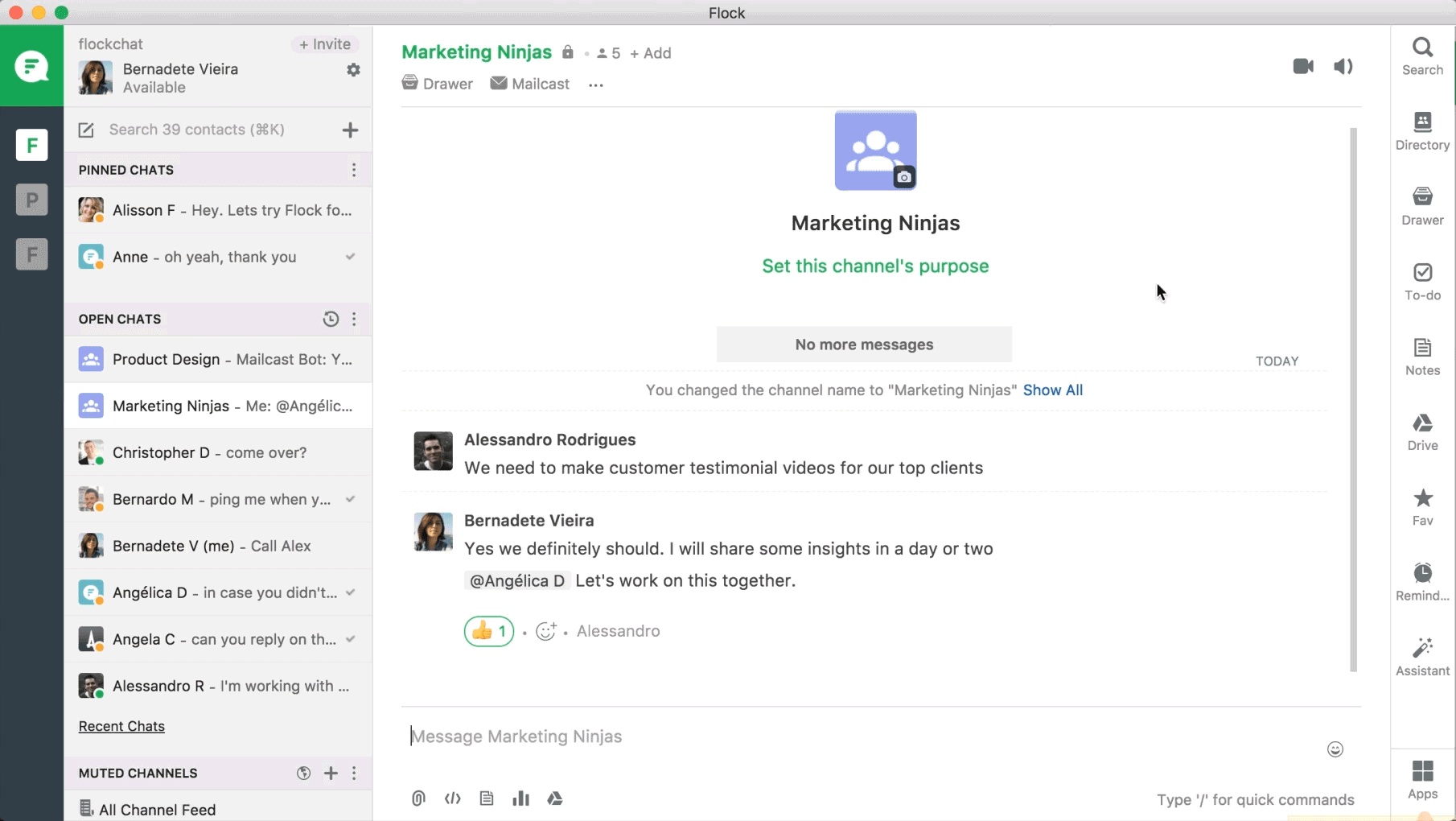 If you're already a power user with communication software and tools like Asana, Trello, Todoist, Jira, or Dropbox, having to switch back and forth between these apps is completely counterproductive. Opt for communication software that implements deep app integrations which bring your productivity stack to life so you can get more out of the apps you use the most. Integrating your favorite apps into Flock, for example, lets you better visualize, organize, and prioritize all of the projects on your plate like a true pro.
7. Shared note taking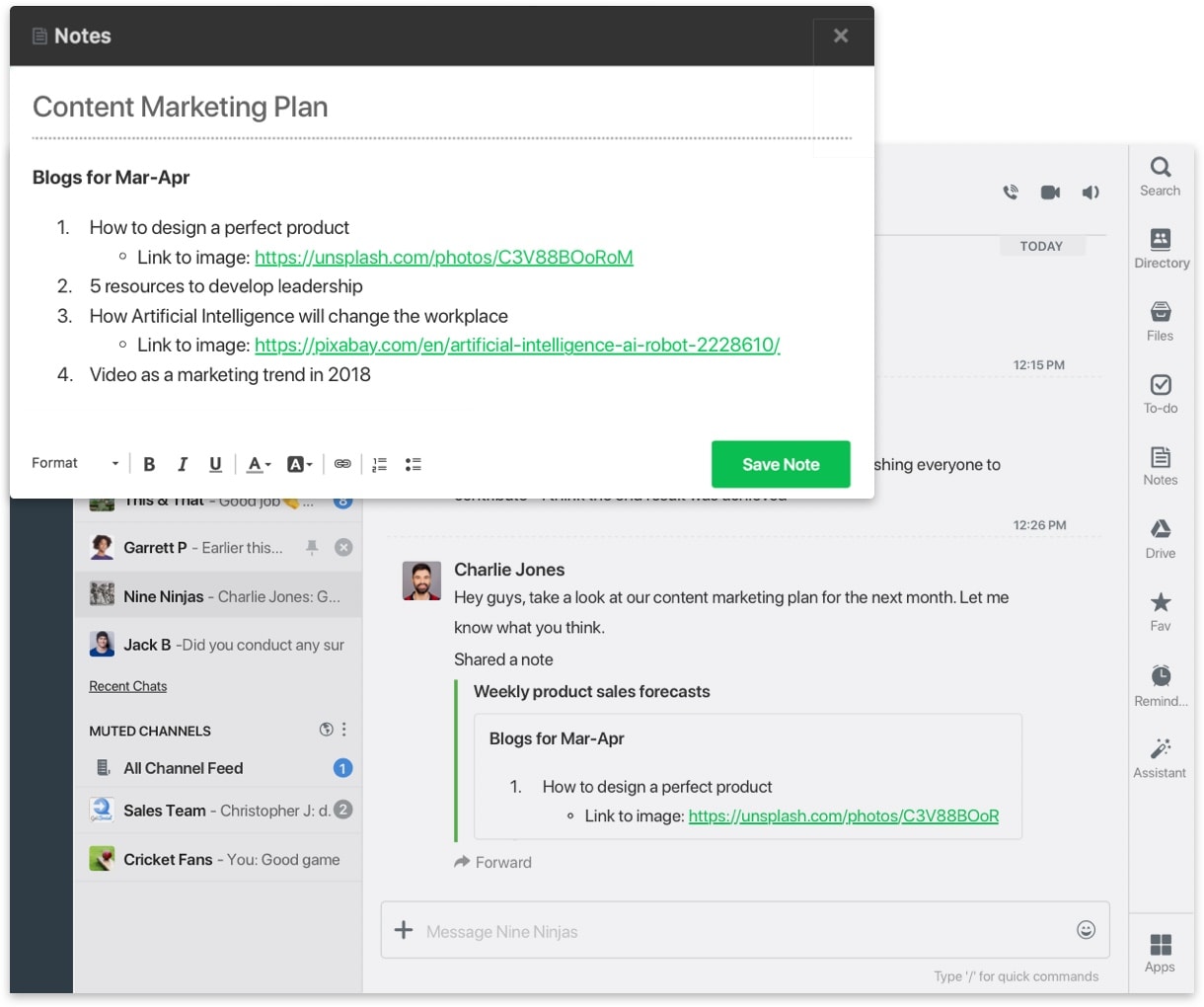 Scribbling down notes on paper is old-school, especially when your whole team can benefit from them. If you've ever had a great idea in the middle of a meeting, utilizing the shared note-taking feature built into communication tools encourages your teammates to share their own ideas. This ignites collaboration. The ability to make edits and track changes across the chats where you've shared notes is also a prime feature worth noting.
Launching a new product or testing a new piece of code? Share it with stakeholders or set tasks to an agenda directly in your messenger so that everyone is—literally—on the same page. Flock automatically detects code language and syntax, making it easier for teammates to read and review your notes and snippets.
8. Search and bookmarking
Intuitive search is becoming more of a must-have rather than a nice-to-have for many communication software tools. The ability to do a deep dive through a company directory or a group thread can help simplify and speed up your workflow.
Being able to bookmark and pin important messages to a channel is also a useful feature. Searching for that one important link or file is so much easier when it's right in front of you. Everything you pin or bookmark in Flock, for example, can be viewed at the top of your chat or in your favorites.
9. Company directories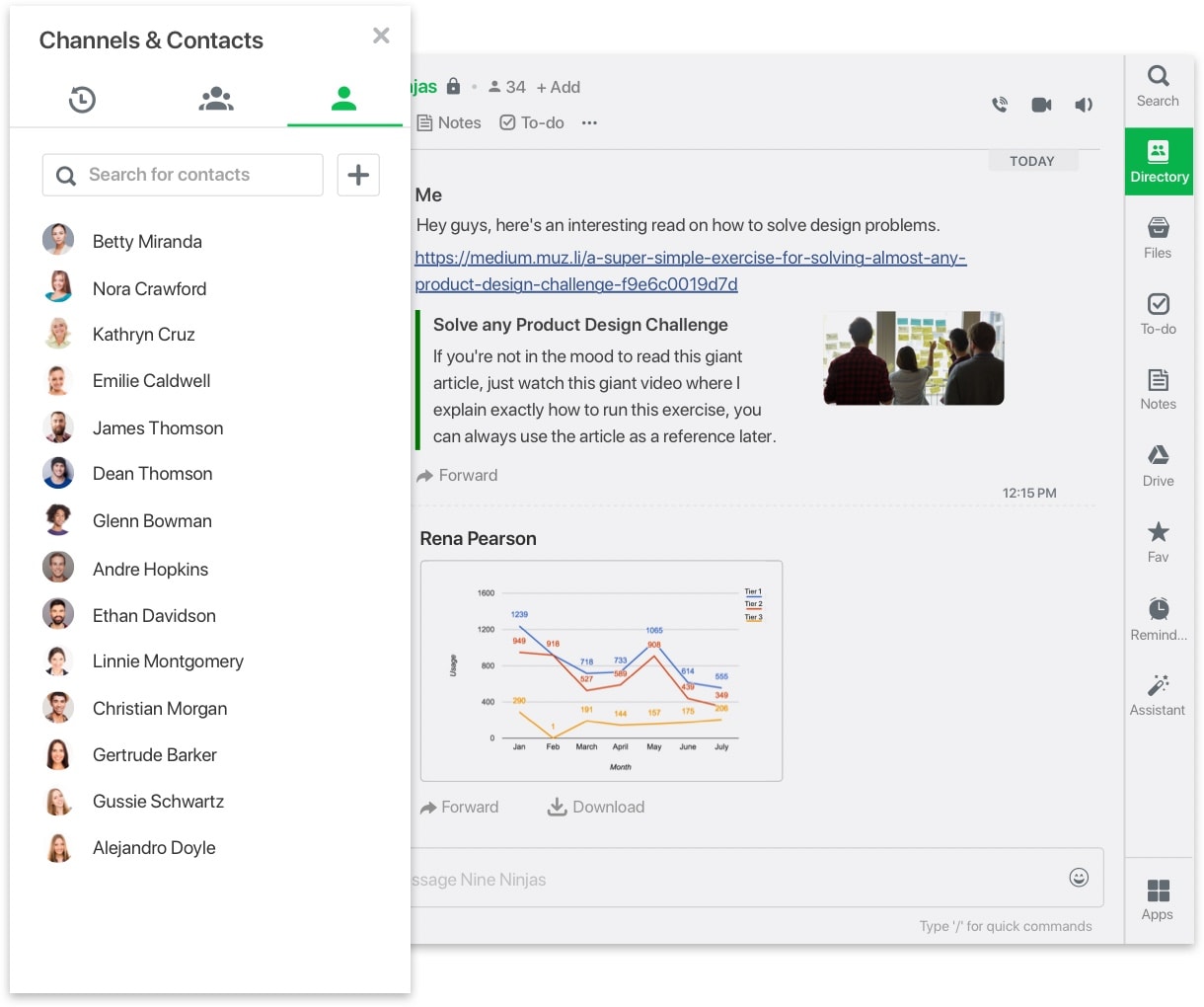 Another undervalued communication software feature is access to your company's directory. When you need to communicate quickly on a project or collaborate on a new one, hunting down the right people for the job can be a headache. You shouldn't have to leave your desk to do it. Company directory features let you start a conversation right away with anyone in your organization without having to leave your seat or the screen.
10. Team mailing lists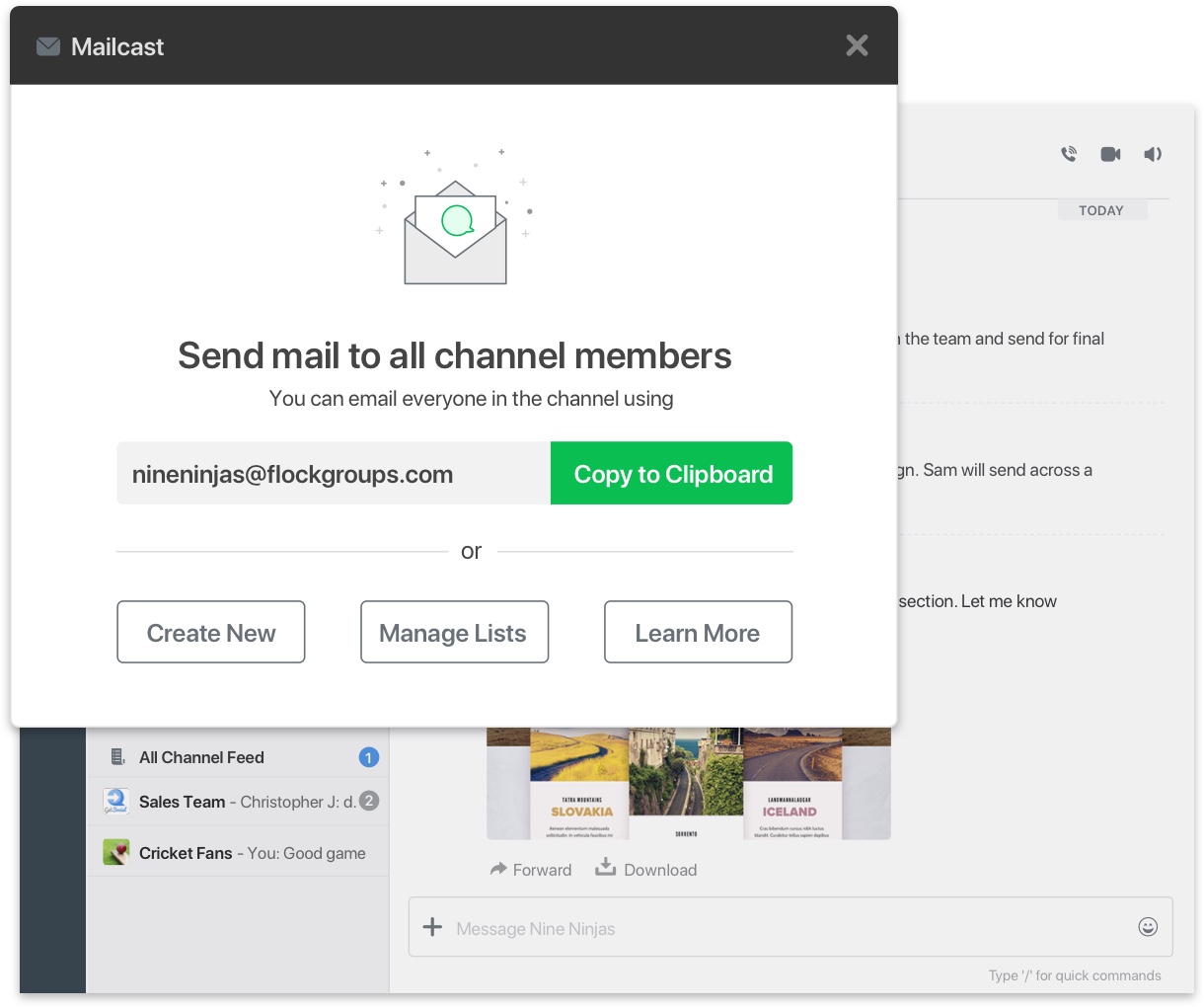 Sending updates to multiple parties can be a pain via email, so a nice complementary feature to company directories are custom team mailing lists. Smarter small business communication tools will have this useful feature built directly into your messenger.
With Flock, you can share big announcements or big data reports with a specific team or a larger group all at once without having to search for or input individual email addresses. Team mailing lists let you manage your communication directly in an existing channel—no more guessing whether everyone got the message.